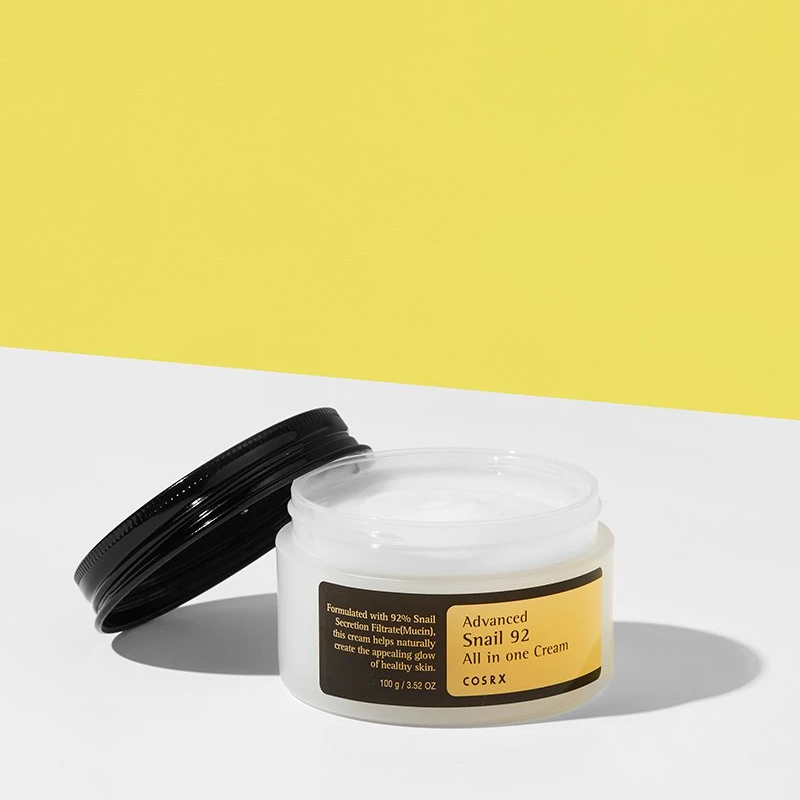 Korean skincare can feel like a world of its own. With so many brands to choose from, and so many new products on offer–skincare essences? skincare pads?–, you may feel a little overwhelmed sometimes. This Korean brand, however, is all about simplicity. COSRX is an award-winning K-Beauty brand that respects the needs of each unique skin type, all the while creating the ideal conditions for a bright, radiant complexion. According to the brand's hopeful motto, "expecting tomorrow", the best COSRX products help your skin look better day, after day, after day.
Ready to discover our must-have COSRX products?
COSRX AHA/BHA Clarifying Treatment Toner
The best COSRX toner for dull skin
This toner relies on the gentle yet highly effective powers of AHAs and BHAs to decongest and invigorate the skin, therefore creating a brighter appearance that radiates health.
With each application, this toner gradually refines the texture of your skin, removing impurities and irregularities, and ridding your complexion of the dulling effect of accumulated dead skin cells. The result? A healthy complexion that looks bright and polished.
(If you're a little intimidated by exfoliating acids and don't know when to use this COSRX AHA/BHA toner, you can use it up to twice a day–but it's best to start with just one application to see how your skin does!)
---
COSRX BHA Blackhead Power Liquid
The solution against blackheads
This BHA Blackhead Power Liquid is technically a skincare essence, and should be used no more than 2-3 times a week. Formulated with BHAs, this powerful product penetrates deep into the skin to clean up clogged pores and provide a deep decongesting effect.
As it exfoliates the skin, this product dislodges dead skin cells and helps the skin attain a natural, healthy glow. If you'd like to work on preventing blackheads and pimples, this can be a great product for you.
---
COSRX One Step Original Clear Pad
The versatile exfoliator
These soft cotton pads are pre-soaked in an exfoliating essence that contains natural BHAs. As they provide a mild exfoliating action, they are perfect to remove dead skin cells and reduce excess oil on the skin, especially if you are traveling (or have a busy lifestyle).
If you've never used skincare pads before, don't worry: they're very simple to work into your routine. Remove one pad from the pot and swipe the textured side across your skin; then, turn the pad around and use the soft side to remove any leftover impurities. Make sure to close the pot tightly after each use, so the remaining pads stay moist and ready to use!
---
COSRX Ultimate Nourishing Rice Overnight Spa Mask
The best COSRX mask for dry skin
We've been focusing on exfoliation so far, but hydration is just as important–in fact, it's even more important, if you tend to exfoliate a lot.
This nourishing mask, which is made up of over 68% rice extract, is perfect to replenish dry and very dry skin types overnight. Apply the creamy formula as the last step of your evening skincare routine, and let it do all the work as you sleep. You will wake up with soft, smooth, and toned skin the next morning.
---
COSRX Low pH Good Morning Gel Cleanser
The do-it-all cleanser
Start your day off on the right foot with this cheery gel cleanser. The mild formula features a slightly acidic pH, which will help rebalance and restore your skin's optimal pH level.
As it cleanses your skin without stripping it of its natural moisture, this cleanser prepares your skin for the rest of your skincare routine, leaving it perfectly clean, fresh, and soft to the touch.
---
COSRX Balancium Comfort Ceramide Cream
The soothing care for sensitive skin
Sensitive skin needs a little balance sometimes, and this cream can do the job. Formulated with three types of ceramides, this comforting cream strengthens the skin barrier and helps regenerate sensitized and irritated skin.
The balm-like texture is ideal for both dry and oily skin types, as it provides comfort without creating a heavy or sticky finish on the skin. Indeed, if you are dealing with irritation after an acne breakout, this can be a good cream to help you soothe your skin.
---
COSRX Advanced Snail 92 All in One Cream
The most plumping face cream
Made with 92% snail secretion filtrate, this rich cream replenishes the skin with moisture and nutrition–without the oiliness that is often associated with rich, luscious face creams.
The snail secretion used by COSRX offers a huge number of benefits: protecting the skin from moisture loss, soothing sensitive and irritated skin, and improving skin elasticity. In order to achieve the plumpest, most glowing complexion, apply this cream right after the COSRX Advanced Snail 96 Mucin Power Essence.
And if you're a little concerned about the origin of the snail secretion in these products, here's what COSRX has to say about this range: "COSRX is a cruelty-free brand, and we do not test on animals. Our snail mucin products are also 100% cruelty-free, causing no harm to any animals in the process."
---
We hope you've enjoyed this introduction to the best COSRX products to include in your Korean skincare routine. If you're a fan of simple, uncomplicated products that take a minimal approach to formulation and ingredients, this might just be the skincare brand for you; why not explore the full COSRX range in the shop?