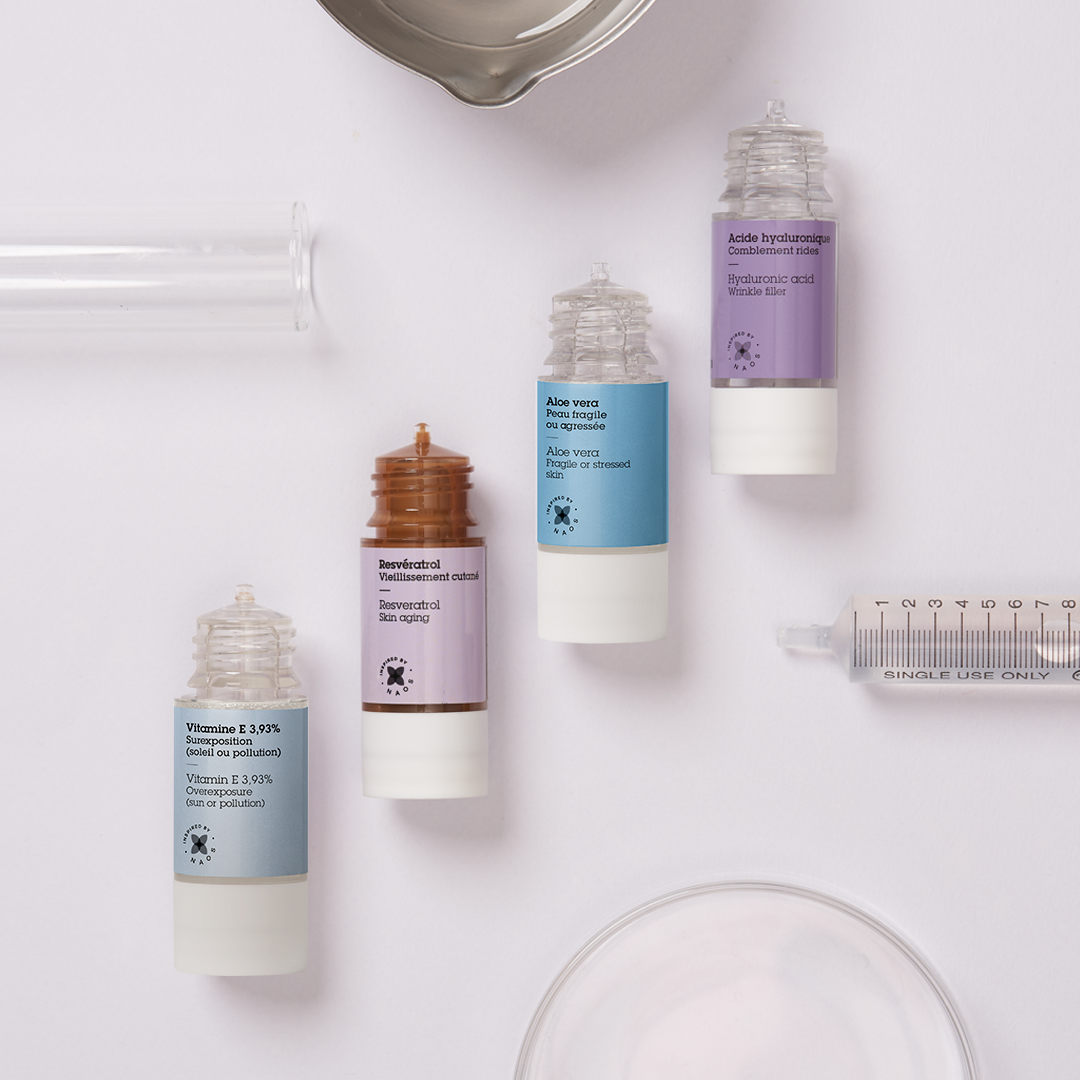 If you've been around the world of skincare for a while, you know how complicated it can be to put together a routine. Products are now more sophisticated than ever, featuring complex formulas and cutting-edge ingredients with names we can't always pronounce without stumbling. Maybe you love this land of opportunity; or maybe you'd like to simplify your routine and bring your skin back to basics. With Etat Pur, you can! Keep reading to learn more about this French brand, and check out our best Etat Pur products below.
---
The best Etat Pur products to bring your skin back to basics
Etat Pur offers three ranges: biomimetic cleansers and moisturizers for daily use, which will maintain the healthy balance of your skin, and Pure Actives, a range of clearly labeled and highly concentrated active ingredients, selected with scientific rigor.
The logic is simple: pick a cleanser that suits your skin type, follow with a Pure Active when necessary, and then complete your routine with a moisturizer that, once again, suits your skin type. With just three products, you'll be good to go–no ifs, ands, or buts about it. Now, are you ready to learn about the best Etat Pur products for you?
Etat Pur Purifying Cleansing Gel
Among Etat Pure cleansers, this alcohol and soap-free gel is a favorite. It refreshes and eliminates impurities without drying out the skin.
Copper gluconate purifies and mattifies the skin while carnosine repairs and delivers antioxidant benefits. With a lightweight foaming formula, it is suitable for combination to oily skin types, including sensitive.
---
Etat Pur Pure Active Hyaluronic Acid
This hyaluronic acid from Etat Pur is lightweight yet comforting, ideal for all skin types.
Infused with hyaluronic acid of both high and low molecular weight, this concentrate hydrates the skin in-depth and preserves its density and firmness. Studies show that 90% of users are satisfied with this concentrate, as they find their skin firmer, more toned, and more moisturized.
---
Etat Pur Pure Active Zinc Gluconate 3%
This concentrate re-balances the skin while reducing excess oil on combination to oily skin types.
Zinc gluconate is popular for its antioxidant, sebo-regulatory, and antibacterial properties, all of which are vital to the well-being of oilier skin types. Furthermore, this star ingredient promotes a healing and soothing action, leaving the skin free of redness and irritation.
---
Etat Pur Pure Active Salicylic Acid 2%
This salicylic acid concentrate targets blemishes, spots, and imperfections. The texture is incredibly light, ideal for combination to oily skin types that are also prone to acne.
In order to apply this concentrate like a pro, use it only in the evening, then shield your face with sunscreen the following morning to keep it protected from sun damage. You'll see results in no time!
---
Etat Pur Pure Active Propolis
Perfect for combination to oily skin types that are prone to acne, this propolis concentrate regulates excess oil while minimizing imperfections and preventing acne scars.
Propolis extract is a bee-derived natural ingredient, in this case extracted from French hives, that offers antibacterial, antioxidant, and regenerating benefits. It is rich in active molecules such as polyphenols, proteins and minerals.
---
Etat Pur Pure Active Citric Acid 26%
If you're looking to minimize the appearance of enlarged pores while refining the texture of your skin, this citric acid concentrate will be perfect for you. With its lightweight texture, it'll suit all skin types
Citric acid is an alpha-hydroxy acid, usually found in fruit. Because of its exfoliant and regenerating properties, it boosts skin renewal and promotes a natural radiance.
---
Etat Pur Express Purifying Mask
This facial mask is perfect to re-balance combination to oily skin types, even if they are sensitive. With its purifying texture, it is ideal to eliminate impurities, illuminate dull skin, and regulate sebum production.
A simple duo of ingredients is enough to bring results: kaolin purifies the skin and regulates sebum production, while vegetable glycerin restores the skin barrier.
---
Etat Pur Melting Moisturizing Cream
This moisturizer is one of the best Etat Pur products out there. Suitable for all skin types, including the most delicate and sensitive, this cream replenishes the skin and provides an immediate sense of comfort.
The melting formula absorbs instantly, so you don't have to waste a single second while doing your skincare routine. Whoever said skincare had to be complicated?
---