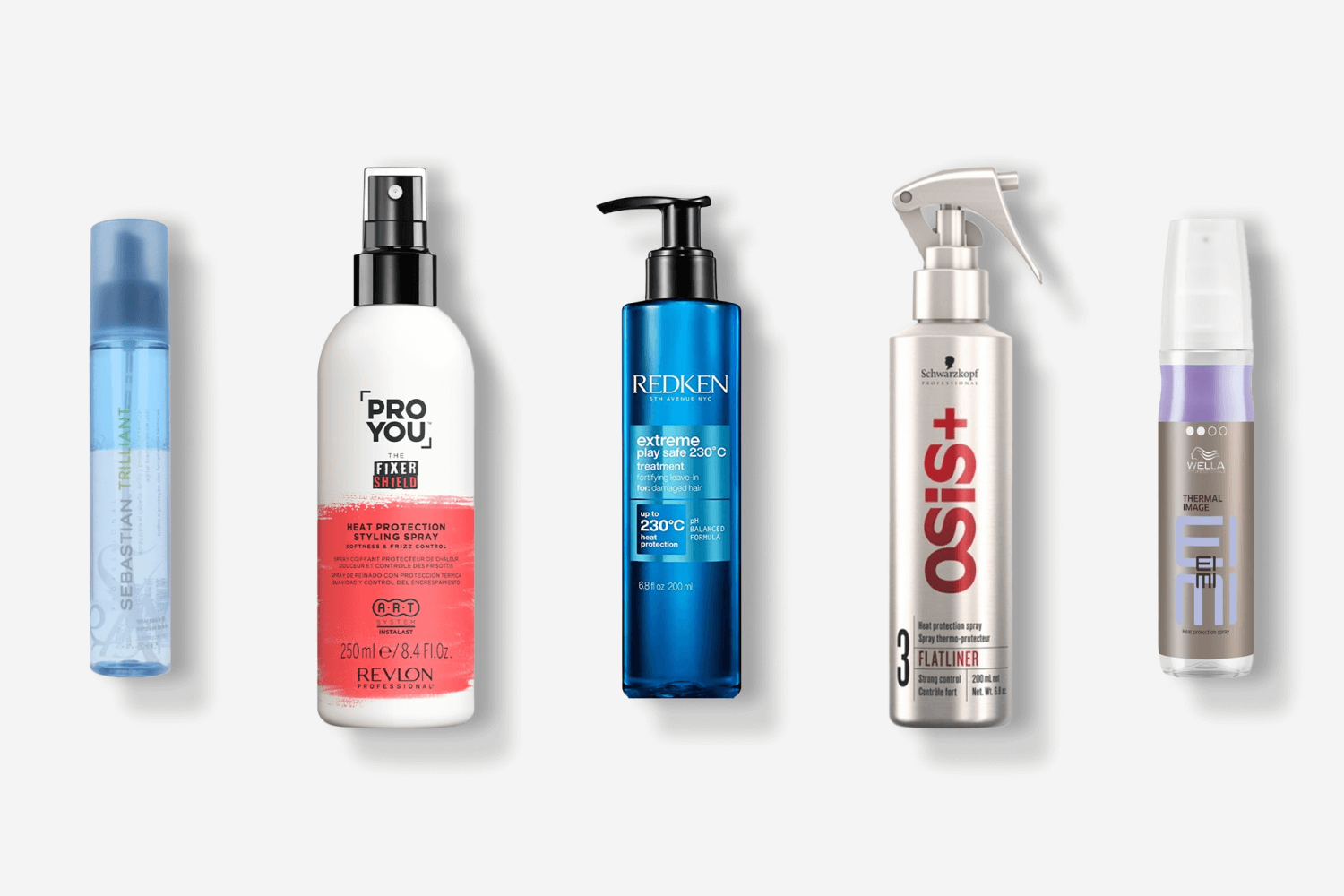 If you're living in this day and age, you're probably using heat styling tools to straighten your hair on occasion—and why wouldn't you? There is an incredible array of styling tools on the market, and they all offer pretty impressive results from the comfort of our home. The only downside is the ever-present threat of heat damage—but you can work through it with a good heat protectant spray.
Today we're taking a deep dive into the hows and whys of these miracle products. How do heat protectants they work? (Actually, do they even work?) Why should you be using them? And how should you apply them to achieve the best possible results? Let's find out!
Your intro to heat protectant sprays
Let's start with the basics: heat protectant sprays are leave-in sprays that are specifically designed to protect your hair from heat damage. No only do they protect your hair, these products also help smooth down the hair shaft (which increases shine), reduce frizz, and improve manageability.
So, do heat protectant sprays actually work?
Heat protectant sprays work by creating a thin film or veil between your hair and the heat styling tool of your choice. This film makes the hair heat up more slowly and more evenly, which helps reduce damage.
So, on one hand, yes, heat protectant sprays do work. On the other hand, it's never that simple. Studies suggest that heat protectant sprays might only protect against 50% of the heat generated by styling tools. Depending on your perspective, this may be a little or a lot.
If you're someone who uses heat styling tools every day, every little bit of protection helps. Likewise, if you use your tools at very high settings, your hair can use all the help it can get. Just keep in mind that most heat protectants are designed to protect hair from temperatures up to 220ºC or 230º.
Do heat protectants really reduce frizz?
Heat protectant sprays can help reduce frizz by forming a barrier between your hair and the outside world. While this barrier is designed first and foremost to protect against heat damage, it also serves the handy purpose of sealing in moisture and smoothing down the cuticles of the hair shaft, which helps reduce frizz.
Do you put heat protectant spray on wet or dry hair?
Heat protect sprays can be applied to both damp and dry hair. Different formulas will come with different recommendations, so make sure to check whether the product you're using is suitable for either use.
If you're working with truly wet, soaked, straight-out-of-the-shower hair, make sure to towel dry it before applying your heat protectant spray. Then, proceed to blow dry your hair as you normally would. As for flat irons and curling irons, you should never use them on wet hair, as this can cause quite a bit of damage. Did you know that, when exposed to high heat, the moisture inside your hair fiber evaporates rapidly, essentially bursting through the outer surface of your hair? Yeah. Let's avoid that whenever possible!
Should you let your heat protectant dry before straightening?
When applying heat protectant to your hair, you should let it dry for a little bit—anywhere from a few minutes to a few hours, depending on how much time you have available.
In the ideal scenario, you'd apply your heat protectant spray, go about your life, and then come to use your heat styling tool once your hair had fully dried. This may not be realistic for you, but try to adjust your routine so you get a few more minutes between the application of the product and the actual heat styling.
Can you use heat protectant every day?
You should use a heat protecting spray every time you use heat styling tools. If that's every day, then by all means, use your heat protectant every day. You'll be protecting your hair against heat damage, and you might just get a few extra conditioning benefits while you're at it.
Indeed, many heat protectant sprays are formulated with conditioning ingredients that soften the hair in order to create a smooth, shiny surface. We'll show you some of those below.
Our favorite heat protectants for a straight and smooth look
Now that you know a little bit more about how heat protectants work, you can dive straight into our product recommendations. We've selected 8 sprays with different textures and benefits, so you'll be able to find the one that best suits your needs.
L'Oréal Paris Elvive Dream Long Heat Slayer Spray
The solution for long hair
If you have long hair, you know how important it is to protect it from environmental aggressions; that's how you keep your long locks looking and feeling their best. The spray helps you do exactly that, as it provides heat protection up to 230ºC.
The lightweight formula, which has been specifically designed and developed for the needs of very long hair, moisturizes the hair without weighing it down. Last, but not least, it provides a humidity-proof shield that helps you prevent frizz. If you've got long, frizz-prone hair, this is the product for you.
---
Redken Extreme Play Safe 230º Heat Protection Treatment
The secret weapon against split ends
In case you couldn't tell from the name, this fortifying leave-in spray is your best ally when tackling extreme heat styling. If you use heat styling tools every day—think flat irons and curling irons, but also blow dryers!–, this product might just be for you.
It's not enough to correct heat damage; this product helps you prevent it, providing conditioning benefits and heat protection up to 230ºC. As if that weren't enough, it also helps you improve the look of split ends, for hair that looks and feels healthier.
---
Wella EIMI Thermal Image Heat Protection Spray
The perfect combo of conditioning and styling
We love a 2-phase conditioner, and this Wella EIMI Thermal Image Heat Protection Spray is one of the best. The formula is a two-parter: part 1 conditions the hair, while part 2 improves shine and provides a healthy, glossy look.
With heat protection up to 220ºC, this heat protectant spray is perfect for those who want to achieve optimal conditioning without compromising on the results of heat styling. Just don't forget to give it a good shake before use!
---
Sebastian Professional Trilliant Shine & Heat Protection Spray
The shine-boosting spray
Are you all about shiny, glossy tresses? Then this is the heat protectant spray for you. With a 2-phase formula, the Sebastian Professional Trilliant Shine & Heat Protection Spray effortlessly conditions your hair while providing effective heat protection.
As a part of the Sebastian Professional Trilliant range, this leave-in spray is all about boosting shine and creating a radiant, reflective finish that catches the light just right. Try it in combination with other products from the range for unparalleled shimmer and shine.
---
got2b Guardian Angel Heat Protection Spray
The do-it-all heat protectant
Does your hair need a Guardian Angel during heat styling? Look no further! Developed by the styling experts at got2b, this leave-in spray can be used with hair dryers, flat irons, curling irons, and all sorts of heat tools. (Do you use hot rollers? This'll work.)
Along with providing heat protection up to up to 220ºC, this leave-in spray can also help you improve the manageability and softness of your hair. Give your hair a good uniform spraying before heat styling, and you might just find your hair comes out looking way healthier than it did before.
---
Schwarzkopf OSiS+ Flatliner Heat Protection Spray Strong Control
The key to pin-straight hair
Here's a little secret: the author of this post is a bit of an OSiS+ Flatliner fan. (Trust me on this one: I've been using it for years, through different hair styles and different color treatments, and it's never let me down.)
This extremely pro-looking leave-in spray provides heat protection up to 230º Celsius, as well as long-lasting protection against humidity and frizz. The formula has been specifically designed for flat iron use; try it for that pin-straight look, and you won't regret it!
---
Phytokératine Repairing Heat Protecting Spray
The botanical keratin spray
If you're already working with damaged and brittle hair, you won't want to risk making its condition even worse with heat styling. Using the Phytokératine Repairing Heat Protecting Spray, you can repair and protect your hair even while heat styling. Talk about a multitasking win!
This double-duty formula is enriched with botanical keratin and rice ceramides, which help restore your hair fiber and fill in any gaps. The result? Soft, smooth, and incredibly healthy-looking hair.
---
Revlon Professional Pro You The Fixer Shield Styling Spray
The anti-frizz champion
Say bye-bye to frizz with the Revlon Professional Pro You The Fixer Shield Styling Spray, a heat protectant spray that doubles as an anti-humidity shield for your hair.
Formulated with Revlon's exclusive Instalast Shielding Formula, this leave-in spray offers heat protection up to 230ºC, along with a smoothing, anti-frizz action that lasts. If you struggle to get your hair to behave throughout the day, this product might just be the game-changed you need to achieve optimal manageability without any added weight.
---
All in all, here's what we have to say about heat protectant sprays: they're pretty cool. Effective and easy to use, these products can bring you tremendous benefits in just a few sprays. Make sure to use one if you're a heat styling fiend—your hair will thank you!