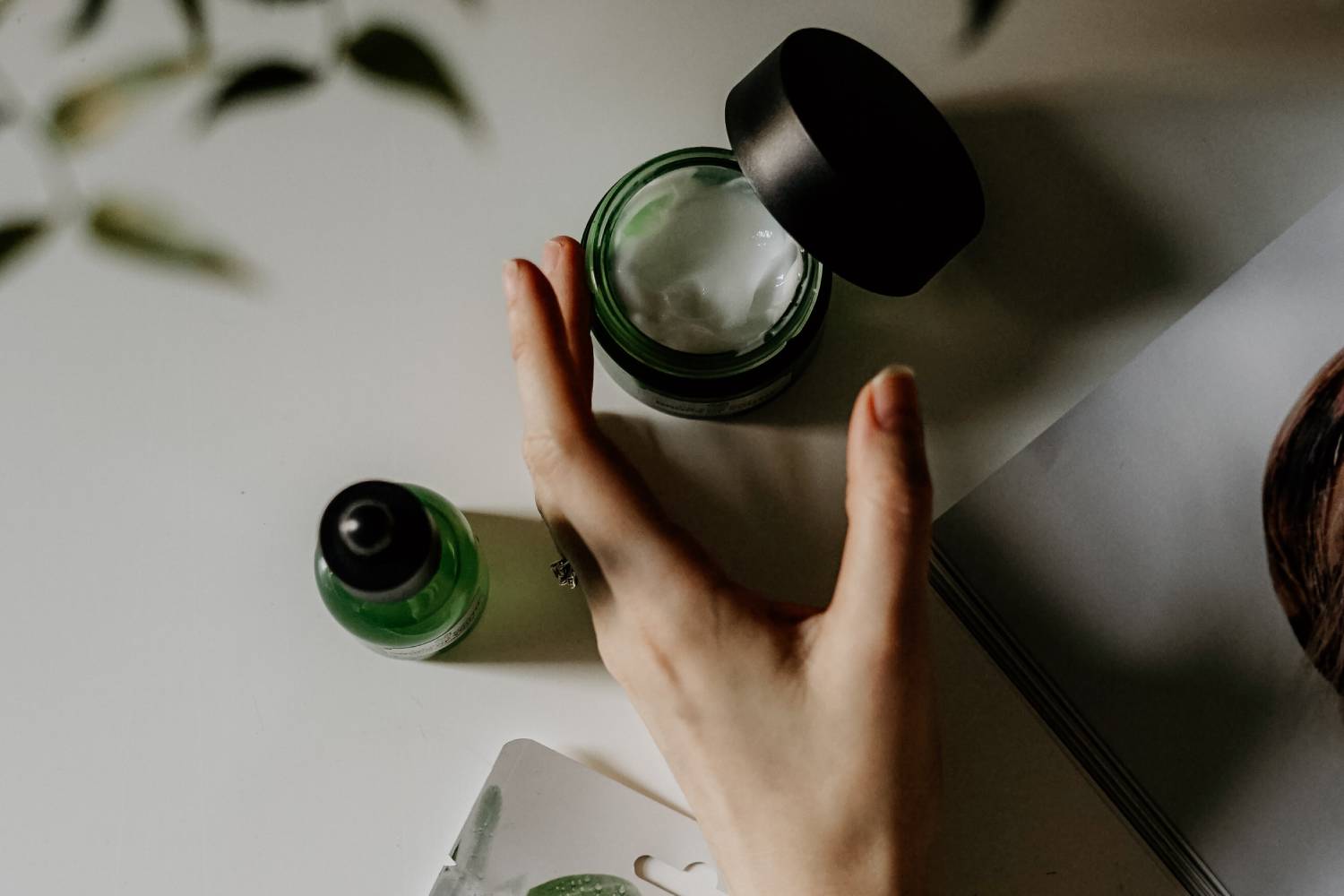 If you're into vegan beauty but your skin's sensitivity won't give you a day off… then you need the best of both worlds. More and more brands are coming up with vegan formulations, and pharmacy brands focused on sensitive skin are no exception. You need face and body care that not only provide basic hydration but also that soothes redness and/or irritation, bringing the well-deserved comfort back to sensitive skin. From facial cleansers to deodorant and sunscreen, we've found the best vegan skincare for sensitive skin!
Soothe & relief your skin with the best vegan skincare for sensitive skin
Get the best vegan skincare for sensitive skin for the face and body! We've selected great formulas for each step of your routine, and you may combine them with your current faves or even create a whole new routine. If you like what you see, you can explore the range of each of the products mentioned; more often than not, the entire range and/or brand are vegan as well! These trustworthy formulas are all you need to soothe that sensitive skin with comfort.
Sensilis Calm In Balm Intense Cleansing & Smoothing Balm
A makeup remover that soothes
Let's start by talking about makeup removal. If you have sensitive skin, you can't afford to further irritate your skin with ineffective make-up removers. That's why we bring you a makeup remover especially developed for sensitive and reactive skin, featuring a rich texture that melts on your skin while breaking down all the makeup. Vegan and hypoallergenic, this formula is the dream of sensitive skin, containing soothing and nourishing shea butter and bisabolol coupled with avocado oil.
---
CeraVe Hydrating Cleanser Normal to Dry Skin
A non-foaming cleanser that's fragrance-free
Now that your face is free of all kinds of makeup, it's time to get rid of the residue that still sits on the skin. With this gentle non-foaming cleanser, all kinds of sensitive skin are safe—as it is suitable for psoriasis and atopic skin. Your skin is about to get perfectly cleansed as well as comfortable, with a formulation that cleanses while caring for the skin with ceramides, MVE Delivery Technology and hyaluronic acid.
---
Gallinée Probiotic Youthful Serum
A serum starring pre & probiotics
Are you ready to meet the best vegan serum, that also happens to be a wonder on sensitive skin? That's right, this vegan and natural formulation is a dream for all of us with sensitive skin, as it hydrates and nourishes while supporting the skin microbiome and stimulating cell renewal. Day after day, the skin reveals not only fresher and firmer but also stronger and healthier!
---
Dr. Hauschka Soothing Day Lotion
A morning lotion that calms the skin
It's almost sure that your skin will find something to complain about during the day; the problem is that the complaining comes in all kinds of reactions, from redness to irritation. A very good idea is to prevent skincare reactions beforehand, with a soothing cream! This formula was developed to bring peace and calm to reactive skin, in the shape of a pleasant, silky-smooth texture that just happens to be an excellent makeup base. Strengthen and soothe your skin every morning with this one!
---
Sensilis B-Respect Calming Night Cream
A replenishing cream for the evening
After a long day resisting stress and all external aggressions, your skin deserves some pampering in the evening. With a rich, nourishing texture, this formula moisturizes and replenishes sensitive, reactive and intolerant skin. With ingredients like glycerin and shea butter coupled with aloe vera and bisabolol, it strengthens the skin while providing an anti-inflammatory action. Apply it to cool, hydrate and soothe the skin, instantly minimizing irritation, redness as well as tightness.
---
Heliocare 360 Mineral Tolerance Fluid SPF50
A waterproof & fragrance-free physical sunscreen
You don't need to leave the vegan skincare lane to find a good mineral sunscreen compatible with your sensitive skin. We bring you a broad-spectrum formula that protects from UVA, UVB, HELV (High Energy Visible Light) as well as infrared radiation, to keep your sensitive and intolerant skin safe from all the aggressions. Fragrance-free and waterproof, this is the formula that you need for everyday protection of sensitive skin, with a texture that absorbs quickly without leaving a white effect.
---
Klorane Body Peony Moisturizing Gel-Cream
A soothing care for the body
It's not only the skin of the face that craves the best vegan skincare for sensitive skin. If you're looking for a soothing formula for the body, this is it! With a creamy-gel texture, this product feels incredibly fresh and hydrates in depth while providing the skin with instant relief. Containing 97% of ingredients of natural origin—starring peony extract, an ingredient that soothes and calms sensitive, irritated skin—it restores and nourishes the skin, leaving a smoother feel for up to 24 hours.
---
A-Derma Dermalibour+ Purifying Repairing CICA-Cream
A repair cream for extremely sensitized or irritated skin
Those who have a very sensitive skin know that sometimes a repairing cream is required for skin reviving purposes. That's when this A-derma all vegan formula (like all their formulas!) steps in! This rich cream is always ready to soothe sensitive and irritation-prone skin, strengthening the skin's protective barrier against all sorts of external threats. Created under dermatological, pediatric, gynecological, and ophthalmological supervision, this is the formula to go to when in need to repair weaker tissues.
---
NUXE BIO Organic 24h Sensitive Skin Deodorant Balm
A balm for sensitive armpits
If your skin is sensitive, odds are that your armpits are sensitive as well. If that's the case, meet this natural deodorant balm made especially for the most sensitive skins. Featuring a pleasant fragrance of orange blossom and 100% of ingredients of natural origin, this vegan deodorant provides up to 24 hours of protection. Formulated without ingredients of animal origin, water, or aluminum, it contains corn starch, a powder that absorbs perspiration and keeps you protected and comfortable.
---
Are you into anti-aging beauty as well? Then take a look at the best vegan anti-aging skincare! You can combine soothing and anti-aging care to have the best out of your vegan skincare routine.