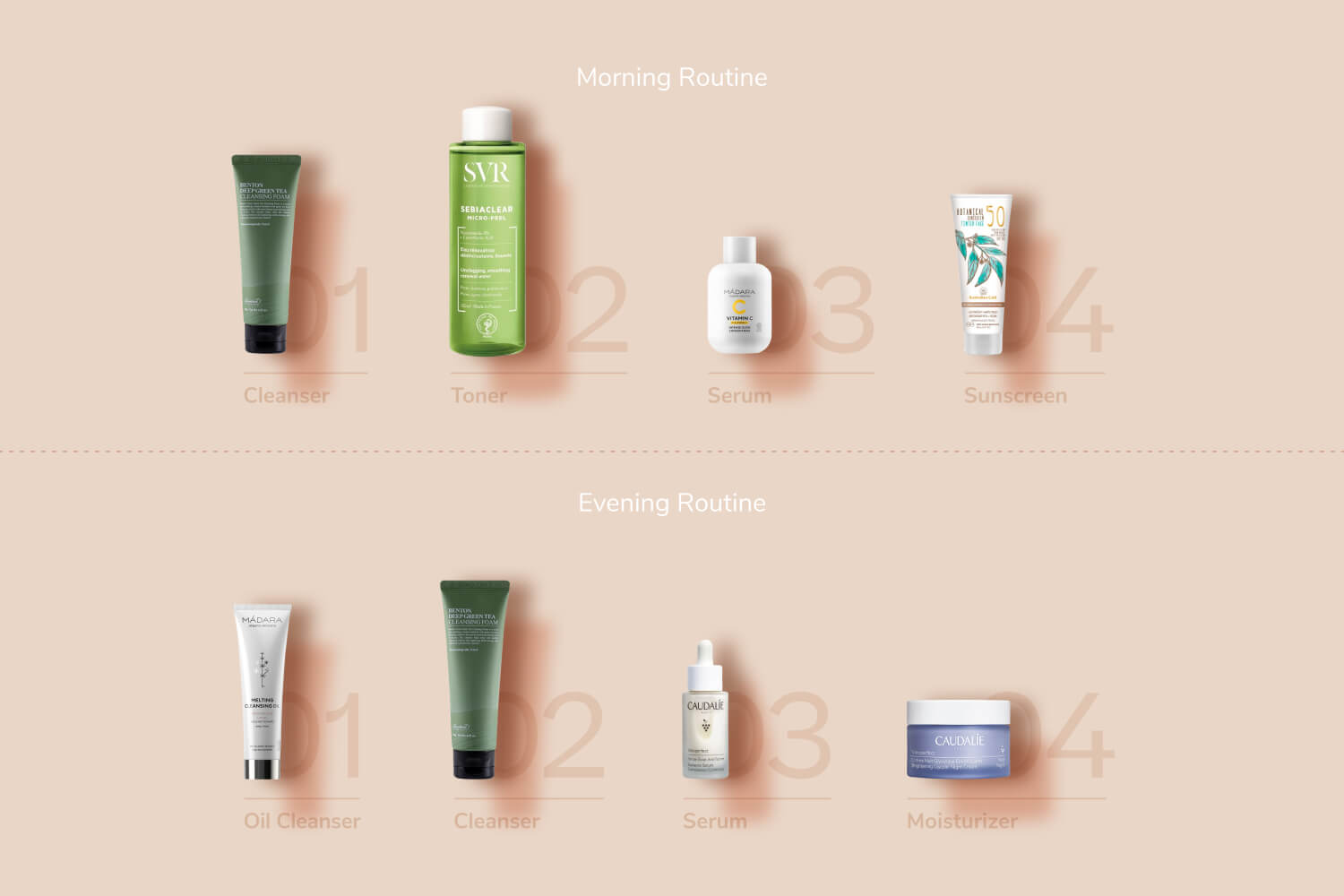 At Care to Beauty, offering personalized advice on suitable skincare products is a vital part of our daily lives. Our team of pharmacists and beauty experts is always ready to inform, clarify and advise you via website, blog, and email. Today, Pharmacy Technician Joana helps Sophie put together a skincare routine to correct large pores, dark spots, and the first little signs of aging.
---
The Request
Sophie is 28 years old, and she mentions a couple of skin concerns and goals that we're very familiar with, here at Care to Beauty. She'd like to minimize the appearance of dilated pores, correct some minor dark spots, and start working toward preventing and correcting signs of aging. Sophie has combination skin with a bit of an oily T-zone, and she mentions her skin is a little sensitive, though nothing too major. Finally, she's got a request for us: she'd like every product on her routine to feel very natural, with lots of botanical and plant-based ingredients.
The Specs:
Age
28
Skin Type
Combination (oily T-zone)
Skin Goals
Minimize enlarged pores
Correct dark spots and hyperpigmentation
Prevent the first signs of aging
Price Point
$$-$$$
(full routine under US$260)
Our Thoughts
Aging can look very different from person to person. Some people will get crow's feet around their eyes before anything else; some will notice a lack of radiance and plumpness to their skin; others will find that their neck and chin areas aren't as firm as they used to be. However, in our experience, dullness and fine lines tend to be among the first aging-related concerns, so we'll focus on those for this routine.
Today's routine is also designed to target large pores and dark spots, two radically different goals. When it comes to minimizing enlarged pores, there's a limit to what we can achieve with skincare. Pores are a normal, natural feature of the skin, and it just so happens that they can look a little larger and more noticeable around particular areas of the face–usually the nose and cheeks. Usually, you can improve the look of these pores by using either astringent ingredients (which may help tighten the pores) or filling primers (which may help you smooth out the sunken appearance of the pores). For this routine, we're going with option one.
Finally, let's talk about dark spots. Dark spots are also a common component of skin aging, and we're very used to building skincare routines around this specific concern. The good thing about anti-hyperpigmentation routines is that they are based on a correction-and-prevention logic that's useful across many different types of routines. The "correction" step will usually take the form of an active ingredient like an exfoliating acid or retinol; on the other hand, the "prevention" step will usually rely on a combination of vitamin C (or another antioxidant) and daily sunscreen.
The Morning Routine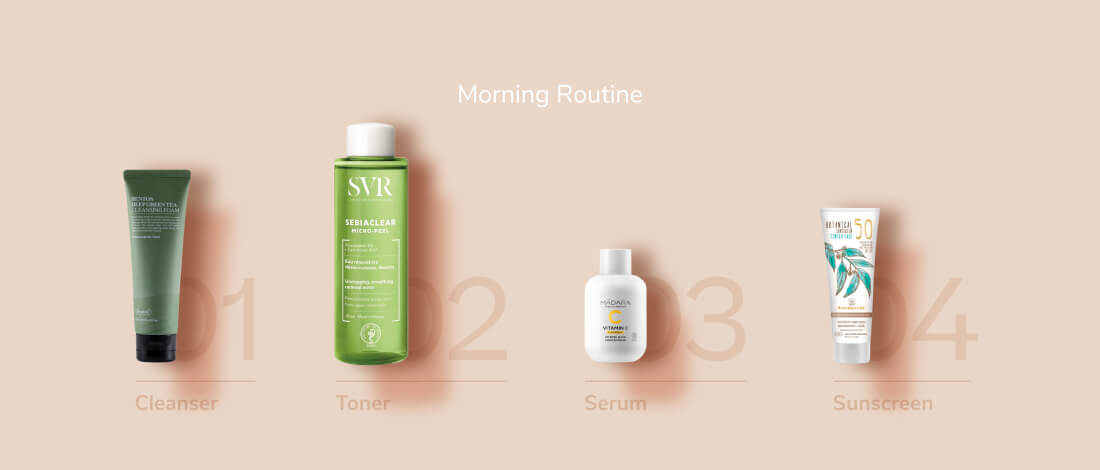 We're starting out this routine with a cleanser that suits sensitive combination skin to a T, the Benton Deep Green Tea Cleansing Foam. With a white creamy texture that turns to foam on the skin, this practical formula provide a thorough cleanse, removes excess oil, and washes away impurities while still leaving the skin feeling comfortable. It features the properties of two star natural ingredients: soothing green tea extract and nourishing camellia oil.
We're following up with a toner, and this is where we're going to start tackling our big skin goals. Formulated with exfoliating acids and niacinamide, this SVR Sebiaclear Micro-Peel Smoothing Renewal Water tightens the appearance of pores and refines the appearance of the skin. It's a great option for anyone looking to target enlarged pores, small blemishes, and blackheads. The formula features more than 90% natural ingredients, making this exfoliating toner a perfect fit for a nature-leaning routine.
For the serum step, we're going with the Mádara Vitamin C Intense Glow Concentrate, a potent antioxidant serum that couldn't be a better fit for an anti-aging, anti-dark spot routine. With vitamins C, E, and ferulic acid, this serum prevents sun damage and helps improve the skin's natural radiance and glow, one application at a time. Through this powerful antioxidant action, this serum will also help prevent the appearance of the first signs of aging, including fine lines, dark pots and hyperpigmentation, and even loss of elasticity. The formula features 99% natural ingredients, and it's an absolute essential for anyone looking to target dark spots and aging signs in the same routine.
Last, but never least, we're rounding out this morning routine with a sunscreen, the Australian Gold Botanical Tinted Face Mineral Lotion. This sunscreen is formulated with 100% mineral sunscreens: titanium dioxide and zinc oxide. The vegan formula is completely free of animal ingredients, and it's perfectly suitable for sensitive skin: so suitable, in fact, that it can be used on children. The formula is slightly tinted, which is always a good option for anyone trying to even out dark spots and hyperpigmentation patches. By using a very high protection sunscreen with a lightweight tint, such as this one, you are able to both even out your complexion and protect your skin from the formation of new dark spots.
---
The Evening Routine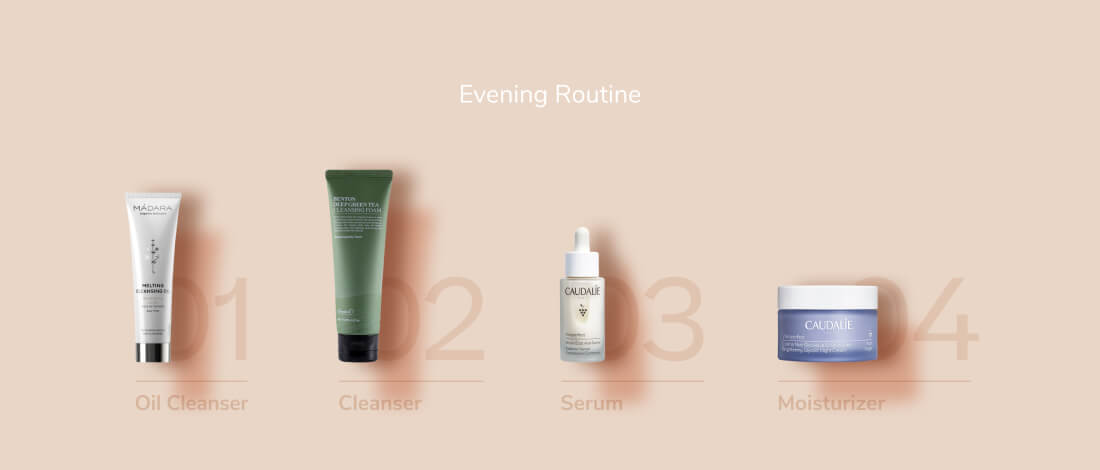 Whenever possible, we like to recommend double cleansing routine in the evening, as a double cleanse can really help you clear away all the impurities that accumulate on your face over the day, and help you set out on your evening routine–and then bedtime routine–with a clean, purified face. In order to start off our double cleansing, we're picking out the Mádara Melting Cleansing Oil, a gentle oil-based cleanser that melts away makeup and impurities without stripping the skin of its natural oils. Formulated with 100% natural ingredients, this oil cleanser is also perfectly suited to sensitive skin, due to its gentle, non-stripping formula.
To wrap up the double cleansing step, we're following up the oil cleanser with the same Benton cleanser we've used in the morning.
Now that the skin is all cleaned up and feeling fresh and pure, it's time to start working on correcting dark spots and signs of aging. Because we are creating a routine around natural products and ingredients, we are opting for the Caudalie Vinoperfect Radiance Serum Complexion Correcting serum, an anti-blemish serum formulated with 98% natural origin ingredients. Formulated with moisturizing olive squalane and brightening Viniferine, this gentle serum works to prevent and correct dark spots in order to restore radiance and uniformity to the complexion. It is effective on all types of dark spots, so it's going to be a safe choice whether you're struggling with acne marks, sun damage, or even age spots. The formula is suitable for sensitive skin and, quite impressively, even safe for use during pregnancy!
We could stop the routine here, but let's add a night cream to wrap up all the work we've done so far. The Caudalie Vinoperfect Brightening Glycolic Night Cream provides your skin with a gentle exfoliating and renewing effect while you sleep. It features a duo of powerful active ingredients, glycolic acid and Viniferine, which helps to remove dead cells, minimize dark spots, and boost radiance. The formula contains 95% natural ingredients, so it's a perfect fit for this routine.
---
In Conclusion
This is one of the most comprehensive routines we've ever put together, but we're confident that every product here is pulling its weight. We've selected seven products to minimize enlarged pores, correct dark spots and hyperpigmentation, and prevent the first signs of aging on a combination skin type. All in all, we've spent just under US$260, but we've covered all bases.