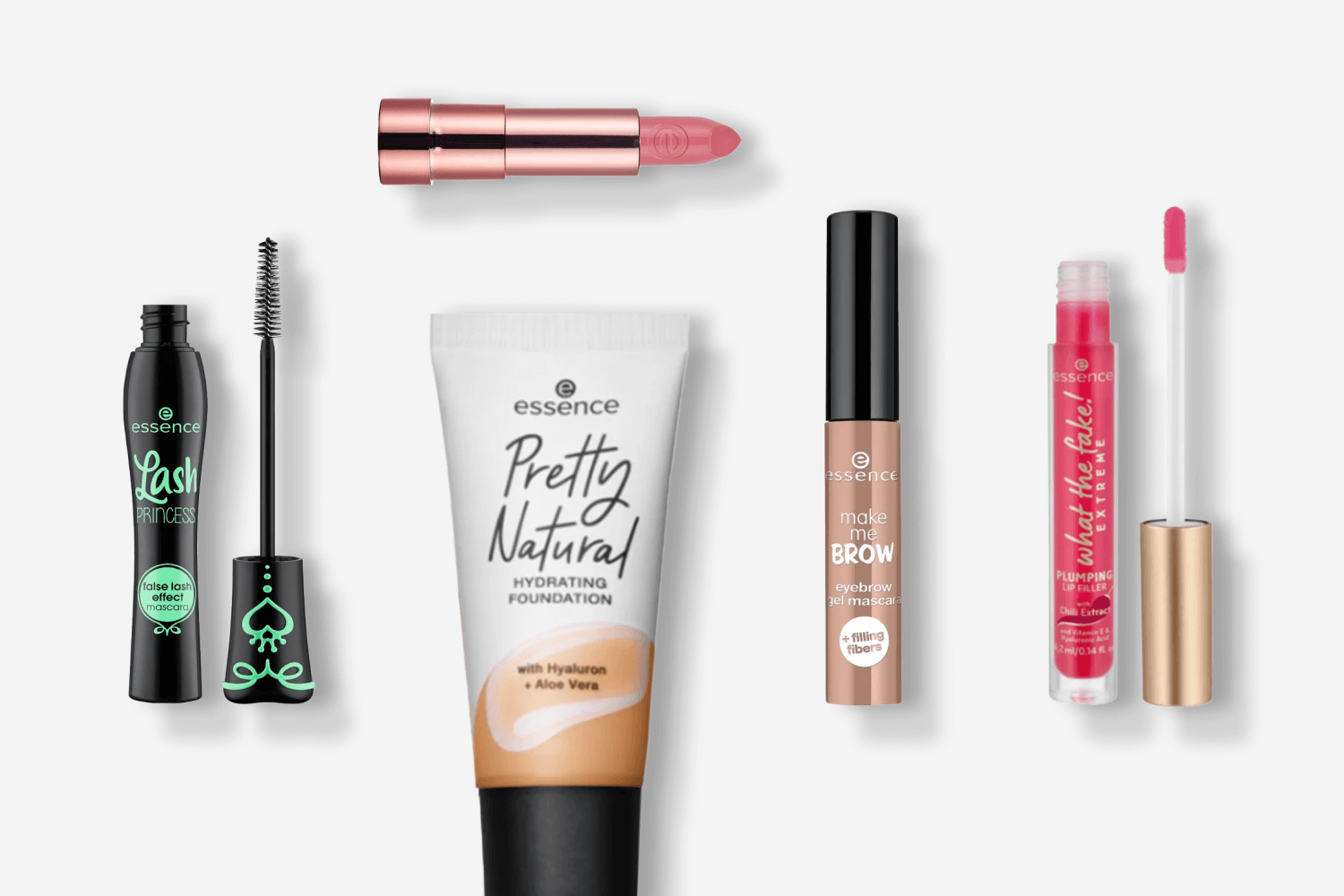 When it comes to fun, affordable, and high-quality makeup, you can't ask for a better brand than essence. Created in Germany in 2001, essence wants makeup to be accessible to everyone, so we can all express our personal style… even if we're on a budget! It's no wonder the best essence makeup products have won so many Allure Best in Beauty Awards! Keep reading, and we'll let you in a secret: the 9 essence products we think everyone should try at least once.
---
On this post:
---
essence: The Brand in Review
Top 9 essence Products
We'll start with three products for the eyes, and then move on to three products for the lips. Finally, we'll wrap up with three unmissable makeup products for your complexion!
essence Lash Princess False Lash Effect Mascara
The volume + length mascara
When it comes to your lashes, are you looking for dramatic volume and bold, impressive length? Then try the essence Lash Princess False Lash Effect Mascara. Designed with a conic brush, this mascara helps you intensify the volume and length of your lashes in order to create a false lash effect.
Available in washable and waterproof versions, this mascara is versatile enough to keep you company all day, every day. Choose the one that best matches your lifestyle!
---
essence the NUDE Edition Eyeshadow Palette 10 Pretty In Nude
The versatile eyeshadow palette
Everyone needs a good, trusty eyeshadow palette, and this one is a great candidate: with nine highly-pigmented powder eyeshadows, this palette offers you variety in a range of golden, glowing shades. With finishes that range from matte to shimmery, this palette allows you to create a variety of makeup looks, suitable for every occasion: from a day in the office to an evening out in a fine restaurant.
---
essence Make Me Brow Eyebrow Gel Mascara
The gap-filling eyebrow gel
Available in multiple shades, to match the natural color of your eyebrows, this eyebrow mascara is guaranteed to take your brows to the next level. Achieve full, well-defined eyebrows with ease, as the tiny microfibers in this formula adhere to your brows to fill in gaps and sparse spots.
A true multitasker, this eyebrow mascara can bring your eyebrows newfound density, shape, and color.
---
essence This Is Me. Semi Matte Lipstick
The lipstick for every occasion
With a long-wearing semi-matte formula, this collection of lipsticks offers high coverage without ever compromising on comfort. Throughout the day, your lips remain soft and light, but always enveloped in gorgeous color.
And speaking of color! This lipstick is available in a wide range of shades, which are sure to complement a variety of different skin tones.
---
essence Stay 8h Waterproof Lipliner
The kiss-proof lipliner
If choosing a lipstick is important, then choosing a lip liner is absolutely vital. The essence Stay 8h Waterproof Lipliner is a good choice for most situations. Available in a range of colors that match the most popular lipstick shades out there, this lipliner lasts up to 8 hours on the lips, and resists virtually everything.
The best part? The precision applicator, which allows for easy application to the lips, lining them in bold color without drying them out.
---
essence What The Fake! Extreme Plumping Lip Filler
The volumizing lip "gloss"
It looks like a lip gloss, it applies like a lip gloss, but it's so much more than a lip gloss: meet the essence What The Fake! Extreme Plumping Lip Filler.
Formulated with hyaluronic acid, vitamin E, and 0.3% chili extract (expect your lips to feel a little warm and tingly!), this unique lip product creates a filler-like effect by evening out small dehydration lines and giving you softer, plumper lips.
What's more, the formula reacts to your lips' natural pH value, thereby intensifying their natural color and providing subtle color.
---
essence Pretty Natural Hydrating Foundation
The non-drying foundation that lasts
Infused with hyaluronic acid and aloe vera, this vegan foundation provides you with a natural look that lasts up to 24 hours without drying out your skin. The lightweight texture is easily blended using a sponge, a brush, or even your fingers: the result will always look perfectly natural, no matter your skin type!
With medium coverage, this foundation is ideal for those who want to perfect their "my skin, but better" makeup looks.
---
essence Camouflage+ Matt Concealer
The full-coverage concealer
If you're looking for a concealer that will not shy away from a challenge, this is it. With a waterproof formula and a matte finish, this concealer is ideal to cover up dark spots, hyperpigmentation, redness, and blemishes.
This concealer is meant to be very, very high coverage: that means you'll even be able to use it to cover up tattoos if needed. A true skincare multitasker!
---
essence Choose Your Glow Highlighter Palette
The all-occasional highlighter set
With three warm shades that help you capture a beautifully natural glow, this highlighter palette is perfect for any occasion. Whether you're preparing for a relaxed summer outing or a classy winter wedding, this palette will help you achieve your desired look.
Use the lightest shade to bring out your skin's natural glow, or the darkest shade to boost the natural beauty of your tan!
---
These may be the best essence makeup products according to us, but besides these, there are many more products worth trying out. Discover our full range of essence makeup products in the shop!