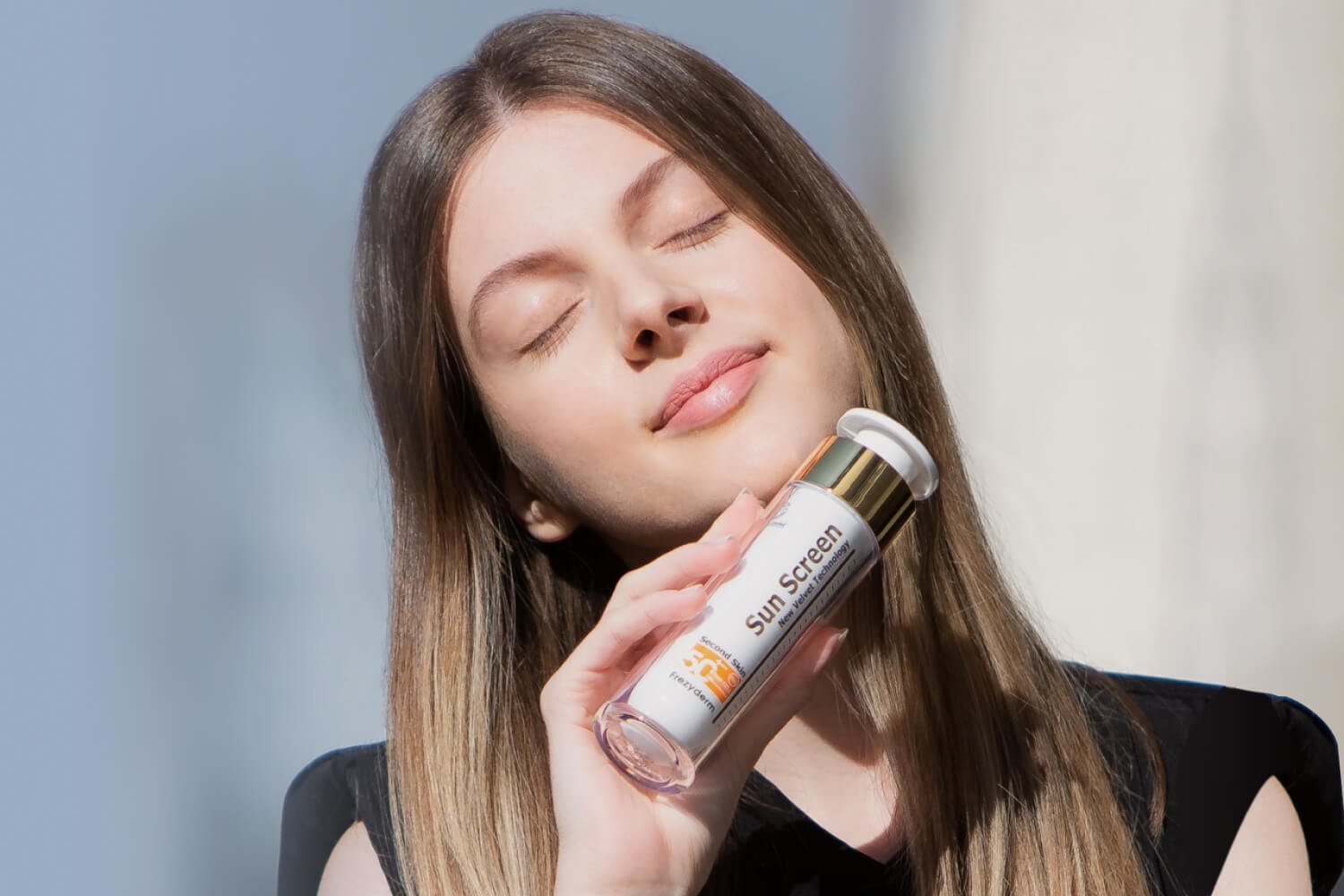 If you're active in online skincare communities, you may have crossed paths with the Frezyderm Sunscreen Velvet Face SPF50+ in the past. Highly praised for its transparent and non-oily texture, this cult sunscreen is the kind of product that draws compliments from everybody who tries it. Here at Care to Beauty we are proof; before we even knew much about Frezyderm as a brand, we knew everything about this sunscreen! Let's step back a little, though. Let's get to know now only this velvety sunscreen, but also a couple of other noteworthy Frezyderm sunscreens you may want to include in your routine.
5 Frezyderm Sunscreens Worth a Spot in Your Routine
Choosing a facial sunscreen can be very personal, but we believe some features are almost universally valued. Take safety, for example: dermatologically tested and developed according to strict pharmaceutical standards, Frezyderm sunscreens are as safe as they get. (Let us point out, however, that all cosmetic products that hit the shelves here in the European Union, where we are located, are by definition safe. We take our legislation seriously!)
Another question that tends to worry our Care to Beauty community is whether Frezyderm sunscreens are broad-spectrum: the answer is yes, they are! The two facial sunscreens featured below both protect against UVA/UVB, and that's not even the whole story. They will also protect your skin against visible light (aka HEV or "blue light") and infrared.
Frezyderm Sunscreen Velvet Face SPF50+
The iconic "second skin" sunscreen
What it is: an award-winning facial sunscreen with a unique, transparent formula that spreads evenly in a matter of seconds. Powered by Frezyderm's exclusive Second Skin Technology, this sunscreen very nearly "melts" into the skin. As a result, it creates a matte finish that lasts for 6 hours.
Why we like it: when you try as many sunscreens as we do, you know the white cast in some of them can be a real problem–and the darker our complexion, the worse. There are some clear and gel-like sunscreens on the market, but they aren't all pleasant to apply. This one, however, is!
With its non-oily texture that is easy to spread and blend into the skin, this sunscreen is an absolute winner for everyday use. What's more, it will also help you soften the appearance of wrinkles and prime your skin for makeup. Are you convinced yet?
---
Frezyderm Active Sun Screen Face Fluid SPF50+
The all-in-one sunscreen for everyday use
What it is: a 3-in-1 sunscreen that provides very high sun protection, long-term hydration, and a powerful action against photoaging. Just as comfortable for everyday use as the Velvet sunscreen, this product brings you an added benefit. Not only does it protect against UVA/UVB/HEV/IR, it also shields the skin against pollution particles.
Why we like it: we love a fun and interesting new formulas, here at Care to Beauty, and this one is as interesting as they get.
As if the benefits we have listed were not enough, this sunscreen includes active charcoal, which not only offers a detox effect, but also gives temporary pigment to the skin. This way, you'll never miss any spots during the application, and you'll be ensuring much more effective sun protection for yourself!
---
Frezyderm Sun Screen Cream-to-Powder SPF50+
The transformative facial sunscreen
What it is: a moisturizing sunscreen with a transformative texture, perfect for dry skin. While the cream formula provides immediate comfort, the white peony extract in the formula promotes enduring hydration and a healthy skin barrier. Upon application, the cream texture turns into a smooth, velvety powder, for a naturally beautiful finish.
Why we like it: transformative formulas are always fun to use, but they're not always well-suited to dry skin! Because a lot of cream-to-powder formulas feature a dry-touch finish, they're often better suited to oily skin. Not this one, though!
If you've got dry skin and a bit of a penchant for those smooth, beautifying formulas with a velvety, powdery finish, this sunscreen has your name written all over it.
---
Frezyderm Active Sun Screen Lip Balm SPF50+
The 3-in-1 lip balm for busy bees
What it is: a practical, everyday lip balm with very high sun protection. From the same "family" of products as the Active sunscreen above, this lip balm also provides a triple action; it hydrates, protects against UVA/UVB/HEV/IR, and helps prevent signs of aging on and around the lip area.
Why we like it: a good lip balm can–and this is no exaggeration–change your life. Get yourself a 3-in-1 lip balm like this one, and you will not only keep your lips comfortable and hydrated, but also shielded against damaging radiation.
---
Frezyderm Sea Side Dry Mist SPF50+
The perfect vacation sunscreen
What it is: a super practical body sunscreen with a water-resistant formula. Perfect for those long days at the beach or pool, this sunscreen features an innovative airless packaging, which allows for practical application and–check this–continuous spraying! The formula suits adults and children alike, which makes it an ideal holiday sunscreen.
Why we like it: applying and reapplying sunscreen at the beach or pool is a bit of a chore, but spray-on sunscreens can help us get over it! Apart from being a spray, this sunscreen has a couple of other things going for it: it's water-resistant, it goes on evenly due to the continuous spray bottle, and it's very, very practical to use. Instead of a traditional spray bottle, you get this innovative bottle with a "trigger", which makes for stress-free application. Try it out!
---
We hope we have clarified some of your doubts about Frezyderm sunscreens. As always, don't hesitate to explore our complete Frezyderm selection in the shop; there you'll find not only facial sunscreens, but also powerful anti-aging solutions to complement your anti-photoaging routine.