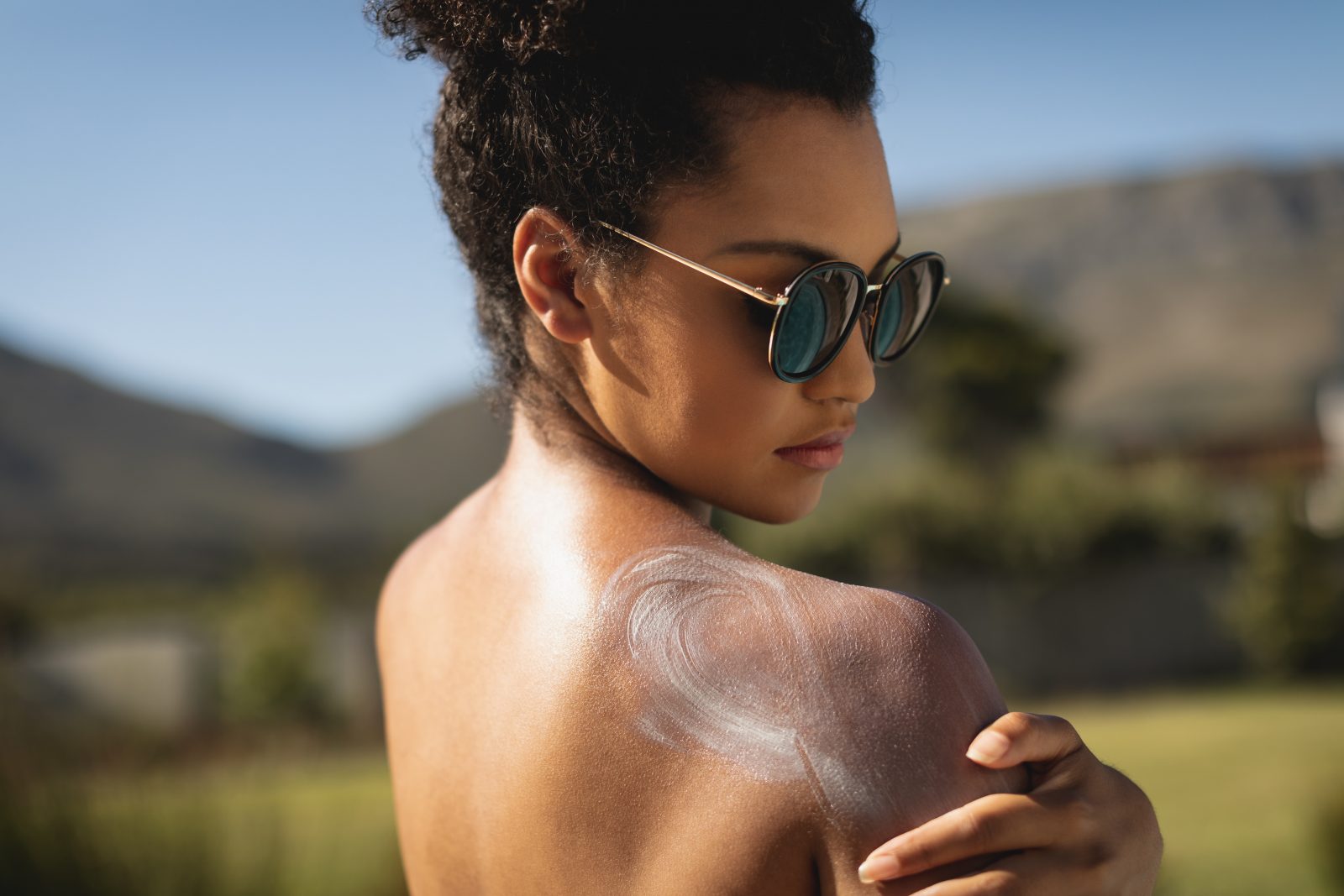 Finding face sunscreens for dark skin that dry invisible, with no white cast, is hard. Firstly, because brands seem to find it hard to understand that "compatible with dark skin" doesn't mean "your face won't explode if you apply it". In fact, it means that you will not get any white cast and will not turn a greyish ghoul. Also, stating that the sunscreen has been tested on phototypes 1-4 isn't enough. People need sunscreen whether they're a phototype 1 or 6. Actually, Bob Marley died from melanoma at just 36 years old. We need sunscreens for all skin types and we need them now. The first step is to make them invisible on dark skin tones, as this will make it easier to wear sunscreen on a daily basis.
We have gathered our favorite sunscreens for dark skin, the ones with an invisible finish that visually disappear from the skin as they dry down. Since "dark skin" is not only dark, we've gathered the best for each situation in hopes to help you find the best sunscreen for your skin. Although a lot of brands state that their sunscreen is apt for dark skin, we've only included those that we've directly seen working on Black skin.
SkinCeuticals Protect Sheer Mineral UV Defense SPF50
Best Mineral Sunscreen
If you have allergies to several organic filters, you've probably had enough of it and are trying to find mineral sunscreens. The problem with this is that mineral filters are known for the white cast they provide, since the ingredients themselves are white. All in all, this means it's difficult for a white ingredient not to be white on dark skin.
However, if you really have to go for mineral sunscreen, there are some options. Some mineral sunscreens already have micronized or nano-sized ingredients in order to prevent this. SkinCeuticals Protect Sheer Mineral UV Defense SPF50 is totally white cast-free and ideal for very dark skin tones that need mineral protection. However, if you can't purchase SkinCeuticals, another amazing option for mineral sunscreen is the Heliocare 360 Mineral Tolerance Fluid SPF50.
---
Heliocare 360 Pigment Solution Fluid SPF50+
Best for Pigmentation on Dark Skin
Finding sunscreens for dark skin that also reduce pigmentation may be hard. However, there are some great solutions out there. Our favorite is definitely the new Heliocare 360 Pigment Solution. The superfluid texture is instantly absorbed and leaves an invisible finish that is perfect for dark skin tones. Moreover, it contains niacinamide and ellagic acid for extra pigmentation protection. Dark skin is extremely prone to pigmentation disorders, so make sure to use proper sunscreen if you have dark spots.
---
Eucerin Sun Oil Control Gel-Cream Dry Touch SPF50+
Perfect for Oily Dark Skin
Sunscreens for oily skin tend to have the worst performance of all sunscreens for dark skin. If you have dark oily skin, you've probably experienced a white cast with several sunscreens. However, this one from Eucerin is known worldwide for its ability to dry out invisible and help keep the skin oil-free throughout the day.
---
Shiseido Clear Stick UV Protector WetForce SPF50+
Best Sunscreen Stick
Sunscreens sticks are perfect to take with you, as they simply fit in your pocket. The best thing about them? Nowadays there are invisible finish sticks that leave no trace of application. Long gone are the days of pasty-white sunscreens that surfers would apply on the nose. Say hello to the new stick generation of invisible protection on the go.
---
SVR Ampoule Protect [SPF30]
Ideal for Dry Skin
A combination of an invisible dry oil formula with some of the best sunscreen ingredients in the world? Sign us up! This ampoule is perfect for those with dry skin searching for a sunscreen that nourishes and protects. The best part? The fact that this is an oil means that there is no white trace at all. This is exactly what you want from sunscreens for dark skin with a tendency for dryness: nourishment and protection.
---
La Roche-Posay Hyalu B5 Aquagel SPF30
Best for Dehydrated Skin
The new launch from La Roche-Posay focuses on two things: a transparent formula and hydrating ingredients. The Hyalu B5 range targets both dehydrated skin and people that are looking for aging prevention. Thus, their sunscreen also does both. The formula is enriched with panthenol in order to repair the skin, while at the same time it hydrates and prevents wrinkles.
---
Bioderma Cicabio Soothing Repairing Cream SPF50+
The Skin Repair Hero
If you've had a tattoo done, or if you've overdone it with your exfoliating acids, you need skin repair. In fact, if you just have sensitive skin, you probably also need it. This nourishing sunscreen is perfectly white when it comes out of the bottle, but as soon as you spread it on the skin, it literally just disappears. The repairing ingredients ensure that any damaged skin will heal faster, with less tendency for hyperpigmentation.
---
Uriage Bariésun Cream Fragrance-free SPF50+
Perfect Match for Dark Sensitive Skin
This fragrance-free formula instantly disappears as soon as you put it on, which makes it one of the greatest sunscreens for dark skin. Additionally, Uriage is known for its thermal spring water with healing properties. All in all, this sun cream is ideal for those with sensitive skin that do not tolerate fragrance and need extra soothing properties on their formulas.
---
Garnier Ambre Solaire Sensitive Advanced Face Sun Gel-Cream SPF50+
The Budget-Friendly Option
If you're in the market for great budget-friendly formulas, look no further. This sunscreen is not only super affordable, but it's also amazing. It has been featured this year by lots of influencers for one good reason: it's difficult to find better at this price point. Garnier inherits the L'Oréal group's knowledge of sunscreens and makes them affordable. All in all, this gel texture is ideal for combination skin that needs an invisible shield from radiation.
---
La Roche-Posay Anthelios Invisible Fluid Fragrance-Free SPF50+
Radiant Skin Ally
Also known as "Shaka Fluid" (previous name, same formula), this sunscreen is a true wonder. The radiant finish provides a healthy glow to the skin, while at the same time offering very high protection from the sun. In fact, this sunscreen has a PPD of 46, which is very hard to find. And here's a fun fact: the tinted version also works on darker skin tones, providing a youthful peachy glow.
---
If you want to discover more face sunscreens for dark skin, just head to the shop and find out all the options we have to offer.