If you're about to have your first tattoo and need to figure out the best skincare for tattoos, you've come to the right place. The ratio of tattooed people that work at Care to Beauty must be about 50:50 to non-tattooed people. So, we have a lot of experience in taking care of tattoos (piercings too!)–and do we have a lot of pharmacists around, which helps a lot.
Your step-by-step tattoo aftercare should always be the one your tattoo artist recommends, but we know pretty well that some artists don't focus that much on specific recommendations. We're here to give you a comprehensive list of dos and don'ts after getting a tattoo, including the best skincare for tattoos.
---
On this post:
---
Tattoo aftercare: Do's & Don'ts
Believe it or not, there's a European standard for tattoo aftercare–the European Standard EN 17169–, published in January 2020. It guides you through several procedures you can use, as well as recommendations. Here are some of them for you to follow carefully:
Do:
Wash your tattoo 1-3 times a day with mild unscented liquid soap. Either let it air dry or pat dry with a paper towel. Never rub or use a hand towel;
If you're using a lotion, apply an extremely thin coat of it twice a day, no more. In case you apply too much or too many times, you may delay healing or get breakouts;
Start applying sunscreen to your tattoo as soon as the wound closes (meaning, when it stops peeling);
Keep the tattoo wrapped only for a few hours, unless you're wearing a special adhesive (which should remain for longer).
Don't:
Scratch your skin (even if it feels like little devils are dancing beneath your skin, thus making it super itchy) or pull any flaking skin or scab;
Bathe or swim in still water, as it can cause infections while the wound is still open;
Soak your skin, since it can fade the ink while healing. Keep your bath time under 10 minutes;
Expose the tattoo to the sun without sunscreen. Yes, even if the tattoo is years old by now. Sun radiation fades ink, no matter how old the tattoo is;
Wear tight clothing while the tattoo is healing. Not only it can adhere to your tattoo and end up pulling part of it, but it can also scratch it and cause pressure blowouts.
---
How to care for a new tattoo, step by step
The most common procedures are using a proper adhesive that stays put for a few days, or using a lotion. The first step is usually the job of your tattoo artist; after cleansing your tattoo (can we all agree that this is the worst part of getting a tattoo?), they will apply a thin layer of lotion and dress your new tattoo in protective gear (usually cling wrap).
Now, this is where you come in:
A few hours later (say, between two and four), remove the cling wrap and wash the tattoo with flowing water and a mild, unscented liquid soap. Be careful not to apply the soap directly to the wound, lather it first;
Pat dry with a paper towel, or let the area air dry;
Apply a gentle lotion in a fine layer twice a day;
Protect the tattoo with loose clothing until you can apply sunscreen to it. When the wound has closed and has no scabs, you can start applying sunscreen. This should take two to three weeks, for most tattoos;
Keep checking the new tattoo for signs of infection (intense pain, swelling, redness, etc);
Keep applying sunscreen to the tattoo, as it prevents ink from fading.
We've checked with our team and every single one of those who answered said this was their routine when getting their tattoos done. There were some variations, though.
In my case, since I'm allergic to anything with glue, no adhesive was put in place. Sofia Alves and Madalena both said they had their tattoos wrapped with cling film for the first three days. Last, but not least, Vânia mentioned that she has to avoid the sun like the plague, so she chose to have her tattoo done in the winter. Not a bad tip!
---
The best skincare for tattoos, according to our team
Now that we've discussed the basics of tattoo aftercare, we can start discussing specific product recommendations. Let's start with creams and lotions, and then move on to sunscreens:
Best lotions to use on a new tattoo: Our top 3
There are quite a few approaches that you can take when it comes to keeping your tattoo healthy. One of them is using nothing at all, which may work if you already have healthy and nourished skin to begin with. However, most people will benefit from using a thin layer of unscented lotion on new tattoos. We always recommend opening a new bottle specifically for this purpose, to ensure that the lotion isn't contaminated by having been open for too long.
When it comes to choosing you lotion or cream, you have a couple of options. You can opt for an ointment, like the popular Eucerin Aquaphor, or you can go for a repairing cream. Among the latter, you can either choose a specific cream for tattoos, such as the Bepanthen Tattoo, or you can go for a "cica cream", like the SVR Cicavit or Bioderma Cicabio creams.
Eucerin Aquaphor Repairing Ointment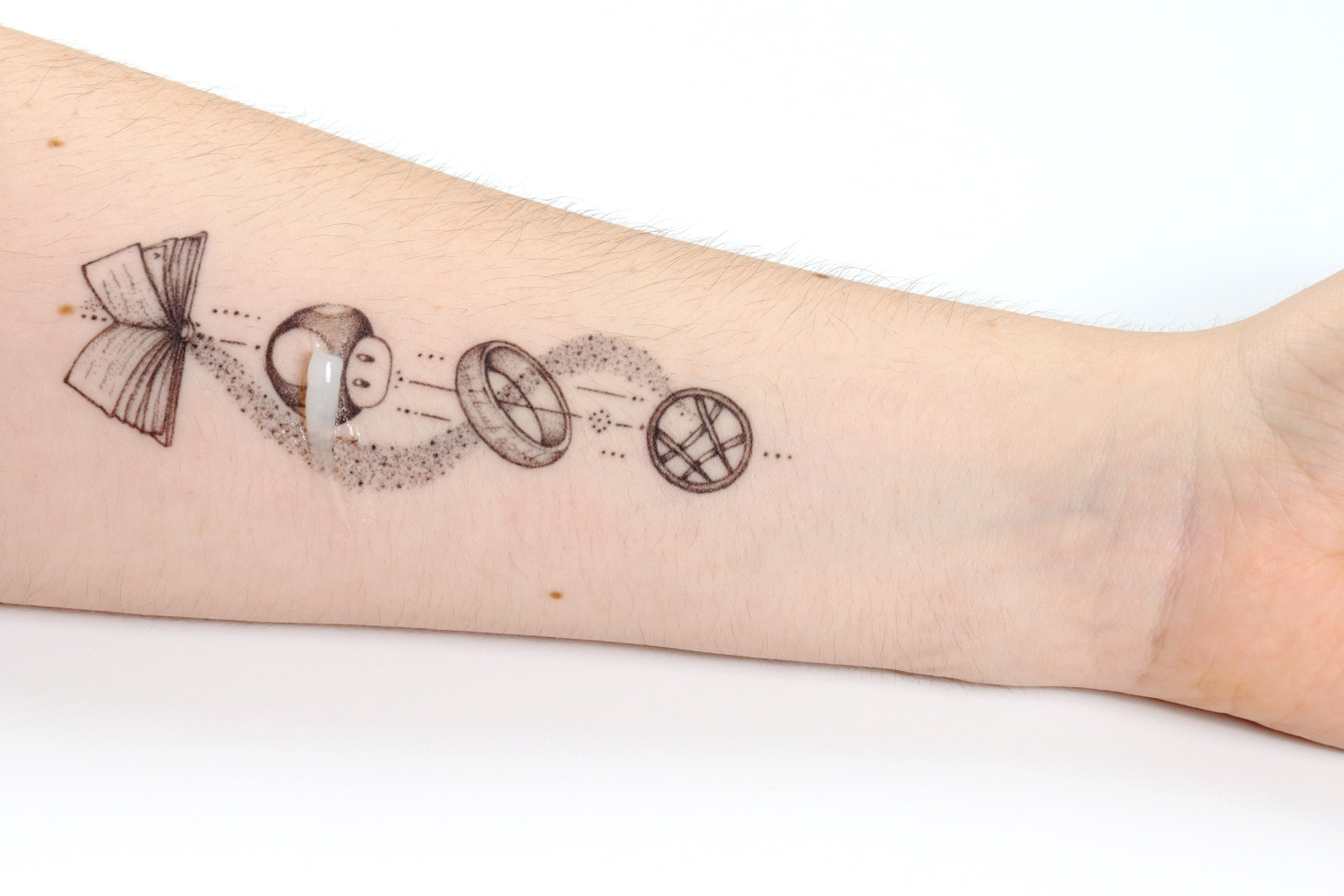 The Eucerin Aquaphor Repairing Ointment is one of the better known creams to use on new tattoos. However, given its formula based on petrolatum jelly, it's hard to get that extremely thin layer you're supposed to apply. Of course, you can spread it carefully, but on the first days touching the new tattoo can be a bit painful. All in all, the tattoos that benefit the most from Aquaphor will be highly saturated tattoos.
---
SVR Cicavit Cream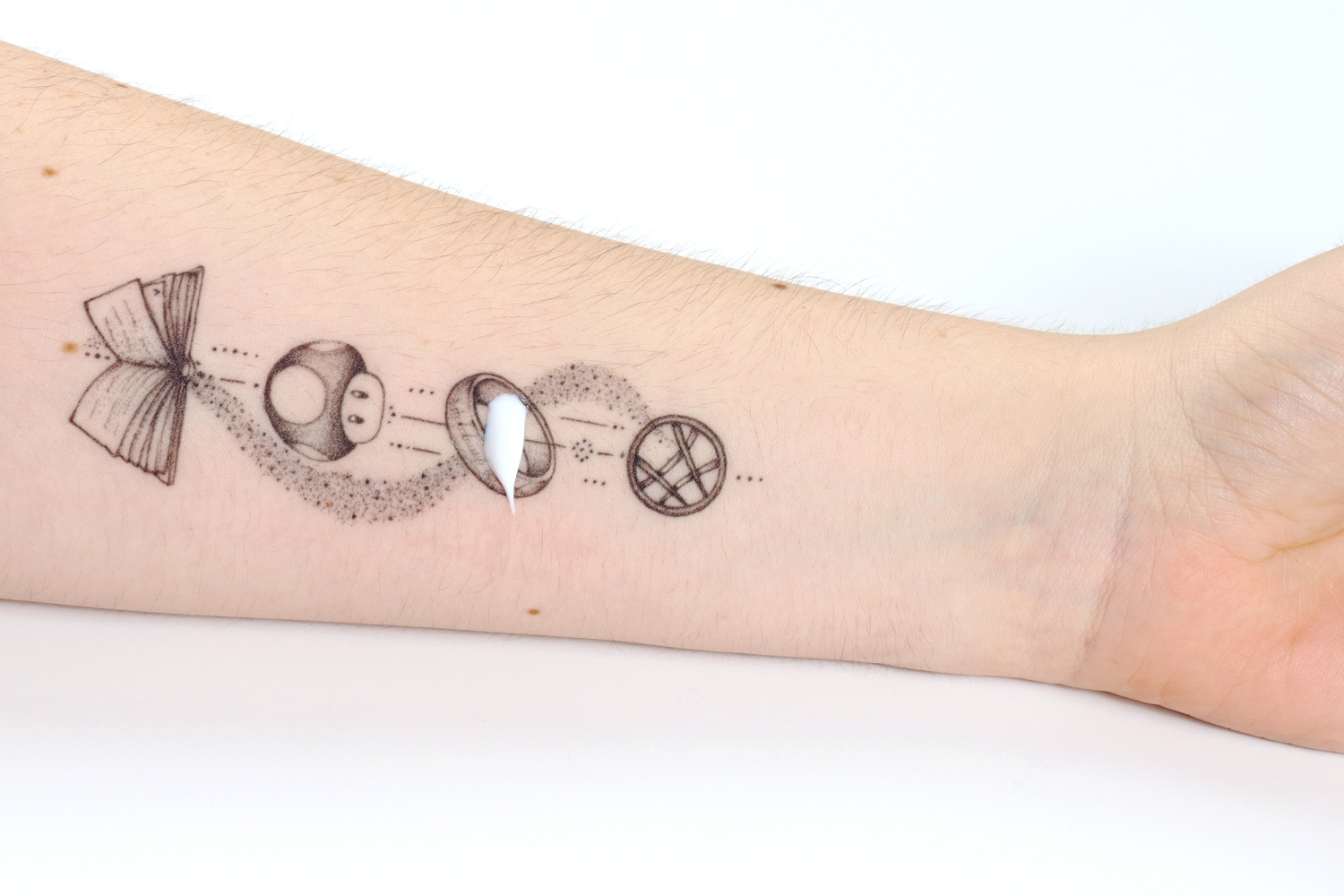 There is no benefit in one or another, they will all be similar in composition and texture, so choose the one that you like the most. A favorite of the team is the SVR Cicavit Cream, a super light lotion with repairing action that spreads easily and at a low price point.
---
Bioderma Cicabio Pommade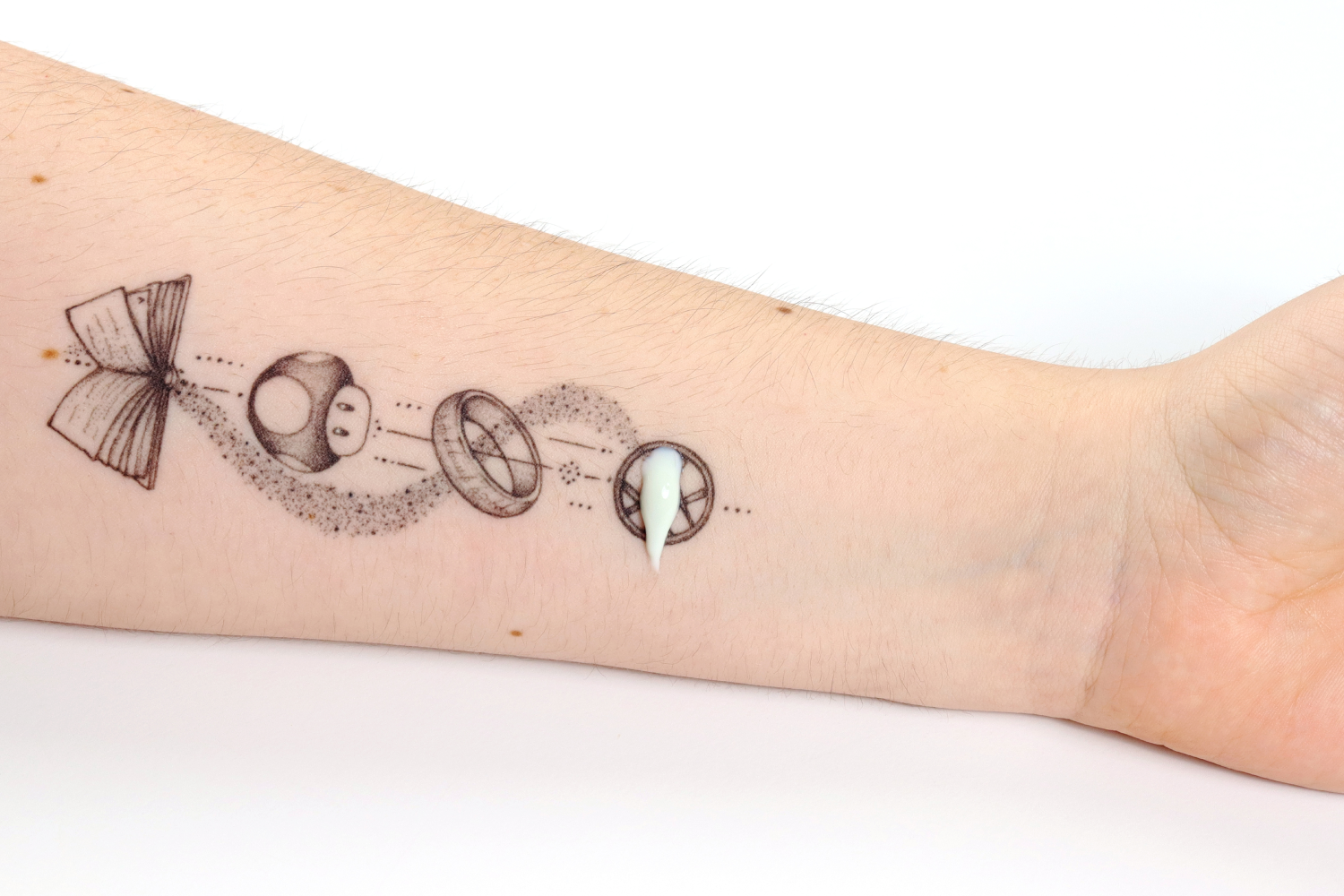 You can also take a look at the Bioderma Cicabio Pommade, which has a small study investigating its effects on healing tattoos with good outcomes. The great advantage of these two is that they are quickly absorbed and leave no greasy residue. In fact, we're fans of applying these once a day on the future location of the tattoo the week prior to getting it.
---
Best sunscreens for new tattoos
As soon as the tattoo closes (which should take two to three weeks), you're safe to use any sunscreen you wish to. There is no advantage in using all-mineral sunscreen, as they are greasier, leave a white cast, and are no better than any European sunscreen formula with modern organic filters. However, some are more practical than others, and your choice will vary with your tattoo.
For a versatile product that will work on every tattoo, we have cica creams with SPF, such as the La Roche-Posay Cicaplast Baume B5 SPF50. You will get high sun protection as well as all the benefits from a repairing cream. However, for smaller tattoos, you may prefer an invisible stick, like the Heliocare 360º Sport Transparent Stick SPF50+. It will be super practical to use and leave no white cast that will make your tattoo look funny. If the tattoo is large, you may prefer a light lotion that is super easy to spread, like the Avène Sun Intense Protect Fluid Fragrance-Free SPF50+.
---
Lastly, all you need to keep in mind is that tattoos should be treated as wounds. If you take care of them as such for the first few weeks, they will last for years without needing retouching. Always respect your skin and, if you are inducing a little damage to it, make sure to make amends after.