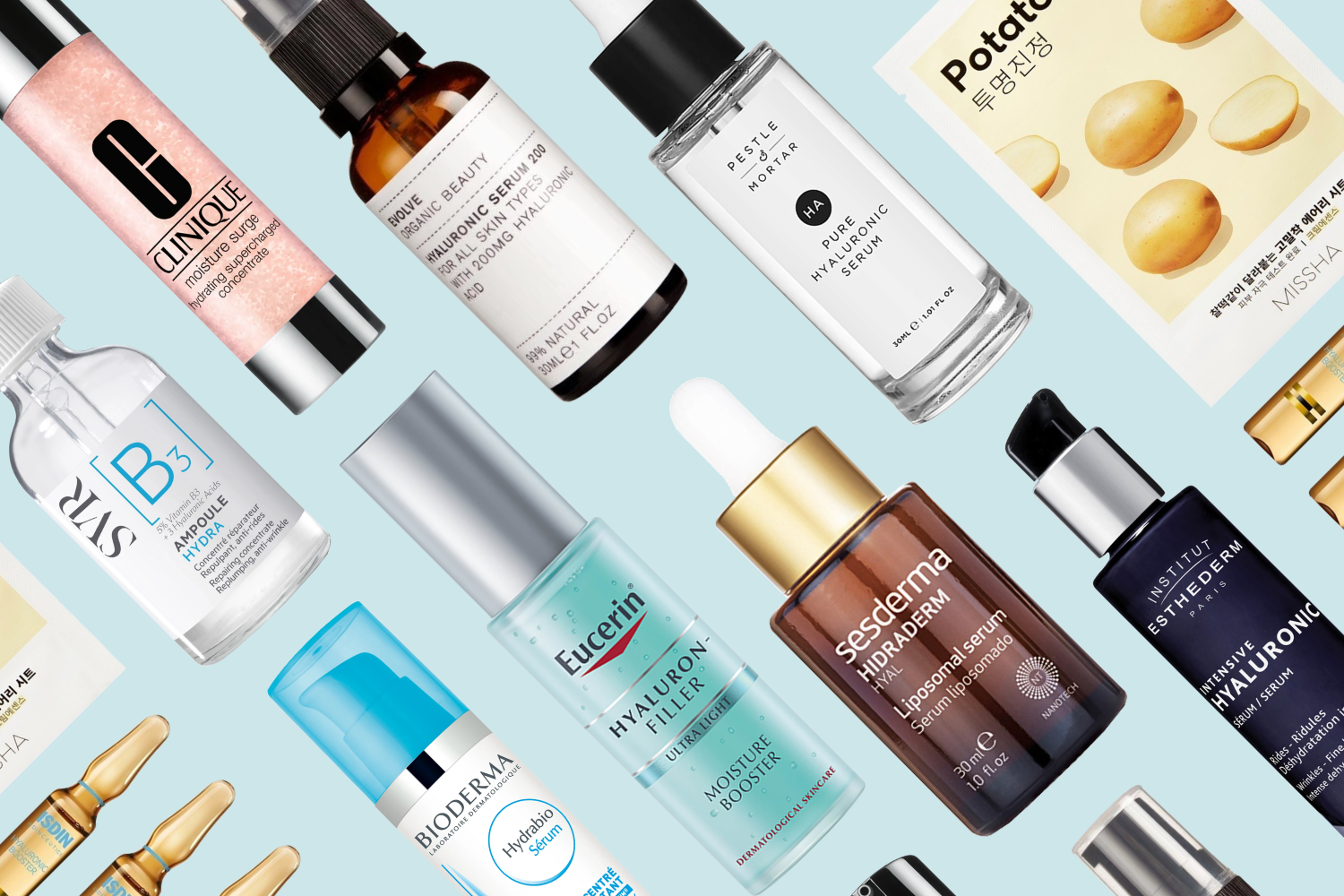 Hyaluronic acid serums are a must-have in every skin routine. Did you know that our skin actually produces hyaluronic acid? The problem is that, in most cases, it just does not produce enough. But let's go to the beginning and check out what hyaluronic acid is. Despite the name containing "acid", it's not exfoliating at all. In fact, this is one of the best ways to keep your skin hydrated. Hyaluronic acid is naturally produced by the skin and is part of the natural moisturizing factors in the skin. These help to bind water to your skin to make sure it's hydrated, plump and that dehydrating wrinkles are kept at bay. Thus, this is why hyaluronic acid is so good at keeping the skin hydrated.
One common misconception is that only dry skin needs to hydrate. This confusion comes from people mixing hydration and nutrition – the first being related to water and the second one to oil content. The fun fact is that, usually, oily skins tend to be dehydrated due to the fact that people with oily skin tend to over-cleanse and not apply hydrating products. However, finding the right product for you is not always easy, so we've gathered our top 10 hyaluronic acid serums by category.
Best Overall
Combining a top of the notch formula with a mid-range price and a vegan ethos, this is our favorite hyaluronic acid serum. Trust us, we've tried a few (or a lot). This serum can be used both by people with dry skin or with the oiliest skin on the planet Additionally, the formula is free from fragrance, which make it perfect for those looking for fragrance-free skincare. All in all, there isn't one thing we can pinpoint on this serum that could be better.
---
Best Splurge
We all love a bit of a luxury, right? This serum from Esthederm is perfect for those looking for visually correcting fine lines. The high and low molecular weight hyaluronic acid molecules ensure a deep hydrations and a filling effect that makes the skin even-looking and dewy.
---
Best Mid-Range
Clinique Moisture Surge is a hit for some reason – people just can't get enough of it. Try this supercharged serum for both plump and hydrated skin. This formula ensures 72h hydration delivered in a fragrance-free formula that also contains vitamin C for an extra boost.
---
Best Budget
Not everyone can or wants to splurge on skincare. We're here for you, and so is Eucerin, one of our favorite budget friendly skincare brands. Forget all about tacky cheap formulas, this one really delivers while also staying within budget. All in all, it's our go-to when people ask us a recommendation that is budget-friendly.
---
Best for Sensitive Skin
Bioderma has long been known for their Sensibio range for sensitive skin. However, they also do amazing other ranges such as the Hydrabio, a budget-friendly hydrating serum that can be worn by people with sensitive skin. It's the favorite one for a lot of our co-workers that usually have issues with allergies.
---
Best for Oily Skin
Sesderma manufactures some of our best serums, and this one is no exception. Despite being hydrating, it's perfect for oily skins. And here's an extra tip: use this hyaluronic acid serum in the morning, instead of your serum and moisturizer. Just follow with your favorite sunscreen for oily skin.
---
Best for Dry Skin
Whether you're looking for comfort or just a great hydrating serum for dry skin, this is the one for you. The ampoules range from SVR has been a clear hit since their launch and people can't seem to get enough of them. This one not only hydrates, but also leaves your skin feeling soft and nourished.
---
Best Natural Hyaluronic Acid Serum
If you're in the market for natural alternatives, Evolve is here for you. This serum keeps going our of stock because people just can't have enough of it. Find out for yourself why so many people have chosen to go natural with this serum.
---
Best Ampoules
This exciting launch from ISDIN has us on our toes. We've long been loving their ampoules, and now they have launched a version with hyaluronic acid. We're all for it!
---
Best Sheet Mask
Sheet masks are nothing but a fabric impregnated with serum. So we've asked our best mask-testers and the conclusion was that Missha has a great variety, quality and price ratio. Lastly, we could have gone to almost any, because they have hyaluronic acid, but we've been told that this one is particular is a skin savior that will leave your skin hydrated and glowing.
---
If you're interested in discovering more products with hyaluronic acid, why not stepping into our Hyaluronic Acid best products category?