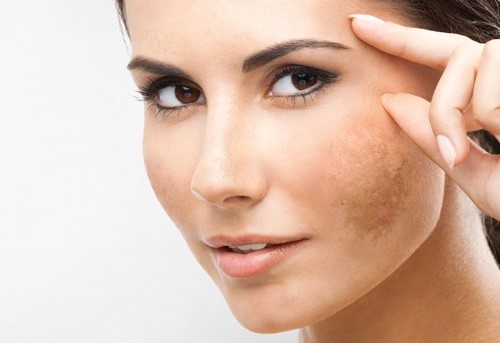 Dark spots on the skin are harmless, but the psychological effects of having hyperpigmentation may be very significant. Therefore, many people search for a way of removing them and preventing further pigmentation. Cosmetics are one of the possible solutions and we bring you the best options we have in order to help you to feel better on your own skin.
What causes hyperpigmentation?
Hyperpigmentation is an excessive production and posterior accumulation of the skin pigment melanin on the skin cells of the epidermis, the outer layer of the skin. This excessive accumulation may be derived from sun exposure, hormonal changes (like the ones that occur during pregnancy), as a reaction after an inflammation (post-inflammatory hyperpigmentation) or after the skin has suffered injuries like burns or abrasion. Sun exposure is the biggest culprit on hyperpigmentation, so the treatment will always involve wearing a high SPF sunscreen. Please note that unless you disable the cells that produce melanin, that area will always have a tendency to have dark spots – this means that no cream will permanently resolve the hyperpigmentation. What cosmetics can do is to prevent the melanin synthesis, the melanin migration and to remove the outer cells that contain the excessive melanin deposits. This takes about three months to be fully noticeable, so please make sure you still use the cosmetic treatments even if you don't see any results immediately.
What can I use to reduce dark spots?
The first thing you need to use when fighting hyperpigmentation is to always use sunscreen, and always one that has a high SPF protection (at least SPF30). Some sunscreens help to reduce dark spots by having a depigmentation action, like Isdin Active Unify and Esthederm Sun Photo Reverse.
Besides using a sunscreen, you will have to choose a depigmenting care product. We always prefer to choose serums, because they can reach deeper layers of the skin and are able to deliver the active ingredients where they are needed. Some of our favorites are the Sesderma Azelac RU Serum, Filorga Pigment Perfect, and SkinCeuticals Advanced Pigment Corrector, and if you prefer to use ampoules, you have the Martiderm Pigment-Zero Ampoules. If you have a dark skin tone, then Martiderm Pigment-Zero DSP Serum is perfect for you. For reactive skins, the La-Roche-Posay Pigmentclar Serum is the ideal one.
You can always use a few complements to improve the treatment effectiveness. The at-home peeling treatment Sesderma Sesmedical Whitening Peel Program is always a good option, but you can also use masks like the Nuxe Spendieuse Mask or the Martiderm Pigment Zero DSP Mask.