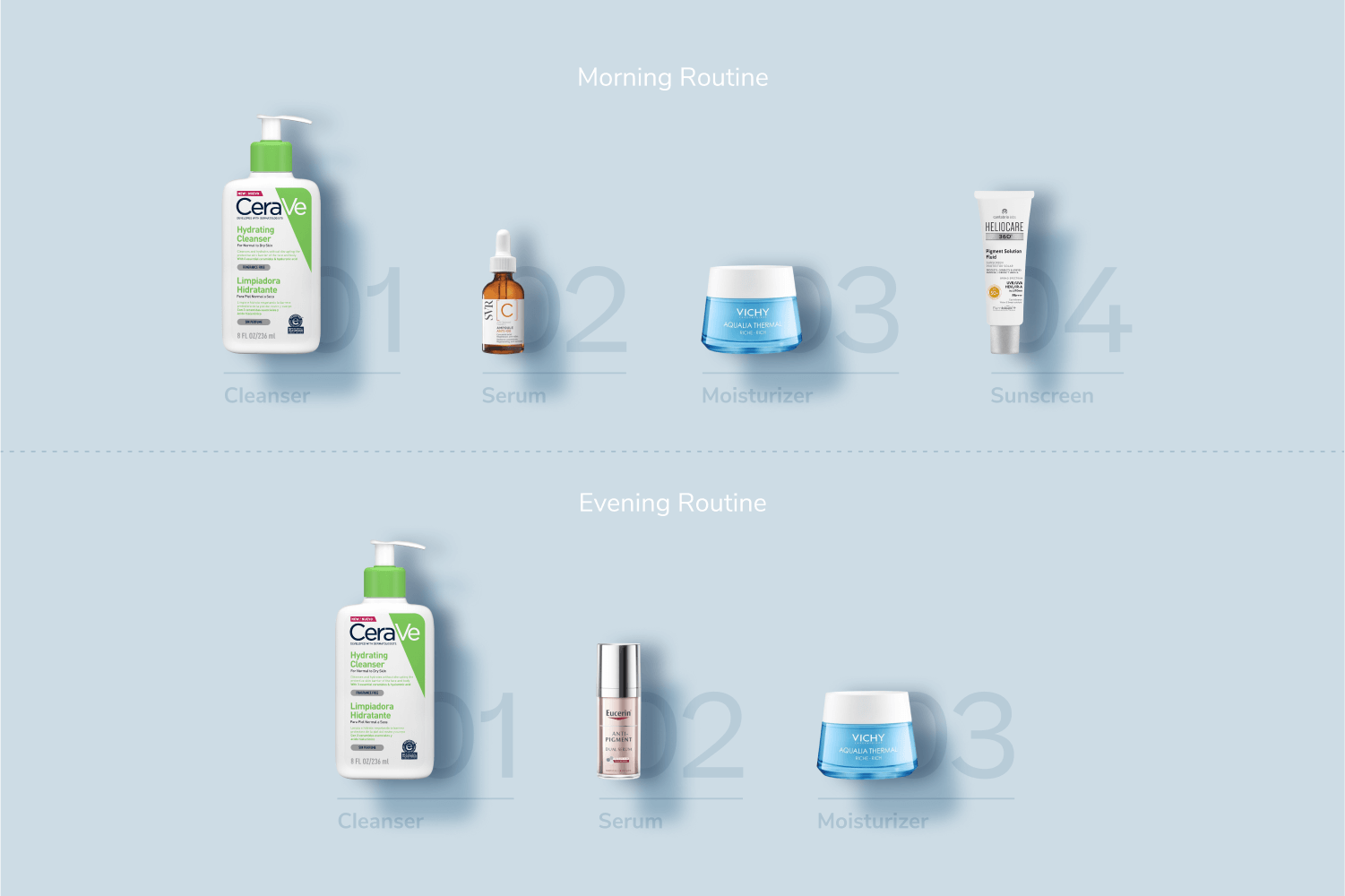 At Care to Beauty, offering personalized advice on suitable skincare products is a vital part of our daily lives. Our team of pharmacists and beauty experts is always ready to inform, clarify and advise you via website, blog, and email. Today, Pharmacy Technician Joana helps 45-year-old Emma create a skincare routine for dry skin and dark spots–meaning, a routine that is as hydrating as it is effective against hyperpigmentation.
---
---
The Request
Emma is 45 years old and wants her routine to be really quick and simple–she's not a huge fan of the whole experience of applying skincare, so we'll keep things very minimal for her. She mentions her skin feels extremely dry and tight throughout the day, which is a pretty good indicator that we're dealing with a skin type that will welcome both moisture and nutrition. She doesn't feel that her skin is particularly sensitive, though. As for her skin goals, Emma was able to identify two: she's got some dark spots, specifically on the cheeks, and she finds that her skin is a little dull, with none of that inner glow she'd like to see.
The Specs:
Age
45
Skin Type
Very dry
Skin Goals
Hydrate and nourish the skin
Keep the skin feeling comfortable throughout the day
Minimize dark spots and hyperpigmentation
Create a glowing, radiant appearance
Price Point
$-$$
(full routine under US$155)
Our Thoughts
We usually get more requests for advice for oily skin than dry skin here at Care to Beauty, so we always welcome the chance to work with dry skin. It gives us a chance to pull products that we wouldn't normally pull, and try combinations that we wouldn't normally be able to try on oily skin.
For this routine for dry skin and dark spots, we're focusing on rich and comforting textures, from the cleanser to the moisturizer. That should help us keep the skin comfortable throughout the day. Then, to help with dark spots and hyperpigmentation, we're going with an anti-spot serum and a targeted sunscreen that's been specifically developed for skin affected by hyperpigmentation. Last, but not least, we're pulling out our favorite skincare star to bring a boost of radiance to the skin: good old vitamin C.
To put it all together in a simple way, we're keeping the cleanser and moisturizer the same in the morning and evening, and then distributing our actives between both routines: vitamin C and sunscreen in the morning, and the anti-spot serum in the evening.
The Morning Routine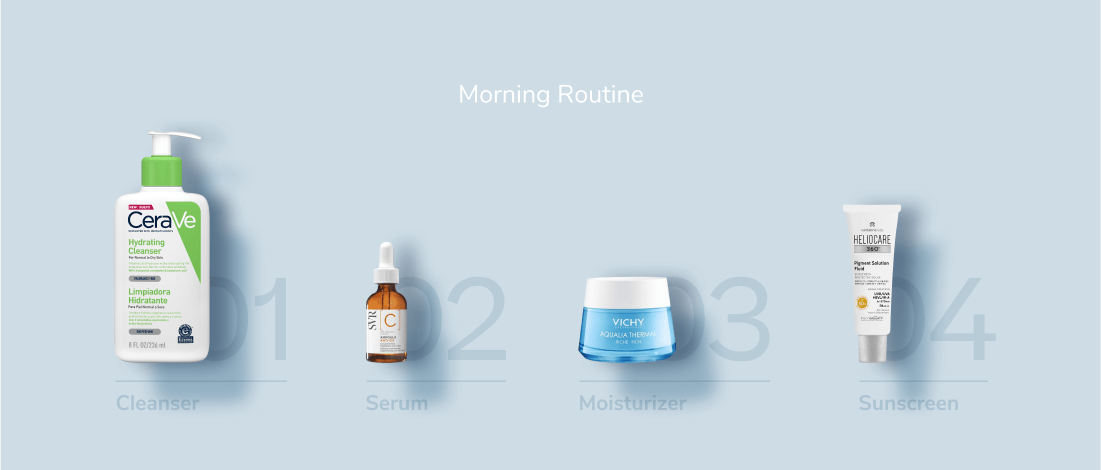 We'll start this routine with one of our favorite cleansers for dry skin, the CeraVe Hydrating Cleanser Normal to Dry Skin. With a smooth, non-foaming texture, this cleanser features essential ceramides and hyaluronic acid in its composition. The formula provides a soft cleanse without stripping the skin of its natural oils; in fact, it's so gentle that it's been approved by the American National Eczema Association to use on atopic skin.
After cleansing, we're keeping things simple and going to straight to the serum. We're going with the SVR Ampoule [C] Anti-Ox Radiance Concentrate, a silky vitamin C serum that feels like a dream on dry skin (as reported by members of our team, who love this serum to bits). Featuring 20% vitamin C, this serum is a great addition to any routine that's targeting dark spots and aiming for a bright, radiant complexion. Vitamin C, as we know, is a powerful antioxidant, which not only helps prevent sun damage but also helps promote a brightening effect. For anyone who's worried about dullness and loss of radiance, this serum is a great choice.
Because we're building a routine for very dry skin, we're adding a moisturizer to this morning routine, and it's a real classic: the Vichy Aqualia Thermal Rehydrating Rich Cream. Composto por 97% de ingredientes naturais, incluindo hyaluronic acid, Vichy Mineralizing Thermal Water, and mannose, this moisturizer brings dehydrated skin a pure and refreshing boost of hydration. Dry and dehydrated skin is often affected by discomfort throughout the day, with feelings of pulling and tightness being common. This moisturizer foi desenvolvido especialmente para trazer até 48 horas de hidratação e conforto à pele, para ajudar a minimizar estas sensações e promover uma pele forte e saudável.
Finally, we are going to choose a sunscreen suitable for a routine focused on reducing dark spots and hyperpigmentation, the Heliocare 360 ​​Pigment Solution Fluid SPF50+. With broad-spectrum protection, this sunscreen protects the skin from the damaging effects of not only UVA/UVB rays, but also infrared and visible light. Like all other Heliocare sunscreens, this sunscreen contains Fernblock®, a botanical extract with powerful antioxidant properties–always good news for anyone looking to promote brighter, more even skin. In addition to this star ingredient, this sunscreen also features ellagic acid and niacinamide, two powerful ingredients that form a depigmenting complex that helps reduce dark spots and prevent their re-appearance.
---
The Evening Routine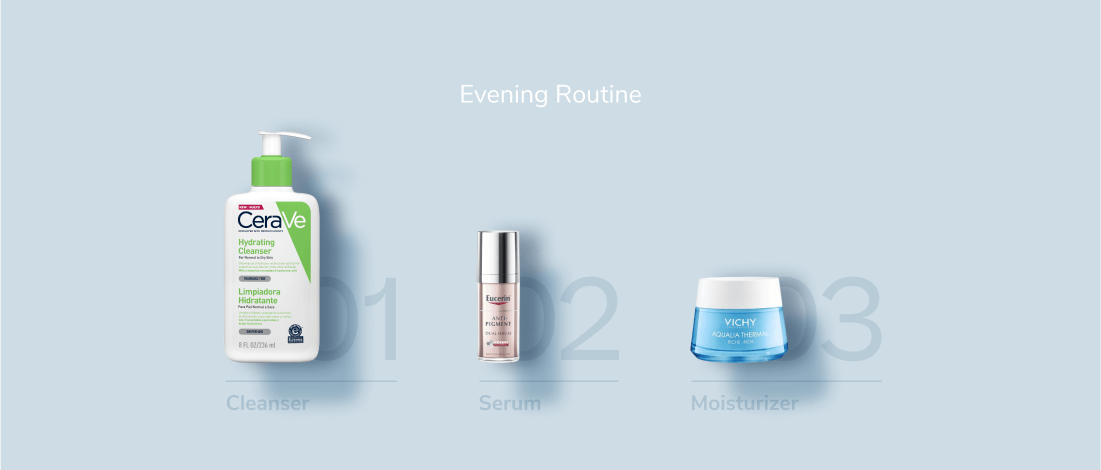 For the evening routine, we're keeping the same cleanser we've used in the morning, and adding a brand new serum: the Eucerin Anti-Pigment Dual Serum. This anti-dark spot serum comes highly recommended by members of our team as well as members of the wider Care to Beauty community. Featuring Thiamidol, an exclusive active ingredient that acts at the root cause of hyperpigmentation, this serum is effective in both reducing dark spots and preventing their re-appearance. The smooth, hydrating formula is also right in hyaluronic acid, making it a perfect fit for a routine for dry skin and dark spots
If, after using the serum, the skin still needs more hydration, then we can add the same moisturizer we used in the morning, to give the skin an extra dose of hydration and comfort.
---
In Conclusion
With just five products, we've put together a simple everyday routine for dry skin and dark spots. From a gentle cleanser to a pair of smooth hydrating serums, this routine is perfectly adapted to the needs of dry skin. Of course, it's also rich in interesting active ingredients, from brightening vitamin C to depigmenting Thiamidol. All in all, this routine comes in at just under US$155.