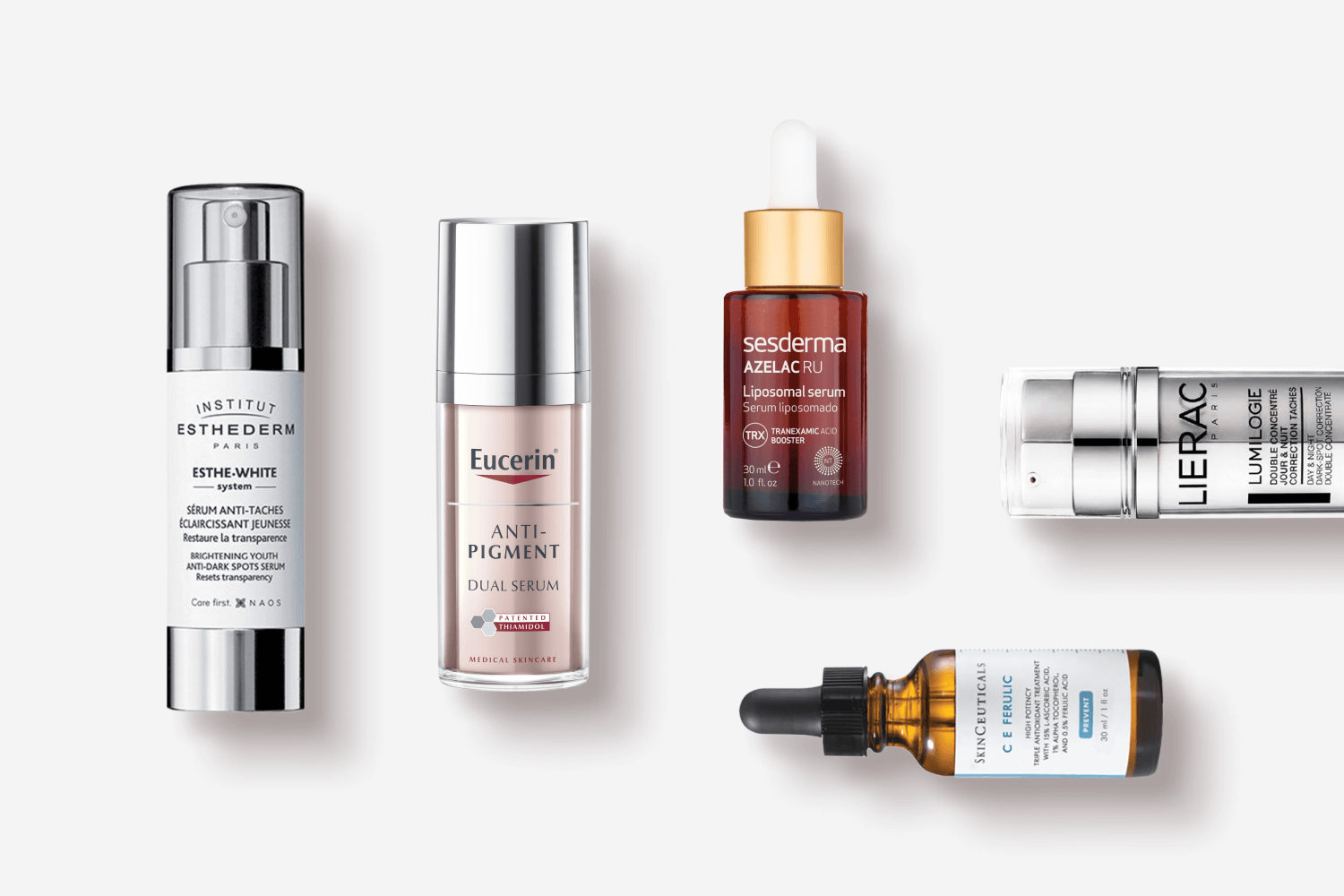 Here's a relatable moment of skin envy: have you ever looked, and we mean seriously looked, at the complexion of a Hollywood star as she struts down the red carpet? Nary a dark spot in sight! Clear skin is the hallmark of a movie star complexion, but it isn't as unachievable as all that. All it takes is the right product (we've selected the best dark spot correctors below) and a healthy dose of discipline (that's on you!) to reveal an enviably uniform complexion.
Ready to take on that unruly dark spot that's been pestering you for years? Then come along. We're shining the spotlight on our bestselling dark spot treatments. Backed by our resident skincare experts, then tried and tested by our Care to Beauty community, these are our best serums for hyperpigmentation. Which one will you pick?
The best dark spot correctors (as chosen by our customers)
Eucerin Anti-Pigment Dual Serum
An innovative serum with Thiamidol
Our bestselling anti-hyperpigmentation skincare product is a dual-action serum that both reduces dark spots and prevents their re-appearance. The Eucerin Anti-Pigment Dual Serum contains Thiamidol. This active ingredient that acts at the root cause of hyperpigmentation by reducing melanin production.
Clinical and dermatological studies show Thiamidol is effective in both reducing dark spots and preventing their re-appearance. Because of this, Thiamidol is the perfect ally for a radiant and even complexion.
---
Sesderma Azelac RU Liposomal Depigmenting Serum
A classic with azelaic acid
Sesderma Azelac RU Liposomal Depigmenting Serum is the all-star dark spot treatment from Spanish brand Sesderma. It can be used to treat pigmentation disorders such as melasma, age spots, freckles, hormonal pigmentation, and sun spots. This serum acts on melanin production to reduce it in order to prevent and remove existing dark spots.
The combination of azelaic and tranexamic acids with liquorice extract helps to directly inhibit melanogenesis (the process by which the skin produces melanin, which gives your skin its color); in other words, it helps you achieve a brighter, more even complexion.
---
La Roche-Posay Pure Niacinamide 10 Serum
A depigmenting solution for sensitive skin
La Roche-Posay Pure Niacinamide 10 Serum is an anti-dark spots concentrate that helps you reduce hyperpigmentation and even out the skin tone. This formula acts on all stages of the pigmentation process in order to reduce recurrent dark spots.
Highly concentrated in niacinamide and HEPES, this fluid serum actively fights pigmentation while offering a gentle exfoliating action that helps unify the complexion. The fluid texture feels comfortable even on sensitive skin: what else could you ask for?
---
SkinCeuticals Prevent C E Ferulic
An ally in the prevention of dark spots
SkinCeuticals Prevent C E Ferulic is one of the top antioxidant products from SkinCeuticals, especially suitable for normal to dry skin. Ideal to prevent and repair all signs of aging, this formula combines a high concentration of vitamins C, E, and ferulic acid in order to boost the skin's ability to protect itself against sun damage.
The perfect addition to your morning skincare routine, this serum delivers advanced environmental protection, which in turn improves the appearance of fine lines and wrinkles, helps prevent loss of firmness, and brightens the overall complexion.
---
Caudalie Vinoperfect Radiance Serum
A depigmenting serum for use during pregnancy
Caudalie Vinoperfect Radiance Serum is the number one dark spot corrector in French pharmacies since 2008. Both effective and gentle, thanks to its 98% natural formula, this anti-dark spot serum boosts radiance and helps even out the skin tone. Its age-defying formula corrects and prevents dark spots, all the while lending the skin a luminous and polished appearance. It's also a safe bet to use during pregnancy.
Highly concentrated with patented Viniferine to counter sunspots, acne marks, scars, and other types of damage, this serum also contains olive squalane, which instantly hydrates the skin without creating an oily finish. 87% of volunteers who tried this serum twice a day, for 56 days, reported a brighter and more even complexion.
---
Lierac Lumilogie Day & Night Dark Spot Correction Concentrate
An innovative combination of two products in one
Lierac Lumilogie Day & Night Dark-Spot Correction Concentrate is a dual dark spot treatment that combines two skincare products (a day cream and a night cream) in the same practical bottle.
Both formulas are rich in hexyl R, which halts the production of melanin and prevents the formation of dark spots, sea lily to reduce the production of melanin and prevent its migration to the cells, and plantain extract to fight in-depth spots of hyperpigmentation. The day cream also features a combination of antioxidant vitamins that help prevent free radical damage; meanwhile, the night cream includes a mix of 7 hydroxy acids (glycolic, salicylic, lactic, piruvic, citric, malic, and tartaric acids), which provide a gentle exfoliating action.
---
Sensilis Skin D-Pigment [Serum ATX B3] Corrective Treatment
An effective blend of tranexamic acid and niacinamide
Sensilis Skin D-Pigment [Serum ATX B3] Corrective Treatment is an innovative serum that combines tranexamic acid (2%) and niacinamide (10%) in a single solution to combat dark spots. Specially formulated with sensitive skin in mind, this serum helps gradually fade spots and hyperpigmentation patches. It achieves a 10% reduction in melanin in dark spots over 2 months, reducing the visibility of spots by 18% in the same period.
With a fluid texture, this serum is easy to apply and quick to absorb. The formula is not photosensitizing and is recommended for use twice a day, morning and night; do not forget, however, to follow up the morning application with a sunscreen that's suitable for dark spots!
---
Esthederm Esthe-White Brightening Youth Anti-Dark Spots Serum
An ideal option to boost skin glow
Esthederm Esthe-White Brightening Youth Anti-Dark Spots Serum is an intensive correcting serum with global appeal. It combats different types of spots (related to the sun, age, hormonal variations, or even acne scars) on the face, neck, and bust. All things considered, this is a true skincare hero.
With high concentrations of stabilized vitamin C and other brightening agents, this serum will not only target existing dark spots, but also boost the radiance of your overall complexion. The velvety texture, which is imbued with a light fragrance, goes on smoothly on the skin; day after day, it creates a clearer, more uniform complexion.
---
Sesderma Hidraderm TRX Liposomal Serum
A soothing and hydrating serum to fight dark spots
The most recent dark spot corrector from Sesderma, Sesderma Hidraderm TRX Liposomal Serum, combines three different actives: tranexamic acid, curcumin, and 4-Butyl-resorcinol. Tranexamic acid is particularly interesting in the world of anti-pigmentation ingredients; it prevents the activation of the melanin-producing cells, reducing the pigment production and consequently fading dark spots.
The best part? The formula also reduces redness and protects the skin barrier. In short, this hydrating serum is suitable even for the most sensitive skin,
---
You've seen the products and chosen your favorite; this is when discipline comes in. If you're looking to remove dark spots from your skin, you need to add some heavy-duty sunscreen to your routine. Choose a broad-spectrum sunscreen with SPF50+, and make sure to reapply every two hours in order to keep your skin shielded against UVA and UVB rays.
Follow this simple rule, and you'll be well on your way to defeating your dark spots. Let us know how it goes!