It's not news to anyone that, here at Care to Beauty, we're fans of sunscreen. We'd as it's the most important product in any skincare routine, especially if it's an anti-aging or anti-dark spot routine. As such, it's not an exaggeration to say we were very excited to learn about La Roche Posay's new release: the brand new Anthelios UVMune 400 sunscreens.
This news may be big for you too: if you're a fan of the discontinued La Roche-Posay Anthelios Invisible Fluid, or "Shaka Fluid", you will now find it as part of the new Anthelios UVMune 400 line.
(Regarding the name: that's UVMune, not Immune. Science has yet to come up with a sunscreen that will make you immune to sun damage; always apply and re-apply your SPF responsibly!)
If you're as excited as we are to get to know the new UVMune 400 range and its star ingredient, the exclusive Mexoryl 400 filter, keep reading. Let's review the features of these new products, and tell you everything you need to know about this new sun protection paradigm.
---
On this post:
---
The problem: Long UVA radiation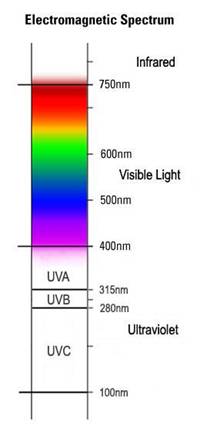 Sunlight isn't just "sunlight": it's actually a spectrum of different types of radiation, many of which are familiar to you. In the world of skincare, you've definitely heard of ultraviolet-A (UVA) and ultraviolet-B (UVB) radiation, infrared, and visible light. Each of these types of radiation has a different wavelength, which is measured in nanometers (nm):
280 to 315 nm: UVB
315 to 400 nm: UVA
380 to 700 nm: visible light
700 nm to 1.000.000 nm: infrared
Ideally, a single filter would be able to offer effective protection in all these ranges; in reality, what happens is that different filters have optimal performance ranges across the sunlight spectrum. In essence, the art (or science!) of putting together a sunscreen product is like completing a puzzle. The end goal is to achieve the best possible combination of filters, with the understanding that "the best combination" must a) cover the largest possible area of ​​the spectrum, b) offer optimal protection at different points of the spectrum, and c) actually be pleasant to use!
Up until this point, brands like La Roche-Posay had achieved pretty impressive results in terms of covering a large area of the sunlight spectrum. However, there was still an outstanding gap at the longer end of the UVA range: a tiny gap between 380 nm and 400 nm where existing UVA filters started to lose their effectiveness.
UVA radiation is associated with photoaging and pigmentation, and longer wavelengths tend to penetrate ever deeper into the skin; ultimately UVA radiation may even cause indirect damage to DNA, which may, in turn, play a role in the development of some skin cancers. What we're trying to say is: that gap may seem tiny, but we can't think of it as harmless.
The fix: The new Mexoryl 400 filter
It's well known that if you want something done right, you have to do it yourself, and that's what happened; faithful to its history of creating innovative sun filters (ever heard of Mexoryl XL and SX?), La Roche-Posay dedicated itself to creating a filter that performed optimally at the longer end of the UVA range. The result? The new state-of-the-art Mexoryl 400, the latest piece of the sun protection puzzle.
An exclusive ingredient, resulting from 10 years of research and 25 patents, the Mexoryl 400 filter is the star of this new line of sunscreens. With peak absorbance at 385 nm, it is the best-performing filter ever at the longer end of the UV spectrum.
With Mexoryl 400, the UVMune 400 line becomes the first on the market to be able to protect effectively against ultra-long UVA rays, considered among the most insidious for the skin. It's been nearly 30 years since the field of sun protection has seen this type of innovation: a truly, unquestionably, 100% new UV filter (rather than a new version of an old favorite) that is also the first to protect against a particularly challenging wavelength. Don't blame us for being excited!
The 8-filter tech: UVMune 400
We've talked about Mexoryl 400, the star filter of this new sun protection line-. However, a single sun filter does not a sunscreen make. The secret lies in an expert combination of filters, and that is what the UVMune 400 technology, which lends its name to this line of sunscreens, is all about.
All products in the UVMune 400 line contain not one, not two, not three, but eight sun filters. Here's a quick "who's who" of this mighty combination:
Octisalate (Ethylhexyl salicylate): protects in the UVB range (280-320nm) with peak absorbance at 306 nm;
Uvinul T 150 (Ethylhexyl triazone): protects in the UVB range (280-320nm) with peak absorbance at 314nm;
Mexoryl XL (Drometrizole trisiloxane): protects in the UVB and UVA ranges, with peak absorbance at 303 nm (UVB) and 344 nm (UVA);
Mexoryl SX (Terephthalylidene dicamphor sulfonic acid): protects in the UVA range with peak absorbance at 345 nm;
Tinosorb S (Bis-Ethylhexyloxyphenol methoxyphenyl triazine): protects in the UVB and UVA ranges, with peak absorbance at 310 nm (UVB) and 345 nm (UVA);
Uvinul A Plus (Diethylamino hydroxybenzoyl hexyl benzoate): protects in the UVA range with peak absorbance at 354 nm;
Avobenzone (Butyl methoxydibenzoylmethane): protects in the UVA range with peak absorbance at 360 nm;
Mexoryl 400 (Methoxypropylamino cyclohexenylidene ethoxyethylcyanoacetate, or MCE): protects in the UVA range with peak absorbance at 385 nm.
The products: Invisible Fluid and beyond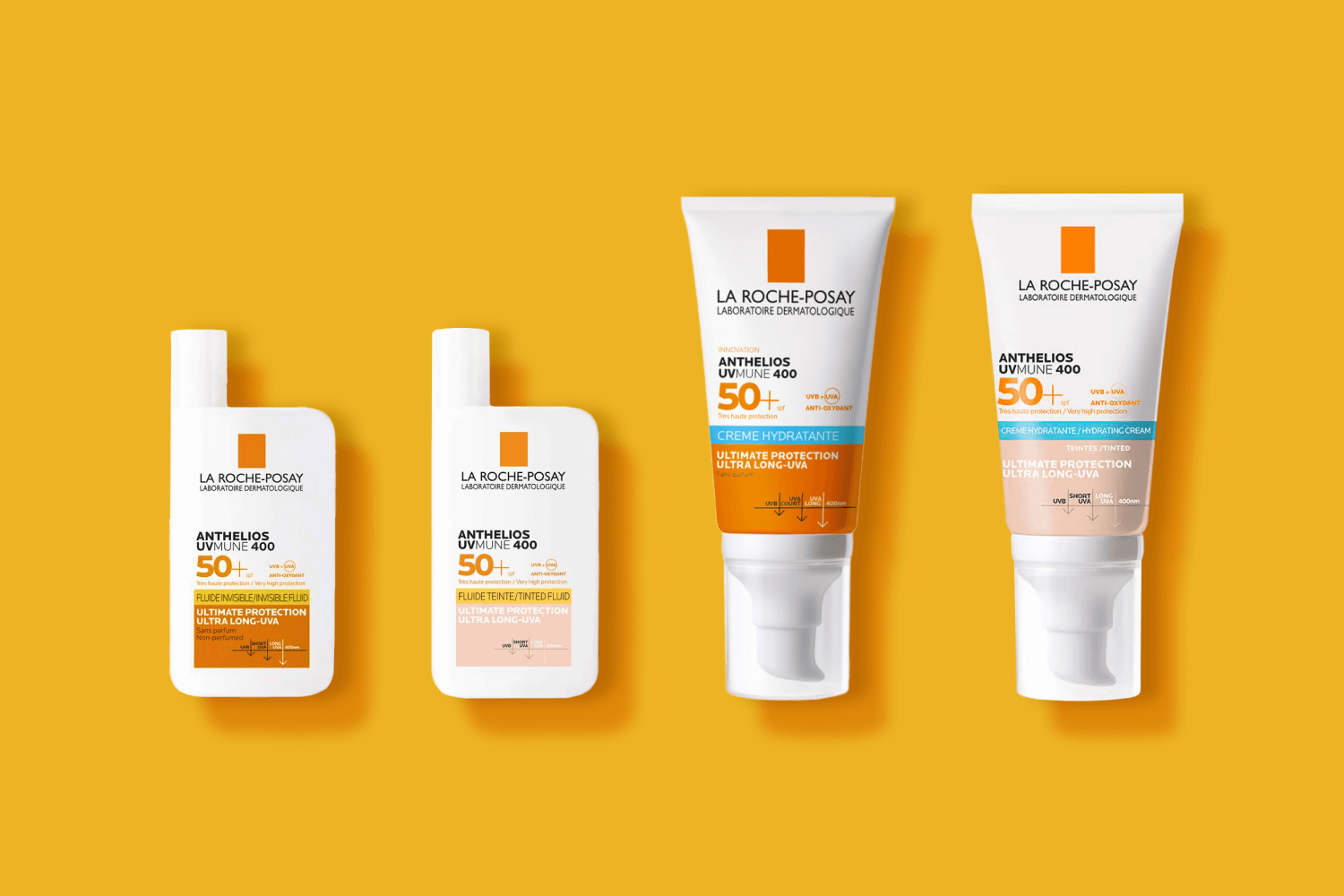 There's no denying it: the La Roche-Posay Anthelios Invisible Fluid (sometimes affectionately referred to by its original name, "Shaka Fluid") is one of the most iconic sun protection products of the last few years. Up until 2021, this sunscreen seemed to have it all: SPF50+, a very high PPD (46 in the latest version), a fluid texture adapted to different skin types, and the exclusive Netlock technology, which made the formula more resistant to water and sweat, all the while preventing it from migrating into the eyes and causing irritation. The one thing it didn't have was UVMune 400… but that's changed. 😎
La Roche Posay Anthelios UVMune 400 SPF50+ Fluids
The yellow line
Let's review the current "Shaka Fluid" range, then. The Invisible Fluid has been reformulated and is now available in two superpowered versions: the La Roche Posay Anthelios UVMune 400 Invisible Fluid SPF50+ (which is now fragrance-free by default, with a PPD of 47), and the La Roche Posay Anthelios UVmune 400 Invisible Tinted Fluid SPF50+ (which does have fragrance).
If you are looking for the SPF50+ version with fragrance, or the SPF30 version, those have been discontinued.
---
La Roche Posay Anthelios UVMune 400 SPF50+ Creams
The blue line
However, to shake things up, La Roche-Posay has chosen to extend the UVMune 400 technology to two other sunscreens: the La Roche-Posay Anthelios UVMune 400 Hydrating Cream SPF50+, and the La Roche-Posay Anthelios UVMune 400 Hydrating Tinted Cream SPF50+.
Whereas the fluids above are ideal for normal to combination skin types, these hydrating creams are perfect for dry skin. They feature the exact same UVMune 400 technology, with the exact same cocktail of UV filters. You will find the main difference to be in the textures, so keep that in mind while choosing your favorite!
---
La Roche Posay Anthelios UVMune 400 SPF50+ Oil Control Fluids
The green line
The newest addditions to the UVMune 400 are the Oil Control sunscreens, which have been designed specifically for oily skin. With a lightweight formula that suits even acne-prone skin, these two sunscreens provide a mattifying effect for up to 12 hours. The secret to this mattifying effect is Airlicium technology, which absorbs sebum in order to create a smooth, matte look.
You can get this product in two versions: an untinted version, which is also fragrance-free (La Roche-Posay Anthelios UVMune 400 Oil Control Gel Cream Non-Perfumed SPF50+), or a tinted version (La Roche-Posay Anthelios UVMune 400 Oil Control Tinted Fluid SPF50+), which will also help disguise imperfections and unify the appearance of the skin.
---
And that's all from us today! We've explore the basics of the new La Roche-Posay sunscreen range, reviewed the brand's new UV filter, taken apart the new UVMune 400 complex… it's been a bit of a marathon, but we've pulled through. To thank you for tagging along, we'd like to invite you to drop by the Care to Beauty shop, where we've got all six UVMune 400 sunscreens currently available and in stock.
We've got a couple on our desks too, but didn't we say we loved sunscreen? We meant it!