At Care to Beauty, offering personalized advice on suitable skincare products is a vital part of our daily lives. Our team of pharmacists and beauty experts is always ready to inform, clarify and advise you via website, blog, and email. Today, Pharmacy Technician Joana helps 29-year-old Satya create a routine for hormonal acne.
---
The Request
This skincare routine was requested by Satya, a 29-year-old member of our Care to Beauty community. She has combination skin; she also mentions that her T-zone tends to feel oily and look a little shiny halfway through the day. Her skin isn't particularly sensitive, which is always good news.
Satya's goals are to reduce blackheads and comedones, limit blemishes, and reduce the size of enlarged pores. At the same time, she does not want to compromise on hydration; after all, combination skin needs just as much hydration as other skin types.
In her own words, Satya says she'd like "a nice cleanser for combination skin", "a skin toner to reduce my pores", "a serum to hydrate", and, finally, a moisturizer. Price-wise, she wants to keep things affordable, so let's see what we can work out for her.
The Specs:
Age
29
Skin Type
Combination (oily T-zone)
Skin Goals
Reduce blackheads and comedones
Limit blemishes
Reduce the size of enlarged pores
Price Point
$-$$
(full routine under US$100)
Our Thoughts
There are plenty of anti-acne products out there, many of which focus specifically on teenage acne. In this particular case, we won't be reaching for those products, because we're dealing with an adult woman whose concerns match up with the description of hormonal acne. Hormonal acne, or "adult acne", is an increasingly common concern among adult women. It can be a little complex to treat, in part because creating a routine for hormonal acne on adult women may mean sacrificing other concerns, like dehydration, sensitivity, or even the first signs of age.
Fortunately, nowadays there are plenty of versatile products on the market that help us create functional and comprehensive routines for adult women dealing with acne. We'll be using some of them throughout this routine, so stay tuned.
The Morning Routine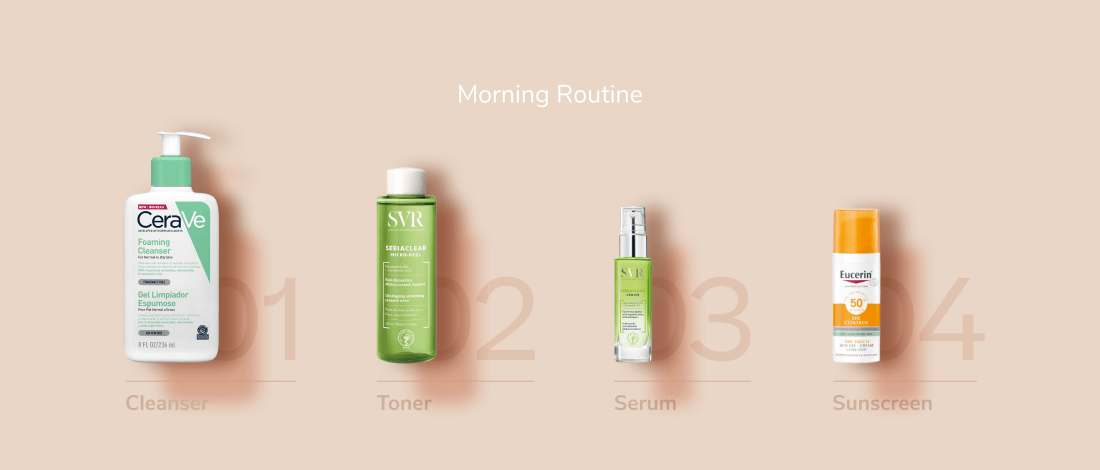 To accommodate a combination skin type with an oily T-zone, we're starting out this routine with the CeraVe Foaming Cleanser Normal to Oily Skin (under US$15). This is a gentle foaming cleanser that removes impurities and excess oil without unbalancing the skin's protective barrier. Many people with combination or oily skin tend to overcleanse with very harsh cleansers, but this cleanser strikes a perfect balance. It's suitable for normal to oily skin.
We're following up the cleanser with the SVR Sebiaclear Micro-Peel Smoothing Renewal Water (under US$20). Specifically designed to target acne and imperfections on adult skin, this toner features exfoliating lactobionic acid and salycilic acid, and soothing niacinamide. It will not only help clear up pores and regulate oil production, it will also refine the complexion over time. In short, it's the perfect toner to incorporate into a skincare routine that's looking to minimize the appearance of pores. Keep in mind, however, that we can't exactly shrink pores, we can only improve their cosmetic appearance.
Finally, we're bringing in a treatment serum, the SVR Sebiaclear Serum Anti-Marks Anti-Blemish Global Corrector (under US$25). Just like the previous toner, this serum is designed for the specific needs of acne-prone adult skin. It offers a dual action, tackling both blemishes (via exfoliating gluconolactone) and the first signs of aging (via plumping hyaluronic acid and anti-aging niacinamide). The fresh, ultra-fluid texture offers eight-hour hydration, making this the perfect product to apply in the morning.
Of course, it wouldn't be a Care to Beauty-approved routine without a handpicked sunscreen. We're going with the Eucerin Sun Oil Control Gel-Cream Dry Touch SPF50+ (under US$20). As one of our most popular sunscreens for acne-prone skin, this product reduces excess shine and helps mattify the complexion for up to 8 hours.
---
The Evening Routine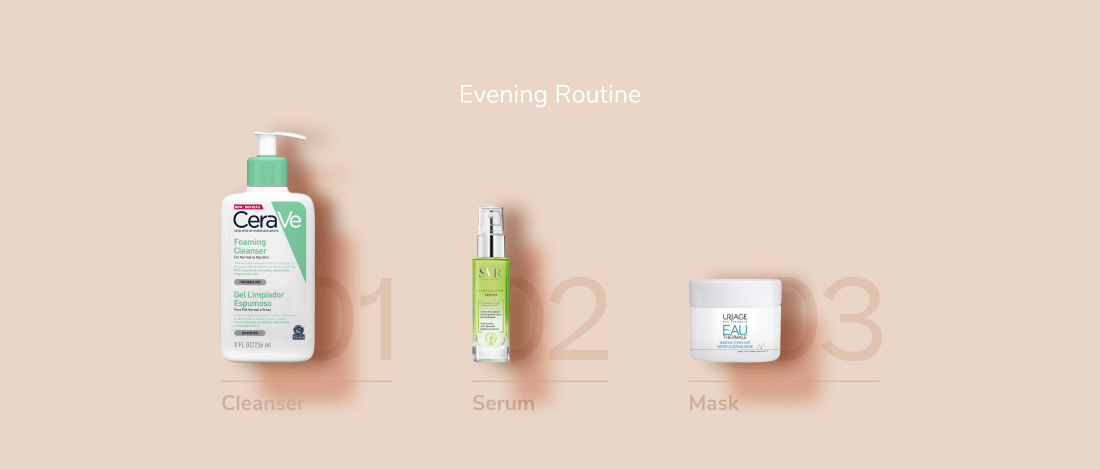 We're keeping things simple in this evening routine, and sticking with the same CeraVe cleanser and SVR serum we've used in the morning–no need to repeat the toner, though.
Since it's nighttime now, we're going to focus on replenishing hydration and providing the skin with plenty of overnight moisture. To do that, we're recommending the Uriage Eau Thermale Water Sleeping Mask (under US$25). Infused with the soothing and hydrating properties of Uriage Thermal Water, this sleeping mask will help the skin retain hydration overnight, resulting in supple and radiant skin in the morning.
---
In Conclusion
A gentle foaming cleanser, a versatile overnight mask, a mattifying sunscreen, and two anti-acne products specifically developed for adult skin: that's the full extent of our routine for hormonal acne. We've kept things minimal, with only 5 products, and relatively affordable, with the most expensive product in this routine costing under US$25. All in all, this skincare routine comes up to under US$100.