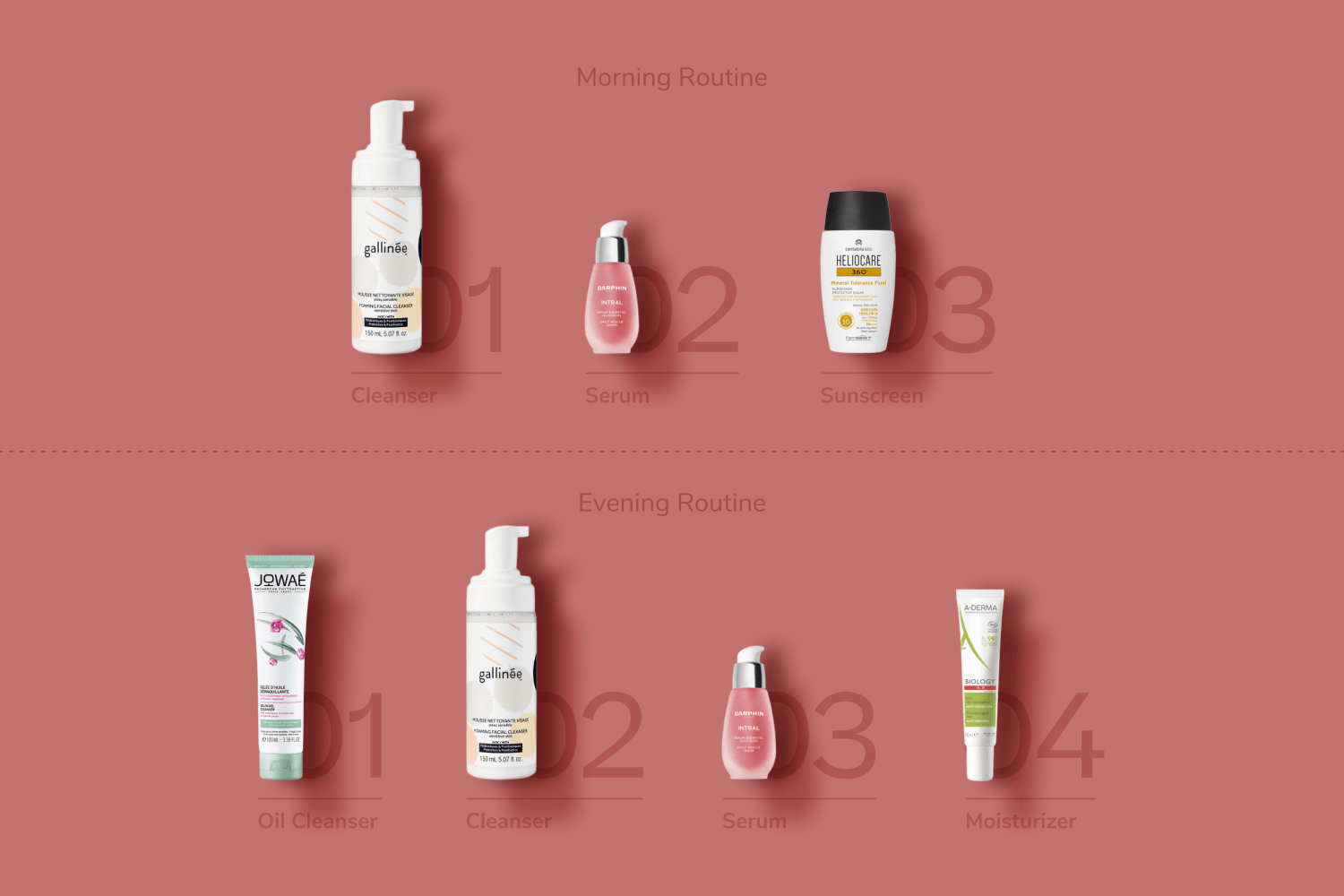 At Care to Beauty, offering personalized advice on suitable skincare products is a vital part of our daily lives. Our team of pharmacists and beauty experts is always ready to inform, clarify and advise you via website, blog, and email. Today, Pharmacy Technician Joana helps 32-year-old Sarah create a skincare routine for redness and sensitivity, made up only of natural and vegan products.
---
The Request
Today we are going to create a skincare routine for Sarah, a member of the Care to Beauty community who came to us with a very specific request. Sarah has combination skin with a bit of an oily T-zone, but that's the least of her concerns; her main problem is actually that her skin is very sensitive and tends to react to every single product she introduces into her routine.
With this in mind, Sarah is looking for a routine that can soothe her skin and lessen signs of sensitivity and reactivity, such as redness or discomfort. She wants to keep things simple, with a relatively small number of products–but she does want a comprehensive cleansing routine to help her remove makeup at the end of the day. She's also asked us to direct our attention toward natural and vegan products, as she wants her skincare routine to be in line with her beliefs. Let's see what we can come up with!
The Specs:
Age
32
Skin Type
Combination (oily T-zone)
Skin Goals
Soothe and calm the skin
Reduce redness and sensitivity
Use only natural and vegan products
Price Point
$-$$
(full routine under US$180)
Our Thoughts
Here at Care to Beauty, we are constantly getting requests to help people with sensitive skin. Whether this is because there are more and more sensitive skins out there, or because sensitive skin is notoriously difficult to care for, we don't know; what we do know is that we are fast becoming experts in the care of sensitive skin. One of the things we always like to do when we are recommending products for sensitive skin is to keep routines very simple and minimalist; we use few products, and we try to make them all particularly suitable for sensitive skin.
This is true for all sensitive skin care routines, but it is especially important when creating routines that actively work to soothe sensitive skin, reduce redness, and minimize discomfort. It is not enough that a product is harmless for sensitive skin, it also has to bring active benefits that justify its presence in the skincare routine.
The routine we are going to create today has another particularity, as it's going to use only natural and vegan products.
The Morning Routine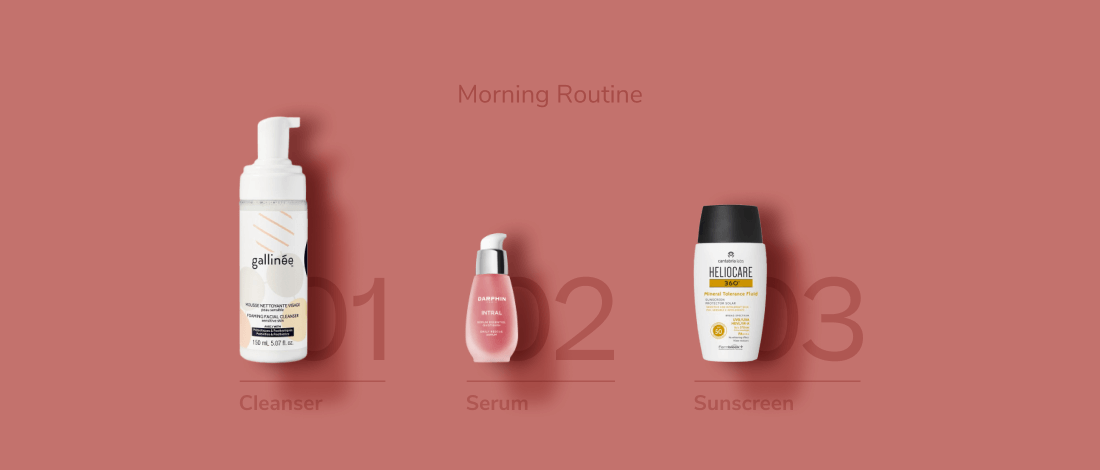 All routines start with a cleanser, and a soothing routine for sensitive skin couldn't be any different. For this routine, we've selected the Gallinée Prebiotic Foaming Facial Cleanser (under US$25), an ultra-gentle facial wash that suits all skin types, including sensitive and eczema-prone skin. With a creamy mousse-like texture and a gentle formula enriched with prebiotics and lactic acid, this cleanser is a safe bet even for very reactive and redness-prone skin. Coming from Gallinée, which does not use any ingredients of animal origin, it's also a great bet for a vegan skincare routine.
If the issue is sensitive skin prone to redness, then the Darphin Intral Inner Youth Rescue Serum (under US$90) is an obvious choice. This bestselling serum helps reduce the appearance of redness and, at the same time, provides immediate relief from sensations of discomfort associated with sensitivity, reactivity, and irritation. Formulated with 83% natural ingredients and featuring an exclusive Calm Complex made up of hawthorn, peony, and chamomile flower extracts, this serum is also enriched with D-Panthenol, yeast extract, and hyaluronic acid. All things considered, it's a very comprehensive serum that will not only soothe sensitive skin, but also contribute to the beauty of the complexion.
Both of these products contain fragrance, but don't let that scare you off–they are highly rated by many people with sensitive skin.
It's not always easy to find a sunscreen that works well on sensitive skin, but we're pretty confident in this Heliocare 360 ​​Mineral Tolerance Fluid SPF50 (under US$30). With 100% mineral sun filters, this sunscreen has been specially developed to adapt to all skin types, in particular sensitive or sensitized skin, atopic skin, and the skin of children over 6 months. The lightweight, fluid formula is easy to spread and apply to skin, and works well for everyday use. What's more, it includes repairing and antioxidant ingredients, which help to protect the skin from environmental aggressions throughout the day. It is also formulated without ingredients of animal origin, so it's a great fit for a vegan-friendly skincare routine.
---
The Evening Routine
Let's start the evening routine with not one, but two cleansers. For those who wear make-up, or simply like the feeling of being able to cleanse their skin to perfection at the end of the day, a double cleansing regimen is a great option. We recommend starting with the JOWAÉ Oil-in-Gel Cleanser (under US$15), a vegan oil cleanser with 99% of ingredients of natural origin. The oil-in-gel texture, which should be applied to dry skin, gently removes all types of make-up and impurities.
Then, we're following up with the same cleanser we've used in the morning, to make sure we really remove all impurities from the skin.
The evening routine continues with another application of the Darphin Intral Inner Youth Rescue Serum, which we've also used in the morning.
The main novelty that we are introducing in this evening routine is a moisturizing cream, in this case the A-Derma Biology AR Anti-Redness Cream (under US$25). This cream was specially developed to hydrate, rebalance and soothe fragile facial skin, as it was formulated for skin with rosacea. Formulated with Rhealba® Oat, a super-soothing ingredient for sensitive skin, this cream reduces and presents the reappearance of redness. The light and fresh texture may be applied once or twice a day, depending on your needs, and it feels soothing immediately upon application. The formula is also fragrance-free, vegan, and certified organic.
---
In Conclusion
With just five products, we have created a routine capable of soothing sensitive skin and reducing redness and irritation, without ever compromising on the quality and beauty of each product. A skincare routine for sensitive skin doesn't have to be joyless! We chose cleansers formulated for sensitive skin, a hyper-popular soothing serum, an anti-redness cream from one of the best French pharmacy brands on the market, and a 100% mineral sunscreen that guarantees tolerance on all skin types. All things put together, this routine will run you just under US$180.