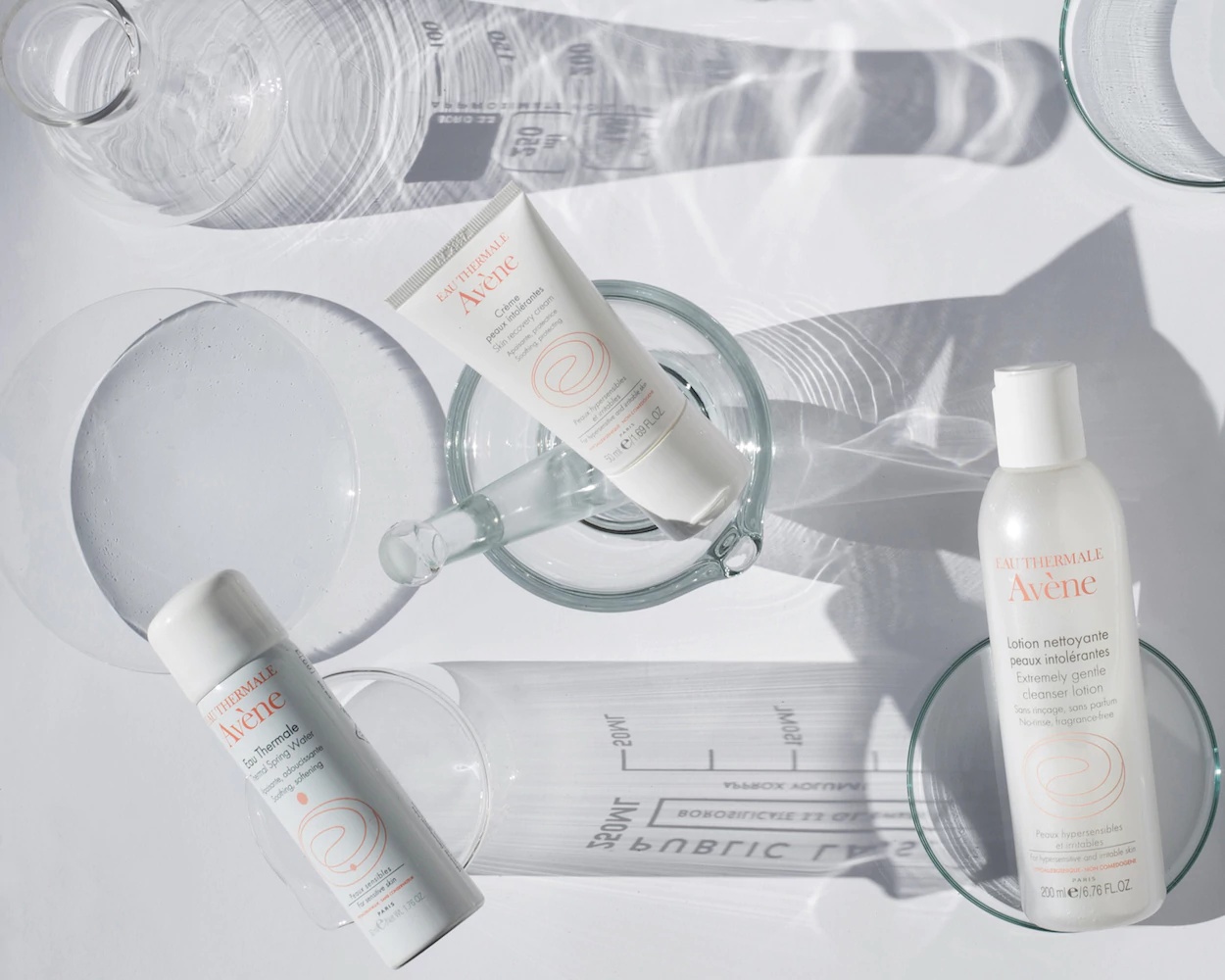 If you are familiar with Avène, you know this brand focuses mainly on the needs of sensitive skin. What you may not know, however, is that for Avène, not all sensitive skin is the same. Keep reading to find out the subtle differences between sensitivity and intolerance, and find out which Avène product is right for you.
How does Avène define sensitive skin?
Avène recognizes two types of sensitive skin: skin that's sensitive "by nature", and skin that develops sensitivity through external factors, such as weather-related conditions, hygienic and cosmetic aggressions, dermatological treatments, and medical interventions.
Sensitive skin of either type is usually fine and dry. It may show redness and visible blood vessels, or it may peel off slightly on the surface. Sensitive skin types are finicky and react excessively to stimuli—whether that is something you ate, a particularly stressful day at work, or excessive sun exposure. Irritation is commonplace with this type of skin, as are feelings of itching and stinging.
Over time, sensitive skin may become intolerant after repeated exposure to external aggressions. At this stage, the skin feels uncomfortable and hostile: even something as simple as wearing perfume or jewelry can trigger an episode of allergy-like symptoms. Intolerant skin may show visible signs such as redness and eczema, as well as exacerbated itching and burning.
If it is not managed properly, intolerant skin can be damaging to both your well-being as your self-esteem–which is why you should care for it using only especially adapted products, formulated with a small number of rigorously selected ingredients.
Managing skin sensitivity
Ever since its creation, in 1990, the Avène brand has focused all of its know-how on the needs of sensitive and intolerant skin. Every product in the Avène range is enriched with Avène Thermal Spring Water, a uniquely calming ingredient that's been proven to soothe even highly reactive skin. Sensitive skin will always be in good hands with Avène, but some ranges will be better suited to specific skin concerns:
---
Caring for extremely intolerant skin
In the event that your skin is badly damaged and sensitized, you may need something even gentler than the average Avène formula. With this particular need in mind, Avène has created the Tolérance Extrême range, a unique set of products that allow your skin to reconnect with the essentials and recover its natural balance.
Tolérance Extrême products undergo a strict manufacturing process that ensures sterility from start to finish, according to standards used in the pharmaceutical industry. Hypoallergenic and non-comedogenic, these products are always formulated without fragrance, soap, and preservatives. The extremely pared down formula is an important part of why they are so well-tolerated–as the fewer ingredients there are in a formula, the fewer triggers there are for sensitive skin to react to.
To preserve the integrity and effectiveness of the Tolérance Extrême formulas even after they've been opened, Avène uses a patented packaging system called D.E.F.I., which ensures the product never comes into contact with the air. This unique type of airtight tube is the third and final piece of what Avène calls E.T.S., or Extreme Tolerance System, a new mindset behind skincare formulations that ensures the most efficacy and safety with the least amount of ingredients.
Thanks to this system, Avène has made "no-preservative" formulas a reality, all the while ensuring optimal tolerance even on very sensitive and intolerant skin. Tolérance Extrême products are perfect to "hit the reset button" on your skin–let's just hope you never need to!