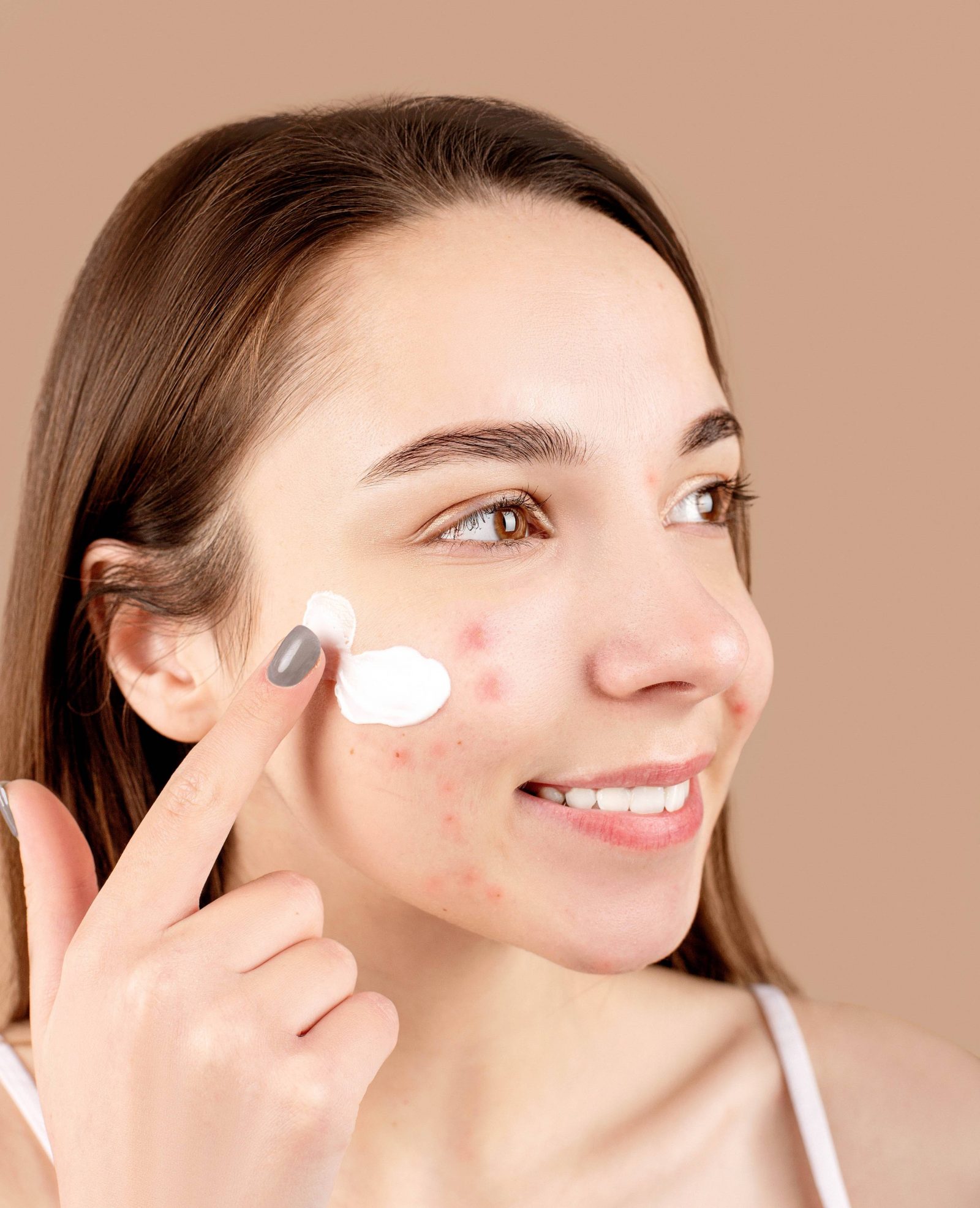 If tackling acne is a very defying challenge, then the difficulty doubles up if we're talking about sensitive skin. We need to find the very sweet spot between powerful actives and delicate skincare ingredients. It may not be easy, but once you find this balance, your skin makes it worth the effort. Fortunately, we now have amazing products to trust our skin to! A good example of incredibly effective ingredients for acne-prone and sensitive skin would be well-known names such as lactic acid and niacinamide. These ingredients are proficient in addressing acne with gentle manners, using polite ways to convince it to leave rather than forcing it out. We hope you're ready to meet the best acne products for sensitive skin!
---
CeraVe Foaming Cleanser Normal to Oily Skin
A cleanser that won't disrupt the skin
If cleansing is a critical step on everyone's skincare routine, even more so for acne-prone skin. It is essential to remove excess sebum that accumulates on the surface of the skin as well as to cleanse all the dirt and bring the skin back to balance. Only a really special formulation would be able to perform the miracle of cleansing thoroughly, forgiving no impurity particle, all the while respecting the skin. This cleanser does it all and more with its foaming-gel texture. It wipes away all the impurities, promotes a healthy skin barrier and provides the skin with comfort at the same time.
---
Pestle & Mortar NMF Lactic Acid Toner
A peeling toner for sensitive skin
This toner is the hero for those who're looking forward to using a peeling toner while suffering from skin sensitivity. Featuring lactic acid and gluconolactate, the toner manages to be fully compatible with sensitive skin while removing the outer layer of dead skin cells. In addition, it contains the essential natural moisturizing factors that improve hydration levels over time and greatly contribute to healthy, balanced skin. Apply it up to once a day after your facial cleanser and before your serum to refine the texture of the skin!
---
Sensilis Pure Perfection [Serum] Purifying & Balancing Serum
A liquid gel serum that balances & restores
This soothing and purifying serum was specifically designed for energizing, purifying and calming the acne-prone sensitive skin. In order to accomplish this goal, the formula relies on Zinc PCA and Salicylic Acid as well as hydrating ingredients to reduce inflammation, hydrate, protect and restore the skin. Use it to energize the skin and keep it comfortable, free from excess sebum.
---
Bioderma Sébium Sensitive Soothing Anti-Blemish Care
A moisturizer that regulates sebum & reduces inflammation
This gel-cream also soothes and regulates sebum production, constituting the ideal choice for oily and sensitive skin, even when undergoing anti-acne treatments. Featuring exclusive Bioderma patents SeboRestore technology and Inflastop Complex, it works to regulate the consistency and constitution of the sebum. At the same time, it attenuates inflammation on the skin, reducing irritation, redness and the number of inflammatory lesions. Distribute this non-comedogenic and hypoallergenic formulation over the face to visibly improving the skin. It is definitely one of the best acne products for sensitive skin and we're more than ready to ship it for you.
---
SVR Sebiaclear Cream SPF50+
An anti-blemish sunscreen that mattifies
If there's something we wouldn't skip when it comes to sensitized skin is sunscreen. It creates a protective shield between your skin, the sun and the environment that greatly improves your skin health over time. Containing 1% of gluconolactone to purify and smooth skin texture together with 4% of niacinamide to limit bacteria proliferation, this product not only protects but also contributes to improving the appearance of your oily skin. Equally important, Mat SR complex mattifies and normalizes sebum production. Apply it as the last step of your skincare to balance your skin and prevent acne spot marks.
---
Extra tip: if a blemish casually makes an appearance and you're not in the mood to put up with it, you may handle it with the YOUTH LAB Blemish Dots Invisible Blemish Treatment Patches. Transparent and small, they work just as well under makeup or before bedtime. The active that saves the day is salicylic acid, as it exfoliates the skin and hastens the healing process. In addition, these patches minimize blemish inflammation and help to reduce redness. Each individual patch grants a quick come back of healthy skin, free from irritation.
---
Last but not least, if you're struggling specifically with "maskne", worry not! We know just how to handle acne due to mask-wearing. Let's keep the skin healthy while the masks are keeping us safe!
---