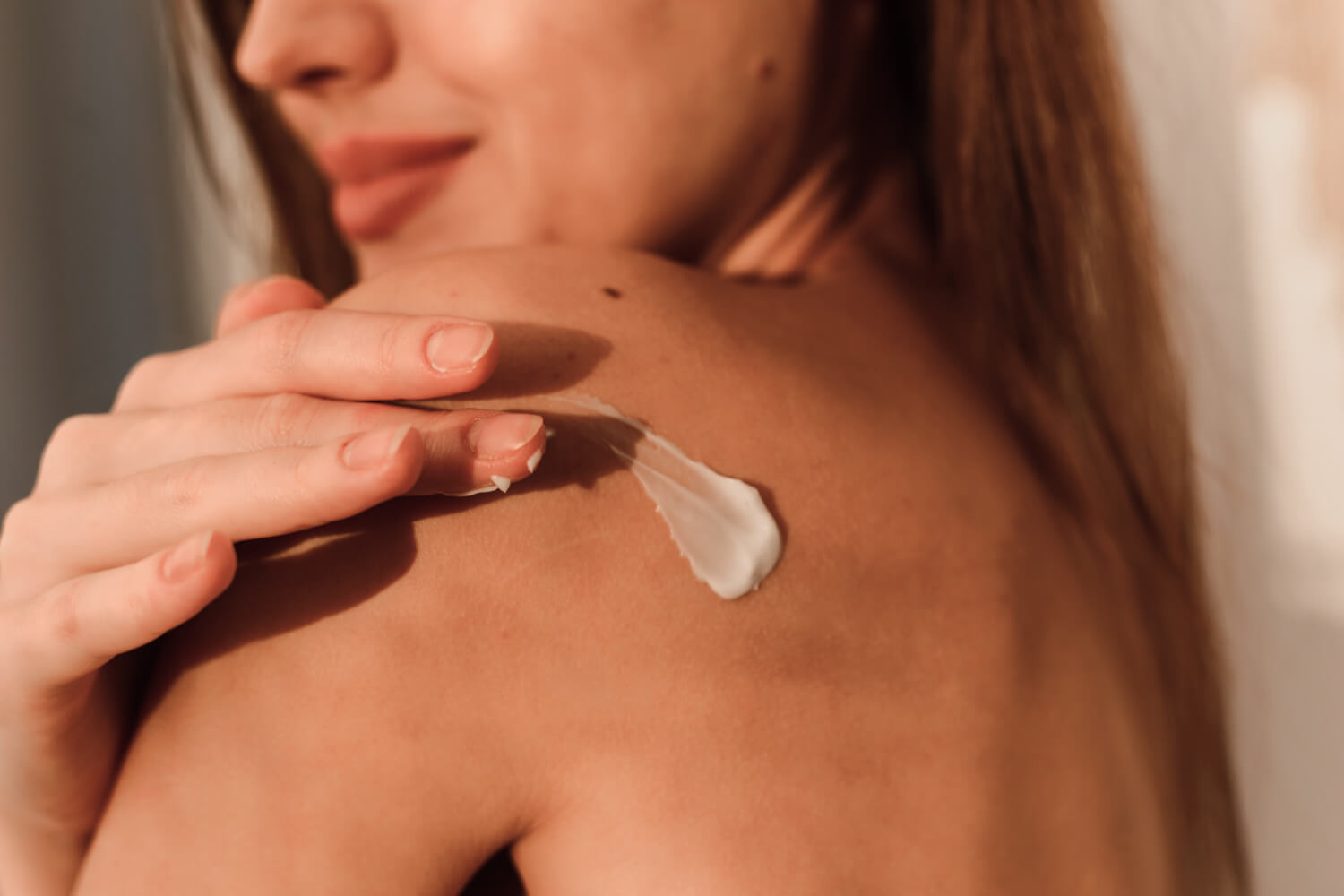 You may love long days at the beach or the pool, relaxing in the sun, but your skin isn't such a huge fan. Even if you sunbathe responsibly, applying the proper amount of sunscreen and avoiding sun exposure during the hours of greater UV intensity, your skin will still sustain some damage. It may burn, it may redden, and it may even peel–all painful symptoms that will not only be super uncomfortable but also compromise the tan you've been working towards. With this in mind, if you want to keep your skin healthy and beautiful after sunbathing this summer, we recommend reaching for one of the best after-sun lotions in this list. You'll replenish your skin after sun exposure, prevent dryness and peeling, and, of course, keep your tan for much longer.
---
---
How does after-sun help you keep your tan?
As you know, after-sun lotions are body moisturizers that are specifically designed to replenish the skin after sun exposure. After-suns typically have lighter formulas than your average body lotion. This makes them super easy to apply and very quick to absorb, which can come in pretty handy when you're trying to rescue sunburned skin at the end of the day.
Another interesting feature of after-sun lotions is that they are super rich in soothing ingredients, such as aloe vera, which provide immediate relief to skin that is sensitized by the sun, irritated, or even sunburned. Some after-suns even create a cooling effect on the skin, which further enhances this feeling of relief.
Only one question remains: can after-suns help you keep your tan? The good news is yes, they can–sort of. As you know, the skin has natural renewal mechanisms that involve the shedding of dead skin cells. As these dead skin cells flake off, your tan flakes off right along with them. However, you can delay this process a little by keeping your skin well-hydrated; this will slow down the whole "flaking" process and help you keep your tan for longer.
Can after-sun help with my sunburn?
All of this sounds–and feels–great, but it wouldn't be fair of us to say that an after-sun lotion will fix your sunburn. It won't. It may help you overcome the discomfort that comes with sunburn, but it won't "cure" the sunburn itself. That's a job your skin will do on its own, over time. Just keep in mind that your skin cannot repair itself indefinitely; this is why sunburn can increase your chances of developing skin cancer later in life. The best way to "cure" sunburn is to avoid getting sunburned in the first place; likewise, the best product to protect your skin from sun damage is always going to be sunscreen.
Top 10 after-sun lotions we love
Now that we've got that safety disclaimer out of the way, let's go back to our favorite after-sun lotions. As we've seen, after-suns can help you soothe your skin, but they cannot cure your sunburn. After-suns can also help you replenish your skin after sun exposure, but they cannot replace the use of sunscreen. Below, you'll find 10 after-sun lotions our Care to Beauty community swears by. Whether you're looking for an after-sun lotion for sensitive skin, or a cooling after-sun gel to help you chill at the end of the day, we've got just the thing!
SVR Sun Secure Repairing Soothing Moisturizing After-Sun Lotion
The hydrating after-sun for dry skin
This after-sun is as versatile as it can get! Suitable for the face and body as well as for the skin of the whole family, it is an incredible all-in-one solution for summer vacation. With a creamy and silky texture that is appropriate even for sensitive skin, it replenishes your skin with hydration, soothes and repairs damage.
---
Clarins After Sun Refreshing Gel
Best after-sun cooling gel
What about a soothing step that also instantly refreshes your skin? This after-sun features a cooling gel texture that hydrates and calms the skin all the while delivering an equally fresh summer scent. Take good care of your skin with an invigorating texture that is suitable for the skin of the face and body.
---
Lancaster Golden Tan Maximizer After Sun Lotion
The best after-sun lotion to prolong your tan
If you fought passionately for a beautiful and healthy tan, then we have the perfect product to help you keep it for longer. This lightweight lotion takes excellent care of your skin, working to hydrate as well as to soothe and repair skin after-sun exposure. Featuring an exclusive Tan Activator Complex, this lotion stimulates melanin production in order to enhance the tanning process.
---
René Furterer Solaire Nourishing Shower Gel Hair&Body
The best after-sun shower gel
If you're fully devoted to making amends with your skin, you may start your after-sun skin repair session right during the shower. Featuring a gentle but effective shower gel formulation, this works to remove sunscreen, sand, salt, and chlorine from the skin without drying it out. Use it before your favorite after-sun to double up the repairing power!
---
Sesderma Hidraloe Aloe Gel Face & Body
The best after-sun aloe vera gel
Aloe vera has long been known for its unique repairing and soothing powers, particularly useful on damaged or irritated skin. This amazingly fresh texture contains a high concentration of pure Aloe barbadensis extract to repair, hydrate, soothe and protect the skin on multiple occasions, including after-sun exposure.
---
Eucerin Sun Sensitive Relief After Sun Gel-Cream Face & Body
The best after-sun lotion for sensitive skin
Even though sun exposure threatens every skin type and color, there's no doubt that is sensitive skin that endures the most. That is why it needs nothing less than this gel-cream after-sun that soothes and repairs irritated and sun-stressed skin. It is appropriate not only for sensitive skin but also for sun allergy-prone skin, working to reduce sun-induced damage with a non-greasy and non-sticky formula.
---
SENSAI Silky Bronze After Sun Glowing Cream
The shimmering after-sun cream
If you fancy highlighting your tan with some sparkle, this is the best after-sun for your skin. With a melting texture that immediately nourishes the skin upon application, this cream feels just as luxurious as it looks. In addition, it actively contributes to cooling the skin while delivering a delicious peach scent. The nourishing and revitalizing ingredients leave the skin satiny-smooth and glowing, for healthy summer-looking skin.
---
Lierac Sunissime After Sun SOS Repairing Serum
The best after-sun cream for the face
Knowing that the sun plays a major role in skin aging, Lierac developed after-sun care especially for the face that not only repairs the skin but also helps reducing photoaging signs. As you soothe and comfort the skin with its fragrant serum texture, it also contributes to keeping your sun-kissed look for longer. Equally important, it calms overheated skin with its Exclusive Cryo Effect Technology.
---
APIVITA After Sun Cool & Sooth Face & Body Gel-Cream
The sustainable after-sun care
If you care for the environment just as much you do for your skin, this one is certainly the best after-sun for you. When it comes to the packaging, you have a fully recyclable cap and a tube that is made with 50% recycled MDPE and fully recyclable. As for the ingredients, APIVITA considers not only skin performance but also environmental sustainability when choosing them.
---
Garnier Ambre Solaire Soothing Aftersun 24h Hydrating Milk
The best affordable after-sun lotion
This milky after-sun is just as good for your skin as it is forgiving to your pocket. It nourishes, soothes and hydrates the skin for up to 24 hours, with a pleasant non-streaky and non-greasy formulation. It leaves a soft and velvety finish on the skin, along with a pleasant and subtle uplifting scent.
---
Now that you know all about our 10 favorite after-sun lotions, you're ready to choose the one you're going to take in your beach bag. If you haven't met your match yet, make sure to visit our after-sun shop–we're sure you'll find your perfect after-sun there!