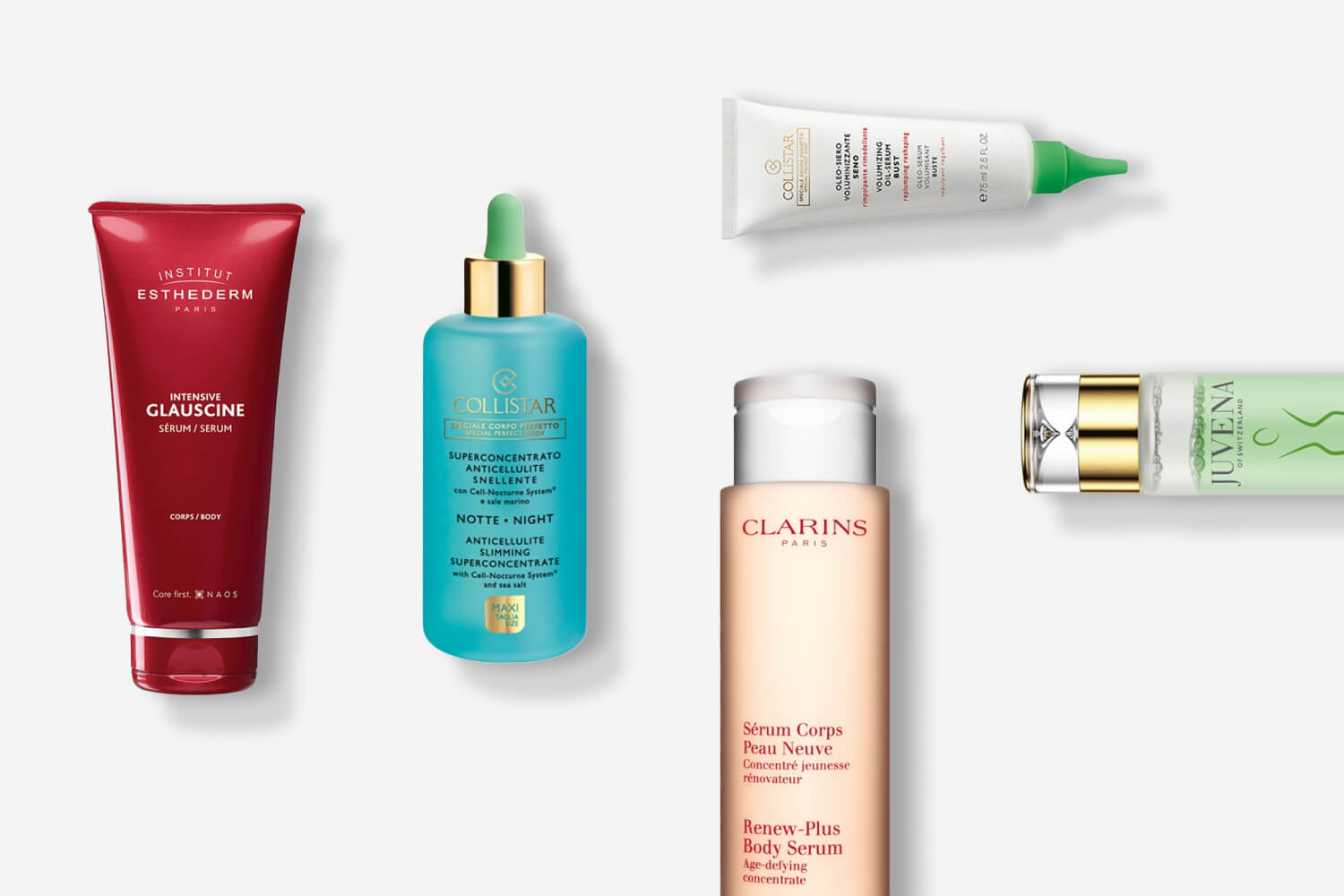 Do you feel like your body care routine needs a boost? Maybe it's time to consider including a body serum! Just as it happens with face care, the body serum is enriched with potent ingredients that address specific concerns. You may take advantage of them to target your main body concerns and improve the appearance of your skin!
All the questions about body serums, answered
Body serums are making a smooth entrance into body care routines. Harnessing the power of active ingredients in the concentrated formulation, they provide you with visible results. But first, let's understand exactly what they are and how they work in your body care routine.
What is body serum?
A body serum is a beauty product that targets specific concerns for the skin of the body, featuring active ingredients that promote visible results for your concerns. More than providing comfort to your skin, body serums focus on achieving improvements that wouldn't be possible with your regular body moisturizer.
Are body serums necessary?
Considering that most body serums answer very specific concerns like loss of firmness or cellulite, to name a few, it may not be necessary for everyone. If you're only looking for something to rehydrate the skin after the shower, then your answer may not be in body serum. On the other hand, if your regular body lotion isn't providing you with the results you need, you should consider trying a body serum that suits your needs!
Is body serum the same as body oil?
A body serum may be an oil, but not all oils are body serums! To make it simple, you can expect body oils to nourish your skin and provide immediate comfort to dry skin (which is often the case for the skin of the body). And this rule applies to most body oils out there. However, some body oils may be enriched with active ingredients that offer additional benefits, such as slimming or firming, and may fall into the category of body serums! Don't worry, it's super easy to spot them in the wild: most of the time, you'll see the body serum announcement on the packaging!
Is body serum different from face serum?
Yes, body serum is different from face serum. The skin of the face is more sensitive and usually not as dry as the skin of the body, so the products are formulated with that in mind. In addition, body serums often address issues like cellulite or slimming, so the needs of the face won't be attended to by a body serum. On the other hand, if you apply a face serum to the body, a bottle of the product won't last a week. Not to mention that the concentration wouldn't be ideal for the skin of the body. To be safe and find the desired results, stick to the recommended application!
How should I use body serums?
Each product should have its application directions to boost the results. However, there are a few guidelines we can reveal! You should apply body serums on clean and dry skin, and you may use them alone or under body lotion. You don't necessarily have to apply lotion after body serum, but you may if your skin feels tight or if the body serum you choose is only meant to be applied in targeted areas. Some body serums may work best when applied with a massage, so follow the application suggested by the brand!
Try the best body serums, by concern
Now it's time to go for our favorite body serums! We've organized them by concern, so you should find the right one for you here. If you have more than one concern, feel free to combine them—considering that some of them may be applied to different areas on the body!
Clarins Renew-Plus Body Serum
Anti-wrinkle body serum
Get soft and smooth skin with a formula that buffs away dry and dull patches. Water lily works together with retinyl palmitate to increase skin cell turnover and visibly improve the texture and appearance of the skin. Thanks to a moisturizing and renewing action, this body serum leaves the skin perfectly hydrated, supple and radiant, gleaming with energy and vitality.
---
Juvena Fascianista SkinNova Body Serum
Body essence for improved elasticity & firmness
This refreshing concentrated water relaxes your muscles while promoting a luxurious experience. Ideal to target lack of elasticity and firmness, this body serum is the perfect first step of any body care routine. A blend of turmeric, ginseng, and ginger extracts is the secret to reawakened skin. Make sure to massage the product to improve your skin's firmness and smoothness.
---
Collistar Body Anticellulite Slimming Superconcentrate Night
Visible slimming & anti-cellulite results
Kiss your skin goodnight with this potent serum! The exclusive Cell-Nocturne System® works overnight to reduce the size of existing adipocytes while blocking the formation of new ones. With regular use, the formula refines the appearance of the skin minimizing the look of the orange peel effect, all the while reducing the appearance of localized fat deposits.
---
Sesderma Estryses Anti-Stretch Mark Serum Forte
An anti-stretch mark solution
Once you apply this potent formula, both new (red) and old (white) stretch marks will know that's time to leave. This correcting serum renews and regenerates the skin, all the while encouraging the dermal matrix to recover thanks to the high concentration of active ingredients. A combination of retinol and vitamin C is vital for the results you're about to experience.
---
Esthederm Body Intensive Glauscine Serum
A slimming treatment for localized water retention
This one-month treatment is your new assistant for the next 30 days! It targets localized water retention as well as cellulite, promoting drastic improvements in texture and suppleness of the skin of the body. Perfect to deal with water retention and heavy legs, this body serum combines the brand's exclusive Glauscine Complex with botanical ingredients to improve the appearance of your skin.
---
Collistar Body Volumizing Oil-Serum Bust
Redefine & replump the bust area
With a lovely oil-serum silky touch texture, this serum will redefine and bring back volume to the bust area. Enriched with a powerful exclusive volumizing complex Voluplus™, the product is able to deliver a firmer, fuller, and more voluminous appearance to the bust. Ideal for those who desire an apparent increase in the bust's volume as well as for those who suffer from sagginess after rapid weight loss or after breastfeeding, this bust serum confers a plumped, toned, and smoothed appearance to the bust.
---
For more on body care and specific concerns, make sure to check our post about stretch marks and cellulite. There, you'll have more information about those particular skin issues as well as product recommendations!