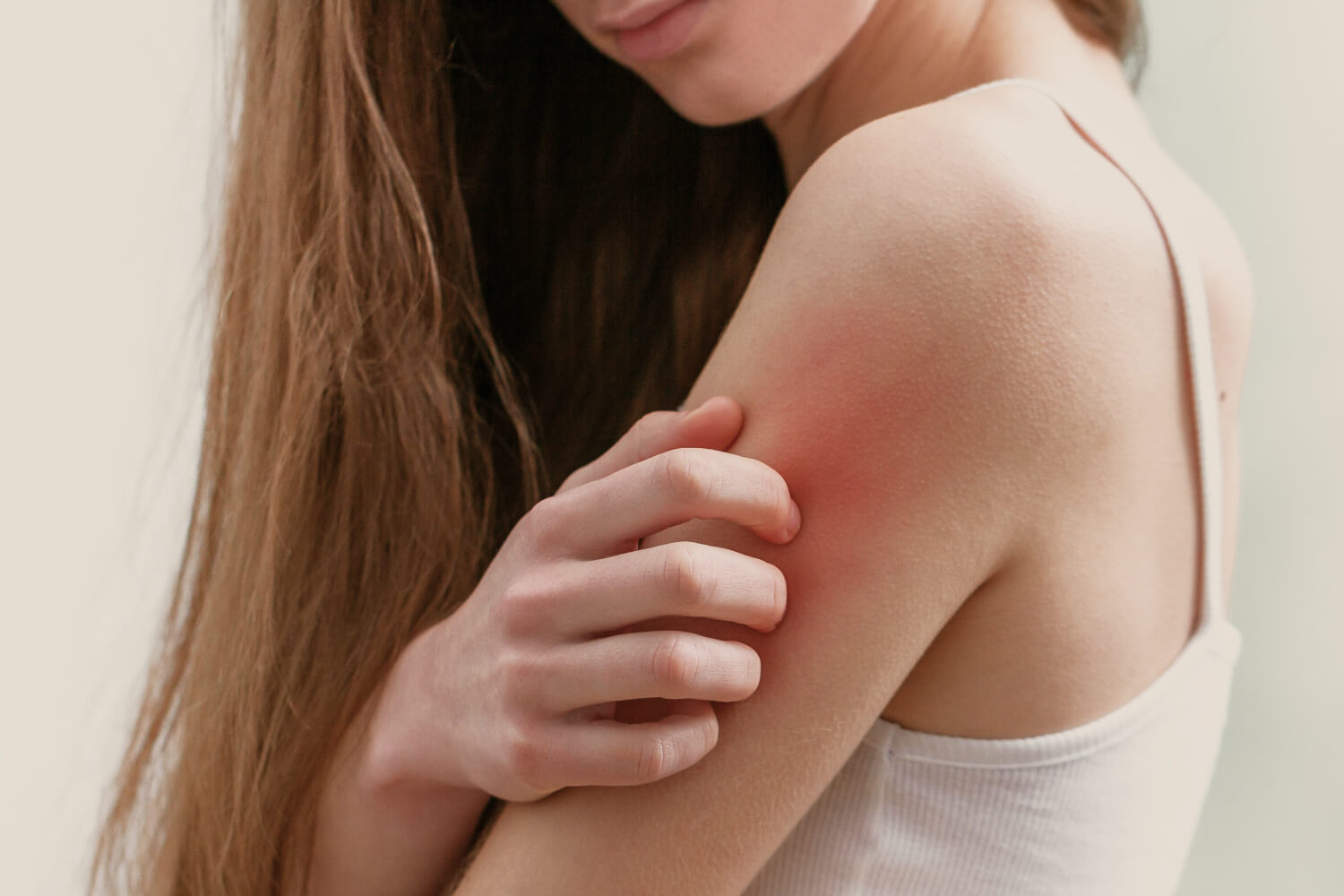 Itching skin is an uncomfortable symptom that may sound familiar to you. Even though it is not a disease by itself, proper care may be of assistance in treating itchiness on the skin. Just as important as to soothe and relieve itchiness, is to identify and treat the cause. While you're waiting on your appointment with your healthcare professional, you can navigate through the best creams to relieve itching skin!
How to relieve itching skin
Skincare begins with cleansing! This is probably old news to you, but are you already using a cleanser that soothes and relieves itching? That should be a great start for a good skin day, free from discomfort. A good choice would be a liquid cleanser such as La Roche-Posay Lipikar Syndet AP+, or a cleansing bar such as Bioderma Atoderm Intensive Pain Ultra-Soothing Cleansing Bar.
Then, you should follow with a replenishing cream, and reapply throughout the day, if needed. Keep reading and discover which soothing care for itchy skin is the one for you and your skin needs.
Bioderma Atoderm Intensive Baume Ultra-Soothing Balm
A soothing lotion for the whole family
In need of a solution for all ages? Then this is the balm for you! It is perfect for the daily care of baby, children and adult skin, as it offers both a nourishing and soothing action. At the same time, this repairing formulation manages to relieve itchiness and dryness. Thanks to a combination of exclusive ingredients and patents, it not only provides the skin with lasting comfort but also restores lipids.
---
Eucerin UreaRepair Plus Lotion 10% Urea
The best cream with urea
By now you've probably heard about urea and its benefits on skincare. The secret lies in the concentration, as it may offer different results depending on the percentage you find on your cream. Let's take the following product as an example: at a concentration of 10%, urea not only works to hydrate dry and very dry skin but also offers prompt relief and soothes itching. In addition, ceramides and natural moisturizing factors (NMFs) contribute to repairing the skin barrier!
---
Aveeno Skin Relief Soothing Lotion with Menthol
A cooling cream with menthol
Colloidal oatmeal and menthol are two very special ingredients when it comes to soothing itchiness on the skin. Together, they're able to help repair the skin barrier and soothe irritable skin and itchy sensations. The best part is that this soothing lotion offers an instant cooling sensation. As it refreshes the skin, it also contributes to restoring the hydrolipidic barrier as well as increasing the skin's moisture retention.
---
Noreva Xerodiane AP+ Relipidant Balm
A calming cream for the face and body
If you're struggling with itching on the face but you're not willing to apply just any body cream, this one is a good option. Anti-scratching and anti-irritation, this is the solution you need for optimal comfort and 24-hour lasting relief. Containing moisturizing, nourishing and calming ingredients, Noreva brings back the comfort to very dry and atopic skin prone to itching.
---
A-Derma Exomega Control Emollient Cream
An all-natural cream for itchy skin
A-Derma cares as much for atopic skin as it does for the planet. This cream for itching skin features more than 95% naturally derived ingredients sourced sustainably in France and is suitable for the whole family. With an extra-rich texture, this cream soothes and provides the skin with comfort at each application. Rhealba® Oat Plantlet extract, an ingredient that is present in all A-Derma products, works together with BioVect®, Filaxerine® and niacinamide to soothe and relieve itching skin.
---
Bonus treatments to relieve itching skin
Now that you've found the best cream for you, it is time to find the products that might come in handy as a complement to soothe itchy skin. Are you in need of immediate itching relief, or do you need a cream to apply on the go? We have solutions for all these issues as well. All you have to do is to keep reading!
La Roche-Posay Toleriane Ultra 8
A soothing concentrate for the face
If the skin of the face is challenging you more than you can handle, try this soothing and minimalist face care. Featuring La Roche-Posay Thermal Water together with sphingobioma and neurosensine, this booster replenishes the skin with comfort all the while soothing the skin. Suitable even for allergic skin, this ultra-safe formula feels light as water and moisturizing as a cream.
---
A-Derma Cutalgan Ultra-Calming Refreshing Spray
Best for instant relief
This isn't quite a cream, but it is a vital part of your anti-itching arsenal. This lifesaver for angry skin grants not only a fresh sensation but also calms itchiness. This vegan formulation contains 98% of ingredients of natural origin, including the exclusive Rhealba® Oat Plantlet extract as well as Peruvian liana, ingredients that actively work to soothe and repair the skin.
---
Were you diagnosed with skin conditions such as psoriasis or eczema, that have itching skin as a symptom? Then choose your favorite cream and now there's no discomfort that will stop you!