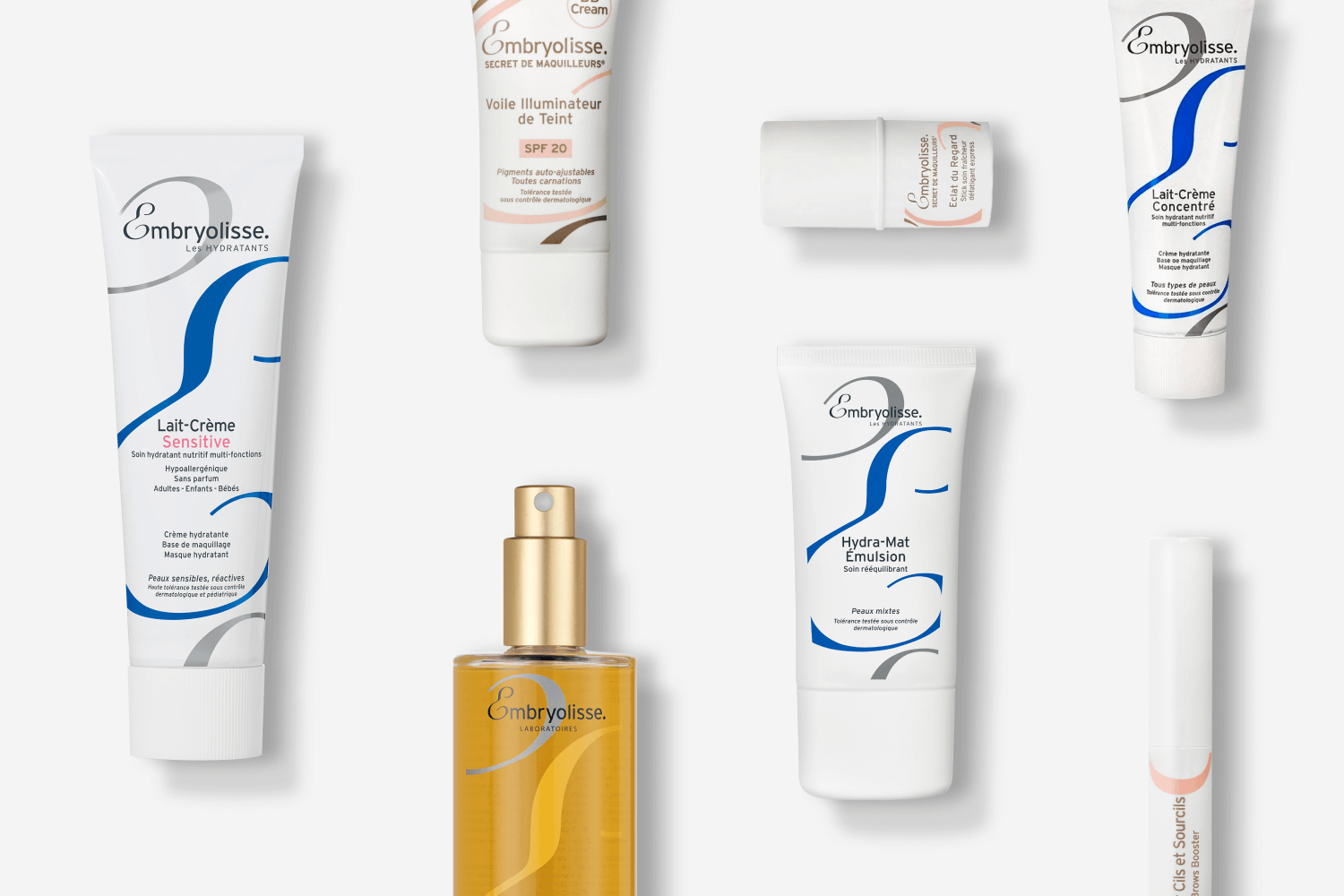 Few brands are as iconic as Embryolisse. Created in 1950 by a Parisian dermatologist, Embryolisse is one of the most renowned French pharmacy brands out there today. You know it's all due to the star of the show, the Embryolisse Lait-Crème Concentré, but do you know how to spot the best Embryolisse products beyond the iconic Lait-Crème? We're here to help you out.
From Paris to us, and from us to you, here's our selection of the best Embryolisse products for that touch of French girl chic. What's your favorite?
Embryolisse Lait-Crème Concentré
The bestseller since 1950
This isn't just one of the best Embryolisse products: some would say it's THE best Embryolisse product! Embryolisse Lait-Crème Concentré has achieved cult status with its rich, creamy formula that provides 3-in-1 benefits: you can use it as a primer, a moisturizer, or even as a makeup remover (on a little cotton pad).
A real beauty secret, favored by both dermatologists and makeup artists, this cream is made from ingredients of natural origin, which are rich in essential fatty acids and vitamins. For soft, satin-smooth skin, this is the way to go!
---
Embryolisse Brow Volumizing Mascara
The makeup trick for bolder brows
There's more to the Embryolisse brand than multi-function face creams. Take, for example, this Embryolisse Brow Volumizing Mascara, a tinted volumizing booster for brows that offers an extra moisturizing and strengthening action.
Re-shape and redefine the brows with a tinted formula that can cover grey hair, if that's what you like. Long-lasting and smudge-proof, this is the extra touch your makeup routine needs!
---
Embryolisse Beauty Oil
The multi-purpose oil for skin and hair
For the face, body, and hair, Embryolisse offers the enveloping Embryolisse Beauty Oil. Blending together the properties of four active vegetable oils–apricot, pomegranate, shea, and lemon–this oil provides the skin with a boost of intense hydration and nutrition.
The fine, non-greasy texture goes on the skin like satin, creating a supple as well as radiant finish. Use this oil as part of your moisturizing routine, or use it on the ends of your hair for a subtle shine boost.
---
Embryolisse Lait-Crème Sensitive
The daily care without fragrance
Especially formulated for sensitive and reactive skin, Embryolisse Lait-Crème Sensitive is an even gentler variation of the original Embryolisse Lait-Crème.
The soothing formula, made from 98% natural ingredients, and the creamy milk texture, which envelops the skin in comfort, are ideal for very sensitive skin, which reacts heavily to even the smallest environmental triggers. Hypoallergenic as well as fragrance-free, this moisturizer is suitable for adults, children, and babies alike.
---
Embryolisse Hydra-Mat Emulsion
The best moisturizer for combination skin
It's not always easy to find moisturizers for combination skin, but this one might just be perfect. The Embryolisse Hydra-Mat Emulsion provides optimal moisturizing benefits, as well as a long-lasting mattifying effect.
The formula contains tapioca starch, which acts like a micro-sponge to absorb excess sebum, and apricot oil, which provides a toning effect. All of these benefits are delivered in a cool gelled texture, which sinks easily into the skin without leaving behind a sticky finish. A dream for combination skin!
---
Embryolisse Hydra-Cream with Orange Extract
The ultimate skin energizer
If your skin feels like it could use a boost of vitality, then the Embryolisse Hydra-Cream with Orange Extract is for you. Especially designed for dehydrated skin, this cream provides an instant feeling of hydration, all the while re-energizing the skin and minimizing any signs of fatigue.
The formula is rich in vitamin C, sweet almond and sesame plant oils, vitamin E, and beeswax, natural ingredients that are sure to leave your skin looking–and feeling–energized.
---
Embryolisse Complexion Illuminating Veil BB Cream SPF20
The beautifying care with SPF
Another multi-function product from Embryolisse, this BB cream offers the best of skincare and makeup in a single product. On one hand, hyaluronic acid provides a hydrating and plumping action, creating a smooth, supple finish. On the other hand, mattifying powders and light-reflecting universal pigments blur the appearance of pores, fine lines, and other imperfections. The final result is silky but subtle–just like your skin, but better!
Intrigued? Then make sure to also check out the Embryolisse Complexion Correcting Care CC Cream SPF20.
---
Embryolisse Radiant Eye
The best eye cream for tired eyes
Are you tired? Overworked? Overpartied? Then your eyes may be in need of some heavy-duty eye cream. Look to Embryolisse Radiant Eye for help: this is a double-action eye cream in stick form, kind of like a lip balm, and it promises to deliver instant results.
On one hand, this eye stick offers an instant brightening action. On the other hand, it provides in-depth hydration to the skin, restructuring it over time. For a more awake, radiant, and illuminated look, this is the Embryolisse product for you.
---
As you can see, there's nothing complicated about Embryolisse. This emblematic French brand is all about comfortable and uncomplicated products that deliver results with ease; it's no wonder, then, that so many of the best Embryolisse products are actually beauty multi-taskers! If you haven't yet, make sure to explore our full Embryolisse range in the shop. Who knows what other beauty secrets you might find!