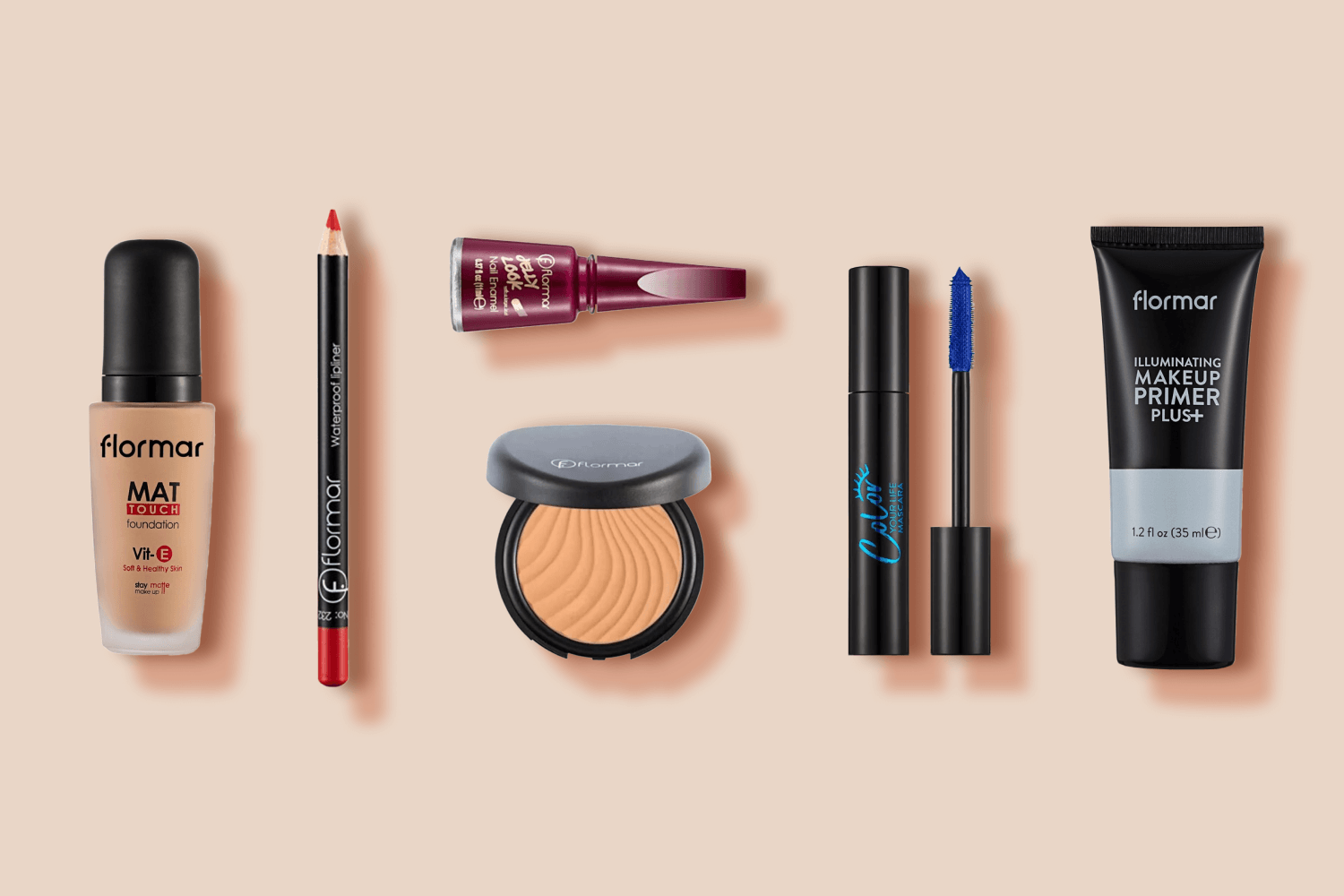 When we first laid eyes on Flormar, the Turkey-based makeup brand created in 1970, we were blown away by the variety of colors and textures. Color is at the core of the Flormar world, and it couldn't be any other way: after all, this is a brand that prides itself on providing women with versatile, reliable products that allow them to represent the best of their personality. If you're not familiar with this brand, keep reading: we're about to guide you through the best Flormar products out there, so you can level up your makeup game in style.
---
On this post:
---
Flormar: The Brand in Review
Top 10 Flormar Products
Flormar Mat Touch Foundation
The velvety foundation for oily skin
If you are looking for the best Flormar products for oily skin, this foundation is among them: it keeps shine under control and provides a smooth complexion with just one thin layer of product.
With a velvety formula, this foundation is suitable for all skin types, but it is especially ideal for combination to oily skin, which will benefit from the most from its mattifying effect.
---
Flormar Illuminating Makeup Primer Plus
The glow-boosting makeup primer
This handy little primer prepares your skin for makeup while delivering a glowing, luminous effect. Suitable for all skin types, this primer leaves your skin looking fresh and radiant, fully prepared for your favorite foundation.
Moreover, it also enhances the lasting power of your, foundation ensuring that your makeup stays intact all day long.
---
Flormar Jelly Look Nail Enamel
The gel manicure look, for less
Do you love the look of a gel manicure, but dislike the hassle of getting it done? Well, you can apply this Jelly Look nail polish in the comfort of your home, and remove it easily just like usual nail polish.
Available in a variety of delectable colors, this groundbreaking nail polish ensures not only amazing shine and a beautiful gloss finish, but also that luxurious plump effect we often associate with gel nails.
---
Flormar Matte Waterproof Dipliner
The hyper-precise black eyeliner
With a thin built-in brush and a luxurious matte finish, this eyeliner offer precise application and endless versatility. The formula, enriched with extra pure pigments, features a quick-dry effect that does not smudge.
Besides having a long-lasting performance, this eyeliner also resists water, sweat, or any kind of moisture.
It is also available in a trendy wet finish with the Flormar Vinyl Waterproof Dipliner Black.
---
Flormar Perfect Coverage Foundation SPF15
The hydrating foundation for dry skin
Flawless coverage that lasts all day: that is what you get with the Flormar Perfect Coverage Foundation. Enriched with almond and olive oils, this foundation blurs away imperfections while nourishing the skin, this providing a smooth, radiant finish.
The rich, creamy texture suits all skin types, but it may be perfect for dry and dull skin that needs a little boost of luminosity and radiance.
---
Flormar Wet & Dry Compact Powder
The versatile face powder
This multi-purpose face powder offers different results depending on the way you apply it. To achieve high coverage, apply it directly yo the face using a slightly damp sponge. To set foundation with a translucent finish, apply it with a clean and dry powder brush.
If you are looking for a versatile compact powder that provides equal coverage and setting power, then this is one of the best Flormar products for you.
---
Flormar Silk Matte Liquid Lipstick
The liquid lipstick that won't dry out your lips
Liquid lipstick can feel like a compromise sometimes, like you have to choose between beauty and comfort. With this lipstick, however, you get both.
The formula is enriched with nourishing oils and cupuaçu butter, which keep the lips soft and comfortable through the day. The highly pigmented formula then lends the lips a luxurious matte finish that stays put throughout the day.
---
Flormar Color Your Life Mascara
The bold color mascara
Black mascara may be the standard, but with the Flormar Color Your Life Mascara you can go beyond black and into a whole new realm of colors. Available in blue and green, among other colors, this mascara boosts the length and volume of your lashes while giving your makeup look a bold pop of color.
The formula is lightweight, perfect for adding separation and definition without clumping your lashes together. A fun new twist on a traditional makeup favorite!
---
Flormar Waterproof Lipliner
The matte liner to match your favorite lipstick
If you're a big fan of bold, colorful, long-lasting lipstick, then you know a lip liner is the must-have accessory to make your look really pop. This is the Flormar Waterproof Lipliner, a highly pigmented lip liner with a matte finish.
It's available in a huge array of colors, so you can easily match it to your favorite lipsticks. Easy to apply, due to its precision tip and buildable coverage, this lip liner is one of our favorite ways to make your lipstick last all through the day. And, of course, it's waterproof!
---
Flormar Calcium Gel Base Coat
The strengthening treatment for damaged nails
Healthy nails are the secret to gorgeous, long-lasting manicures that look perfect every time. With the Flormar Calcium Gel Base Coat, you get to achieve healthy nails and a long-lasting manicure all at the same time.
Use this strengthening formula on its own, to fortify fragile or damaged nails, or use it as a base coat to achieve a smooth application of your favorite nail polishes.
---
Now that you have seen our selection of the best Flormar products, all that's left to do is ask: which one will you be using to give your makeup a pop of color?