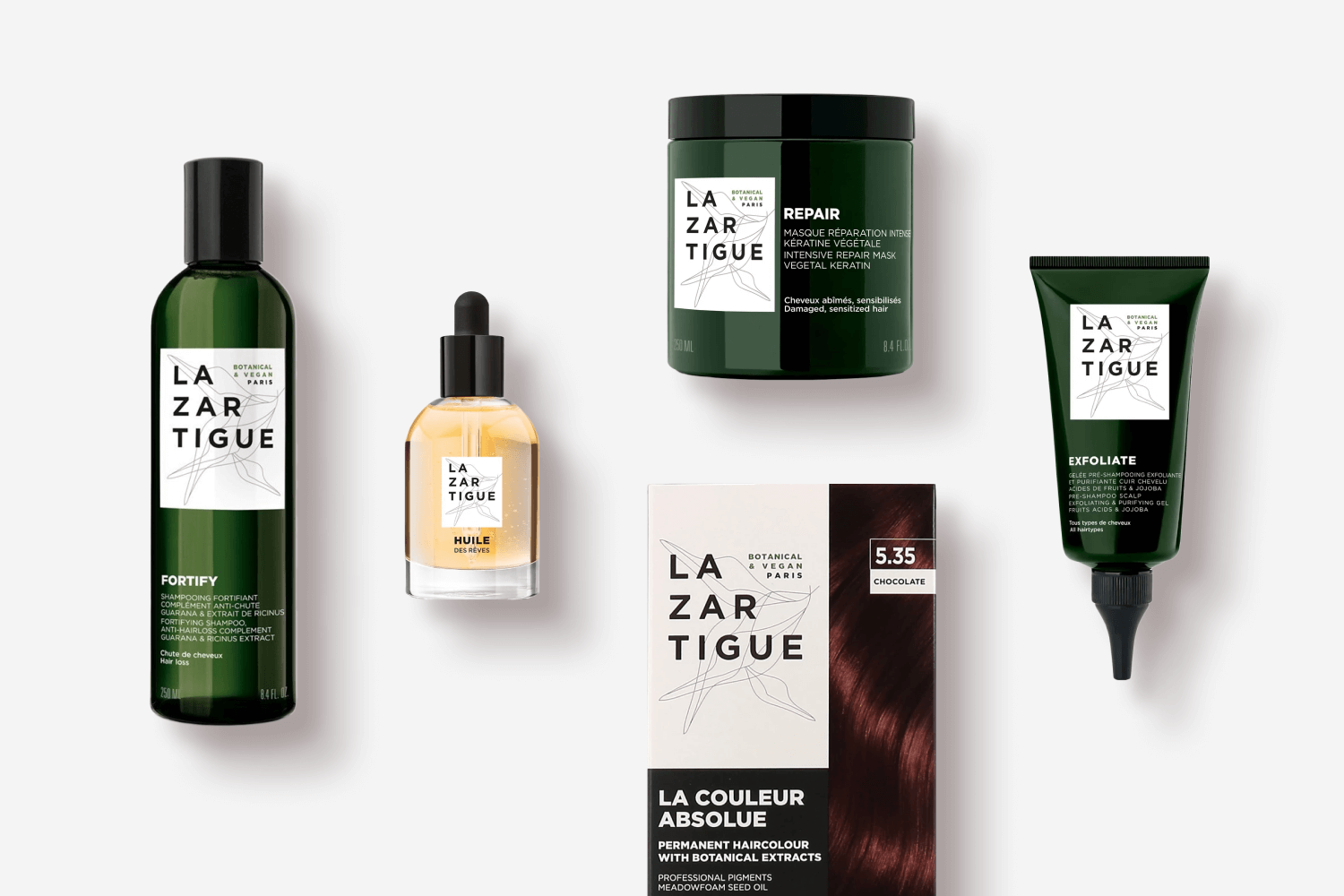 In the age of over-hyped skin and hair care products, there are still some hidden gems to be found in the beauty aisle. One such example is Lazartigue, a French hair care brand created in 1976 that remains a forerunner in the field of natural and vegan hair care. When internationally renowned hair stylist J.F. Lazartigue created the brand, his goal was to achieve incredibly gentle formulas with pleasurable textures; today, that goal has been more than reached, and our Care to Beauty team can confirm: Lazartigue is truly one of the most luxurious-feeling hair care brands we've ever tried. Keep reading to learn more about the best Lazartigue products according to our team, including an extremely gentle box dye you can use at home!
---
On this post:
---
Lazartigue: The Brand in Review
Top 6 Lazartigue Products
Now that you know a little bit about the brand, let's get to know our favorite Lazartigue products:
Lazartigue Huile de Rêves
The beautifying, shine-boosting oil
If your hair is a little dry and dull, but otherwise healthy, Lazartigue has just the product for you: the luscious Huile de Rêves. This is a comforting dry oil that combines a unique blend of botanical oils: highly nutritious argan oil, fortifying camellia oil, restorative Egyptian geranium oil, and softening apricot oil.
With a deliciously fluid texture, this unique oil nourishes the hair fiber without creating a heavy, oily finish. The hair is wrapped in softness and feels–and looks–absolutely sublime.
---
Lazartigue Fortify Fortifying Anti-Hairloss Complement Shampoo
The best Lazartigue shampoo for hair loss
A shampoo alone will not be able to treat hair loss. However, it can be a valuable ally, such as this Lazartigue Fortify Fortifying Anti-Hairloss Complement Shampoo.
With an energizing and stimulating formula, rich in guarana and castor oils, this gentle shampoo helps rebalance the scalp while providing fragile hair with the nutrients it needs to grow healthy. If you're fighting hair loss, make sure to combine it with one of the brand's targeted treatments for hair loss. (We've got one for you below!)
---
Lazartigue Repair Intensive Repair Mask
The restorative mask for over-processed hair
Damaged and over-processed hair needs specific care, and this mask offers precisely that. Formulated with 100% vegetable keratin, this luscious mask reconstructs the hair fiber over time. Other star ingredients of this mask, botanical hyaluronic acid and Abyssinian oil, hydrate the hair in-depth and leave it soft, pliant, and easy to detangle.
Think of this mask as a "bandage" for your dry and damaged hair: not only will it protect your hair fiber from further damage, it will also help it heal and return to its natural health and beauty.
---
Lazartigue Thicker Hair Serum
The scalp treatment for progressive hair loss
Lazartigue has two anti-hair loss serums: one for progressive hair loss, and one for reactive hair loss. This Lazartigue Thicker Hair Serum is the former: designed for progressive hair loss, it is ideal for those experiencing a gradual loss of hair density and vigor as they age.
The star ingredient here is Capixyl, a red clover complex that reinforces the hair follicle in order to encourage the development of stronger, healthier hair. Over three months of application, this star ingredient helps minimize the twin processes of hair loss and hair thinning. The hair grows stronger and thicker, with newfound density and vigor, allowing your locks to recover their youthful glory.
---
Lazartigue Exfoliate Pre-Shampoo Scalp Purifying Gel
The "detox" treatment for your scalp
Just like the skin, the scalp can benefit a lot from regular exfoliation. This exfoliating jelly brings that much-needed detoxifying action to your scalp, just before your shampoo.
While jojoba micro-beads provide mechanical exfoliation, by dislodging and removing oil and product build-up, exfoliating fruit acids cleanse the scalp in-depth, restoring bounce and vigor to the hair root. Start off your hair care routine right with this versatile pre-shampoo!
---
Lazartigue La Couleur Absolue
The vegan box dye without ammonia
One of Lazartigue's most renowned products is its hair dye, La Couleur Absolue. 100% vegan, 100% botanical, and capable of covering 100% of white hairs, this innovative dye provides a high concentration of professional pigments in order to achieve maximum color payoff, providing all the benefits of professional hair color in the comfort of your own home.
More than just a coloring treatment, this is also a care product: the formula contains both rice milk and meadowsweet oil to protect and nourish the hair, leaving it beautifully supple and shiny.
---
We've talked about the best Lazartigue products according to our Care to Beauty community, but that doesn't mean there aren't other hidden gems in the catalog of this hair care brand that's so natural and based on botanical ingredients. Explore our full range of Lazartigue products in the shop to find your next hair care favorite!