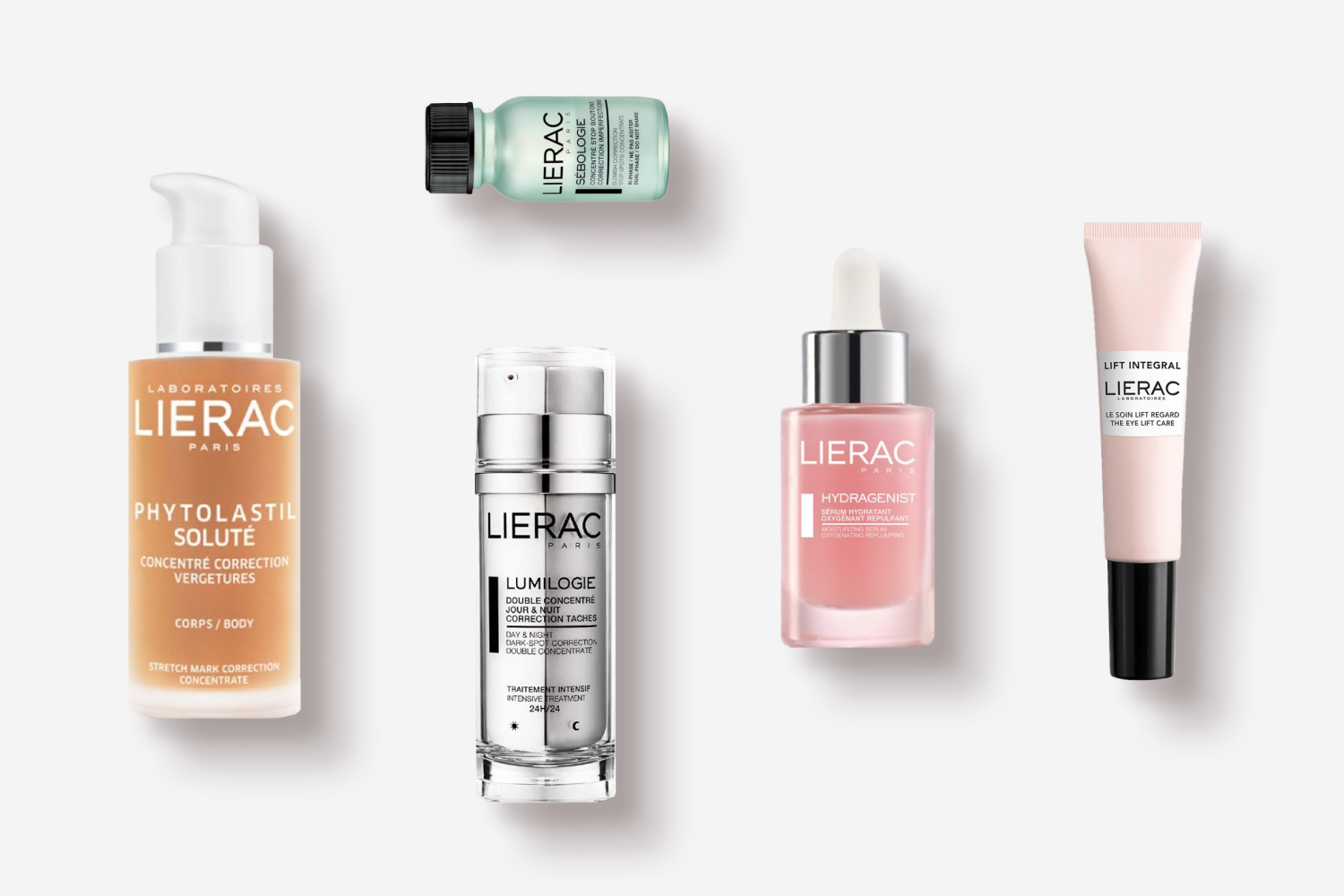 For over 40 years, Lierac has worked on creating luxurious skincare products that not only feel great, but make your skin look great too. You could say Lierac offers the perfect blend of both pleasurable textures and effective, medically-backed formulas, and you would be right. Curious to know more? Then keep reading to learn about the best Lierac products you should consider adding to your face and body care routine.
---
On this post:
---
Lierac: The Brand in Review
Top 8 Lierac Products
Lierac Lumilogie Day & Night Dark Spot Correction Concentrate
This intensive dark spot treatment offers two serums, for the day and night, in the same bottle. The day serum features a cocktail of antioxidant vitamins, while the night serum contains a mix of exfoliating acids.
Together, the two serums target all stages of hyperpigmentation, correcting the appearance of existing spots while preventing the appearance of new ones.
---
Lierac Sébologie Blemish Correction Stop Spots Concentrate
This blemish corrector from Lierac eliminates pimples by drying them out; it also regulates cell renewal and helps prevents post-inflammatory scars.
The dual phase formula is best used in the evenings: simply dip a q-tip into the bottle, down to the very bottom, then apply directly to the blemish. In the morning, remove residue using a cotton pad, and you'll be good to go!
---
Lierac Hydragenist Moisturising Serum
This best selling serum brings the benefits of oxygen infusion treatments to the skin. Featuring biomimetic oxygen and hyaluronic acid, this serum merges with the skin in order to leave it smooth and radiant.
Fine lines and wrinkles become less visible and the skin looks more refreshed. If you're looking for one of the best Lierac products to tackle the first signs of aging, this is it!
Looking for a retinol alternative? Then Lierac Cica-Filler, rich in bakuchiol, may be be the range for you.
---
Lierac Sunissime After Sun Global Anti-Aging Repair Milk
Ever wished your summer glow could last longer? This after sun soothes and restores your skin for a sublime and long-lasting tan, all the while reducing signs of photoaging.
One application a day, after sun exposure, is all you need to replenish the skin with comfort. You'll achieve a natural as well as sun-kissed appearance, with radiant and hydrated skin that feels soft and fragrant, with notes of white flowers.
---
Lierac Phytolastil Soluté Stretch Mark Correction Concentrate
The iconic Lierac Phytolastil Stretch Mark Correction Serum is now available in a practical bottle with a pump applicator. This formula strengthens the skin's connective tissues and helps reduce the appearance of existing stretch marks.
Formulated with a restructuring plant complex that makes up 84% of the formula, this concentrate has been proven effective in minimizing the depth and pigmentation of visible stretch marks.
Keep in mind, though, that stretch marks are notoriously hard to treat. If you are going through a phase that may lead to the formation of stretch marks, such as pregnancy, puberty, or a period of weight fluctuation, make sure to work on stretch mark prevention first and foremost. Here's a tip: Lierac Phytolastil Stretch Mark Prevention Gel is a great option if you're looking for a preventive stretch mark cream.
---
Lierac Body-Hydra Micropeeling Scrub
Refine and even out the texture of body skin with this hydrating micropeeling scrub. With a pleasant texture that only Lierac can deliver, the formula helps restoring radiance, while contributing to enhance the action of your hydrating or regenerating body care. It should be a stapple on your routine and it's a must to combine with anti-cellulite treatments.
Thanks to plant-origin micro-grains, the formula exfoliates the skin, eliminating dead skin cells that should be on their way out. Combine it with other Lierac body care products for the best results!
---
Lierac Premium The Voluptuous Cream Absolute Anti-Aging
Not only does this Voluptuous Cream nourish mature skin, it also targets multiple signs of aging, from wrinkles and loss of firmness to dark spots and enlarged pores. The Lierac Premium range is expert in delivering visible rejuvenating results.
Its smooth and subtly fragranced texture melts into the skin, offering immediate results along with a feeling of pleasure and well-being. All in all, this is truly one of the best Lierac products for mature skin.
---
Lierac Lift Integral Eye Lift Serum
This lifting eye serum is perfect for mature skin that's beginning to lose firmness in around the eyes; it is suitable for both the eyelid and the undereye area.
Besides tacking loss of firmness, this serum also offers benefits against wrinkles, dark circles and puffy eye bags. All in all, it is one of the best Lierac products you can use to tackle signs of fatigue around the eye area.
---
It is not possible to summarize Lierac in just 8 products, but we think that this sample already helps you to have an idea of ​​what the brand has to offer. Explore our full selection of Lierac products in the shop, and welcome this luxurious brand into your skincare routine!