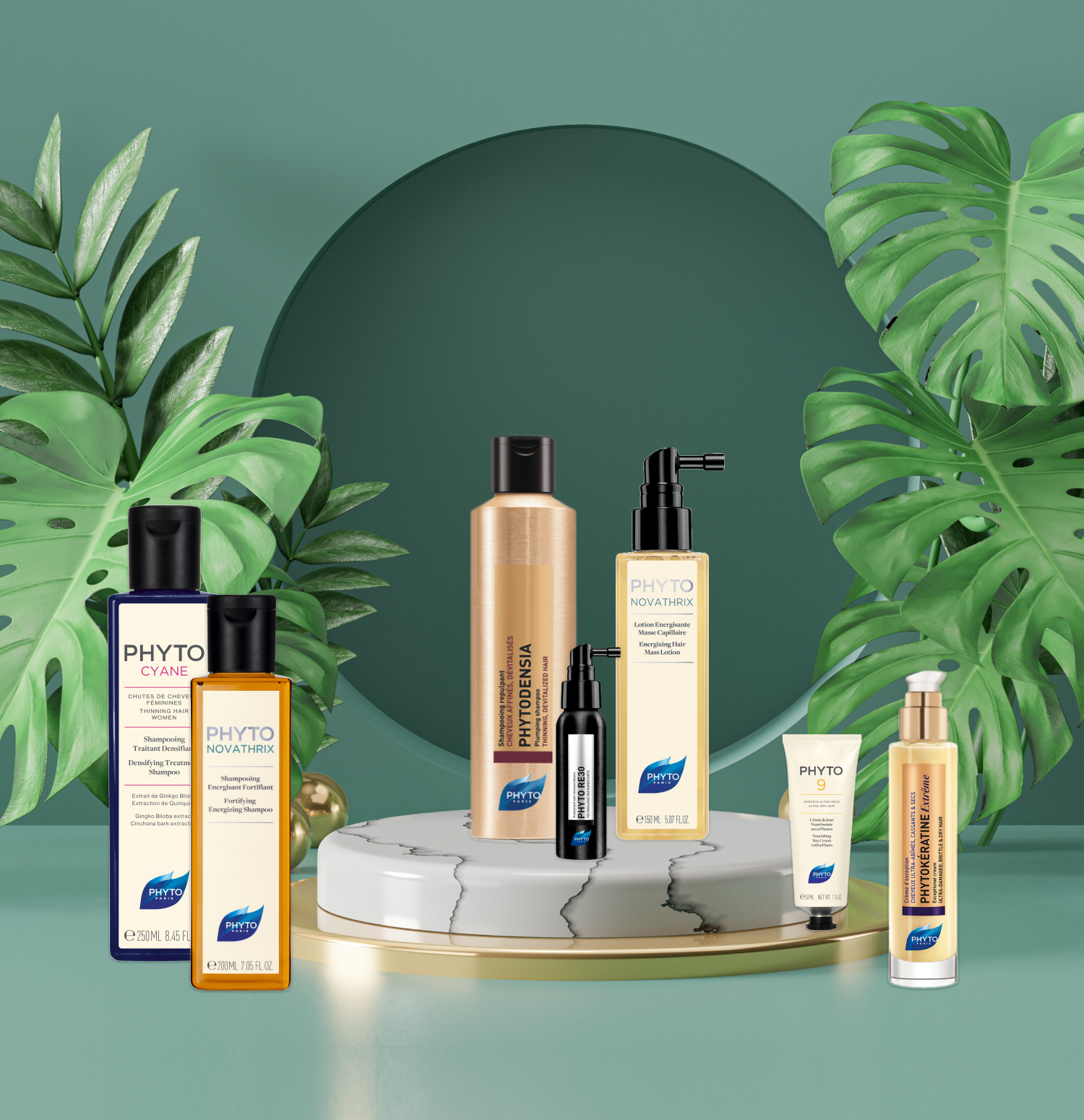 With a French seal of approval, Phyto is one of our favorite hair care brands. The brand combines cutting-edge science with the most active plant extracts in order to reveal the natural beauty of your hair. Phyto products are 95-100% natural, and avoid the use of parabens, silicones, mineral oils, and synthetic alcohols. Does this sound like the right hair care brand for you? Then keep reading to learn about our 10 best Phyto hair products.
Phyto RE30
The Phyto treatment for grey hair
As the first product in the world to be able to repigment gray hair, Phyto RE30 represents the brand's dedication to cutting-edge science. In short, Phyto RE30 creates a melanin boost at the root of the hair, which then allows it to grow back with its original color. Results are visible as soon as the hair grows, which may take around three months.
There's one thing to keep in mind, however: this product reacts with the pigment cells in your hair, called melanocytes. These may not actually exist if you've had gray hair for a while, which is why it's so important, with this product, to tackle grey hairs as soon as you spot them.
---
Phytophanère Dietary Supplement
The best Phyto hair vitamins
If you're a fan of hair vitamins, this product's for you! Phytophanère is a food supplement that supports healthier hair, stronger nails, and more radiant skin from the inside out.
This high potency formula contains vitamin E, omega-3 and omega-6, vitamins B and C, and pro-vitamin A to promote fuller, thicker, shinier hair, and stronger, more resistant nails.
Oh, and here's a little secret: you can get two bottles of Phytophanère for the price of one!
---
Phytocolor Permanent Color Shade 4 Brown
The gentle plant-based hair color
There's box dye, and then there's Phyto box dye. The Phytocolor permanent color collection is a plant-based hair dye that is suitable for sensitive scalps. It doesn't contain resorcinol (or resorcin), PPD, parabens, or ammonia.
Each one of the Phytocolor shades contains a high concentration of pigments and plant extracts, in order to create intense, permanent, and deep colors with natural reflections. Shade 4 is our bestseller, but feel free to explore our full range of Phytocolor shades to find the right one for you!
---
Phyto 9 Nourishing Day Cream
The most complete leave-in cream
If you have dry hair, a leave-in cream can make a huge difference in the day-to-day appearance of your locks. This is where Phyto 9 comes in: it is a weightless leave-in cream fortified with nine plant extracts.
Suitable for dry to very dry hair that is also thick and coarse, this formula nourishes and softens the hair, all the while preventing frizz and split ends and providing daily protection against environmental aggressions.
If your hair is dry but fine, try Phyto 7 instead. This is the original Phyto leave-in cream, with a slightly less nourishing texture.
---
Phytojoba Moisturizing Mask
The pampering mask for dry hair
For dry and dull hair that needs a deep boost of hydration, the Phytojoba Moisturizing Mask is the way to go.
Formulated with the natural hydrating properties of jojoba oil and mauve extract, this highly concentrated mask protects the hair from dehydration and forms an invisible protective veil over the hair strand, keeping moisture on the inside. At the same time, it helps detangle the hair without adding weight.
---
Phytodetox Clarifying Detox Shampoo
The ideal shampoo for "urban" hair
Are you a city-dweller worried about the effects of smoke and pollution on your hair? Meet the Phytodetox Clarifying Detox Shampoo, an anti-pollution shampoo that refreshes and purifies the hair and scalp.
Specially designed to protect the hair from the damaging effects of a modern lifestyle, this shampoo employs natural botanical extracts to restore health and well-being to the hair. At the same time, it keeps the scalp comfortable and soothed.
---
PhytoArgent No Yellow Shampoo
The shine-boosting purple shampoo
Tired of dealing with brassy tones on your white, gray, or blonde hair? PhytoArgent No Yellow Shampoo is here for you. This is a gentle cleansing product, highly concentrated in jojoba milk, that softens the hair fiber and restores radiance and shine to the hair
Because of its high concentration of color-enhancing plant extracts, this shampoo also corrects discoloration and brassiness, thus reviving the brilliance of white, gray, and blonde locks.
---
Phytokératine Extrême Mask
The restorative treatment for damaged hair
There seems to be a fine line between dry and damaged hair–if your hair has crossed it, you may need to invest in some restorative hair care products. This Phytokératine Extrême Mask was specially designed to regenerate dry, brittle, and damaged hair.
The ultra-rich formula contains sapote butter and baobab oil, two rich natural extracts that nourish and repair the hair fiber in-depth over time, thus restoring softness and shine.
---
Phytospecific Rich Hydrating Mask
The nourishing mask for textured hair
Whether curly, frizzy, coiled, or relaxed, textured hair tends to be dry and fragile, so it needs special pampering. That is what the Phytospecific range is all about. Start with Phytospecific Rich Hydrating Mask, a mask that deeply nourishes and protects the hair fiber.
The formula contains mallow extraction and white clover honey, two natural extracts with powerful moisturizing properties. It also contains shea butter, which brings shine and softness while providing antioxidant protection against everyday aggressions.
---
Phytonovathrix Global Anti-Hairloss Treatment
The best Phyto product for hair loss
The ultimate anti-hair loss treatment from Phyto has an appropriately hi-tech name: Phytonovathrix Global Anti-Hairloss Treatment. This treatment works simultaneously on 16 biological targets involved in both hair loss and hair development. Not only does it slow down hair loss, it also stimulates the growth of stronger and thicker hair.
The light, non-oily, and non-sticky formula is presented in vials, which must be applied to the scalp 3 times a week. The delicate fragrance is a blend of natural fresh notes, ensuring that the moment of application is also a moment of pleasurable relaxation.
If you liked the old Phytologist 15 Anti-Hair Loss Treatment, you will love this new and improved formula.
---
Phyto is so rich in hair care products that it's hard to pick just 10; still, we hope we've offered you a valuable peek into the offerings of this plant-based French brand.
If you'd like to go beyond our selection of the best Phyto hair products, you can do so in the shop: there, you'll find our full range of Phyto products, plus lots of information on how to use them in your hair care routine.