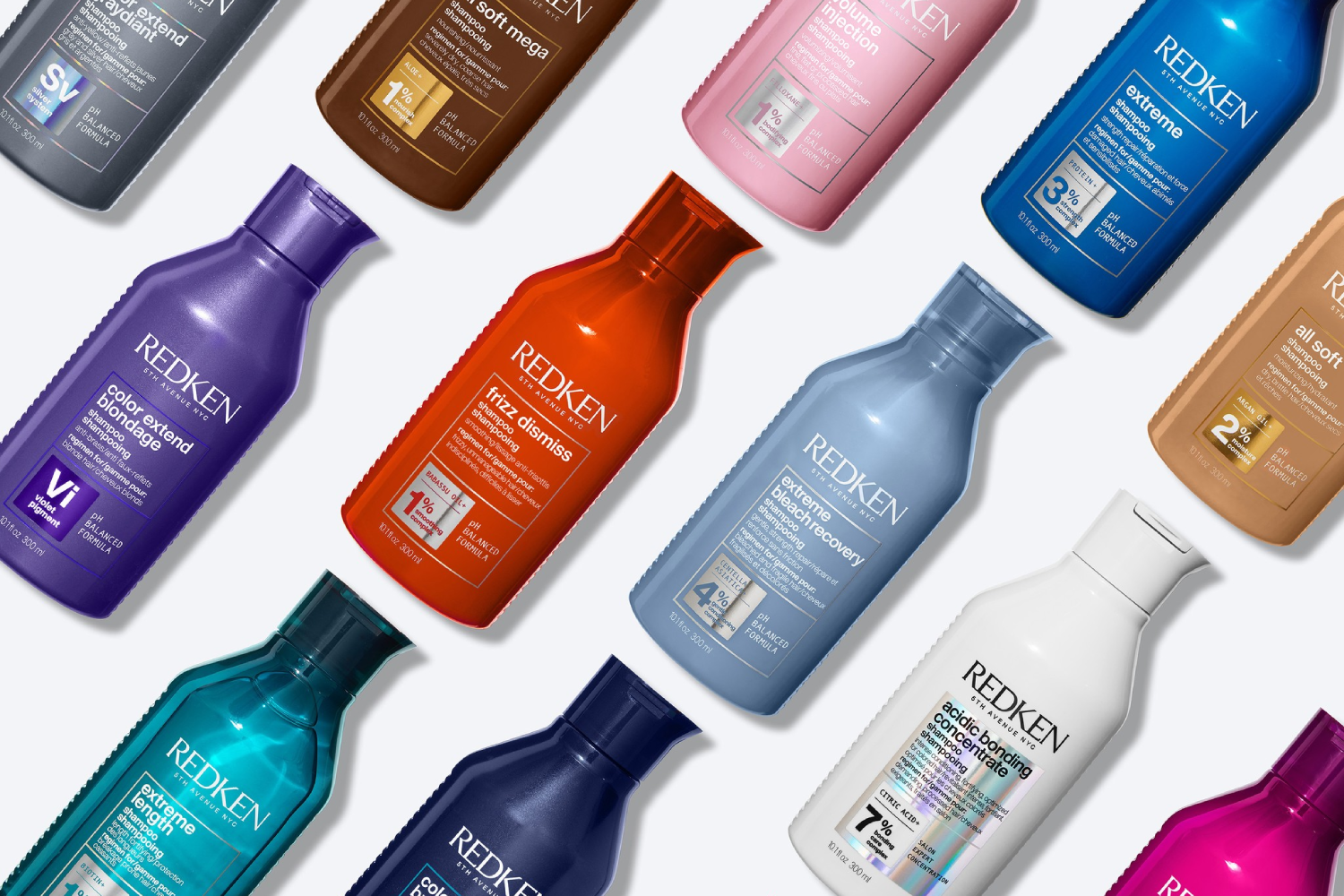 Since 1960, Redken has revolutionized the world of professional hair care. With products based on 3 principles–protein technology, an acidic pH, and science-first formulations and recommendations by licensed hair care professionals–Redken offers groundbreaking hair care, color and styling products. Today, we're going to focus on hair care, telling you all about the best Redken shampoo and conditioner duos that you can use, in the comfort of your own home, to improve the appearance and health of your hair. Keep reading to discover your best match!
Redken Shampoo and Conditioner Duos for Every Hair Type
Redken offers a plethora of best-selling shampoos and conditioners, so we couldn't possibly run through them all. We are, however, going to guide you through those we believe to be the most revolutionary and innovative shampoos in conditions that the brand currently offers.
Redken Extreme Length
The biotin-powered duo for long hair
We've all said–or heard someone say–that our hair is healthy, but it doesn't seem to grow past a certain point down our backs. To help with this hair drama, look to the Redken Extreme Length shampoo and conditioner. Formulated with biotin and an exclusive Length Fortifying Complex, this duo helps strengthen and protect the hair along its entire length in order to prevent breakage and ensure healthy growth.
For the best results, complement your shampoo and conditioner with the use of the Redken Extreme Length Sealer, which visibly reduces the appearance of split ends by 78%.
---
Redken Acidic Bonding Concentrate
The hair bond repair shampoo and conditioner
The Acidic Bonding Concentrate range offers Redken's most sophisticated care for damaged hair. Specially designed for hair damaged as a result of chemical processing, this range features an exclusive Bonding Care Complex that contains citric acid, an alpha hydroxy acid. It is through this complex that the products are able to strengthen bonds in the hair (and if you don't know what that means, head on over to our guide to all things hair bonding) and provide ultimate repair and protection.
The sulfate-free bonding shampoo gets the ball rolling with an acidic pH that helps defend against the negative effects of hair coloring, heat styling, and other external aggressors. For its part, the conditioner builds upon this effect by providing intense repair and reinforcing weakened hair in order to prevent further damage. When used together, these two products get you up to 56% less breakage.
---
Redken All Soft
The secret to soft, sleek hair
If you have dry, coarse, and maybe even slightly unruly hair, the Redken All Soft shampoo and conditioner duo is ideal for you. Formulated with Redken's exclusive Moisture Complex with argan oil, this duo softens and moisturizes the hair from root to tip. The shampoo offers a gentle cleansing action that doesn't dry out your locks, and can even be used every day. It's the conditioner that holds the real key to keeping your hair soft and silky; not only does it envelop the hair in the softness of argan oil, it also helps to detangle the hair, thus reducing breakage.
If you use only the shampoo and conditioner, you will undoubtedly see results, and your hair will feel much softer, silkier, and easier to shape and style. However, for those who want a truly incredible result, we recommend wrapping up the care ritual with the Redken All Soft Argan-6 Multi-Care Oil, a luscious leave-in, anti-frizz hair oil.
---
Redken Extreme
The repairing duo for seriously damaged hair
The Redken Extreme range (not to be confused with the Redken Extreme Length range), is specially designed for damaged hair that suffers from breakage and split ends. In order to reverse existing damage and prevent further damage, Redken has infused this shampoo and conditioner duo with an exclusive Strength Complex that contains amino acids and arginine to strengthen and fortify the hair, and citric acid to soften and condition.
As the shampoo cleanses, strengthens, and restores damaged hair, the protein-infused conditioner helps fortify weakened areas of the hair, all the while providing a smoothing and detangling effect. Use them together, and you will notice your hair damage is reduced by up to 75%.
---
Redken Volume Injection
The volumizing shampoo and conditioner for fine, flat hair
If you have thin and flat hair, you've probably done everything in your power to give it volume. That's where the Redken Volume Injection range comes in to help you bring extra body, volume, and movement to your tresses. Powering this shampoo and conditioner duo is Redken's Bodifying Complex with Filloxane, a custom molecule that adds volume by increasing the density and thickness of each hair strand from the inside.
With its gentle yet effective cleansing action, the Volume Injection shampoo activates the roots in order to provide maximum volume all along the length of the hair strand. Follow it up with the conditioner for a boost of shine and softness that won't weigh down your hair, and watch as your locks emerge from the wash with newfound density and movement.
---
Redken Color Extend Blondage
The color-depositing duo for blonde hair
If you have blonde hair. whether natural or colored, you know that a purple shampoo is an essential product to maintain your original color, without unwanted yellow or orange tones. The Redken Color Extend Blondage shampoo and conditioner duo was specially designed to bring back the original radiance of blonde hair. The formulas, enriched with violet pigments, counteract brassiness and leave blonde hair looking perfectly cool and bright.
As the first step of this regime, the shampoo provides a gentle cleansing action that does not strip down the hair. It also starts out the color-depositing process right away, neutralizing brassy undertones in just 5 minutes. The conditioner picks up the slack right after, depositing further pigment and wrapping the hair in softness. As it strengthens and repairs the hair strand, the conditioner also helps detangle the hair, in order to minimize breakage and allow you to maintain long, beautiful, healthy locks–especially important if your hair is color-treated!
---
Redken Frizz Dismiss
The smoothing duo for frizz-prone hair
Frizz is one of the most common hair concerns we see here among our Care to Beauty community, and it affects all hair types, from the straightest to the curliest. To help reduce frizz and make the hair more manageable, Redken offers the Frizz Dismiss range, which of course includes a shampoo and conditioner.
The shampoo has a gentle formula, formulated with Babassu oil and without sulfates and sodium chloride free. Providing a gentle cleanse, this shampoo starts fighting frizz from the very first step of your hair routine. Then the conditioner will do the heavy lifting, detangling and protecting your hair from frizz while increasing softness and shine. For truly impressive results, combine this duo with an anti-frizz leave-in product such as Redken Frizz Dismiss Rebel Tame Smoothing Leave-In.
---
We've already seen some of the best Redken shampoo and conditioner duos, but there's so much more to see. Visit our selection of Redken products in the shop, and don't hesitate to choose a duo perfectly suited to your needs!