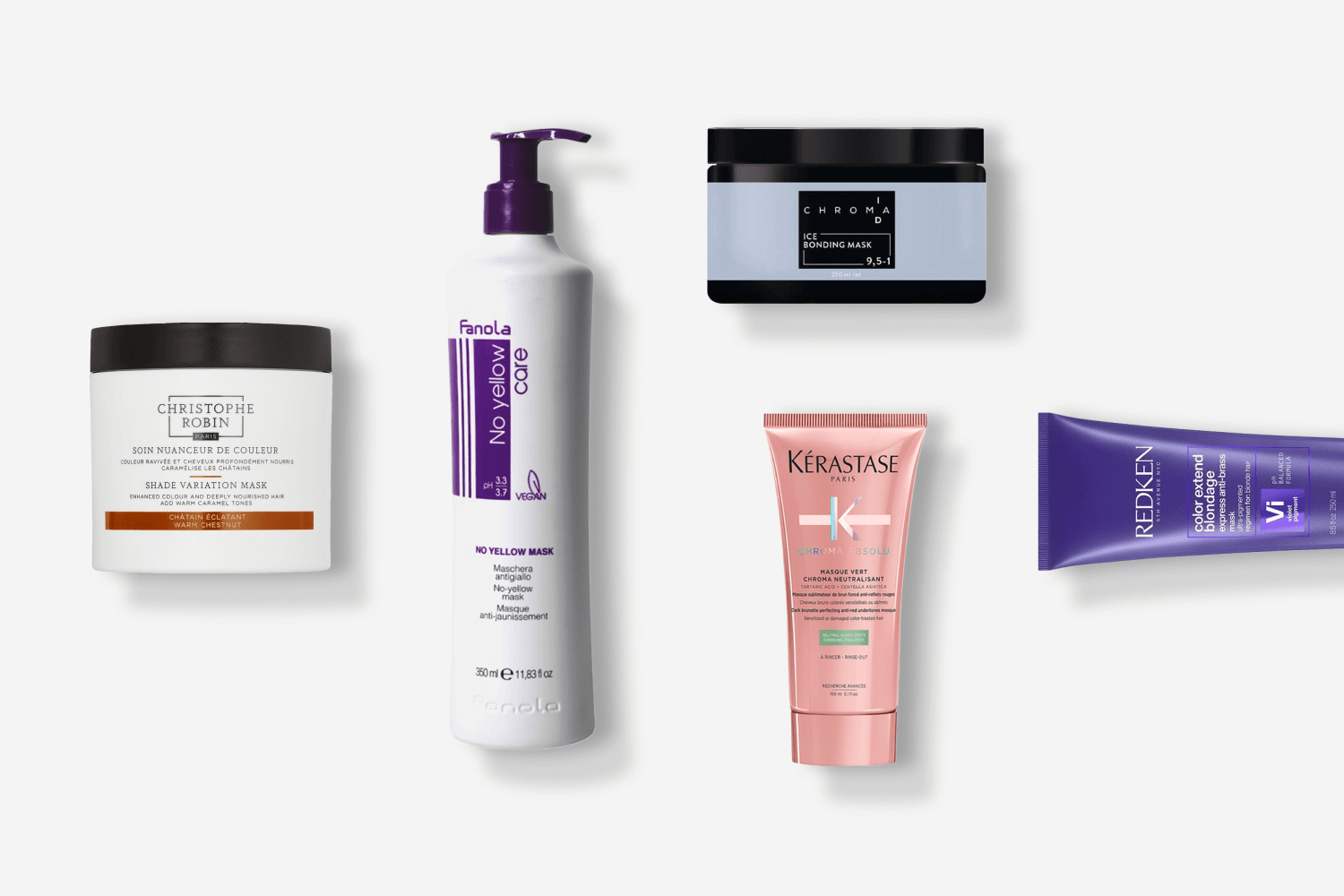 There are color-depositing shampoos, color-depositing conditioners… and then there are color-depositing masks. These hair masks combine two important benefits for color-treated hair; not only do they help refine and enhance your chosen hair color with specially selected pigments, they also help nourish your strands to promote softer, smoother hair.
Today, we're going to learn everything there is to know about color-depositing hair masks–and then, of course, we're going to help you choose the best fit for your hair color. Whether you have gray or blonde, red or dark brown hair, we have a mask for you.
Color-Depositing Masks: The Basics
Before we start recommending color-depositing hair masks, we want to look into the specifics of this type of product: what are these masks? How do they work? Do they even work? Let's find out!
What is a color-depositing mask?
A color-depositing mask is a type of hair mask that applies pigment to your hair. There are different types of color-depositing masks. From the least to the most intense, we can consider that there are three types: masks that neutralize unwanted tones in your hair, masks that refine and refresh your hair color by adding reflections, and masks that apply a more intense layer of pigment (almost as if they were temporary hair coloring products).
Color-depositing masks exist in the same category as products like color-depositing shampoos or conditioners: they are products that allow you to play with your hair color without the level of commitment that actual hair dye requires. With color-depositing hair care products, you can extend the vibrancy of your color-treated hair, make slight adjustments to your hair color (be it natural or dyed), or even try bold colors without much commitment–after all, it's all going to wash out!
How do you use a color-depositing hair mask?
The best way to use a color-depositing mask depends on the specific product. We have selected some that we like here at Care to Beauty, to give you an idea of ​​how this type of product usually works:
Fanola No Yellow Mask: start by washing your hair. Afterwards, towel-dry, and apply the mask to damp hair, focusing on the lengths and ends. Make sure to wear single-use gloves in order to avoid staining. Leave the mask on for 3-5 minutes, and finish by rinsing thoroughly;
Schwarzkopf Chroma ID Bonding Mask: apply the mask to pre-washed and towel-dried hair. Leave on for 3–15 minutes, but keep an eye out for how things are looking. Finally, rinse thoroughly. (Also, wear gloves. Take it from this writer, who's had some impressive staining experiences with the moss green Granite mask.)
Christophe Robin Shade Variation Mask: shampoo your hair as usual, rinse, and towel-dry. Then, apply the mask from root to tip, and leave it on for 5-20 minutes (stick to 5 minutes if it's your first attempt). Rinse thoroughly, and you're done!
Can you apply a color-depositing mask to dry hair?
Brands don't recommend it, and we won't recommend it either. For optimal results, stick to the instructions on your specific hair mask, and you won't have any room for mistakes!
Do color-depositing masks work?
This writer has been a long-time fan of color-depositing hair products–and that's because they do work! Between color-depositing shampoos, conditioners, and masks, masks may be the more-time consuming of the three. However, they come with a few unsung benefits: they restore moisture and nutrition to your hair, and they're often the last product you use in your hair care routine (so you won't be rinsing them off three more times until you step out of the shower).
As already mentioned, color-depositing masks apply pigment to your hair without requiring a big commitment on your part; the color washes out easily. The color-depositing mask average will color your hair for 5-15 washes.
Do color-depositing masks cover gray hair?
Color-depositing masks are not designed to cover gray hair. Depending on your hair color, you may find that your grays get a subtle tint, but they won't be fully covered or blended with the rest of your hair.
How long do color-depositing masks last?
Generally speaking, the color deposited on the hair by a color-depositing mask will last from 5-15 washes. Some masks are longer-lasting than others by design, so make sure to choose the one that suits your needs the best.
How to remove a color-depositing mask
The best thing about color-depositing masks is that they are commitment-phobic: they wash out easily! Say you used a color-depositing mask to try out a bold new color (maybe a hot pink, or a bright electric blue?), but now you're not sure sure you want to keep it. It's cool. It'll wash out.
In general, you're looking at 5 to 15 washes to get rid of the whole thing. If regular shampooing doesn't do a good enough job of washing out your color-depositing mask, try a clarifying shampoo.
---
The best color-depositing masks for gray hair
The biggest enemy of gray hair, whether natural or dyed, is yellowing. Over time, cool gray locks can take on a yellow, brassy tint that most people would rather get rid of–and that's where neutralizing and toning products come in. More often than not, products designed to neutralize yellow tones are purple (or violet, depending on the word you prefer) in color. After all, yellow and purple are direct opposites in the color wheel, so they neutralize one another.
Within this category, we bring you two options: the Fanola No Yellow Mask is a traditional purple mask (it's a purple-blue color, straight out of the bottle), designed to neutralize unwanted yellow tones on blonde hair, all the while hydrating and nourishing the strands. The Schwarzkopf Chroma ID Ice Bonding Mask 9.5-1 has a more lilac tone, which works perfectly on very light, silver, or white hair.
It's worth mentioning that there's another variation to the Chroma ID mask, the Chroma ID Light Gray Bonding Mask 9-12, which may be interesting too: it goes one step beyond toning, giving the hair a slightly muted gray tone.
---
The best color-depositing masks for blonde hair
The challenges that affect blonde hair are the same challenges that affect gray hair: that dreaded yellowing! As we saw in the previous section, the best way to neutralize yellow tones is to bring in a toning product with purple pigments. You can use the products we've seen above, or you can opt for products from specialized ranges for blonde hair, like the ones we're going to show you now:
The Redken Color Extend Blondage Express Anti-Brass Mask is a mask with an intensely purple hue that cools down yellowing blonde hair in just a couple of minutes. We also like the Schwarzkopf BLONDME Cool Blondes Neutralizing Mask, a purple mask that not only neutralizes yellow undertones, but also helps repair the damage that blonde hair may have suffered during the coloring process.
---
The best color-depositing masks for red hair
Red hair that comes from a bottle can be incredibly hard to maintain. The pigment seems to wash out at the speed of light, and it feels impossible to keep the color true for more than a couple of washes. To help you on this journey, we bring you two color-depositing masks for red hair: one for warmer, coppery hair, and one for fire engine red locks.
These masks are a little different from what we've seen so far. The goal here is not to neutralize unwanted tones, but rather to enhance and brighten the tones you actually want to see.
The Christophe Robin Shade Variation Mask Chic Copper is perfect to revive golden red hair colors. As it brightens the hair with unique copper pigments, it provides softness through a combination of sweet almond and buriti oils. For those with a hair color closer to crimson red, the Schwarzkopf Chroma ID Ruby Bonding Mask 6-88 is perfect for reviving your original tone and counteracting the gradual fading of the red pigments.
---
The best color-depositing masks for dark hair
Dark hair used to be overlooked in the world of products for color-treated hair , but not anymore! There are color-depositing hair masks for dark brown hair out there, and you'll be pleased to know they also do double duty. Whether you want to neutralize unwanted orange-red tones or enhance a warm honey brown hair color, there's a hair mask for you.
Kérastase Chroma Absolu Masque Vert Chroma Neutralisant Mask is a color-depositing green mask that neutralizes–let's look at the color wheel again–unwanted red tones. If you have dyed brown hair, you know that its natural tendency is to grow lighter and warmer (think reddish and orange tones), especially during the summer. With this mask, you can neutralize those tones and keep your brown hair cool and dark for longer. But what if you have the opposite problem? What if you have brown hair and want to promote soft, warm, caramel highlights? The Christophe Robin Shade Variation Mask Warm Chestnut can help you achieve that, due to its unique blend of rich caramel pigments.
---
Now that you're an expert on color-depositing masks, you can decide whether this type of product fits into your color-treated hair care routine. Whatever you decide, don't forget to incorporate a targeted shampoo for dyed hair into your routine–that's the secret to truly long-lasting hair color!