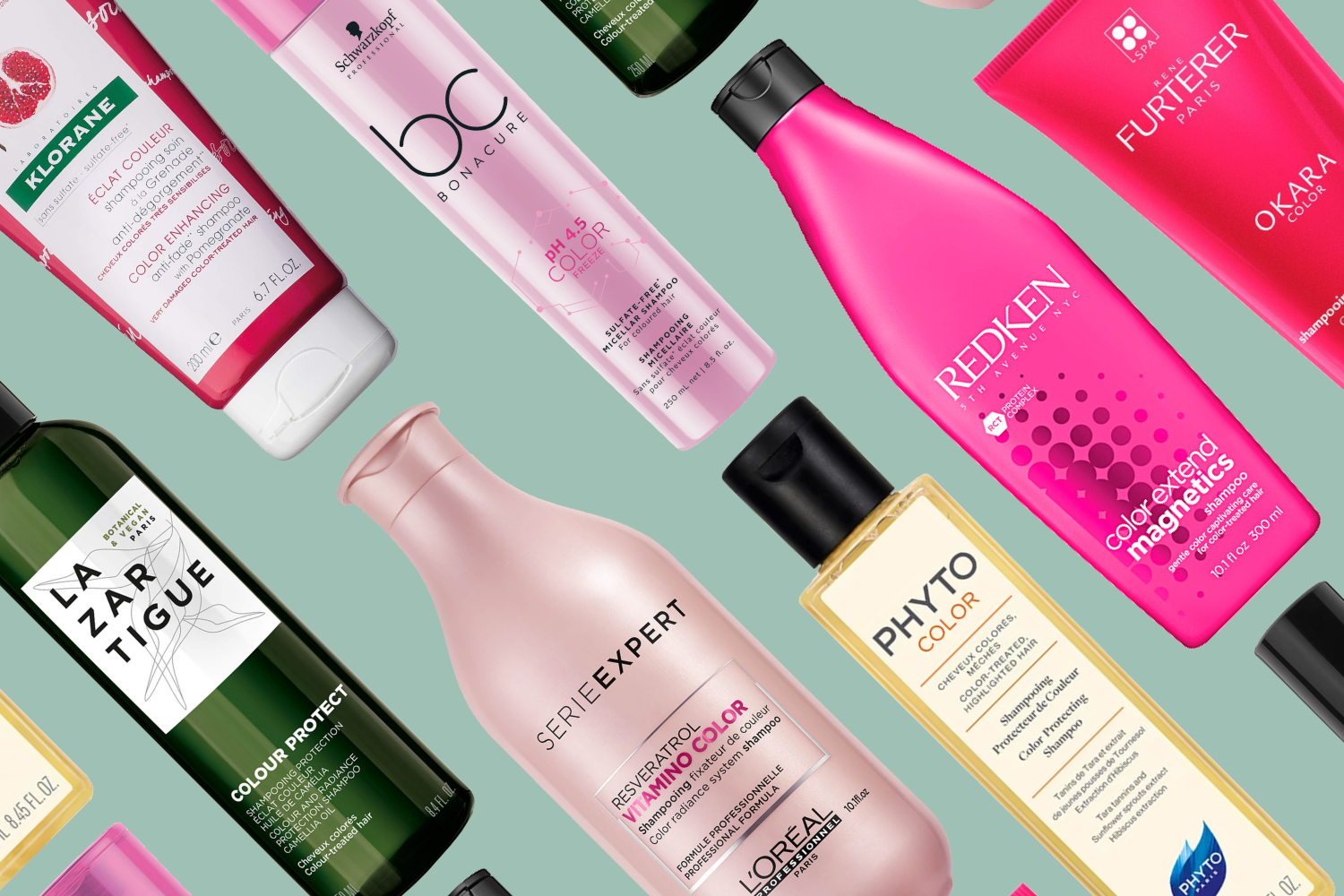 So, you've just dyed your hair. Whether you did it to cover gray hairs, to intensify your natural shade, or even to signal a serious life change, one thing is true: now that you've done it, there's nothing more important than keeping your color looking glossy and vibrant. That means, of course, washing your hair as rarely as possible (water is your color's worst enemy), and making sure that you use color-safe shampoo whenever you do wash it. Curious? Then keep reading to learn more about the best shampoos for dyed and color-treated hair you can get your hands on in 2020.
(Did you go blonde? Then don't forget to look through the best purple shampoos for blonde hair!)
Before we begin, a note on color-safe shampoos
Color, whether we like to admit it or not, is damaging to our hair. This is why you will find that many of the best shampoos for dyed and color-treated hair have something in common: deeply repairing formulas that will not only maintain your color, but also work deep in the hair fiber to repair any existing damage.
You may also notice that many of these shampoos mention the matter of pH. Your hair is naturally acidic, with a pH value of around 4.5; hair dyes, however, can be seriously alkaline, with a pH that can be as high as 11.0 for permanent colors. They need to be, otherwise they wouldn't be able to penetrate the hair cuticle and actually color your hair. This is why you will find many color-safe shampoos that work to rebalance the pH or your hair, bringing it back down to its optimal pH value.
That being said, we're ready to hit this week's selection. Are you ready to find your new shampoo?
---
Phytocolor Color Protecting Shampoo
If you're in the market for a plant-based color-safe shampoo that will protect and revive the radiance of color-treated and highlighted hair, Phytocolor Color Protecting Shampoo is a great option.
This shampoo features a duo of active ingredients with an exceptional protective action; we're talking about tara tannins and sunflower sprout extracts, two ingredients that not only provide a powerful antioxidant action, but also limit the deterioration of the hair pigment. This shampoo is also rich in hibiscus extract. Because of its very high organic acid content, this natural active is able to neutralize the alkalinity of color treatments and restore shine to color-treated and highlighted hair.
---
René Furterer Okara Color Protection Shampoo
Shampoos for color-treated hair can feel a little joyless and overly technical sometimes, but not this one. With a refined floral fragrance and a generously foamy lather, René Furterer Okara Color Protection Shampoo creates the perfect balance of pleasurable application and color-safe hair washing.
This shampoo contains 100% natural-origin active ingredients. Among them is okara extract, a plant-based active ingredient obtained from soya beans that resembles the keratin naturally found in the hair. Because it contains powerful amino acids, okara extract is able to restructure and repair hair weakened by dying and processing. As a result, it captures and preserves color at the core of the hair and prolongs its radiance for up to 8 weeks.
---
Klorane Color Radiance Shampoo with Pomegranate
Especially formulated for recuperating color-treated hair, this shampoo cleanses gently while reviving the color.
The key ingredient in this shampoo, pomegranate extract, is exceptionally rich in tannin; these strengthen the bond between the hair fiber and the new pigments, guaranteeing long-lasting color. The peel is also rich in polyphenols, natural super-antioxidants that protect your color from external aggressions.
---
Lazartigue Colour Protect Radiance Protection Shampoo
This natural and vegan-friendly shampoo from Lazartigue is all about inverting the damage that coloring does to the hair, all the while prolonging the longevity of your color. The vegan formula features an acidic pH that seals the hair cuticle, therefore protecting the heart of the hair fiber. As a result, the hair maintains its smooth and glossy appearance for longer.
Enriched with camellia oil and flower extracts, this shampoo is ideal to begin caring for color-treated hair from the moment it is first dyed. As it provides a gentle cleansing action, it doesn't strip the hair of its essential moisture. Instead, the uniquely softening combination of natural ingredients hydrates the hair while maintaining the richness of the hair color.
---
Redken Color Extend Magnetics Shampoo
The Redken Color Extend Magnetics Shampoo is a part of Redken's line of SMART haircare products. These use a three-protein complex of soy protein, arginine and sepicap that protects your color. With a mild cleansing base, this shampoo won't dry out the hair or strip it of any natural oils essential to keeping the hair healthy and the color vibrant.
This is the ideal shampoo for those with healthy color-treated hair who aren't necessarily looking for damage control, but still want to extend the longevity of their color.
---
L'Oréal Professionnel Série Expert Vitamino Color Shampoo
This isn't just one of the best shampoos for dyed and color-treated hair out there: it's also one of the bestsellers from L'Oréal Professionnel. Enriched with resveratrol, a powerful antioxidant polyphenol, this shampoo will protect your color from fading for up to 8 weeks. At the same time, it will protect and repair the hair fiber, leaving your hair lighter, softer to the touch, and a lot easier to manage and style.
There's never been a better way to achieve salon-worthy hair without setting foot in the salon!
---
Schwarzkopf BC pH 4.5 Color Freeze Shampoo
Schwarzkopf BC pH 4.5 Color Freeze Shampoo is a gentle color-locking shampoo that helps you prolong and maximize the intensity of your hair color between salon visits. Unlike traditional color care products, this shampoo doesn't just seal the hair cuticle in order to prevent pigments from leaching out; instead, it acts deep within the hair strand with the exclusive pH 4.5 Balancer technology. This patented innovation not only restores the hair to its optimal pH value, but actually stabilizes and strengthens the hair matrix. As a result, it keeps the color pigments locked inside the hair.
Gentle enough to be used every day, this micellar shampoo helps you achieve stronger, more resilient hair with minimal color fade. Your locks appear as vibrant as they did on day one—and remain that way!