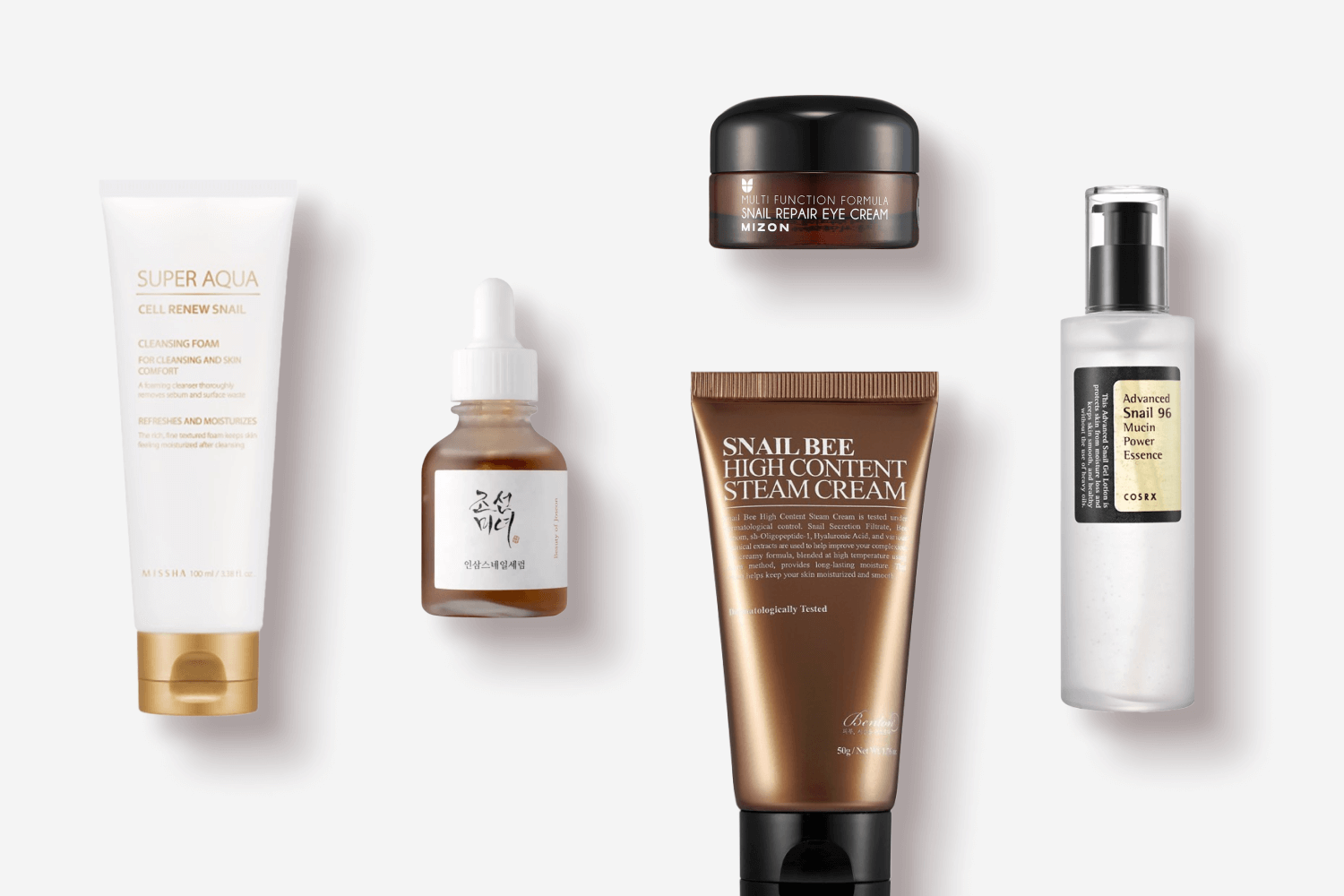 If we ask you to name popular skincare ingredients, you might say retinol, vitamin C, or hyaluronic acid. You might even raise the bar and say niacinamide, lactobionic acid, or peptides! But what about snail mucin? Would you name snail mucin as one of the most interesting skincare ingredients out there? We wouldn't either–and yet, snail mucin is one of the most relied-upon ingredients in Korean beauty. Today, we're going to explore the benefits of this ingredient, and show you some of the best products with snail mucin that you can try right now.
Are you ready for a slightly slimy dip into the skincare world? Then let's get going.
What is snail mucin?
Snail mucin is a secretion that is naturally produced by snails. It's a multifunctional substance that serves many purposes: it helps the snail move (including on vertical surfaces, or even upside down!), it prevents dehydration of the snail's soft tissues, it wards off predators, and it can even help snails recognize one another. Snails produce different types of mucus depending on external stimulation; if they're stressed, for example, their mucus will be different from the mucus that's produced under normal, relaxing circumstances. (It's a fascinating substance, snail slime, but we won't bore you with too many details.)
Chemically speaking, snail mucin is a complex substance that contains proteins, vitamins, allantoin, glycolic and hyaluronic acids, elastin, collagen, and so much more. If some of these components are familiar to you, it's because they're often used as ingredients in skincare products.
The same can be said for snail mucin as a whole, which is also used as a skincare ingredient. If you want to find it on an ingredients list, keep an eye out for something called "snail Secretion Filtrate".
How does snail mucin benefit your skin?
We already know that snails produce mucus, and that this mucus contains a number of components popular in the skincare world–but how does this all translate into benefits for our skin? That's a great question. Indeed, studies have shown that snail mucin can:
With so much potential, it's no wonder snail mucin is used in so many skincare products. In the next section, we'll guide you through some of our favorites.
The best snail mucin products from your favorite Korean brands
If you want to know about products with snail mucin, then we recommend that you start your search with Korean brands, which use this ingredient in all kinds of formulas. To show you the versatility of this ingredient, we decided to bring you one of each product: from cleansers to sheet masks, from essences to eye creams. Which one will you try first?
Beauty of Joseon Ginseng + Snail Mucin Revive Serum
Serum
What it is: a revitalizing serum specially created for skin that's lost its radiance. The amber-colored formula combines two key ingredients: 63% ginseng root water and 3% snail mucin. While ginseng provides the skin with a moisturizing and brightening effect, snail mucin lends it its soothing and regenerative properties. Niacinamide and Centella asiatica round out the formula, creating a cocktail suitable even for the most sensitive skin.
Why we like it: if you want try out the benefits of snail mucin, then a serum is one of the main products you should invest in. We like that this product brings a revitalizing action to dull skin without necessarily relying on vitamin C or AHAs–ingredients, which, while effective, may not work well on sensitive skin. Combining brightening and soothing ingredients, this serum combines the best of both worlds, being suitable for both dull and sensitive skin.
---
Benton Snail Bee High Content Steam Cream
Cream
What it is: a deeply moisturizing and repairing cream that helps to even out the complexion and reduce the first signs of aging. Snail mucin is one of the key ingredients of this product, featuring in the formula at a concentration of 64%; in addition to providing a regenerating effect, this ingredient also helps reduce signs of aging. The formula also contains bee venom, an ingredient that, according to studies, can help repair the skin while minimizing fine lines.
Why we like it: anyone looking for a moisturizing cream that is incredibly rich, but still easy to spread, will find what they are looking for here. Indeed, this cream has a velvety texture that envelops the skin in a feeling of immediate comfort. In addition to offering immediate hydration, the formula works with the skin on different levels: protecting it, promoting a repairing action, and correcting small signs of aging, such as fine lines and small dark spots.
---
COSRX Advanced Snail 96 Mucin Power Essence
Essence
What it is: a skincare essence with a lightweight texture, which quickly melts into the skin to hydrate and revitalize it. The formula contains 96.3% snail secretion filtrate, plus allantoin and panthenol. This simple cocktail helps soothe the skin, reduce redness, and promote regeneration; at the same time, it provides in-depth moisture, reducing fine lines and promoting smooth, pillowy, and plump skin.
Why we like it: this essence is an international bestseller, and for good reason! If you are looking for a product that will give you an immediate feeling of hydration, with a dewy finish that's very close to the "glass skin" trend, this product is ideal for you. The texture is surprisingly thick, so you can use this essence in place of your serum and move on to your moisturizer straight away–or, if your skin is okay with skipping the extra steps, straight to your sunscreen!
---
Mizon Multi Function Formula Snail Repair Eye Cream
Eye cream
What it is: a multitasking eye cream that replenishes the dry, delicate skin around the eyes while correcting the first signs of aging, such as fine lines and small wrinkles. In addition to containing 80% snail secretion filtrate, this eye cream also features the brightening niacinamide, moisturizing squalane, and firming peptides.
Why we like it: there are so many eye creams on the market that choosing just one can be overwhelming. Should you choose an anti-wrinkle cream, or a brightening cream, or a firming cream? This Mizon option solves the problem by offering you a multipurpose eye cream; it will not only help you maintain the hydration of the eye area, but will also offer a brightening and firming effect, correcting small signs of aging.
---
Missha Super Aqua Cell Renew Snail Cleansing Foam
Cleanser
What it is: a refreshing and purifying cleansing foam, formulated with natural ingredients that help soothe the skin. Created with normal and dry skin in mind, this formula contains 30% snail slime extract, a soothing, restorative, and moisturizing ingredient that helps attenuate small signs of aging.
Why we like it: in short, we like rinse-off cleansers that don't over-cleanse the skin. This soothing formula fits the bill perfectly, and even gives the skin some extra benefits through the many actions of snail mucin. If you want to start your Korean skincare routine on the right note, this snail-powered cleanser (as funny as that may sound) is a great option.
---
The Saem Pure Natural Mask Sheet Snail Brightening
Sheet mask
What it is: an intensely moisturizing sheet mask, formulated with snail mucin and botanical extracts. As a highly moisturizing and regenerating ingredient, the snail mucin in this mask helps to nourish the skin and correct minor signs of aging. In addition, the botanical extracts of Coptis japonica root, Zingiber officinale (ginger) root, Camellia sinensis (green tea) leaf, and Glycyrrhiza glabra (licorice) root bring antioxidant, soothing, and brightening benefits.
Why we like it: here at Care to Beauty, we love a good sheet mask, and we think they can be a great way to boost your skincare routine without having to mess with your regular line-up of products. With this mask, you can bring the benefits of snail mucin to your skin in just 15 minutes. Apply the mask, adjust it to the contours of your face, and go about your life. When you come back to remove the mask, make sure to pat the excess product into the skin; let's not waste any ingredients!
---
So, how do you feel now that you know more about snail mucin, possibly one of the slimiest skincare ingredients out there? Are you ready to add this rich ingredient to your skincare routine, or will you stick to your tried-and-true-favorites? Whatever you choose, we can help: head this way to explore Korean beauty (with and without snails), or this way to explore our favorite ingredients!