Black Friday is just around the corner (November 25th!), and we've already finished our shopping lists here at the Care to Beauty office. All that's left to do now is wait for the big day! If you've yet to put together your Black Friday wishlist, keep reading: you will find plenty of shopping inspiration below!
Black Friday Wishlist: Care to Beauty Team Edition!
From vitamin C serums and perfecting CC creams to tried-and-tested cleansers and hair loss ampoules, our team is looking to invest in all sorts of intriguing skincare and beauty products this Black Friday.
Maybelline Superstay Matte Ink Liquid Lipstick 20 Pioneer
The everything-proof liquid lipstick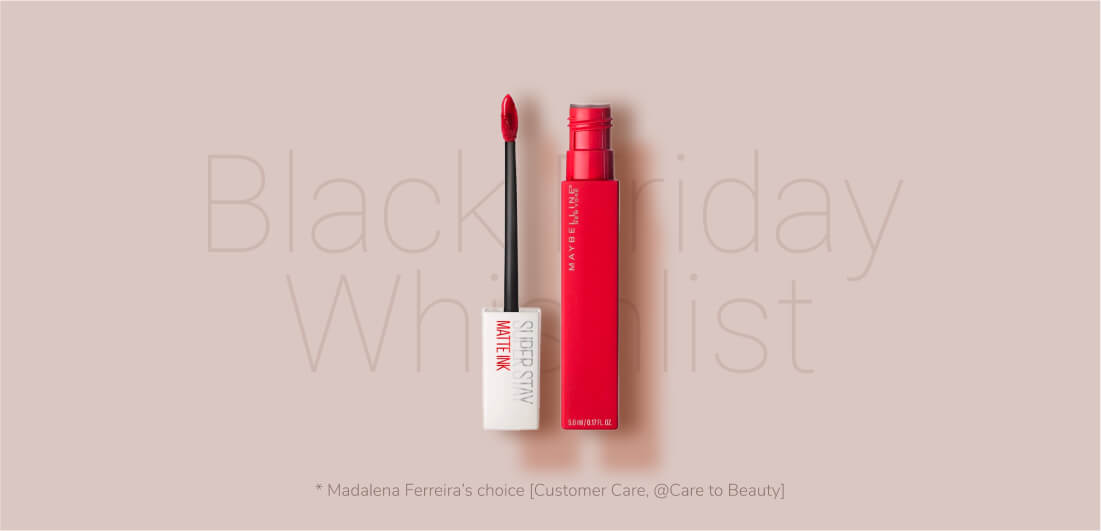 Madalena is never seen around the office without her impeccable lipstick; of course the product she's chosen for her Black Friday wish list reflects that perfectly! The Maybelline Superstay Matte Ink Liquid Lipstick is a liquid lipstick with an intense matte finish. It lasts up to 16 hours on the lips—that's twice as long as the average work day!
You've got plenty of shades to choose from, from reds to pinks to browns, but Madalena's choice is arguably the most classic. She's a fan of shade 20 Pioneer, a true red that will suit many skin tones.
---
Sesderma C-Vit5 Liposomal Serum
The radiance-boosting vitamin C serum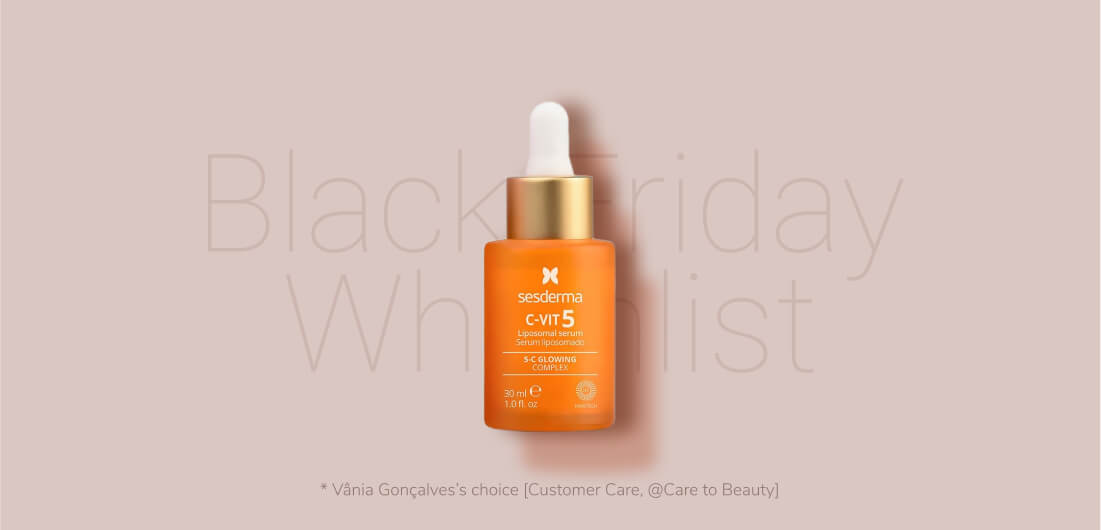 The original Sesderma C-Vit Serum Liposomal is one of the favorite products of our Care to Beauty team, so we were all very excited to get to know the new release from the brand: the C-Vit5 serum. Vânia was one of the first to add it to her Black Friday wish list. However, we're sure she won't be the only one!
If you want to join her, here's the most important thing you need to know about the new C-Vit5 serum: it's got five types of stabilized vitamin C (that's right, five!). This allows it to play up all the antioxidant, radiance-boosting, and depigmenting properties of this star ingredient. It's also rich in hydrating hyaluronic acid and soothing Centella asiatica. Together, these ingredients also help promote a super smooth and radiant look.
---
Carolina Herrera CH Men Eau de Toilette
The classic, uncomplicated male fragrance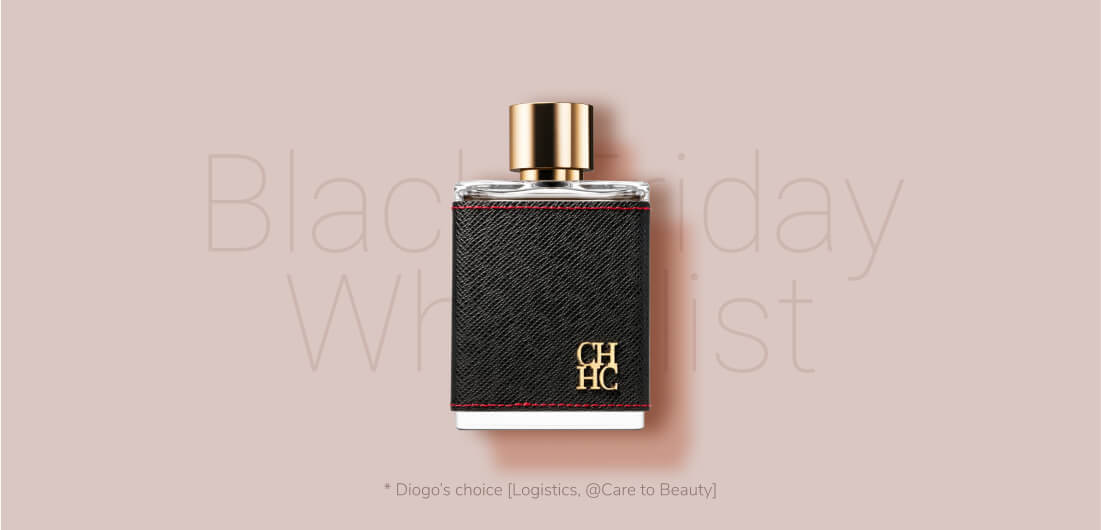 We may specialize in skin care, here at Care to Beauty, but we do love a good perfume too! Diogo is representing team fragrance this year, and he didn't just pick out any old thing to add to his Black Friday wishlist: he's chosen the Carolina Herrera CH Men Eau de Toilette.
Elegant and sophisticated, this is a spicy men's fragrances that combines a refreshing opening with a warm heart of woodsy notes. Nutmeg and saffron, together with jasmine and violet, give this fragrance a touch of refined irreverence. Even the bottle is as as fancy as they come, with leather and metal detailing for that true gentlemanly look.
---
Vichy Capital Soleil UV-Age Daily Water Fluid SPF50+
The perfect daily sunscreen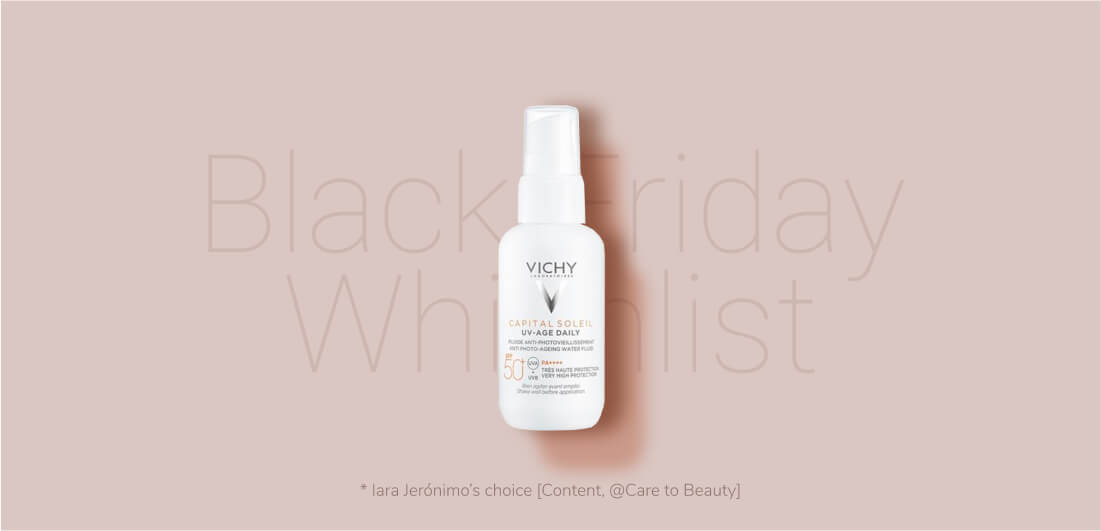 Iara is a pharmacist and one of the newest members of the Care to Beauty team; her choices have been impeccable from day one! For her Black Friday wishlist, Iara has chosen the Vichy Capital Soleil UV-Age Daily Water Fluid SPF50+, a super fluid sunscreen perfect for everyday use. Indicated for the prevention of photoaging, this sunscreen protects the skin from UVB and UVA radiation with SPF50+ and PPD 46.
The formula also contains niacinamide, which soothes the skin and helps even out the skin tone, and a complex of peptides and probiotic fractions, which help to reduce signs of aging. If you're looking for a daily sunscreen with plenty of skincare benefits, Iara's choice might just be it!
---
Vichy Dercos Aminexil Clinical 5 Anti-Hair Loss Ampoules Men
The best-selling solution for hair loss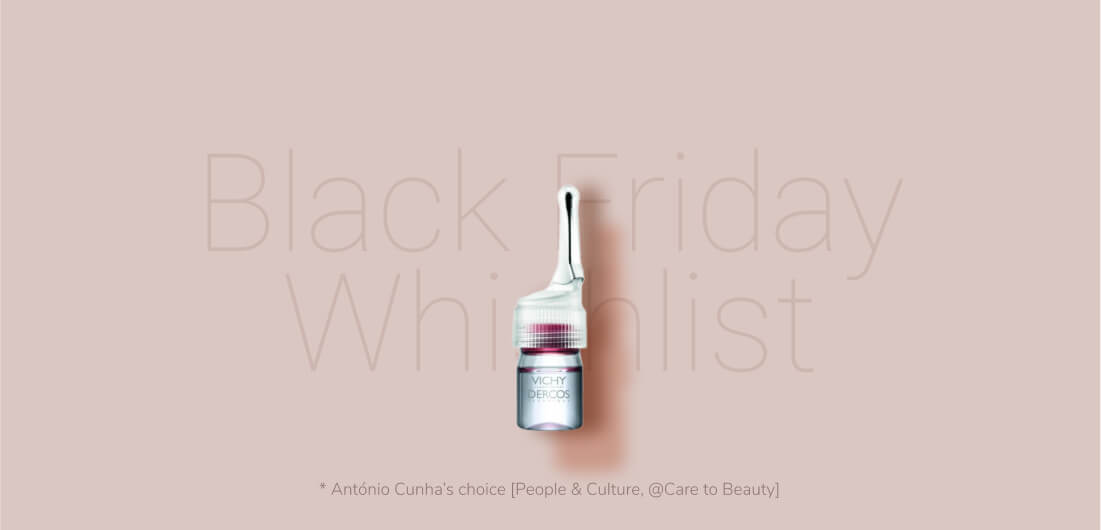 The product António chose for his Black Friday wishlist is no stranger to many members of our Care to Beauty community, who swear by this product to invigorate hair, and prevent and correct hair loss. We are talking, of course, about the Vichy Dercos Aminexil Clinical 5 Anti-Hair Loss Ampoules Men.
This product is a new generation treatment for hair loss that acts on five different fronts. The key ingredients are Aminexil, which strengthens the hair's adhesion to the scalp, prolonging the hair's lifespan, and arginine and caffeine, two energizing ingredients. Studies show that, over the course of six weeks, this product can restore vitality and strength to the hair, and visibly reduce hair loss. No wonder it's so popular!
---
Filorga Oxygen-Glow Perfecting Radiance CC Cream SPF30
The color-correcting cream for flawless skin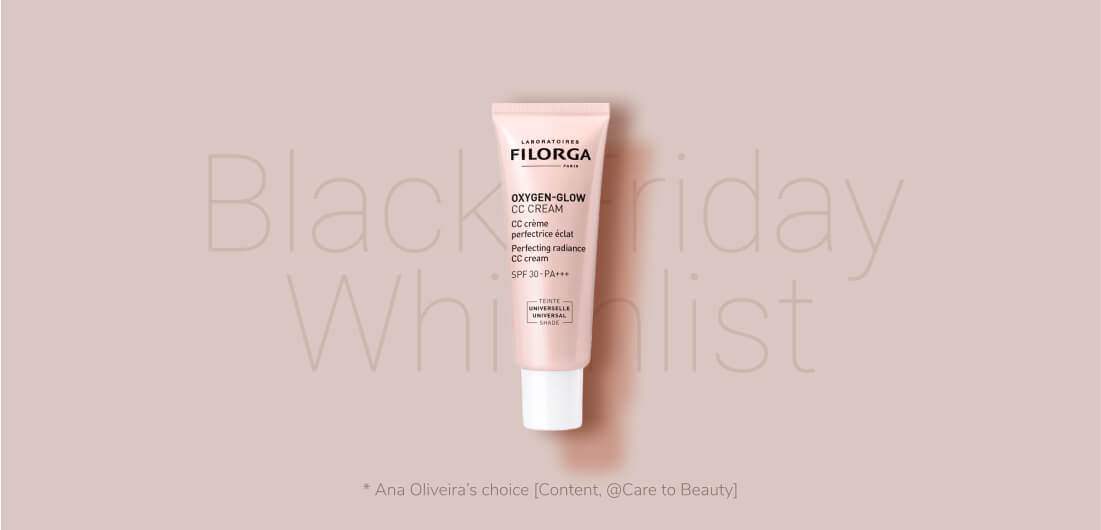 As a pharmacy technician who's also Head of Content here at Care to Beauty, Ana has tried everything the skincare world has to offer. Because of this, you know her product choices are always bound to be good. This year, Ana's Black Friday wishlist features the Filorga Oxygen-Glow Perfecting Radiance CC Cream SPF30.
This is a lightweight color-correcting cream that re-energizes dull skin, re-plumps fine lines, and refines the skin texture with a single application. The secret is in the micro-encapsulated pigments, which adapt to each individual skintone to create an immediate radiance-boosting effect. This CC cream has been tried and tested by multiple people here in the office, and we all agree: it's a little miracle in a tube.
---
CeraVe Foaming Cleanser Normal to Oily Skin
The world-famous skin cleanser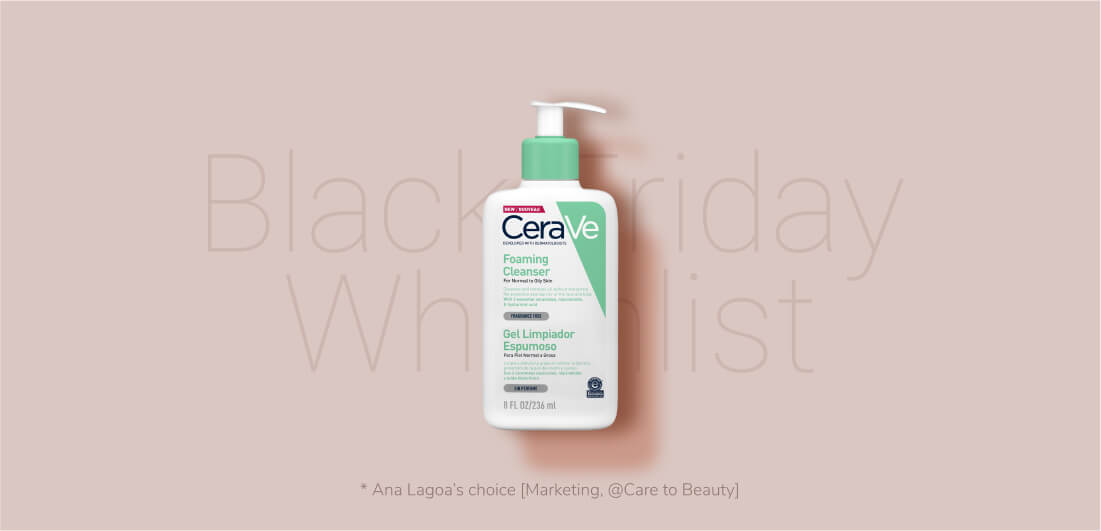 This wishlist couldn't possibly be complete without a team member professing their love for CeraVe cleansers, and here's Ana Lagoa with her favorite: the CeraVe Foaming Cleanser Normal to Oily Skin. Truth be told, this cleanser needs no introduction, but we're doing it anyway for those who have yet to try it.
Formulated with soothing niacinamide, hydrating hyaluronic acid, and repairing ceramides, this is a gentle cleansing gel that purifies the skin without stripping it of its natural balance. It's perfect for combination to oily skin types, but it's also a safe bet for anyone looking for a traditional gel cleanser.
---
La Roche-Posay Pure Niacinamide 10 Serum
The anti-dark spot serum for sensitive skin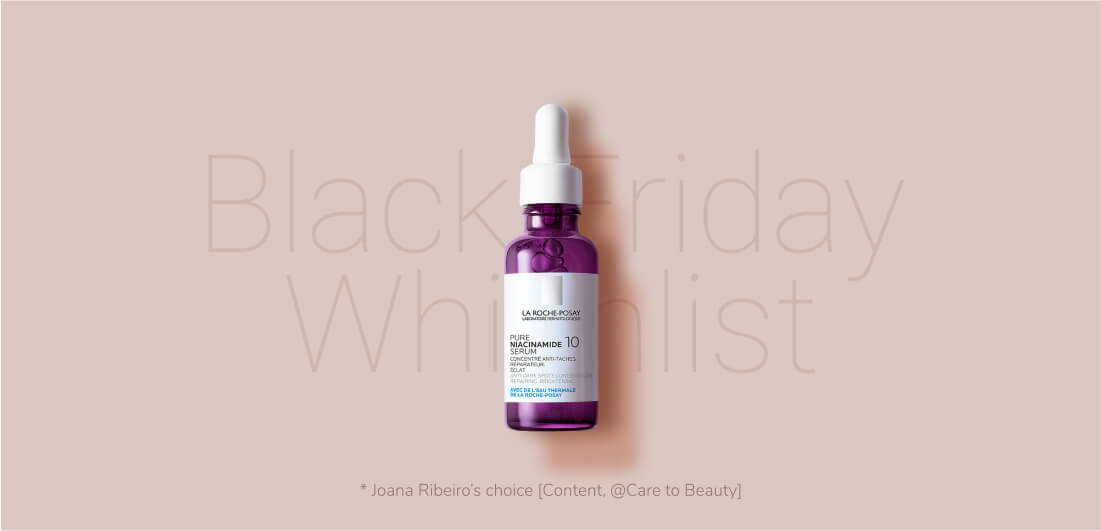 Joana, one of our pharmacy technicians and product specialists, has created hundreds of skin care routines for our Care to Beauty community. As such, she didn't want to complicate matters on her Black Friday wishlist this year. She chose the La Roche-Posay Pure Niacinamide 10 Serum, one of the latest releases from La Roche-Posay.
With 10% niacinamide, this serum was specially created to even out the complexion and fight dark spots even on sensitive skin types. The texture is hydrating but not greasy, and it adapts well to different skin types. Around here, several members of the team have already tried this serum, and we all agree: we are fans of the texture, the prolonged hydration, and the gentle fragrance!
---
Now that you've seen what's on our Black Friday Wishlists, it's time to start working on yours! Log into your Care to Beauty account and start putting together your beauty and skincare wishlist ahead of time. You won't want to miss out on any Black Friday deals!