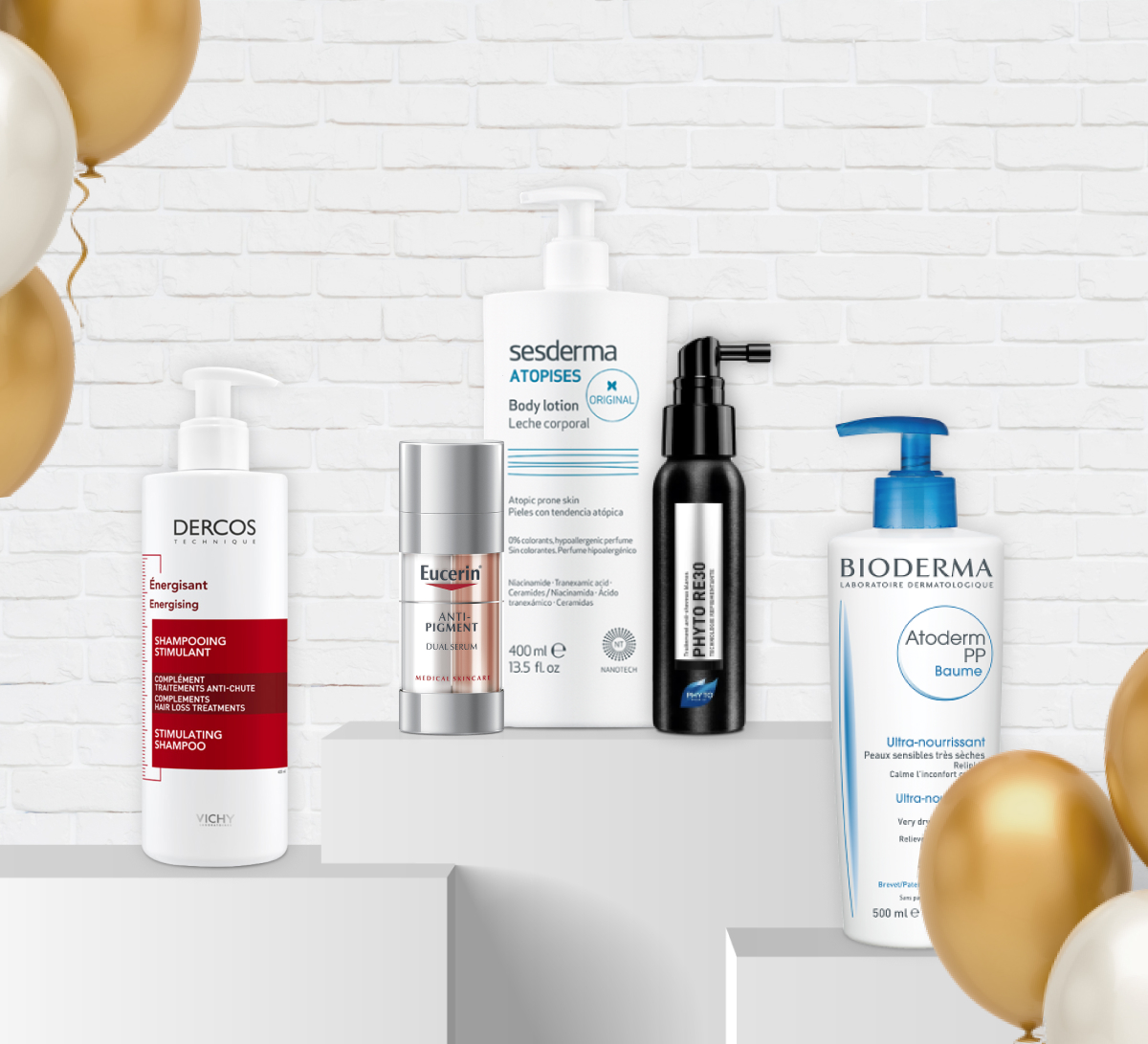 It's the most wonderful time of the year: the Care to Beauty birthday celebration! This year, we're turning five years old, and what better way to celebrate than by looking back on five beauty products that have changed our lives? These are the five products that have changed Care to Beauty for the better and made us what we are today.
Before we get into it, though, let's chat about a little birthday surprise: from October 26th to October 29th, we're offering 20% off on everything on the site (you read that right, every single thing), with an added bonus: we'll be including a lovely reusable tote bag with each order, so you'll never find yourself struggling to store your beauty products!
Now, are you curious to learn about the five products that have changed our lives? Then keep reading.
---
Eucerin Anti-Pigment Dual Serum
The bestseller of bestsellers
This high-tech-looking serum is a bestseller among bestsellers–and for good reason. Enriched with Thiamidol, a patented ingredient by Eucerin that blocks the production of melanin that causes your skin to develop dark spots, this dual serum reduce hyperpigmentation while being kind on skin.
It is able to both reduce hyperpigmentation and prevent its re-appearance, making it particularly suitable for those of us who have a natural tendency to develop post inflammatory hyperpigmentation. Do you struggle with dark spots forming where your pimples used to be? Then this might just be the serum for you! (Why not try it during this Care to Beauty birthday promotion?)
---
Sesderma Atopises Body Milk
The first-ever one-day sell-out
There is a clear line that marks our website as "before the Atopises boom" and "after the Atopises boom". Sesderma Atopises Body Milk was one of those products that sold a few units each month. That is, until the day Chinese influencers discovered that it contained tranexamic acid, a skincare ingredient that offers clear benefits against melasma and other hyperpigmentation disorders, like post-inflammatory pigmentation.
Suddenly, we were selling hundreds of units each month. We made the product sell out at Sesderma headquarters, and then we had to create a waitlist on our own website. Believe it or not, there would be no waitlist today if it weren't for this product, so we can say that it has actually brought a major improvement to our website!
Oh, and if you're still looking for a body milk that will help with dark spots? Sesderma has since created Sesderma Hidraderm TRX Body Milk, an anti-dark spots lotion with tranexamic acid that evens out the skin tone and can be used even on sensitive skin types.
---
Bioderma Atoderm Crème Ultra-Nourishing Cream
The most likely to be bought in twos
You know what they say: some things are worth buying in bulk. Bioderma Atoderm Crème is definitely one of them. Especially formulated for dry skin, this ultra-nourishing and protecting body cream has everything you could possibly want from a moisturizer. It features a smooth texture, it absorbs fast, it is suitable for the entire family–including babies–, and it offers very good tolerance.
In essence, this is the moisturizer to rule them all. (That must be why we sell so many, and so often in pairs!)
---
Phyto RE30 Anti White Hair Treatment
The most intriguing
Phyto RE30 doesn't play around: it's the first-ever anti-grey hair treatment that restores color back to your hair without using pigments or dyes. Does it sound too good to be true? Maybe, but the results are clinically proven, with a 38% increase in the natural repigmentation of grey hairs after 3 months.
This revolutionary product uses the RE30 peptide, a novel active that is able to boost the natural pigment production of the hair at the root, all the while preventing future depigmentation. Because of the way hair pigmentation works, Phyto RE30 functions only during regrowth; this means it will not repigment or "color in" the lengths of your hair. Instead, it will repigment the hair at the root, ensuring visible results as soon as the hair grows, which takes around three months.
One bottle lasts for approximately a month, so why not take advantage of the current Care to Beauty birthday promotion to get the full treatment course?
---
Vichy Dercos Energising Anti-Hairloss Shampoo
The first product we ever sold
The year was 2015, and we were walking to the post office to send out our very first package. Inside, headed to Italy, was a Vichy Dercos Energising Anti-Hairloss Shampoo.
The packaging of this product looked a little different back then, and so did we. We had a tiny office, a tiny team, and absolutely no idea that five years later we'd be chatting to customers from all over the world and sending out thousands of orders a week from our very own warehouse.
We did know, however, that our very first customer had chosen an excellent product. Formulated with the Vichy-exclusive Aminexil patent, this is a stimulating shampoo that complements hair loss treatments by preventing hair loss. We were happy to recommend it then, and we are happy to recommend it now!
---