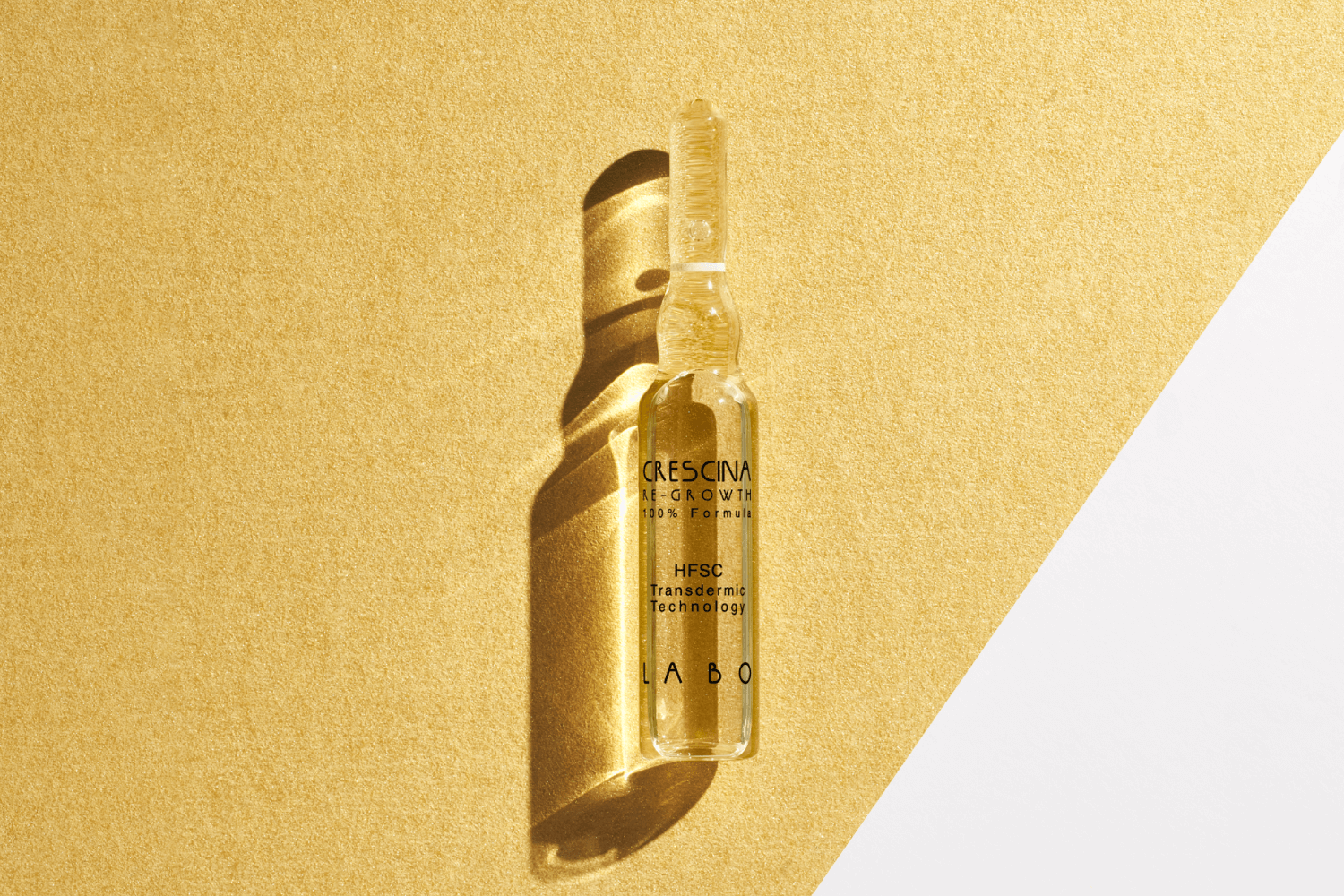 Hair thinning may be a common concern, but that doesn't mean it isn't serious. On the contrary, hair thinning has a big impact on the self-esteem of those affected, and cosmetic science has not given up on looking for solutions that will not only stop hair thinning, but also promote healthy hair growth. Among those solutions is Crescina, an anti-hair loss system that uses patented technology to promote healthy hair growth. If you want to know more about this system and learn how to use Crescina ampoules to correct hair thinning, keep reading!
---
On this post:
---
What is Crescina?
Crescina is a pro-hair-growth system that targets hair thinning and hair loss. Developed based on patented Swiss technology, the Crescina system uses exclusive ingredient complexes that, combined with the patented Transdermal Technology, penetrate to the deepest layers of the scalp in order to promote healthy and sustained hair growth.
The main products of the Crescina system are the ampoules, which adapt perfectly to the individual needs of each person. There are two types of ampoules (Transdermic HFSC and Transdermic HFSC Complete Treatment), which in turn are available for men and women, and in three levels of intensity.
In addition to the ampoules, there are also complementary products, such as a shampoo to help maintain results.
How do Crescina ampoules work?
Crescina ampoules stand out for their combination of patented ingredient complexes with the exclusive Transdermal Technology, which allows for a greater penetration of the active ingredients into the skin. Let's explore these ingredients and technologies, one by one:
The key ingredients in Crescina ampoules
As of 2023, Crescina ampoules feature a complex formulation that includes four sets of vital hair ingredients:
Re-Growth Complex
Crescina's exclusive Re-Growth Complex contains cysteine, lysine, and glycoprotein. According to the brand, these three active ingredients are essential to stimulate the physiological growth of thinning hair. Cysteine ​​and lysine, two amino acids, are the main components of keratin. Meanwhile, glycoprotein helps to improve cellular activity in the keratinocytes.
HFSC Complex ou Stem-Engine
The HFSC Complex, or Stem-Engine, is a patented complex that combines hydrolyzed rice and corosolic acid. These two ingredients contribute to the physiological growth of the hair.
Booster Complex
Crescina's Booster Complex is in charge of "delivering" active ingredients to the cells of the hair bulb, thus boosting the action of the Re-Growth and HFSC complexes.
This complex is composed of methionine, glycine, and copper tripeptide-1. Methionine is an essential amino acid and a source of sulfur, an essential element for building hair keratin. Glycine contributes to the composition of the hair shaft, and also plays an important role in the production of collagen, which is necessary for hair growth. Finally, copper tripeptide-1 promotes hair growth and hair thickness and increases follicle size.
Cyclodextrins
Cyclodextrins are, scientifically speaking, molecular glucose rings that can be used to envelop active ingredients and thus ensure their gradual release. In Crescina ampoules, the Re-Growth and HFSC complexes are present on their own, but also enveloped in Cyclodextrins. Because of this, Crescina ensures a continuous release of active ingredients on the scalp for 24 hours, providing a prolonged action that can be quite beneficial.
Beyond ingredients: Crescina's patented Transdermal Technology
In addition to its exclusive ingredient complexes, Crescina ampoules also use patented Transdermal Technology. To put it simply, this technology allows the active ingredients to reach the deeper layers of the skin, where they are the most needed.
Transdermal technology is essential for the effectiveness of the Crescina system, as it allows adequate penetration of the brand's exclusive ingredients.
Crescina Man vs Crescina Woman: What's the difference?
You may notice that Crescina ampoules are available in specific formulations for men and women. The formulas contain the same ingredients, but these are featured in different concentrations, in order to better address the causes of hair thinning, which tend to be different in men and women.
Crescina formulas are developed based on scientific knowledge about hair thinning. Over the years, this knowledge culminated in the creation of the Hamilton/Norwood Scale (male thinning) and the Ludwig/Savin Scale (female thinning). It was based on these scales, which list various grades of hair thinning, that Crescina developed formulations with different concentrations of active ingredients, suitable for treating the different phases of the problem:
200: early stages (moderate weakened hair in men or women);
500: medium states (advanced weakened hair in men or women);
1300: advanced states (incipient baldness in men or women).
How to use Crescina ampoules
Crescina ampoules are quite simple to use:
Apply one Crescina ampoule a day to a clean and dry scalp. Repeat for five consecutive days, then stop for two (it may be a good idea to start on a monday, so you can take your breaks on the weekend!)
Each ampoule represents one day of treatment, so a box of 20 ampoules corresponds to 20 days of treatment (which is equivalent to one month, because of the recommended breaks).
You can use your Crescina ampoules in the evening or in the morning, according to your preference. The product inside the ampoules goes on clear on the scalp, so it leaves no visible residue on the hair. If you want to use your ampoule in the morning, simply apply it as recommended, and then wait for a few minutes until the product has dried. Style your hair as usual, and you'll be good to go!
How long should you use Crescina?
For better results, you should use the Crescina ampoules for at least two months. After that, you can stop the treatment for 3-4 months, and then repeat it again for another two months. For optimal results, consider doing two Crescina treatments per year.
During the break periods, you can continue to use the complementary shampoo to ensure your results are maintained.
---
We have given you a small introduction to the Crescina system, but there's so much more to learn about these innovative products that tackle hair thinning and hair loss. In the end, the best way to get to know the Crescina system is to try it for yourself!