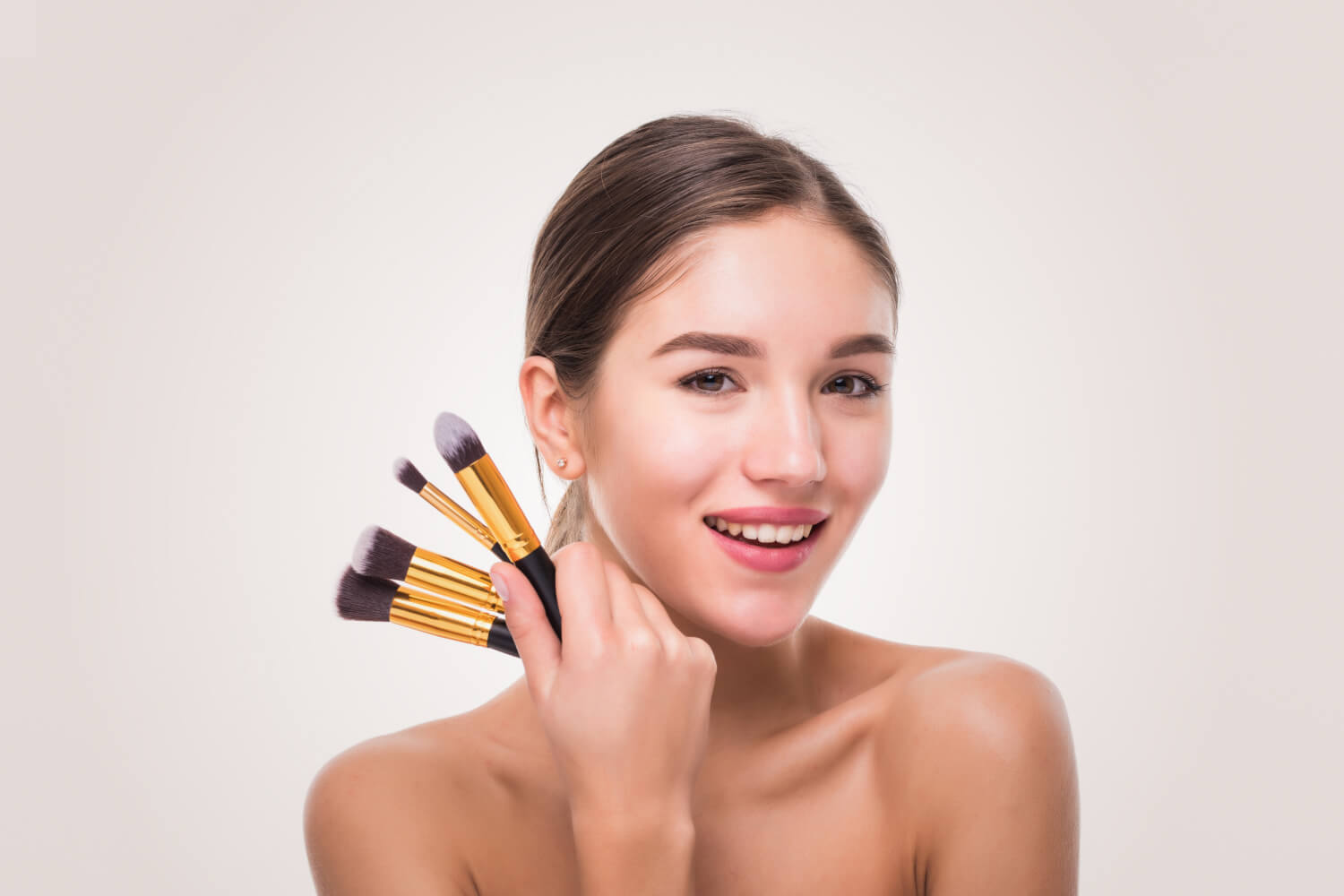 Makeup is way easier with the right brushes by your side! Even though they may look intimidating for makeup beginners, the fact is that makeup brushes are often uncomplicated to use and they significantly enhance your makeup application. Using makeup brushes, you'll have eyeshadows looking professionally blended, the foundation looking smoother and the blush evenly applied. As you can see, it's worth it to master the use of essential makeup brushes! Let's start by understanding the basics and then you should be ready to create your own kit.
Essential makeup brushes for face
Foundation, face powder & blush brushes
The first set of essential makeup brushes is a team that works for a beautiful complexion. The very basics are the foundation, the powder and the blush brushes! Please note that you should find countless brushes with different shapes and cuts for each of these functions. We've selected those we consider to be more user-friendly—just as effective for a trained hand as they are for an inexperienced one!
We love the shape and density of the Real Techniques Seamless Complexion Brush. It's perfect for the foundation application of makeup users of any level! It makes liquid makeup products blend seamlessly into the skin, building medium to full-coverage foundations effortlessly. If you're more on the lightweight and natural foundation side, worry not! It'll blend your favorite natural foundation like a dream. You may also use it to apply your skincare or primer before foundation—that should make the foundation look even more natural!
Featuring super soft synthetic bristles, Neve Cosmetics Azalea Powder Brush is great not only to lay on your face powder but even some other face makeup, such as a bronzer. Oftentimes, you'll see face powder brushes as the big, fluffy brush that covers the entire face with a few swipes. We choose one that's on the smaller side, so you have more control while applying your face powder.
Last but not least, we have the blush brush. We chose the Flormar Flared Cut Blush Brush, with a shape that will make your life much easier. We're suggesting it for blush application, but you may as well use it as a bronzer or highlighter brush. With an angled cut, it'll adjust nicely to your cheeks for a perfect makeup application in seconds. It's also soft, allowing a smooth blend of charming colors.
---
Essential makeup brushes for eyes
Eyeshadow & eye liner brushes
It's not easy to define which are the three essential makeup brushes for the eyes, but we've managed to do it. One for eyeshadow application, another one for eyeshadow blending, and of course, one for eyeliner (we've made it two, actually)! It may seem overkill to have two different eyeshadow brushes for a basic brush kit, but it's not. You definitely need a denser one to pack color on the lid, and then a soft and fluffy clean one to blend it out perfectly. Try them and you'll see how easy they are to use!
The Flormar Shading Brush is the one you need to place the eyeshadow on the eyelid or to use as a detail brush. Basically, it's the friend you call whenever you need to apply shadow on the entire lid, or when you need a precision applicator for details in highlighting shades or dark colors. Its shape, density, and length make it easy to control as well as pack color on your eyes!
After applying your eyeshadow in the right place, you may like to blend it. That's when the NYX Pro Makeup Pro Blending Brush comes in handy! With soft and long bristles, this brush blurs the edges of the eyeshadow to create a nice blended look. This one is an essential makeup brush to guarantee that there are no harsh lines when applying your favorite eyeshadows.
This may not be essential for all, but it is for those who like sharp eyeliner. SUVA Beauty Six Twenty Liner Brush is an ultra-precise brush that allows you to rock a razor-sharp eyeliner when using a gel formula, like the L.A. Girl Gel Eyeliner. Depending on your preferences, you may find it easier to use an angled brush like the NYX Pro Makeup Pro Angled Brush. There's no right or wrong with makeup!
---
Essential makeup brushes for lips
Classic, retractable & wide lip brushes
When it comes to lip brushes, we think that one is more than enough. We're showing you the different shapes you'll find, but feel free to pick your favorite and roll with it. If you'd like to have one on your dressing table and one in the handbag, then you may need one classic lip brush and a retractable one. Use them to make your lipstick look its best, especially when using dark or contrasting shades!
Let's start with the Real Techniques Retractable Lip Brush, a versatile makeup tool that you can use at home and carry around with you for a quick touch-up. The big bonus of this lip brush version is that you can pull the protective cable and close it with the cap. This way, you won't have the risk of seeing the interior of your purse all spoiled with lively lipstick color!
Being a great example of a classic lip brush, it's more than fair to consider Flormar Lip Brush an essential makeup brush. With a rounded cut and dense bristles, it allows for an incredibly precise color application, ideal for strong lip colors. Compatible with both stick and liquid formulas, any lipstick has the potential of being elevated with a tool that allows a precise application!
Last but not least, we have a multi-tasker hero that you can use for lipstick application as well as with eyeshadow. Ideal for those looking for a versatile makeup brush, the Neve Cosmetics Azalea Define Brush is wide and flat, with synthetic fiber bristles allowing a precise application of the product on the lips. Equally important, the handle is a pretty pink that should look amazing on your makeup kit!
---
If it's important to know which are the essential makeup brushes, it's no less important to learn how to care for them! Come with us and learn how to clean your makeup brushes.