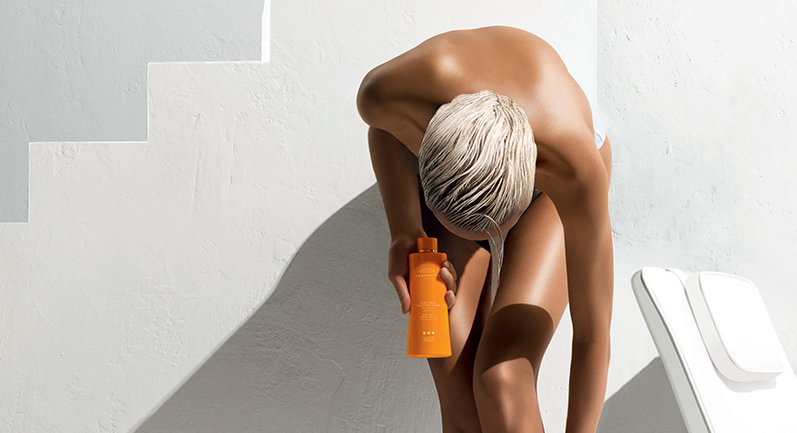 From his early days, Jean-Noël Thorel, the mind behind both Bioderma and Institut Esthederm, had a complicated relationship with the sun. He loved it, but he was allergic to sun exposure (he suffered from what is called polymorphous light eruption). When he became a pharmacist with his own lab, Monsieur Thorel started developing the first Esthederm product—which was, indeed, the first Esthederm sunscreen, specially designed for skins that are intolerant to the sun.
Monsieur Thorel wanted everyone to be able to receive all the benefits from the sun without having to risk unhealthy exposure. In order to achieve that ambitious goal, he developed a full range of Esthederm sunscreen products, all of which are targeted for specific skin types, skin concerns, and sun intensities.
Shall we get to know them?
Esthederm & The Sun
The relationship between Esthederm and sun exposure has developed to a point where, today, there are Esthederm Sun Spas in the world's best destinations, all designed to ensure that visitors can take full advantage of the sun, achieve a natural and intensive tan, and, most importantly, stay safe.
The Esthederm sunscreen and sun care line also embodies this philosophy. Indeed, Esthederm follows six convictions:
The sun is essential for human life, so we need to learn how to best live with it, and how to best take advantage of it;
We can accommodate different skin types and levels of sensitivity with different formulations, so that everyone can safely enjoy the sun;
We can help the skin adapt to the sun instead of overprotecting it;
The skin protects itself from the harmful effects of radiation by tanning, so it follows that we should find ways to promote a healthy tan;
It's important to optimize the skin's natural defenses against sun damage;
The SPF rating alone is not enough of an indicator to evaluate the effectiveness of a sunscreen product, as it only indicates the product's level of protection against UVB radiation.
As pharmacists, we see a lot of merit in this final point. The SPF rating of a product indicates the level of protection against UVB radiation, which is responsible for sunburn, but there's much more to think about. UVA radiation, for instance, is responsible for aging and melanoma, so it cannot be disregarded. Likewise, recent years have seen a rise in concerns regarding the potential effects of "blue light" on the skin. SPF isn't enough to tell us whether a product offers protection against this type of light either.
How, then, does Esthederm indicate a product's level of sun protection?
Esthederm & SPF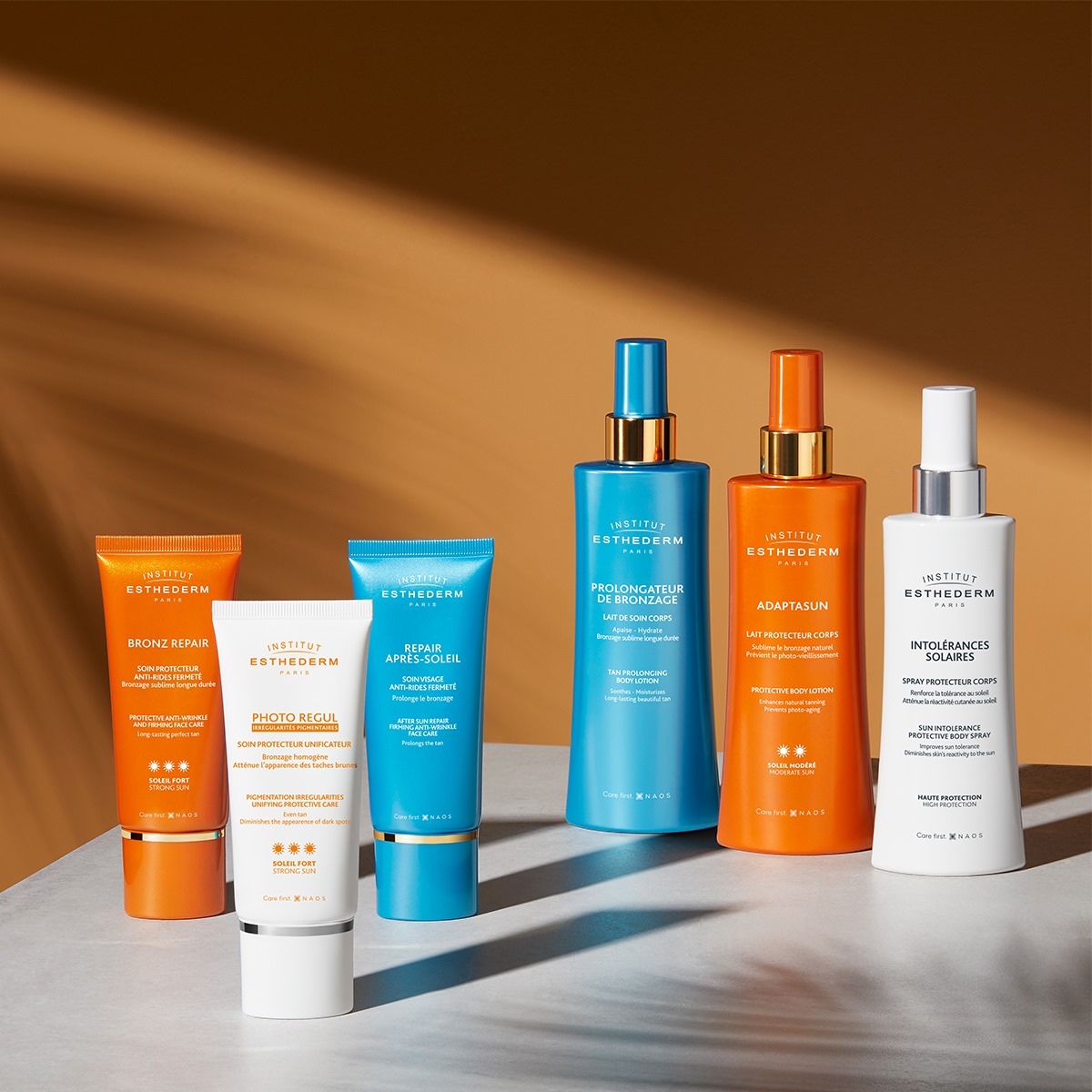 If you've ever looked into buying Esthederm sunscreen, you may have noticed that the packaging doesn't indicate any SPF ratings. At Esthederm, you have to look at a few other clues to identify the true level of protection that each product offers.
Let's start with the color of the packaging.
Orange Packaging
Esthederm sunscreen in orange packaging will protect your skin from 93% to 96% of UVB radiation. The 93% value refers to "Moderate Sun" products, which have two sun symbols on the packaging; the 96% value refers to "Moderate Sun" products, which have three sun symbols on the packaging. As for UVA, all Esthederm sunscreens have a UVB/UVA ratio of more than 2/3.
White Packaging
Esthederm sunscreen in white packaging will protect your skin from 98% of UVB radiation, as well as UVA, IR (infrared), and HEV (high-energy visible light, or "blue light"). This white line is also referred to as the "no sun" or "forbidden sun" line, since it doesn't feature any sun symbols on the packaging.
Blue Packaging
Esthederm sun care products in blue packaging are typically after-sun products. We'll talk about them in a second!
The Best Esthederm Sunscreen (for you!)
In order to discover the best Esthederm sunscreen for you, you'll have to look into the levels of protection we've just explained, plus your skin type and concerns. Here's a little guide to help you make your decision:
Adaptasun
The Adaptasun sunscreens are perfect for those who want to protect their skin, but also want to tan. The formulas contain three exclusive patents–Cellular Water Patent, Adaptasun Technology, and Global Cellular Protection Patent–, which maintain the vitality of the skin, boost the tanning process, and protect the skin against the environmental aggressions responsible for aging.
They are available in lotion, spray, and mist formulas, in both Moderate and Strong Sun versions.
---
Sun Care Oil
This dry oil offers sun protection and a tan-boosting action in a luxurious texture that is suitable for both the body and hair. It is also available in both Moderate and Strong Sun formulations.
---
Bronz Repair
Bronz Repair is a facial sunscreen for those who want anti-aging care and sunscreen in a single product. It includes not only the three patents present in the Adaptasun line, but also a fourth patent: the exclusive Repair+ Technology, which helps to minimize visible signs of aging.
Because it is formulated for use on the face, this product is available is both tinted and untinted formulas.
---
Bronz Impulse
Esthederm Bronz Impulse is not a sunscreen, but a face and body spray that prepares the skin for sun exposure.
With its lightweight mist texture, this spray reinforces the skin's natural defenses and intensifies the look of naturally tanned skin.
---
After-Sun products
Esthederm currently offers two after-suns: Esthederm After Sun Repair, for the face, and Esthederm Tan Prolonging Body Lotion, for the body.
While the facial after-sun features the Repair+ Technology to hydrate the skin and minimize visible signs of aging, the body after-sun features a soothing complex that reduces discomfort after sun exposure, all the while rehydrating the skin.
---
The White Range
The white range of Esthederm sunscreen products is all about accommodating different skin types and concerns, so that everyone can enjoy sun exposure. Here is a short guide to the benefits of each product in the white range:
---
There's much to be said for the unique philosophy behind Esthederm sunscreen; and indeed, much more to be said still about the full Esthederm range, which features everything from peeling serums to anti-cellulite creams. We hope we've convinced you to give this luxurious French brand a chance; why not start with some of the highest-rated Esthederm products out there?