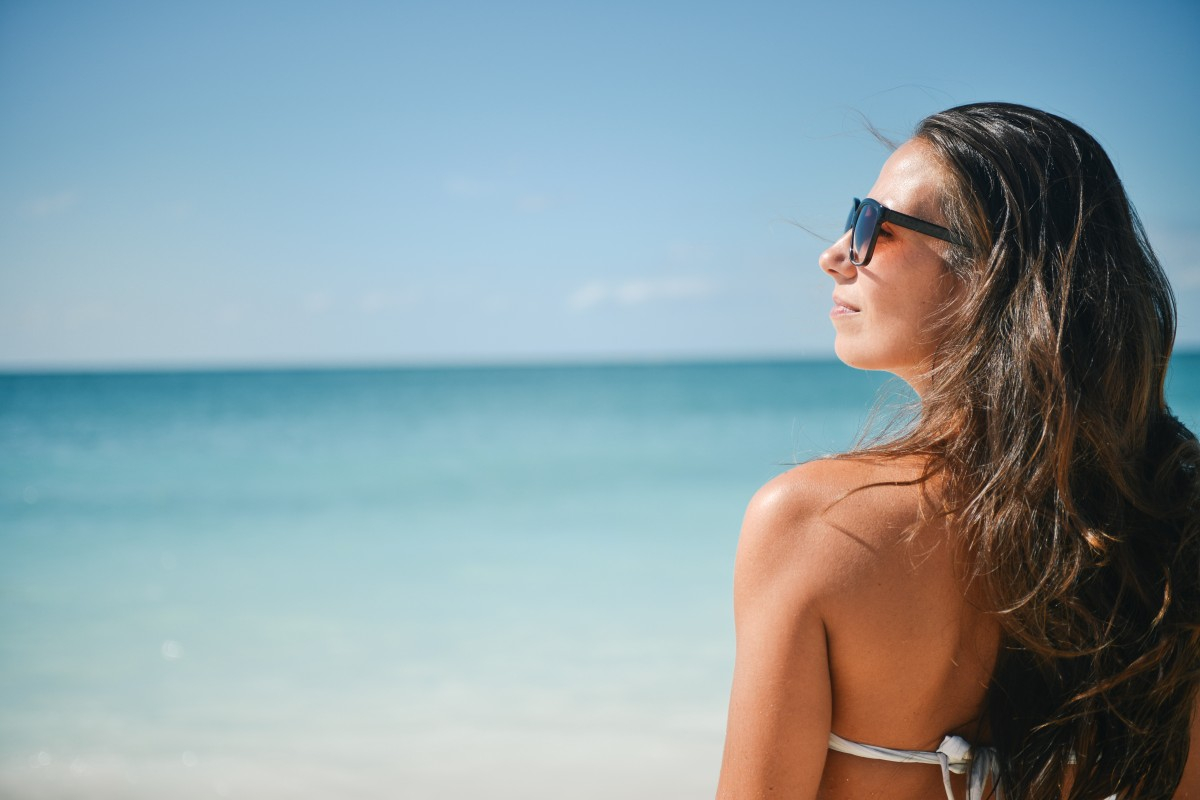 Did you apply sunscreen this morning? We hope so, as sunscreen is the skin's first line of defense against sunburn, premature skin aging, and skin cancer. But, think about it, what about eye sunscreen? Did you apply enough protection around your eyes?
Recent studies have shown that 14% of people tend to miss the eyelids when applying sunscreen, while 20.9% miss them when applying moisturizers with SPF. And that's without counting all the people who deliberately avoid applying sunscreen around the eyes, because they're afraid the product will sting their eyes. (We know the pain of sunscreen on sensitive eyes, we know it well, and it's the worst.)
It's important to keep the eye contour protected, though. Because the skin around the eyes is so thin, it is extremely vulnerable to sun damage; statistics suggest that about 5 to 10% of all skin cancers occur on the eyelid region.
This may sound disheartening, but it can also motivate us to rethink our approach to eye sunscreen. If you've been avoiding your eye contour area when applying sunscreen, we have some options for you: from eye creams with SPF, to all-in-one face sunscreens that won't sting the eyes. Shall we get to know them?
Our best eye creams with SPF
The easiest way to start protecting your eye contour area right now is to use a targeted eye sunscreen, or an eye cream with SPF. These are high-tolerance formulas especially designed for application around the eye area; in short, they combine the benefits of an eye cream with those of a sunscreen.
A good example of this kind of product is the SkinCeuticals Protect Mineral Eye UV Defense SPF30. This is an eye sunscreen with 100% mineral filters and a light tint that illuminates the undereye area. If you'd like an even higher SPF, French brand Lierac offers an 100% mineral eye sunscreen with SPF50: the Lierac Sunissime Eye Contour Protector SPF50.
For fans of skincare that doubles as make-up, look to the versatile SVR Topialyse Palpebral CC SPF20. Designed with sensitive eyes in mind, this tinted eye cream conceals signs of irritation, redness, and dark circles for up to 12 hours. The luxe Erborian BB Eye Touche Parfaite Smoothing Eye Cream SPF20 is another eye cream that hydrates, perfects, and protects the eye contour area, all the while providing SPF20.
---
Our best sunscreens that won't sting your eyes
As exciting as it may be to have a dedicated eye sunscreen, we realize this means adding yet another product to your morning routine. But for the laziest of us, there's another option: face sunscreens with high ophthalmological tolerance–aka, sunscreens that won't sting our poor sensitive eyes.
ISDIN Fotoprotector Fusion Water SPF50+ is a famous example of this type of product. It's a very fluid sunscreen, suitable for the entire face and eye area, that provides very high protection against UVA/UVB without triggering hypersensitivity or irritation. It is also available in a tinted version.
From La Roche-Posay, we can also recommend one of the brand's bestselling sunscreens, La Roche-Posay Anthelios Shaka Fluid SPF50+. It provides photostable UVA (PPF 46), UVB (SPF50+), and infrared protection, all wrapped up in a formula that is ultra waterproof, sweat-proof, and sand-proof. The minimalist and hypoallergenic formula respects both sensitive skin and eyes.
Need more options of sunscreens suitable for sensitive eyes? We've got more options! Sensilis Sun Secret HA Fluid SPF50+ is a hyaluronic acid-infused sunscreen designed for daily protection and prevention against photoaging. Its pleasant fluid texture is water-resistant and won't sting your eyes. If your worries tend more toward sensitivity than photoaging, then the Avène Sun Intense Protect Fluid Fragrance-Free SPF50+ may be right for you. It is an ultra-wide spectrum sunscreen that protects even the most vulnerable skin from intense sun exposure; the high-tolerance formula is also, you guessed it, eye-friendly, so it won't sting your eyes.
& a final tip
Last, but not least, you can always opt for 100% mineral sunscreens. These sunscreens use minerals, like zinc dioxide and titanium dioxide, to create a physical barrier between your skin and solar radiation. Because of this, mineral sunscreens are less likely to trigger hypersensitivity. This makes them a good choice for people with sensitive skin and eyes.
Finally, want to make sure you're as protected as can be? Then make sure to always wear sunglasses. Your skin and eyes will thank you!