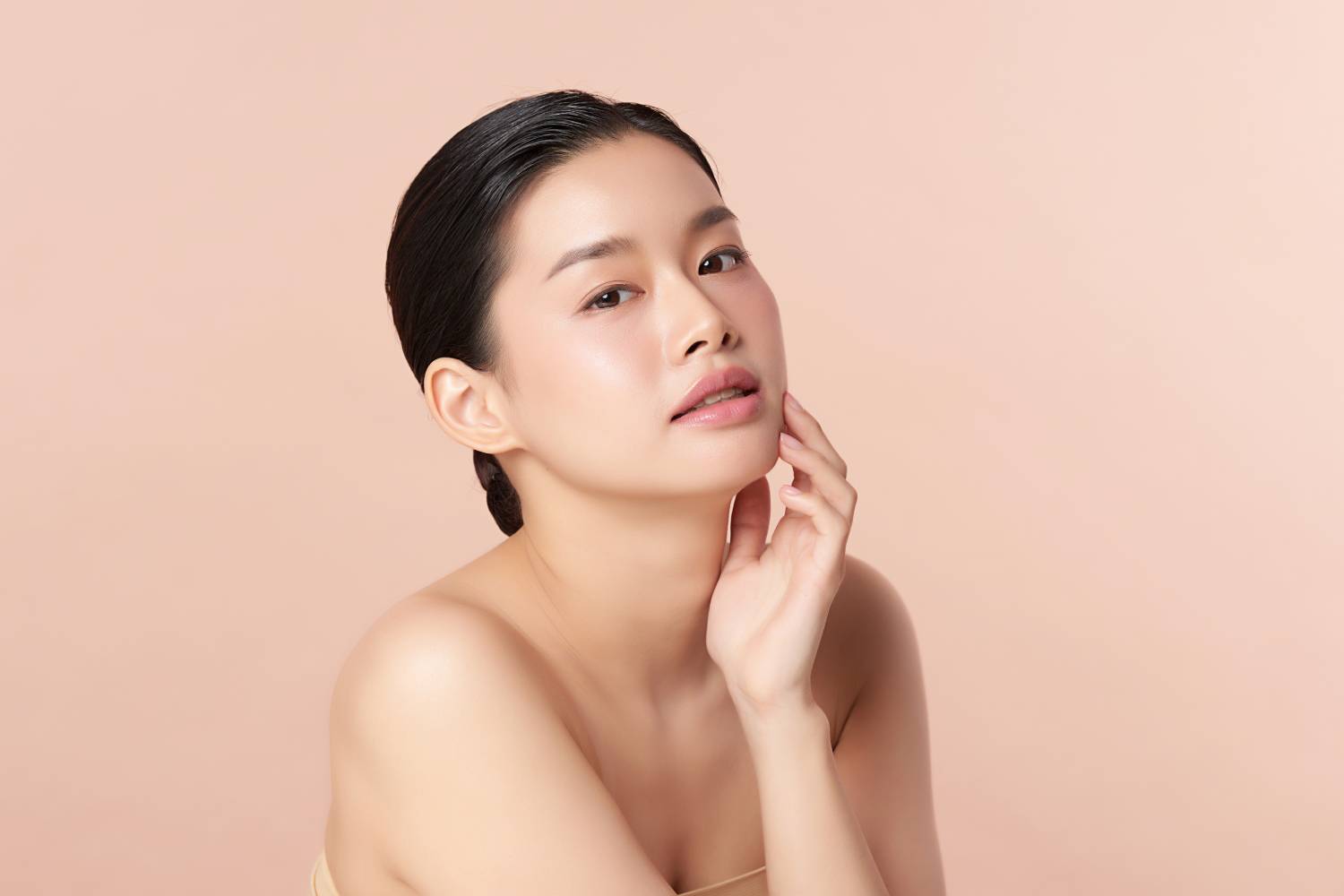 Glycolic acid is no stranger for all those who like skincare. With the promise of visibly transforming the skin, glycolic acid is a regular appearance on packaging labels. It works to exfoliate, rejuvenate, brighten and renew the skin, being an incredible addition to anti-aging, hyperpigmentation and exfoliating treatments. We let you know everything about it!
---
On this post:
---
What is glycolic acid?
Glycolic acid is an AHA (alpha hydroxy acid) that derives from the sugar can and came to revolutionize skincare. Colorless, odorless and soluble in water, this is the simplest of AHA yet one of our favorites. It has a low molecular weight, which allows for proper skin penetration and visible results! You may find it on a lot of skincare formulations, from toners to serums, face and body moisturizers. It does a lot for your skin, such as refining the skin texture and revealing unparalleled radiance. You're just about to understand how all this magic happens!
How glycolic acid benefits the skin
There's a before and after when it comes to introducing glycolic acid to your skincare routine. When applied to the skin on regular bases, glycolic acid contributes to breaking the bonds of the upper layer of skin cells, eliminating dead skin cells. This peeling effect significantly improves the appearance of the skin! Each application leads to a smoother and more even complexion that is radiant from within.
Exfoliation
By breaking the bonds between the upper layer of dead skin cells and the following layer, glycolic acid sets free the dull-looking skin layer without a single exfoliating bead. Glycolic acid act as a diluent on the "glue" that keeps dead skin cells on the surface, revealing all kinds of healthy skin that hides underneath. Thanks to the chemical action of this powerful active on the skin, you'll be able to progressively and gently exfoliate the skin, without disrupting it with mechanical aggressions. Day after day, the skin looks more refined and luminous!
Anti-aging & skin renewal
By accelerating skin cell turnover, glycolic acid encourages the formation of new cells and promotes a smoother skin surface. As it refines the skin texture, it also helps to diminish the appearance of fine lines and wrinkles. That means that glycolic acid offers not only incredible results on its own but also when combined with other anti-aging treatments. Combine it with your rejuvenating treatment to reveal a radiant complexion!
Hyperpigmentation
There's also compelling evidence suggesting that glycolic acid may be of good assistance in inhibiting melanin and hence reducing the appearance of melasma and other forms of hyperpigmentation. Removing dead and discolored skin cells on the top layer of the skin brightens your complexion and visibly fades hyperpigmentation. In order to get visible results, you may like to try a concentration above 8 to 10% (however, if it's your first time using glycolic acid, it's advisable to start with a lower concentration, build tolerance and only then go with a product with more than 8%).
Potential side effects of glycolic acid
Like any other skincare active, glycolic acid may cause some unwanted side effects. Even though most people won't experience it, glycolic acid may sensitize the skin, with the potential of leading to dryness, skin redness, burning or even itching. In order to avoid these occurrences, you can use lower concentrations of the active as well as avoid an all-glycolic-acid skincare routine. If you're willing to go for the big guns, start with lower concentrations and progressively step up to higher concentrations.
Glycolic acid and sun exposure
Being very effective in its task of visibly improving the skin, glycolic acid may also leave your skin more sensitive to external aggressions, especially to sun exposure. That is why you should be cautious when it comes to sun exposure while using treatments with glycolic acid. If your skin is sensitive, you may go for a conservative approach and use it only in the evening. Some formulations are made for morning and evening, while others should only be used in the evening. As long as you follow the product application directions, you're good! The important thing to keep in mind is that you should always use a high SPF in the morning when undergoing a skincare regimen with glycolic acid.
Glycolic acid and pregnancy
Even though glycolic acid is usually considered safe to use during pregnancy and breastfeeding, there are a few things you should consider. Pregnancy often leaves your skin more sensitive, and you should be mindful when adding a potentially sensitizing ingredient to your routine. To keep glycolic acid use safe during pregnancy, look for low concentrations and always verify with the brand if the product is suitable for pregnant people. If you decide to go for it, then it's even more essential to use a high SPF every day!
Who should use glycolic acid?
Glycolic acid is ideal for all of those with skin that tolerates this active! With such promising results, it's indeed a great addition to all beauty routines when you're looking for more even, bright and renewed skin. In addition, it's a perfect complement for those using routines to tackle hyperpigmentation and wrinkles. Of course, if you have a specific skin condition or issue, please make sure to confirm with your dermatologist if it's suitable for your skin.
How to use glycolic acid in your skincare routine
You may find the powerful active in cleansers, toners, essences, serums, and ampoules as well as in moisturizers for the face or for the body. Every step is a good one to add some glycolic power! To decide how to use glycolic acid in your skincare routine, you should consider the concentration, your desired results as well as skin sensitivity. Equally important, check for other sensitizing ingredients in your routine, like retinol. In the right amount and/or formulation, glycolic acid may be used in combination with retinol; however, you should use them on alternate days and it all depends on the concentration you go for.
What kind of products contain glycolic acid?
You'll probably find skincare products with glycolic acid for every step of your beauty routine. You should be mindful of the concentration, number of steps containing it and other actives that may sensitize the skin, such as retinol. In order to find the ideal formulation for you, it's important to define the results you're looking for beforehand; for instance, if you're using glycolic acid for exfoliating the skin, then a toner or a mask is probably the ideal choice for you. We're making an in-depth list below so you can understand exactly which kinds of products contain glycolic acid and what you should be expecting from them!
Glycolic acid for exfoliation
Ready for some good skin exfoliating? If your answer is a loud and enthusiastic yes, then you won't be lacking options with glycolic acid. An easy way of getting all the exfoliating benefits is using a toner or a face mask featuring glycolic acid. You'll find products with very low or very high concentrations, and that will dictate how often you can use them. Usually, toners are suitable for everyday application. When it comes to face masks, applying them twice a week is often enough. Make sure to read the application recommendations carefully to get the best out of your products!
---
Glycolic acid for anti-aging
When it comes to anti-aging formulations, you'll probably find more answers in face serums and ampoules. However, it's not uncommon to find glycolic's acid anti-aging action on creams, masks or even eye creams. In these formulas, you'll have glycolic acid joining efforts with other powerful anti-aging actives, providing your skin with visible results and significant skin improvements. Grab your favorite texture and the glycolic concentration that suit your needs and start renewing your skin!
---
Glycolic acid for hyperpigmentation
Hyperpigmentation and melasma are multifactorial skin conditions that are notoriously difficult to improve with skincare. You need not only to apply your products consistently but also to protect your skin with high SPF daily! You'll need all the help that you can get, and glycolic acid may be just the push your skin needs to elevate the brightening results of your treatment. Once again, you'll find most answers for pigmentation with glycolic acid on serums and ampoules, but also on toners and other skincare formulations. We promise you'll love the results!
---
If you'd love to operate some exfoliating magic but your skin is sensitive, check our suggestion on chemical exfoliants for sensitive skin. You won't need to skip that precious skincare step anymore.