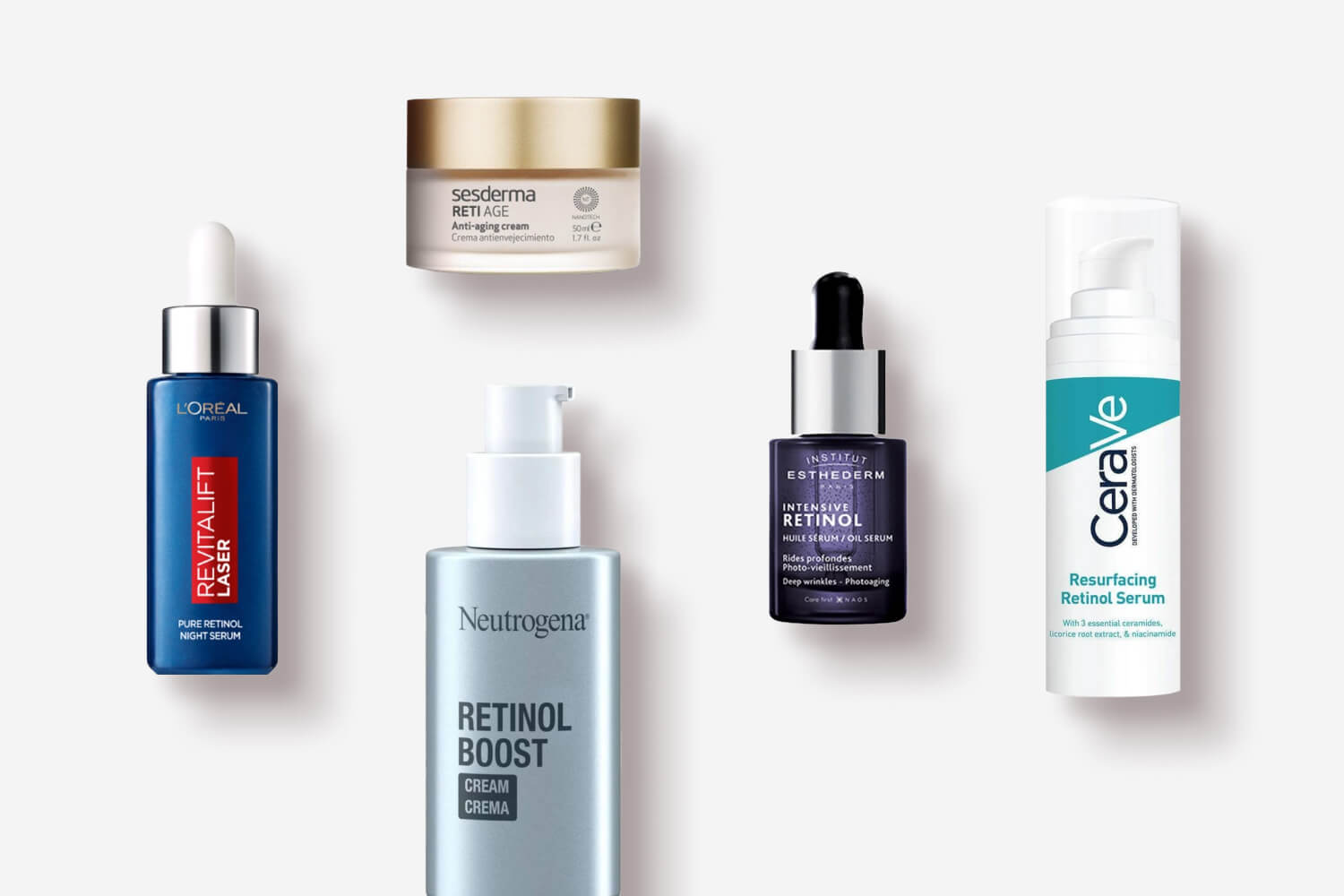 Retinol is an anti-aging staple, but not everyone can use it with abandon. In fact, retinol is to blame for the sensitized state of many skins out there. So, if you're new to retinol and are afraid to start using it, we've compiled a guide with the best retinol for beginners, as well as some much-needed advice.
Why you need to be careful with retinol
Retinol is the gold standard of at-home anti-aging routines and has countless benefits. Indeed, retinol can help you target everything from aging signs to dark spots and acne. However, because it actually works, it also has some side effects if not used wisely. Some of the most common side effects of retinol are sensitized skin (think redness and general irritation), breakouts, and skin peeling.
However, retinol can be used wisely–figure out how to make it work for you, and it can be your skin's best ally. The trick here is getting to know your skin, what it can handle, and the products you're using. Yes, not only the retinol itself, but every other product in your skincare routine. Say, for example, that you're a fan of exfoliating acids and want to use them alongside retinol: the best solution for you may be skin cycling, to ensure you're not overstretching the limits of your skin.
Who should avoid retinol?
Some people are more sensitive to retinol than others, but anyone can have an adverse reaction to this ingredient if they use it too much or too often. That's just par for the course with retinol, and one light adverse reaction shouldn't discourage you from using this ingredient in your routine.
There are, however, some people who should consider avoiding retinol: people who are allergic to the ingredient (obviously), people with highly intolerant skin, and people who are pregnant (as a precaution). If this is you, don't fret, as there are great retinol alternatives you may be able to use.
How to start using retinol, for beginners
There is the possibility that your skin just tolerates retinol and you can more or less use it without any issues. If, however, you want to make sure you get the most benefits from retinol without any of the less agreeable side effects, there are a few things you may want to keep in mind. Keep in mind that, since retinol is easily degraded by sunlight, you will reap more benefits if you're using it at night.
How old should you be to use retinol?
If you want to start using retinol for its anti-aging properties, it doesn't make sense to use it before age 25. (Yes, despite what your favorite guy from TikTok might say.)
The only way you would benefit from retinol in your teenage years and early adulthood would be in fighting acne.
How much retinol should you start with?
Our recommendation is always to follow the product recommendation if one is available. Formulas are not all the same, so it's important to follow the brand's advice. If there isn't a recommended amount, start by using a pea-sized amount of product, or three drops if it's a more liquid formula.
How to apply retinol, for beginners
Let's start with some general guidelines. Most retinol products should not be applied to the eye contour–the exception is, of course, if we're talking about a formula developed specifically for this area. If we are talking about common retinol creams or serums, try to keep them away from your eyes. Additionally, you should avoid any area that is showing any sign of redness or has any kind of open wound.
Ideally, apply your retinol directly to clean skin, to make sure you reap all its benefits. After retinol, apply your favorite moisturizer that goes well with retinol; this should help you avoid some side effects of retinol, such as dryness and peeling of the skin.
If you're a bit afraid of applying retinol directly onto your skin, you can sandwich your retinol between two layers of a moisturizing product. You can, for example, apply a hydrating serum, then retinol, then the same serum again.
How often should you use retinol when you're starting?
When it comes to retinol tips for beginners, this section is one of the most important: let's talk about how frequently you should be using this ingredient. Ideally, you should start by using it once or twice a week; then, you can start increasing the frequency (or decreasing spacing between uses, if you'd rather think about it that way) every two weeks.
To help you when you're starting out: we've made you a little retinol schedule for beginners:
| | |
| --- | --- |
| Weeks 1-2 | Sunday and Thursday evenings |
| Weeks 3-4 | Sunday, Wednesday, and Friday evenings |
| Weeks 5-6 | Alternate evenings |
| Week 7 & beyond | Every evening |
Keep in mind that we've put together this "schedule" for low-concentration formulas that can be used every day–we'll show you some in a moment. Some retinol products, however, are not meant for everyday use. As always, follow brand recommendations: if a brand says you should only use their product twice or thrice a week, they're the expert here!
And a final note: if you start to feel discomfort as you increase the frequency of retinol use, don't worry: simply go back to the last "schedule" that worked well with your skin.
Best retinol serums & creams for beginners
Now that we've shared some recommendations for beginners who want to start using retinol, let's look at some products. Below, you'll find some of the best "starter retinols" out there:
Sesderma Reti Age Anti-aging Cream
Best cream
Sesderma does great strong retinols, but not everyone will want a strong one. This is a retinol formula that can be used every day of the year, with hardly any issues. The formula is quite nourishing to counteract the possible side effects of the retinol. Ideal for those who want a low-commitment retinol, that can be used every day and doesn't make you think about changing your habits depending on the day of the week.
---
Sensilis Eternalist A.G.E [Retinol Serum] Wrinkle Filling Serum
Top serum
Every product from Sensilis is formulated for those with sensitive skin. Recommended by many dermatologists, this serum contains a milder retinol derivative that is gentler on the skin but still delivers. The formula is highly complex and complete, ensuring you have all the benefits of an antiaging routine in just one simple gesture.
---
CeraVe Resurfacing Retinol Serum
For oily skin
Formulated for those who need to fight acne, this CeraVe formula is perfect for those with oily skin. This affordable and minimalist formula ensures your skin gets retinol without needing one nourishing formula that can break you out.
---
Neutrogena Retinol Boost Cream 50ml
For dry skin
This innovative formula was formulated for sensitive skin. With a highly nourishing creamy formula, this option lets you enjoy your retinol even if you have sensitive skin. The lightly scented formula is a real pleasure to use and visibly reduces lines and improves radiance.
---
L'Oréal Paris Revitalift Laser Pure Retinol Night Serum
Best affordable
The Revitalift range is already a staple when it comes to affordable anti-aging routines. This serum also doesn't disappoint, combining hydrating ingredients with retinol in order to make a very usable and affordable serum perfect for retinol beginners.
---
Endocare Expert Drops Firming Protocol
Best for firmness
Retinol is great not only for wrinkles, buut also improves firmness. Combining retinol with tensor ingredients is the best way to make sure that you're actually targetting what you want and your skin needs. This protocol from Endocare was specifically designed to improve firmness, and the retinol formula is super gentle.
---
Esthederm Intensive Retinol Oil Serum
Luxury retinol
A luxurious oil that improves your skin is just what you need. This oil from the Esthederm Intensive range delivers great results in a gentle and pleasing way. Use it if you tend to have dry skin, especially if you're experiencing post-menopause skin dryness.
---
If you've already chosen your starter retinol, keep in mind that you should always use a great sunscreen to ensure the sun won't undo anything your retinol has tried so hard to achieve.