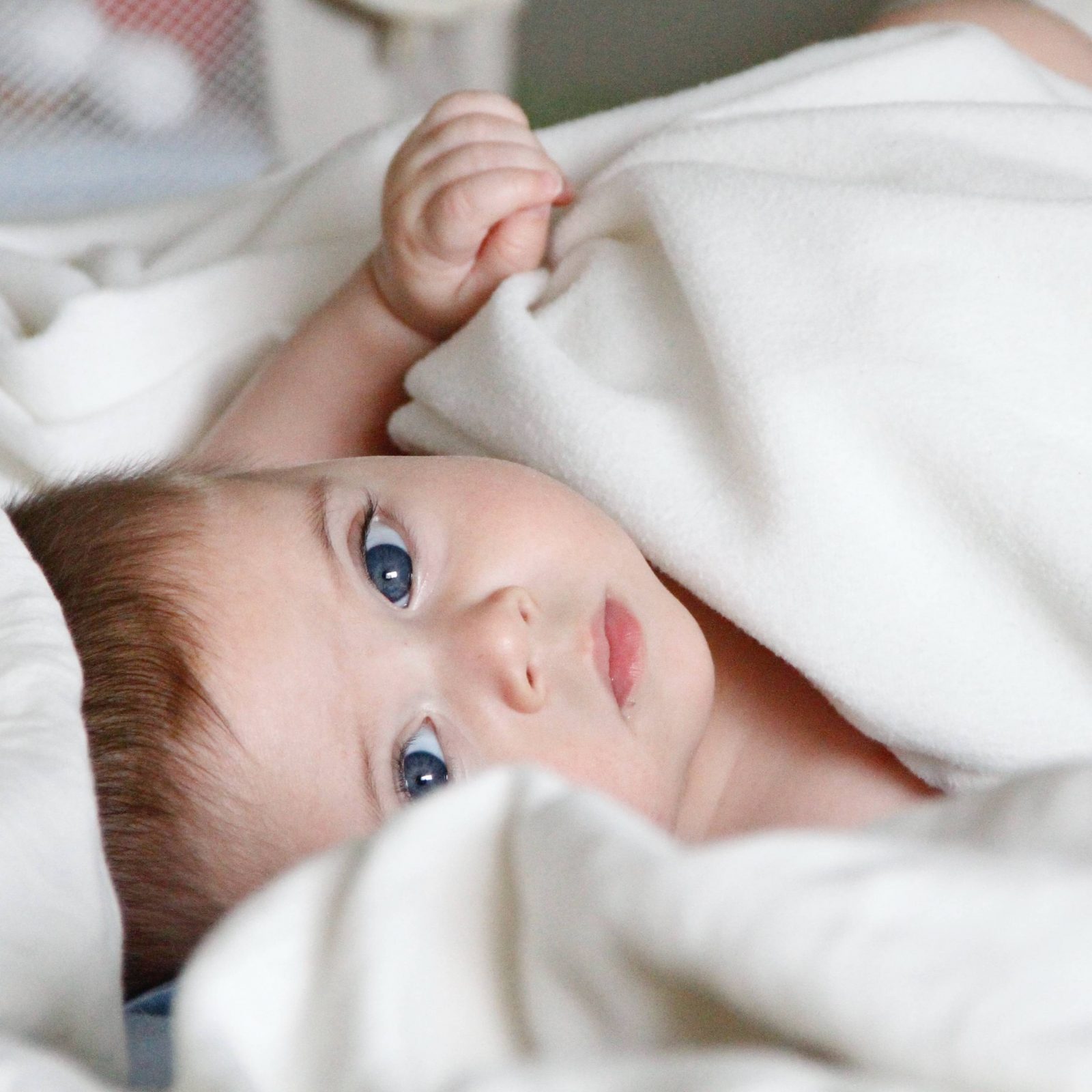 Even though the expression "baby skin" is used to describe soft skin, it doesn't mean that babies are immune to skin issues. Actually, some chronic skin conditions such as atopic dermatitis are quite common and usually appear in the first months of the baby's life. Read on to learn more about this skin condition and, most importantly, to learn how to select the best skin care products to manage it with ease.
Atopic dermatitis vs eczema: what's the difference?
"Atopic dermatitis" and "eczema" are two terms that are often used interchangeably, but they are ever so slightly different.
Eczema refers to an inflammation of the skin, usually characterized by symptoms like dryness, redness, itchiness, tightness… the list goes on.
Atopic dermatitis, sometimes referred to as AD, is a common type of eczema; or, if you'd like, a common cause of eczema (i.e. inflammation of the skin). It's a chronic condition that typically appears in the first six months of a baby's life, and it can be managed with appropriate skincare. Some children may outgrow it and reach adulthood with no symptoms at all; others will have flare-ups well into their adult years. Where there's atopic dermatitis, there's dry skin, an unbalanced microbiome, compromised skin barrier as well as occasional itchiness. This is where targeted skincare for atopic skin comes in.
If you're at all familiar with skincare products for atopic dermatitis, you may have also come across the terms "atopic skin" or "atopy-prone skin". You can think of these as industry terms that indicate that a product is suitable, or indeed targeted, for skin that is affected by atopic dermatitis.
---
Find the best soothing & repairing products for baby atopic skin
Atopic skin cleansing
A delicate skin cleanse is a very important step in the daily care of atopic skin. A gentle cleanse leaves the skin free from impurities and bad bacteria, preventing further irritation and damage. It is the very first step that helps minimize tightness, discomfort, and bring skin back to balance. These fragrance-free cleansers are ideal to begin a soothing routine for the atopic skin of the baby!
You may choose Bioderma Atoderm Huile de Douche Ultra-Nourishing Shower Oil to cleanse the atopic skin of the whole family! More than a comforting oil-gel texture, it contains Skin Barrier Therapy™, a patent that works to limit Staphylococcus aureus proliferation and colonization (as it is usually augmented in atopic-prone skin). Featuring the same patent, Bioderma Atoderm Intensive Pain Ultra-Soothing Cleansing Bar is the one to call if you fancy a cleansing bar over a liquid texture.
Are you looking for a range exclusively developed for babies? Then you should try Mustela Stelatopia Cleansing Oil Atopic Skin Fragrance-Free. This oil transforms the bath time into a comforting and pleasant experience for the baby! Suitable for the face, body and hair, it instantly soothes discomfort and does not irritate the eyes.
---
Atopic skin care
After a good and gentle cleanse, the skin is now more than ready for some replenishing and nourishing care. And, don't forget, it is essential to use formulas that are tailor-made for atopic-prone skin! They'll help to attenuate and control dryness and itching as well as flaking and redness.
Searching for a multi-purpose cream for babies that suits the face as well as the skin of the body? Then Uriage Baby 1st Anti-Itch Soothing Oil Balm is the perfect one for you. It presents a nourishing balm texture that comforts, soothes, and protects dry and atopic-prone skin with illipe and shea butter.
If you need atopic care for the whole family, then take a look at A-Derma Exomega Control Emollient Cream. This formula features 95% of ingredients of natural origin and an extra-rich texture that provides the skin with lasting comfort. Thanks to patented Rhealba® oat plantlet extract and BioVect®, the formula soothes the skin and reduces irritation. In addition, Filaxerine® and Vitamin B3 contribute to restoring the skin's hydrolipidic barrier.
More exposed to external aggressions, facial skin may need extra protection and care. If you're willing to find a facial cream that controls dryness, flaking, itching and redness all the while promoting a healthy skin barrier, then ISDIN Nutratopic Pro-AMP Facial Cream is the one for you. It not only contains ceramides, glycerin and shea butter to help nourish and hydrate but also L-isoleucine and Rhamnosoft, to stimulate the production of antimicrobial peptides and prevent bacterial adhesion and infection.
---
Sun protection for atopic skin
La Roche-Posay Anthelios Dermo-Pediatrics Hydrating Fluid SPF50+
Even though you're not exposing the baby's skin to intense sun, it is incredibly important to protect the skin of the baby and prevent sun damage when they're outside. However, your regular sunscreen isn't an option, and you need one that's targeted to their atopy. La Roche-Posay Anthelios Dermo-Pediatrics Hydrating Fluid SPF50+ presents a lightweight texture that delivers advanced protection for dry and atopic prone skin! Featuring Netlock Technology, it creates a protective shield that protects it from sun exposure while ensuring optimal resistance to humidity.
---
Much as it happens with adult atopic skin, less is more when it comes to skincare. Following the basics is the best thing you can do! Don't forget to cleanse, hydrate and protect it from the sun to keep the skin balanced. Consult a healthcare professional for further help and personalized routines.