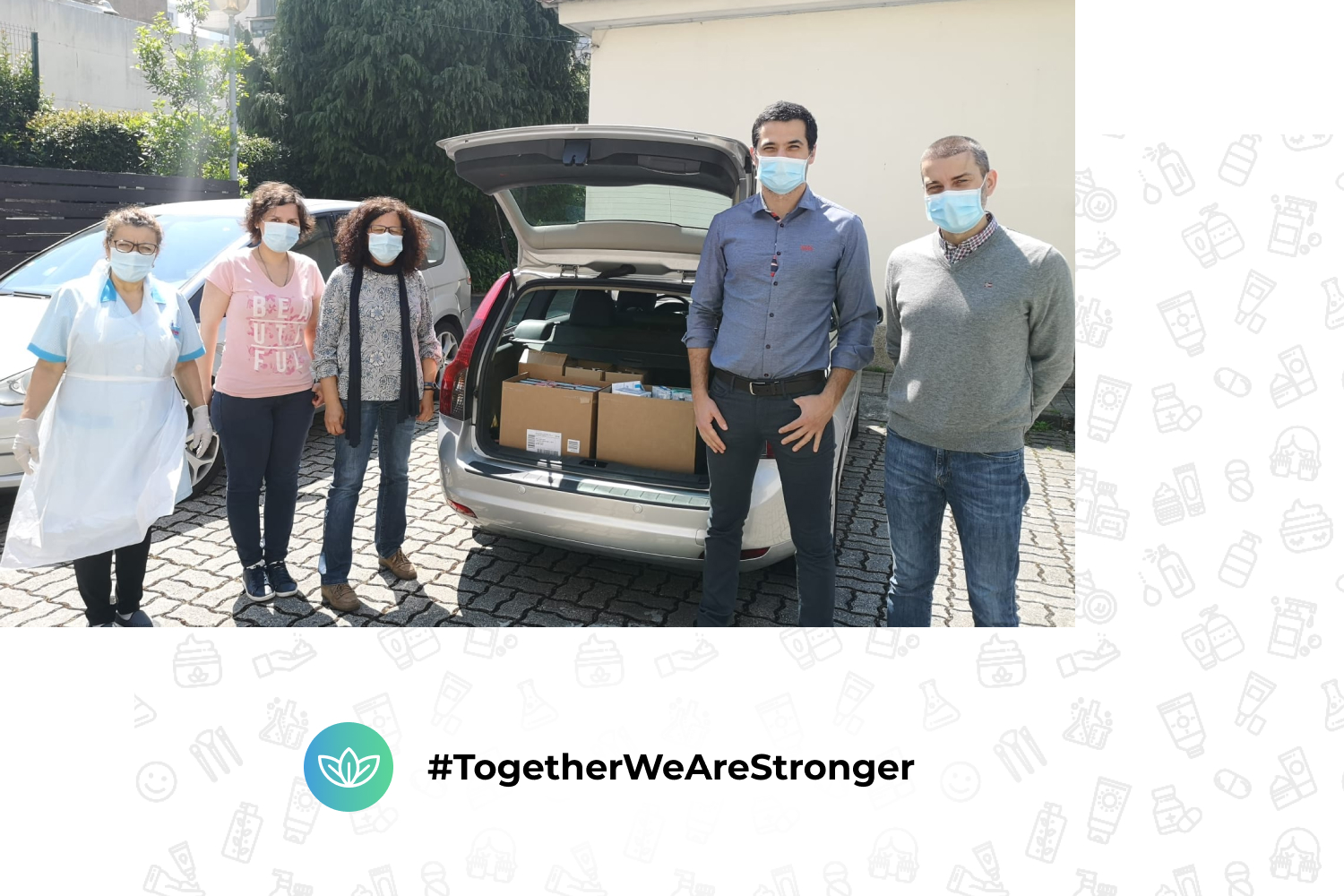 We remember the first photos we saw of healthcare workers leaving a COVID-19 shift. After hours of wearing personal protective equipment (PPE), their skin looked extremely dry and irritated. Deep indents and bruises marked the spots where the straps of surgical masks and face shields had dug into their skin. Despite the quiet determination in their eyes, we could see their discomfort–and we knew that we would do whatever we could to help.
As a beauty retailer with a parapharmacy license, Care to Beauty has access to some of the most repairing beauty products in the world. Sensitive (as well as sensitized) skin is our specialty. As such, we knew what to do when we saw what healthcare professionals were struggling with. More than just hand sanitizers, they needed hand creams to tackle dry and chapped hands from frequent washing; they needed lip balms to re-hydrate the lips after hours of wearing surgical masks; they needed facial moisturizers that could offer a semblance of comfort through the worst of the pandemic.
We reached out to our local health center, ACeS Maia/Valongo, in order to better understand their needs. Based on our experience with skin barrier damage, we took the feedback we received from healthcare professionals and put together a care package that would suit their specific concerns.
Essential Skincare For Damaged Skin
Studies show that skin damage is a real issue for front line medical workers. A study published in the Journal of the American Academy of Dermatology, which collected data from 700 professionals in Hubei, China, reported a prevalence rate of skin damage of 97% among professionals wearing PPE for extended periods of time. The most affected area was the bridge of the nose, but other affected areas included the hands, cheeks, and forehead. 70.3% of professionals reported skin dryness/tightness and desquamation (we'd just call it peeling). 52.5% reported itching, while 38% reported painful burning sensations.
Our immediate instinct was to shower our healthcare workers in repairing creams. We chose Avène Cicalfate+ Repairing Protective Cream, Bioderma Cicabio Crème Soothing Repairing Cream, and Eucerin Aquaphor Repairing Ointment.
For the care of dry and chapped hands, we opted for Eucerin UreaRepair Plus Hand Cream 5% Urea, a duo of Neutrogena Hand Creams in different textures, and SVR Topialyse Hand Cream. Last, but not least, we added lip care in the form of La Roche-Posay Cicaplast Lips.
Now that non-medical face masks (or community masks) are becoming the standard all over the world, it's possible that we will all begin to experience, to some degree, the same kind of skin issues as front line healthcare workers. For that reason, we are sharing this list of recommended personal protection products with you now, so you know where to look for solutions if/when your skin begins to struggle. The skin is your largest organ, and it needs your attention more than ever.
Care To Beauty's Donation to Healthcare Workers
On May 18, our CEOs Jorge and Bruno headed out to ACeS Maia/Valongo to deliver our donation. We were received with for whose work we are profoundly thankful. Without dedicated doctors and nurses (as well as lab technicians, cleaning workers, first responders, every single member of hospital staff, and so many other heroes we can't even begin to name), we wouldn't stand a chance of making it through a worldwide pandemic. Thank you all for your work; we hope that our donation has helped make your daily life a little bit easier.