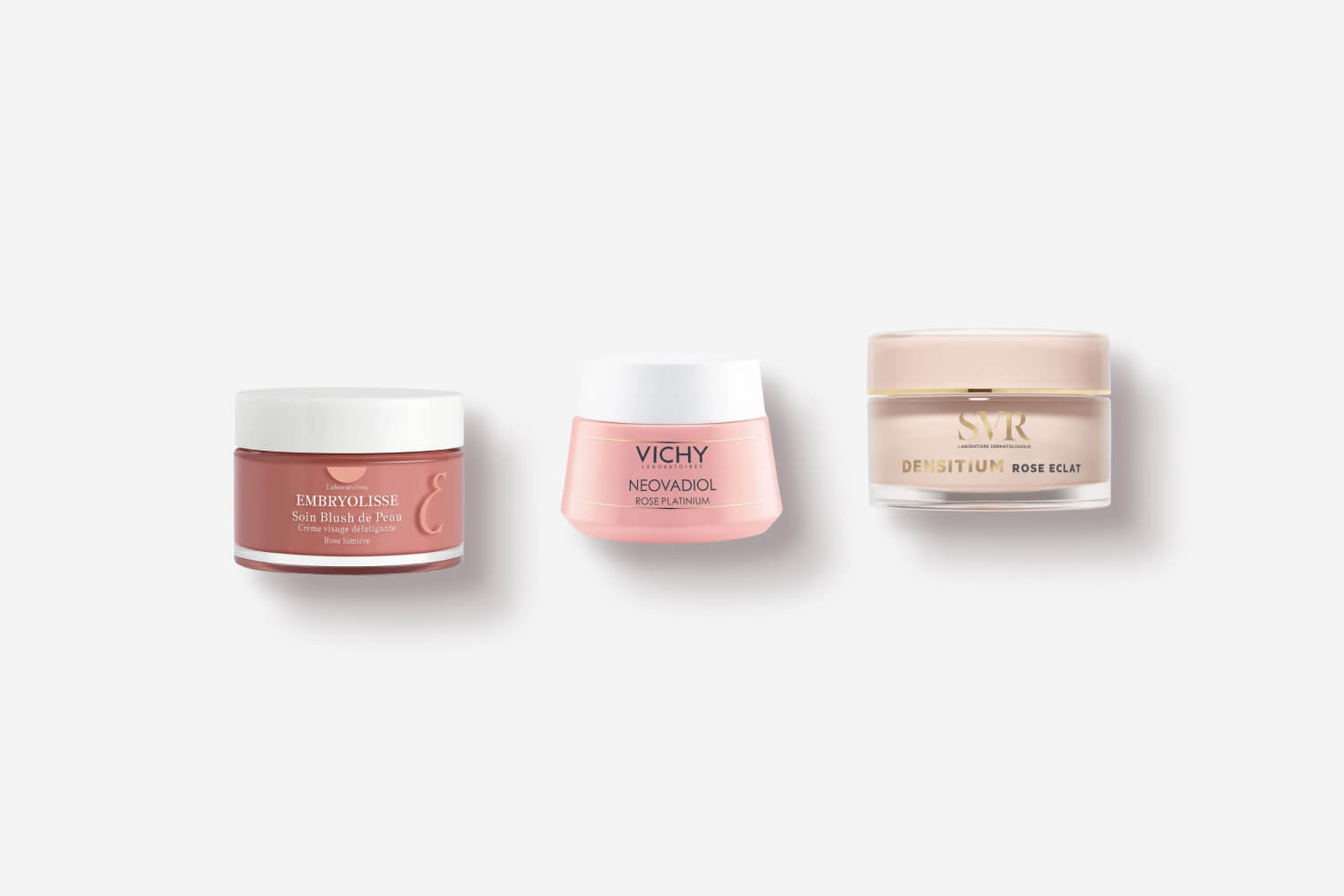 Rosy tone moisturizers are a relatively recent addition to skincare ranges for mature skin. You may have seen them: they usually come in little jars and they're all the same shade of pale pink. The color of these creams is not a coincidence; in fact, it is one of their main benefits. With their pink formulas, these creams bring a slight rosy tint to the skin, neutralizing yellow and grey tones and revitalizing dull and lackluster complexions. Today, we're looking into the best rosy tone moisturizers for mature skin, and helping you figure out how you can introduce them into your skincare routine.
---
On this post:
---
What do rosy tone moisturizers do?
Rosy tone moisturizers do not provide coverage, like a foundation or a BB cream, but subtly change the skin tone, creating a rosy glow.
Now, why would you want your skin to have a rosy glow? For a variety of reasons. You may like a rosy and glowy complexion because you feel that it looks fresher and more youthful. (In that sense, rosy tone moisturizers can work well at any age.) But the reason that makes these moisturizers particularly suited to mature skin has to do with the natural aging process.
As we age, our skin can start to lose its natural radiance. This is especially true after menopause, with many women observing that their skin looks lackluster and dull–and, sometimes, even a little sallow.
The pink pigments found in these creams can help counteract this lack of radiance, giving the complexion a rosier and more "youthful" tone.
How to use rosy tone moisturizers
As a general rule, rose-toned moisturizers should be used at a stage in your skincare routine that allows their rosy finish to shine through. However, there is more than one way to look at this issue.
If you apply the rose-tinted moisturizer and apply a foundation afterwards, for example, you may end up reducing the pinkish effect of the moisturizer. However, the opposite is also possible: your rose-tinted moisturizer may actually help improve the final finish of the foundation, since you are making a very subtle color correction before applying coverage.
When in doubt, the best thing to do is to try a few different ways of using this type of cream. Then, go with the one that gives you the most pleasant effect!
Our favorite rosy tone moisturizers
Now that we've looked through the benefits of rosy tone moisturizers, let's explore at a few options you can try:
Uriage Age Absolu Redensifying Rosy Cream
The collagen boosting cream
The Uriage Age Absolu Redensifying Rosy Cream is an all-in-one anti-aging cream that helps minimize multiple signs of aging, such as dryness, dullness and loss of radiance, wrinkles, and loss of volume.
In order to achieve this, it boosts collagen production through the combined action of a procollagen peptide, retinol, hyaluronic acid, vitamins C and E, and a lipid-replenishing plant complex. This cocktail of ingredients is impressive enough (it can increase collagen levels by up to 6 times!), but let's not forget the rose-tinted formula. Using natural-origin pearls, this velvety cream helps restore a natural rosy glow to the skin. It won't offer coverage, but it makes for a great makeup base!
---
Vichy Neovadiol Rose Platinum Cream
The expert cream for menopause
One of the best-known rose-tinted creams on the market is, without a doubt, the Vichy Neovadiol Rose Platinum Cream. Part of the Vichy Neovadiol range, which cares for women's skin after menopause, this cream combines a fortifying action with a revitalizing and illuminating effect. We've mentioned that women's skin can become a little dull and lackluster after menopause. This cream responds to this concern with a blend of mineral pigments, which, with their pinkish tone, help balance out a dull complexion.
But there's more: this cream also offers a fortifying action, with its combination of glycerin, hyaluronic acid, and calcium. After one month of use, 93% of women notice that their skin feels more comfortable; 83% experience a more even complexion; and, last but not least, 74% find that their skin is more radiant, and less dull.
---
SVR Densitium Rose Eclat
The firming anti-gravity cream
Specifically formulated for dry and mature skin, the SVR Densitium Rose Eclat is a powerful cream that combines a firming action and an illuminating action in a single product.
Let's take them one at a time. The firming action is provided by a combination of ingredients, some familiar and others less so: plumping ultra-fragmented hyaluronic acid, skin-strengthening Bio-Calcium, and an exclusive collagen-boosting anti-gravity active ingredient. Together, these ingredients restructure and strengthen the epidermis, therefore helping reduce wrinkles and loss of firmness. As for the illuminating action, this is where the subtle pink pigments come in: after just one application, they can easily help correct the yellowish tone that sometimes affects more mature skin.
---
L'Oréal Paris Age Perfect Golden Age Day Cream
The affordable cream for women over 60
Formulated by L'Oréal Paris for women over 60, L'Oréal Paris Age Perfect Golden Age Day Cream packs a whole bunch of benefits into a very elegant, very affordable little jar. Formulated with a blend of calcium and vitamin B5 (referred to as "Calcium B5"), this formula helps restore consistency, density, and firmness to the skin, all the while providing it with a hydrating and plumping effect. Along with this duo of ingredients, peony polyphenols help promote microcirculation in order to bring out the skin's natural rosy tones.
With pink pigments, the formula also creates an illuminating effect immediately upon application, instantly revitalizing the complexion.
---
Clarins Rose Radiance Super Restorative Cream
The glow-boosting cream for post-menopause skin
For a plant-powered rose-tinted cream, look at the Clarins Rose Radiance Super Restorative Cream. Specially created to care for skin experiencing age-related hormonal changes, such as menopause, this cream combines expert plant ingredients with radiance-boosting properties. Organic Harungana extract promotes skin density and firmness; Hibicus sabdariffa flower acids provide a gentle skin-smoothing exfoliation; and, finally, Furcellaria extract helps protect the skin from environmental aggressions.
Last, but not least, illuminating pearls deliver luminosity and radiance to the skin, leaving the complexion slightly rosy and glowy.
---
Embryolisse Radiant Complexion Cream Rose Lumière
The anti-fatigue cream
The Embryolisse Radiant Complexion Cream Rose Lumière is a hybrid moisturizer that bridges the gap between skincare and makeup. With its universal pink tint, this moisturizer blends with the skin and helps minimize signs of fatigue on a huge range of skin types. And, because it can also be used on the eye area, it's perfect to reduce the appearance of dark circles.
The 96% natural formula combines antioxidant silk tree extract and plumping hyaluronic acid, creating a revitalizing blend that helps you achieve that very French "bonne mine" effect.
---
We've looked through a few rosy-toned moisturizers and their benefits: have we convinced you to try them out? If you find that your skin has been a little dull lately, a rose-tinted cream might just be what you need to revitalize it. Combine it with some expert tips for glowing skin after 50, and you'll be good to go!