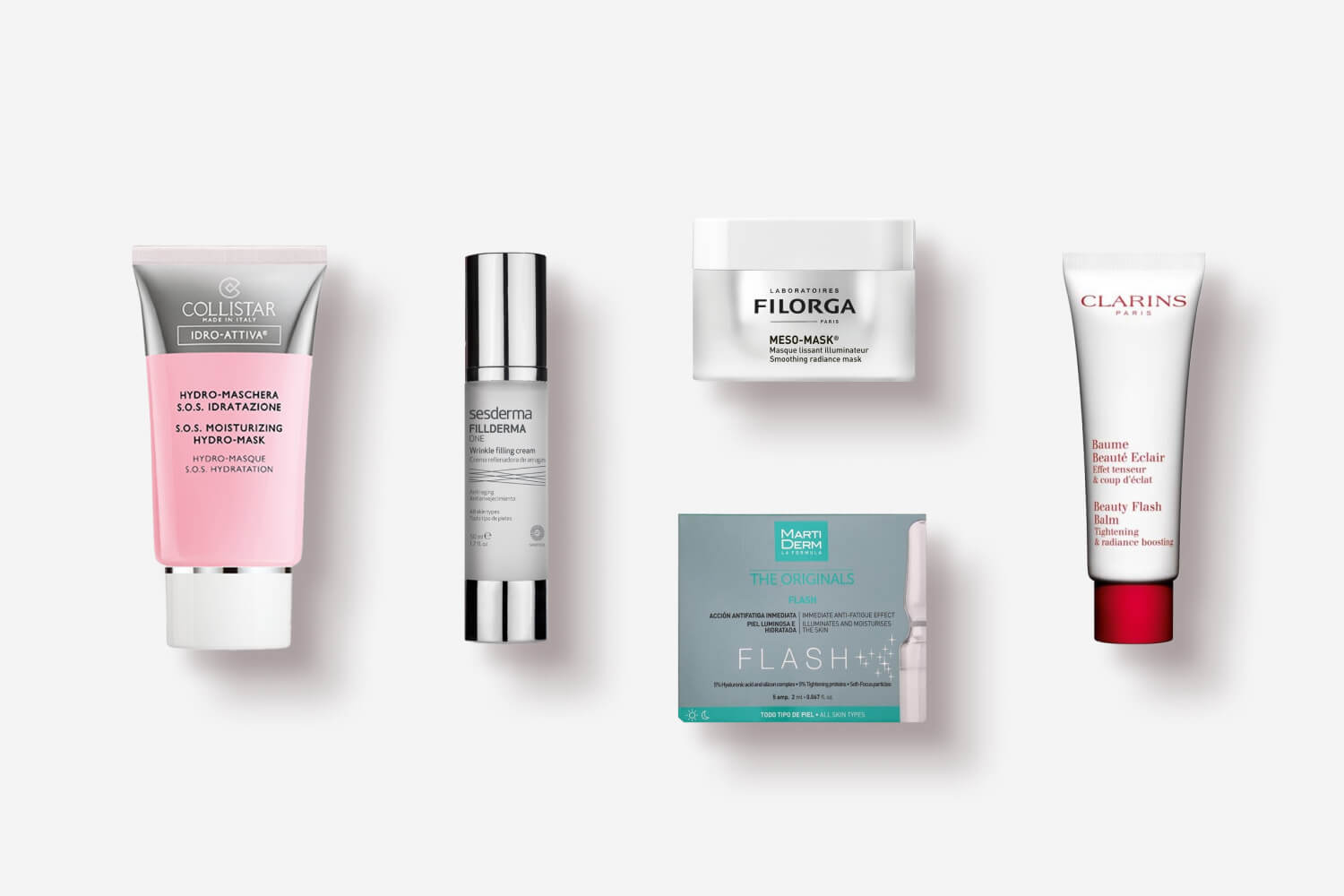 When party season is in full swing (whatever that may look like for you), you want your skin to look its best. Unfortunately, it doesn't always collaborate! This is especially true if you have a busy life and a hectic lifestyle. No matter how much you invest in your daily skincare routine, there are times when it's simply not enough. If this sounds familiar, keep reading: we've selected six skincare products that deliver instant results.
Use them as a quick pick-me-up before special events, and flaunt that flawless skin!
6 Skincare Tricks for Instantly Flawless Skin
To help you achieve your best skin ever in record time, we've selected six products that excel at smoothing and revitalizing even the most tired complexions. With their hydrating and plumping benefits, these products help you restore a supple appearance to dull and tired skin. Try them out, and see the results for yourself!
Martiderm The Originals Flash Ampoules Instant Radiance Effect
The iconic ampoule
What it is: a tiny but mighty ampoule formulated with plumping hyaluronic acid and tightening proteins. In addition to these two ingredients, which help improve the skin's texture, this ampoule also contains soft-focus particles, which help the skin look its best.
Why we like it: the Martiderm The Originals Flash Ampoule is a staple in the skincare and makeup bags of our Care to Beauty community, because it really does work in a flash. With its fluid texture, which is very easy to apply, this ampoule works like an SOS for the skin, improving its texture and appearance, and creating a perfectly uniform base for those who want to apply makeup afterwards.
---
Filorga Meso-Mask Smoothing Radiance Mask
The 30-minute smoothing mask
What it is: a bestselling facial mask rich in collagen, elastin, and polysaccharides. The formula, inspired by aesthetic medicine, helps minimize signs of fatigue and reduce small signs of dehydration, such as fine lines. It can be used on the face, neck and décolleté.
Why we like it: if you're in a hurry, but not in a huge hurry, this mask can bring you incredible results in less than 30 minutes. Use it whenever you have a special event, or twice a week to keep your skin smooth, supple, and radiant!
---
Clarins Beauty Flash Balm
The natural secret to plump, even skin
What it is: an iconic product from Clarins, with a creamy texture that energizes the skin after each use. Formulated with 95% natural ingredients, this cream uses acerola seed extract to energize the skin, prickly pear extract to promote cell renewal, and organic oat sugars to tone and smooth the facial features.
Why we like it: for those looking for an SOS solution that is not only effective, but also pleasurable to use, the Clarins Beauty Flash Balm is a safe bet. While the formula brings comfort to the skin, the blend of natural ingredients offers brightening and smoothing benefits, evening out the complexion and creating a smooth and even look.
---
Sesderma Fillderma One Wrinkle Filling Cream
The line-plumping cream
What it is: a cream with a filling and firming effect, ideal for skin with some visible signs of aging. Formulated with hyaluronic acid, urea, niacinamide, peptides, elastin, and Centella asiatica, this cream is an anti-aging cocktail that provides a long-term effect, but, at the same time, creates an immediately visible change after application.
Why we like it: there are many products with a "flash" effect, but not all of them provide a noticeable firming effect. With this cream, it's possible to obtain a tightening effect that is immediately visible and which, together with the plumping effect of hyaluronic acid, helps to reduce the appearance of common signs of aging, such as fine lines, wrinkles, or sagging.
---
Sesderma Facial Flash Treatment Acglicolic + C-Vit
The mini-facial
What it is: a duo of ampoules to use on consecutive days, as a shock treatment for dull and tired skin. While the pink ampoule, Acglicolic, provides a peeling effect in order to refine the surface of the skin, the orange ampoule, C-Vit, gives the skin a boost of vitality.
Why we like it: if you've had an event scheduled for a while and really want to look your best, this duo of ampoules is the perfect solution. Use the Acglicolic ampoule one day and the C-Vit ampoule the next, and your skin will benefit from the effects of glycolic acid and vitamin C in perfectly calibrated doses. It's almost like a mini-facial you can do at home!
---
Collistar Idro-Attiva SOS Moisturizing Hydro-Mask
The versatile mask for parched skin
What it is: a lightweight mask, with a refreshing gel-cream texture, that hydrates and revitalizes the skin in just 10 minutes. The key ingredient in this mask is Idro-Attiva ® Complex, which helps maintain optimal skin hydration levels for up to 72 hours.
Why we like it: some people like to always have a deeply moisturizing mask in their skincare stash, and this is a great option. Designed with Collistar expertise, this quenching mask can be used either overnight, to revitalize the skin as you sleep, or as a "shock treatment" in just ten minutes. If your skin looks dry, dull, and tired, give it a try!
---
We've shown you some of our favorite skincare products for instant results, perfect for those moments when your skin needs a little pick-me-up.
Keep in mind, though, that flash tricks can't necessarily replace a regular skincare routine! Our best advice? Build a skincare routine that works for you, and keep a few of these instant glow-boosters on hand for special occasions. Best of both worlds!