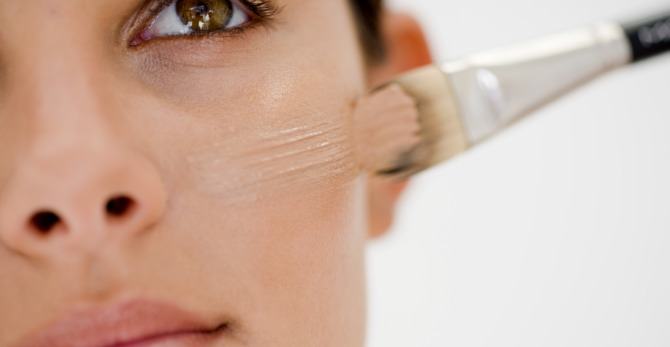 Not all women wear makeup but those who do not leave the house without it know, perfectly, that the foundation is at the beginning of everything and that choosing the right one is halfway to a perfect make-up.
Coverage and texture
There's a lot to be said about foundations and, in fact, we did it already in the past, with a post trying to facilitate the choice for our readers. This time we will focus on the aspects of coverage and texture and on the Vichy brand and we have a lot to talk about!
When thinking on foundation, coverage is the main thing to have in mind. The capacity a foundation has to cover your little skin imperfections and make you smile to the mirror is the x-factor. Finding the right degree of coverage will allow you to create a perfect and flawless canvas where you can apply the rest of your elegant and colorful makeup or to apply nothing at all and go ahead with your day or night full of confidence and joy.
Another important factor, when choosing your foundation, is the texture… a fluid foundation would be suitable for your skin type? Is powder your favorite? Foundation in stick will be enough?
So, finding the perfect balance between the coverage and texture can be an adventure that lasts for a lifetime. With this in mind and to help their customers, brands often offer a wide variety of solutions. That's the case of Vichy and its vast catalog of different and wonderful foundations: Dermablend Fluid Corrective, Dermablend 3D Correction Oil-free, Vichy Dermablend SOS Cover Stick Concealer, Vichy Minéralblend, and Vichy Liftactiv Flexiteint.
Let's travel in the Vichy foundation universe and look to each one of them to understand the main characteristics, similarities, and differences… what makes them special and unique.
Vichy Dermablend Fluid Corrective Foundation
Coverage: high

Texture: fluid cream
This is a high coverage foundation loved by makeup gurus and professional make-up artists. With a melting formula that fluidifies when it gets to the skin, this foundation perfectly covers all the pigmentation imperfections for a flawless skin without a mask-like effect. With a long lasting coverage that goes up to 16 hours and a hydrating base which perfectly hydrates the skin for 24 hours without drying, it is very comfortable on the skin. The naked skin finish looks very natural and the fluid texture ensures that there are no pigment deposits on the skin. Is suitable for all skin types, including sensitive and has SPF35.
Vichy Dermablend 3D Correction Oil-free Foundation
Coverage: high

Texture: fluid
This is the oil-free version of the Vichy Dermablend Fluid Corrective Foundation we just talked about. Like the fluid version, has a melting formula that fluidifies when it gets to the skin. Perfectly covers all the pigmentation imperfections and it is perfect for people with acne for the presence of Salicylic Acid on the formula. With a long-lasting and mattifying coverage – that goes up to 16 hours – this foundation has SPF25 and diffusing pigments that optically correct the blemishes. Contains also Eperuline that sooth the skin.
Vichy Dermablend SOS Cover Stick Concealer
Coverage: very high

Texture: stick
Meet the high coverage concealer and corrector that is able to correct the complexion for up to 16 hours. The high amount of corrective pigments guarantees that all imperfections are concealed (dark circles, acne, scars and irregular pigmentation). With an improved texture, it melts when it touches the skin, making it easier to spread. Water and sweat resistant, it lasts for several hours without needing to be retouched. It is suitable for all skin types, including sensitive and after surgery and has SPF25. Contains Beeswax and Carnauba that make it easy to blend as well as Allantoin with anti-inflammatory properties that reduce the possibility of redness and irritations.
Vichy Dermablend Covermatte Compact Powder Foundation
Coverage: high

Texture: powder
It's time for the compact foundation with 100% mineral pigments and optic light diffusers to provide high coverage and a mattifying effect. This long-lasting foundation is able to provide coverage for up to 12 hours and absorbs excess oil. The light formula is non-comedogenic and is ideal for skin with a tendency for acne. It is suitable for normal to oily skin types including sensitive skin. Contains Zinc Gluconate with antibacterial properties and Salicylic Acid which reduces blemishes up to 60% with continuous use thanks to its ability to gently exfoliate. The Sun Protection Factor is of 25.
Vichy Minéralblend Foundation
Coverage: light

Texture: cream
The brand new line of makeup from Vichy: a mineral foundation that provides a natural look for up to 16 hours. Thanks to the hyaluronic acid present in the formula, this product is suitable for both dry and combination skin, as it hydrates the skin without creating an oily finish. Indeed, this product has been shown to be 3 times more hydrating than other foundations on the market, making the skin feel comfortable and fresh from the very first application. After just one month, the signs of fatigue are visibly reduced. The light coverage given by the mineral pigments looks like a second skin but doesn't create an uncomfortable "mask" effect. Because it is available in 9 different colors, this foundation will also suit a wide range of skin tones, for a natural and radiant finish. For its moisturizing power, it is suitable to dry to combination skin, including sensitive.
Vichy Liftactiv Flexiteint Foundation
Coverage: medium

Texture: liquid foundation
This is a medium coverage foundation specially formulated for daily use on skin that exhibits fine lines and wrinkles. Enriched with adenosine, a yeast-derived ingredient with proven anti-wrinkle benefits, this silicone-like foundation molds itself to the wrinkles, tightening the lines for a natural lifting effect. The skin is smooth and supple, revitalized and radiant all day long, while this innovative formula continues to provide anti-aging benefits, progressively evening out facial lines after just one month of use. Is perfect for all skin types, including sensitive and contains Hydrolyzed soy protein that protects the skin against hormone-related aging, returning the complexion to a natural and youthful radiance.
Different textures, with more or less coverage, to fight the first wrinkles or only to disguise small imperfections … you have a lot to consider and a lot to choose from. And the best is that the choice is only yours!