Summer is just around the corner for those of us in the northern hemisphere, which basically means we're all scrambling to put together our sun protection strategy for the season. After many months indoors, it's reasonable (what's more, it's actually prudent!) to assume our skin won't be able to withstand the incoming onslaught of sun exposure on its own. Have you ever sunburned on the first day of a beach holiday? So have we, and we're not keen on repeating the experience. As such, this year we are not only reaching for our favorite sunscreens, but also for the iconic Heliocare capsules, a series of dermatologist-approved sun supplements which promise to strengthen our skin all through the summer.
What are sun supplements?
If you've never tried sun supplements, the idea of taking a pill for sun protection may sound a little bizarre. Can't you just slather on sunscreen and move on with your life? Well yes, you can, but that may not be enough if you have a very fair skin tone, or struggle with extreme photosensitivity (also known as "sun allergy").
Sun supplements with a high antioxidant content, such as the ones made by Heliocare, can help you overcome these issues. They will increase your tolerance for sun sensitivity and sunburn and, at the same time, help your skin resist and repair existing sun damage. Heliocare offers multiple sun capsules with different benefits. Keep reading to find which one is right for you!
The 3 types of Heliocare supplements
Heliocare Sun Capsules
The secret to a long-lasting tan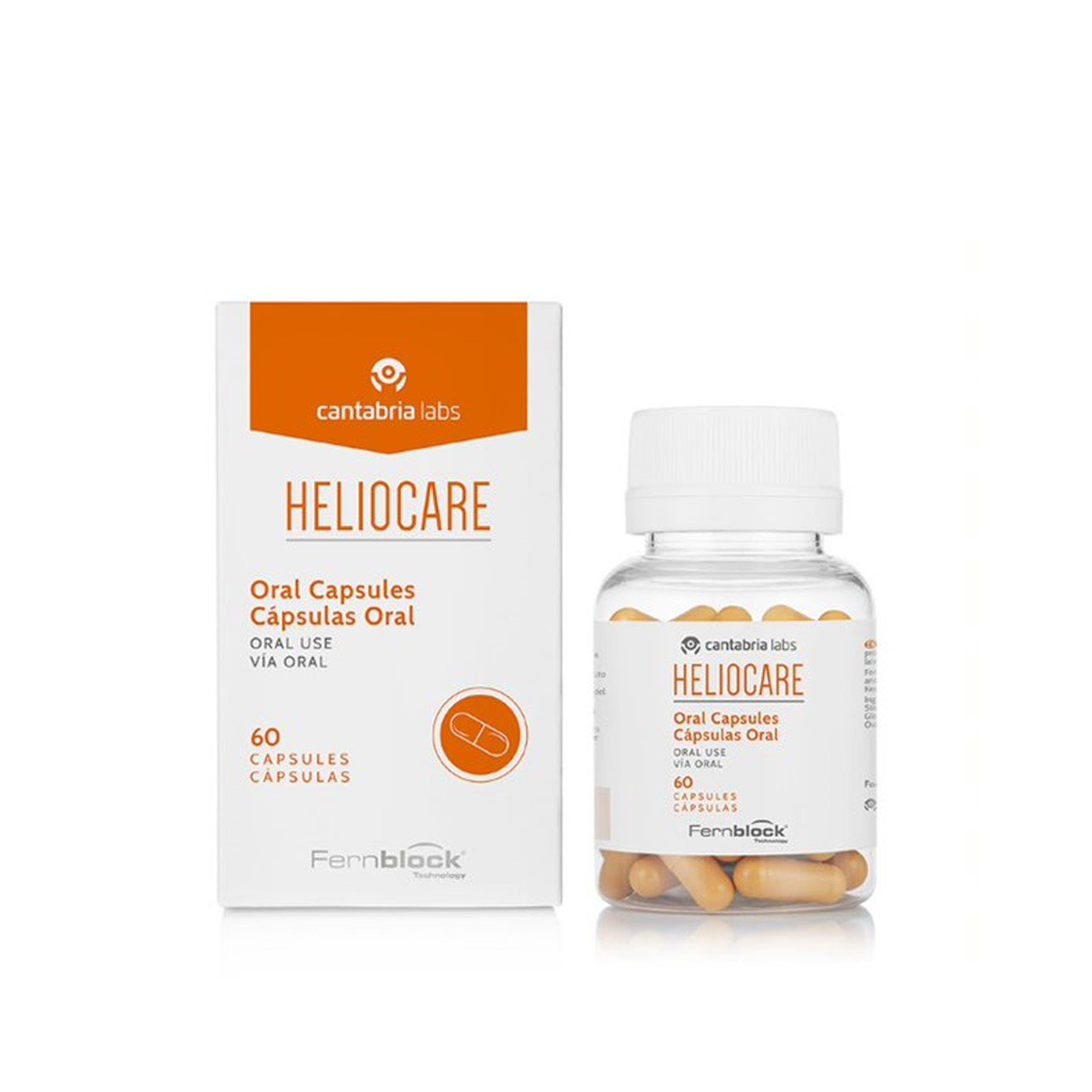 Heliocare Sun Capsules
The original Heliocare supplement is rich in Fernblock®, a natural extract of Polypodium leucotomos, a species of fern native to Central America. As it evolved to colonize both aquatic and terrestrial habitats, this incredible plant developed a series of defense mechanisms against the sun. It is a natural source of antioxidant substances, such as polyphenols and monosaccharides; as such, it can help increase your threshold for sun sensitivity and sunburn.
Each gluten-free capsule contains 240mg of Fernblock®. It is also rich in green tea (50mg), another abundant source of antioxidant polyphenols, and beta-carotene (4.8mg), a plant-derived carotenoid that promotes a healthy tan while protecting against sun-induced redness (also known as erythema).
This carefully blended formula is ideal to prepare your skin for sun exposure–and for sun tanning–prior to a beach or pool holiday. Keep in mind, though, that a supplement will never offer sufficient sun protection on its own. You must apply your topical sunscreen just as diligently as before, and re-apply every two hours!
---
Heliocare Ultra D Sun Capsules
The best option for sun sensitivity or sun allergy
Heliocare Ultra D Sun Capsules
Like the original Heliocare capsules, Heliocare Ultra D Sun Capsules will increase the skin's resistance to the sun, all the while neutralizing and repairing sun damage. The difference is in the content of vitamin D: each of these capsules contains 5μg of vitamin D3. This is a type of vitamin D which is naturally produced by the skin when exposed to sunlight. When taken daily, these capsules may be beneficial for people who struggle with vitamin D deficiency.
Besides 5μg of vitamin D3 and 480mg of Fernblock®, Heliocare Ultra D Sun Capsules are also rich in other antioxidants, such as vitamins C (20mg) and E (3mg), lutein (2mg), and lycopene (1mg). Lutein is a naturally occurring carotenoid which is able to filter high-energy visible light, or blue light; lycopene, another carotenoid, wards off free radicals while stimulating the body's own protective measures against oxidative stress and inflammation. This clever cocktail gives these capsules the greatest antioxidant power out of capsules shown in this post; as such, Heliocare recommends them for cases of sun sensitivity or sun allergy, as well as cases of photodermatosis.
---
Heliocare 360 D Plus Capsules
The ally against dark spots and photoaging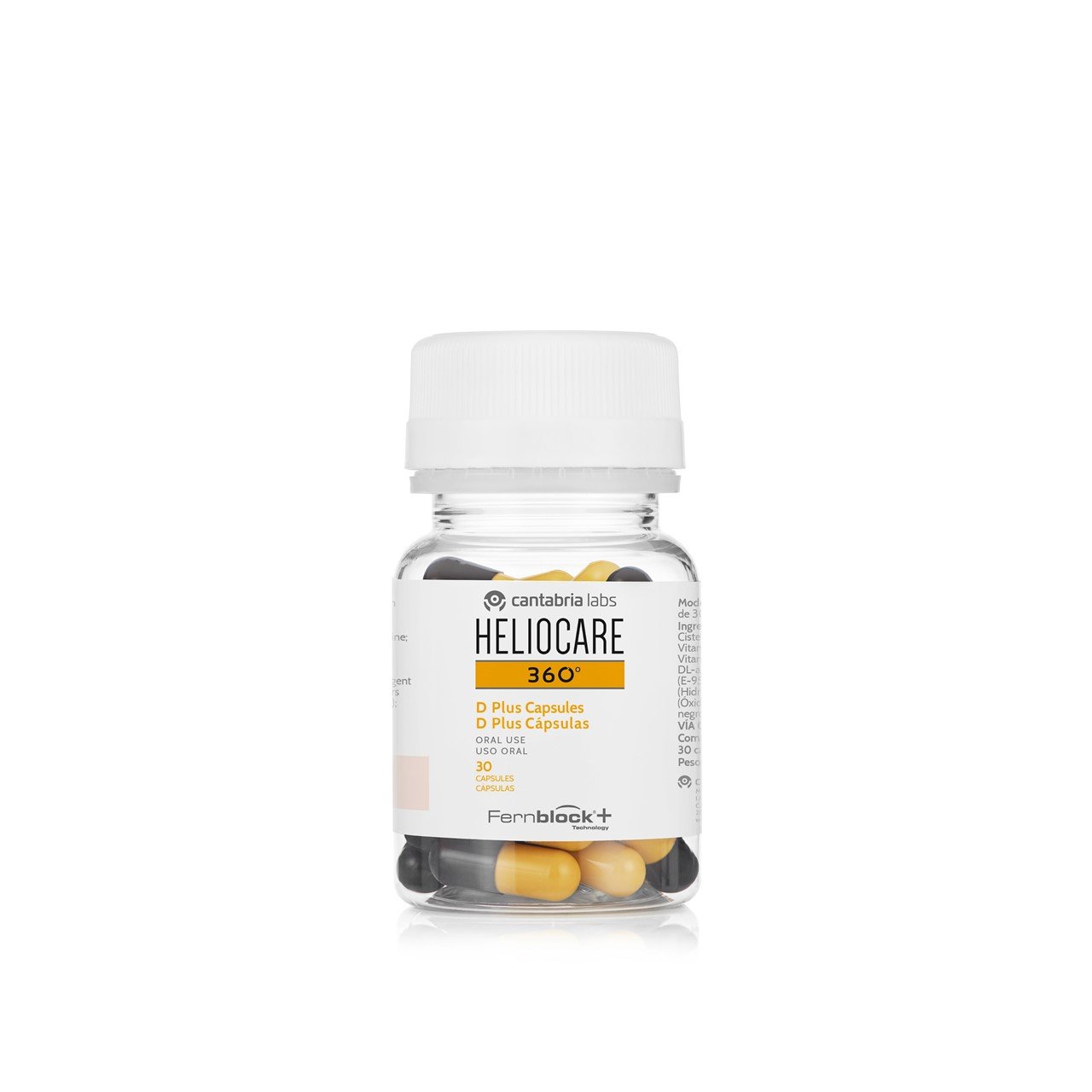 Heliocare 360 D Plus Capsules
The most recent innovation from Heliocare, these Heliocare 360 D Plus Capsules are gluten-free and and lactose-free. They contain 360mg of Fernblock®, 5µg of vitamin D, and 12mg of vitamin E. Furthermore, they feature an added benefit in the form of 16mg of niacinamide, a type of vitamin B3.
Vitamin B3 plays an important role in the health of the skin, and niacinamide has particular advantages. Besides its widespread use in the treatment of skin diseases, it offers antioxidant benefits. Studies have also shown its ability to promote DNA repair in skin which has been damaged by UV radiation. Because of these properties, niacinamide makes for a valuable addition to a sun protection supplement such as this one, which aims to neutralize and repair sun damage.
In combination with topical sun protection, these antioxidant capsules are also effective in preventing the appearance of dark spots and other skin alterations associated with sun exposure and consequent sun-damage.
---
Now that you know which Heliocare capsules are most suitable for your needs, don't forget to complement them with the right Heliocare sunscreen for you.