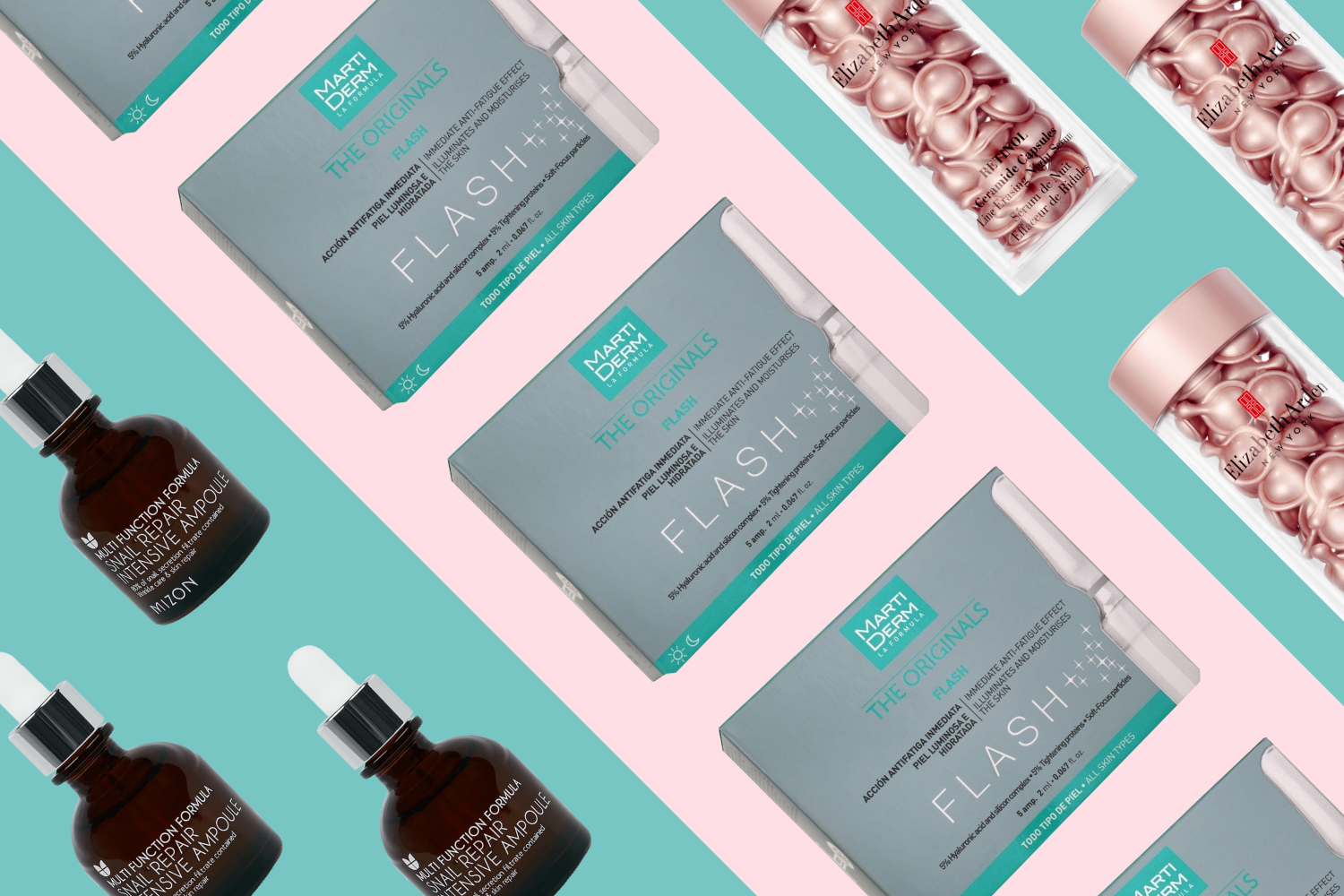 How to use skincare ampoules in your skincare routine
Skincare ampoules can be intimidating: they're dainty glass vials, full of hyper-concentrated active ingredients that you're supposed to apply all at once. Some ampoules are even made to be shaken, mixed, and snapped in half before use! In the age of multitasking skincare products, all this effort may sound unrealistic; but what if we told you that skincare ampoules are 100% worth the effort?
Keep reading to learn more about this type of skincare product and give your skincare routine a welcome boost.
---
On this post:
---
What is an ampoule in skincare?
In the world of skincare, the word ampoule can refer to one of two things, depending on whether you're looking at western or eastern beauty brands.
For European skincare brands such as Martiderm and Dr. Grandel (two brands known for their wide range of skincare ampoules), ampoules are single-use glass vials full of hyper-concentrated active ingredients. The formula inside the ampoule is usually liquid, similar to a serum. Each ampoule contains just enough product for one or two uses, therefore ensuring that you apply the right amount of actives to your skin. The tiny packaging brings another advantage: because they come in individual-use vials, they are able to preserve the properties of your favorite star ingredients for longer.
Korean skincare ampoules are just as highly concentrated, but they do not necessarily come in glass vials. Instead, Korean ampoules can come in dropper bottles and look exactly like serums. Should you use Korean ampoules like serums, then? No, not at all. Korean ampoules are meant to bring a boost to your skin, so you shouldn't be using them every day of the year. Instead, consider using your favorite ampoule as an extra whenever your skin needs a little helping hand. A little goes a long way!
In short, while the presentation of a skincare ampoule may change a lot, the basic definition remains the same: a skincare ampoule is a hyper-concentrated product you apply for a limited period of time in order to complement and boost your existing skincare routine.
The benefits of skincare ampoules
Because ampoules come in very small doses, skincare formulators are able to achieve a greater concentration and stability in their formulas. Take, for example, vitamin C: this powerful ingredient delivers amazing antioxidant benefits to the skin as a serum, but it's extremely unstable in water-based formulas and degrades easily upon exposure to oxygen. This means vitamin C works best in very small doses you can use in a single sitting, before the product loses its effectiveness.
Another great advantage of ampoules is that they help you adapt your skincare routine to your needs. The high concentrations of active ingredients, combined with the absence of filler ingredients like emulsifiers or emollients, allow ampoules to act on individual skin concerns with greater speed and efficacy.
Finally, ampoules present an interesting advantage to the sustainability-conscious shoppers among us: because they come in individual-use vials, ampoules are virtually waste-proof. You will never find yourself applying excessive amounts of product, because the ampoule itself already carries the ideal dose. In the long run, you'll be saving money (and using up your products to the very end).
How much ampoule should you use?
This is a common question with a complicated answer: it depends. Generally, the brand that's created the ampoule will tell you exactly how to apply it.
Generally, an ampoule that comes in glass vials will is meant for one or two uses; you will either use it all at once, or split the contents between two applications. You could use half in the morning and half in the evening, for example, or half on two consecutive mornings.
How often should you use ampoules?
That depends! You can think of ampoules as super-serums, in which case you can use them before your moisturizer a couple of times a week in order to give your skin a permanent boost. Alternatively, you can think of ampoules as intensive treatments and use them every day, for one to two weeks at a time. Some ampoules will be better suited to the first use, while some will be better suited to the second.
When to apply ampoules
Remember the golden rule of skincare application? "Apply your products from lightest to thickest consistency." Ampoules, like serums, are usually fluid lightweight, so consider applying them after cleansing, but before moisturizing.
How to break open an ampoule
Despite their complicated appearance, ampoules are extremely easy to open and apply.
Ampoules with cap: Twist the cap in order to open the ampoule;
Glass vial ampoules: Break the ampoule in half by the "neck", which is the narrower point;
Capsules: Twist off the top of the capsule.
What are the best ampoules you can buy in 2023?
Now that you know everything you need to know about ampoules, it's time to decide how you will be incorporating them into your skincare routine. Below, you will find some of our favorite ampoules, tried-and-tested by the Care to Beauty community:
Our best-selling skincare ampoules
Our top 4 are as varied as they come! Try the iconic Martiderm The Originals Flash Ampoules for an immediate anti-fatigue shot, or invest in the Endocare Tensage Ampoules if loss of skin firmness and elasticity is your main concern.
Worried about fine lines and wrinkles? Then the Lierac Cica-Filler Anti-Wrinkle Repairing Serum is the one for you. Finally, look to the Martiderm Pigment Zero DSP-Bright Dark Spots Ampoules if you are looking to minimize dark spots and hyperpigmentation.
Our favorite Korean skincare ampoules
if your taste in ampoules veers towards the Korean end of the skincare spectrum, we have a few great options for you. Choose the COSRX Triple Hyaluronic Moisture Ampoule for a plumping effect, or the TONYMOLY 2X® Collagen Ampoule for added anti-aging results.
If you feel like your skin needs some repair and regeneration on top of daily hydration, opt for the Mizon Multi Function Formula Snail Repair Intensive Ampoule instead. If you have oily skin, you will benefit the most from our fourth option, The Saem Power Ampoule Pore-Tight Serum.
Skincare capsules: The ultimate skincare microdose
If you dislike single-use glass vials, soft skincare capsules may be a better match for you. These two are unrivaled in their category. First, the Elizabeth Arden Retinol Ceramide Capsules are famous for their potent cocktail of retinol, ceramides, and peptides, all essential for an anti-aging routine (and if you're not sure about retinol, Elizabeth Arden offers plenty of other capsules). Then you have the Darphin Ideal Resource Youth Retinol Oil Concentrate, containing a blend of retinol and ultra-nourishing natural oils like jojoba, sesame, macadamia, and argan. Each application works to prevent the visible effects of aging, all the while providing the skin with a deeply nourishing, plumpling effect.
---
Have you tried skincare ampoules before? We'd love to get to know your favorites, so don't hesitate to share your stories!