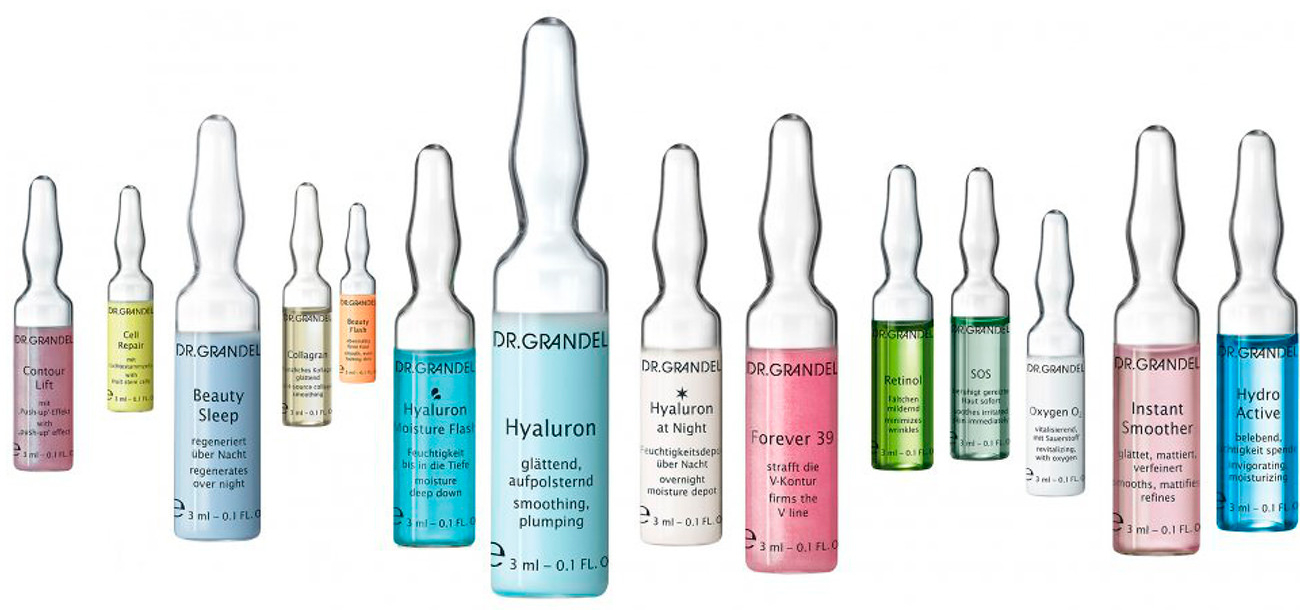 It's no secret that we're big on skincare ampoules here at Care To Beauty–so imagine how overjoyed we were to welcome DR. GRANDEL into our inventory! With a history that dates back to 1936, DR. GRANDEL is a family-owned German brand that's achieved notoriety by developing and manufacturing active concentrate ampoules for the professional beauty market. Containing a pure active ingredient each, these DR. GRANDEL Ampoules will easily find a home in any skincare routine. Get to know our favorites below!
DR. GRANDEL Retinol Ampoule
Retinol is one of the star ingredients of skincare, and this ampoule harnesses all the benefits that it can bring to your skin. With smoothing, refining, and regenerating properties, this ampoule is ideal to counteract visible signs of aging, such as wrinkle and lines.
Because it is meant to be used in the evening, this ampoule works overnight to regenerate and refine your complexion, allowing you to wake up with a fresh, youthful glow!
---
DR. GRANDEL Instant Smoother Ampoule
Tiny but mighty, this ampoule packs a proverbial punch. If you struggle with enlarged pores and an excessively oily or shiny T-zone, this is the product for you.
This highly concentrated ampoule mattifies the complexion, refines the appearance of large pores, and creates a delicately flattering "soft-focus" effect. At the same time, the liposomes used in the formulation protect the skin, improve its moisture levels, and support its natural regeneration process.
---
DR. GRANDEL SOS Ampoule
If your skin is susceptible to redness and irritation, you know how life-saving it can be to have an "emergency" routine to help you do away with the worst of the inflammation. That is precisely with this ampoule is designed to do.
Formulated with glucan, a sugar molecule that activates and supports the skin's own defense mechanisms, this ampoule offers a comprehensive soothing and anti-inflammatory effect. Considering its flash results, this ampoule is also ideal for application after sunbathing (or even after shaving!) since it can help you restore a feeling of comfort.
---
DR. GRANDEL Hyaluron Ampoule
Hyaluronic acid is famous for its smoothing, plumping properties, and that is exactly the effect that this ampoule is designed to produce. Formulated with an ultra-small form of hyaluronic acid, this concentrate is able to penetrate deep into wrinkles and fine lines in order to create a smoothing, filling effect that works from within.
Because it also contains squalane, this ampoule will also boost hydration in order to make the skin appear healthier and more vibrant. Win-win!
---
DR. GRANDEL Time Out Ampoule
Our skin goes through a lot on a daily basis–and we bet yours does too! If you're looking for a boost of revitalizing freshness, this is it.
With its unique formulation, which combines panthenol with soothing botanicals, this ampoule supports the skin's natural regeneration process. Not only does it help retain moisture, it also promotes an anti-inflammatory action. As a result, it helps your skin retain its fresh, dewy glow for longer.
---