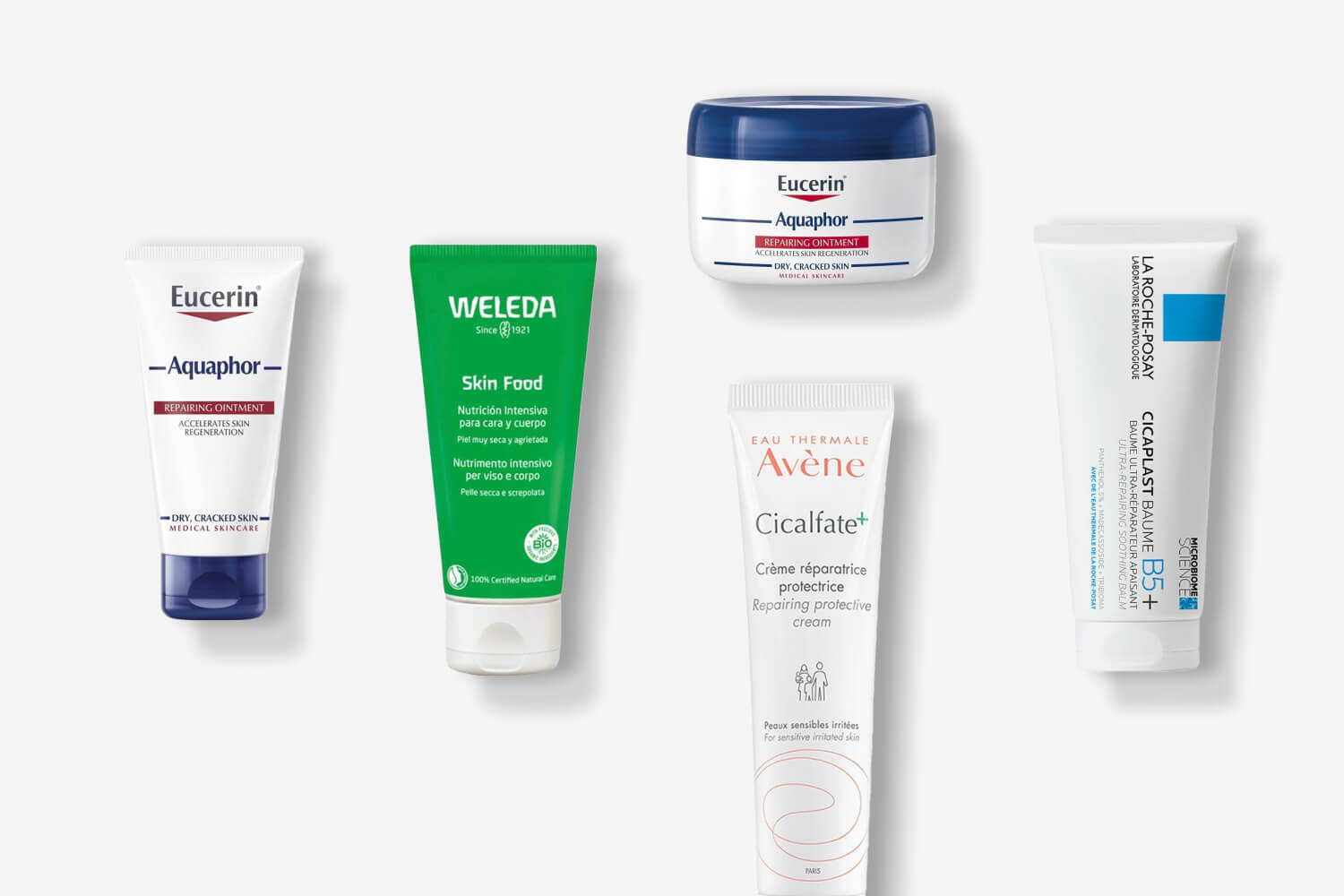 If there is a skincare category studded with iconic products, it's the multipurpose repairing creams. We're talking about products like Aquaphor, Avène Cicalfate, La Roche-Posay Cicaplast, and even Weleda Skin Food. These do-it-all creams are rich, thick, and promise to hydrate, nourish, and regenerate our poor skin–all in order to return it to its original, healthy state. Irritated patches, scratches, small lesions: they're all a good excuse to whip out one of these bad boys. The problems start when we try to use these products as daily moisturizers on our face: sometimes it works, sometimes it's a rollercoaster ride of breakouts that can't seem to go away.
If this has happened to you, it's not your fault. It's not your skin that's defective or incompatible with these wonderful creams that seems to work on everyone but you. It's just that none of these creams were developed for use as facial moisturizers in the first place–and your skin could tell.
In this post, we're going to talk about four products that are 100% hands down amazing, but not necessarily for daily use on your face: Aquaphor, Avène Cicalfate, La Roche-Posay Cicaplast, and Weleda Skin Food. Let's get to it!
---
On this post:
---
Aquaphor, & Aquaphor Alternatives
If you're at all online and interested in skincare, you've heard of Aquaphor.
What Aquaphor is:
Eucerin Aquaphor Repairing Ointment is a fragrance-free ointment that repairs and protects very dry, rough, or irritated skin. The brand mentions that this ointment is ideal for application on circumscribed areas of the skin; rough hands and feet are obvious candidates, but you can also apply the ointment to any part of the face or body that's sustained a small injury.
Now, before we talk about what's in your Aquaphor ointment, it's important to note that there may be some regional differences. The Eucerin Aquaphor Repairing Ointment we know and love here at Care to Beauty (which, you will notice, is sold under the Eucerin brand name), contains paraffinum liquidum (aka mineral oil), panthenol, glycerin, and bisabolol, among a few other ingredients.
This formula works as a fantastic occlusive agent–meaning, it sits on top of your skin and keeps it hydrated by preventing the evaporation of much-needed water. This occlusive function has made the Aquaphor ointment popular for use in slugging (that trendy skincare practice that involves wrapping up your evening skincare routine with an occlusive moisturizer, which will essentially seal in the products you've applied previously).
Now, all things considered, is it okay to use Aquaphor as a face moisturizer? Sure, if it works for you. Some people have found that Aquaphor breaks them out, while others have found that Aquaphor just isn't enough to hydrate their dry skin–which makes sense, since Aquaphor isn't a moisturizer in the sense that it delivers moisturizing ingredients to your face.
Aquaphor alternatives for daily hydration:
If you are looking for an alternative to Aquaphor that is equally gentle on sensitive skin, here's a couple of options from Eucerin:
---
Cicalfate, & Cicalfate Alternatives
"Cicalfate broke me out!" is a relatively common complaint in skincare circles. This is not proof that the product is horribly comedogenic–it's just an indicator that many people may be using the product outside of its recommended use.
What Cicalfate is:
Avène Cicalfate+ Repairing Protective Cream is a multipurpose cream that was created especially to soothe and repair damaged skin. It is ideal for applying on small lesions, or in circumscribed areas that show irritation or superficial alterations.
Let's run through the key ingredients in this formula to better understand how it works. Let's start with the most important: [C+-Restore]™, a post-biotic repairing ingredient, derived from Avène Thermal Spring Water, which helps the skin regenerate itself up to four times faster. Next are copper and zinc sulfates, which purify irritated areas and create an environment suitable for skin repair. Last but not least, we have Avène Thermal Water, which provides immediate relief while minimizing redness and irritation.
Based on these ingredients, we can tell that this is a cream that is meant to promote repair and healing. It is not, as you may have guessed, a face moisturizer, although some people may have success using it as such.
Cicalfate alternatives for daily hydration:
If you've had a less than good experience using Cicalfate as a daily moisturizer and are looking for an alternative, you have two at your disposal:
---
Cicaplast, & Cicaplast Alternatives
There are many people who consider Cicaplast to be a real miracle worker, so we couldn't not mention it:
What Cicaplast is:
Like other products we've seen on this list, La Roche-Posay Cicaplast Baume B5+ Ultra-Repairing Soothing Balm is a multi-purpose, multi-repairing balm that helps soothe and protect irritated skin. You can use it on your body, face, and even lips! Age-wise, it is also versatile: it can be used from childhood onwards. The fragrance-free formula is tested in a series of common situations, which are sure to come up in the life of any person or family, such as: chapped skin and lips, diaper rash, very sensitive atopic skin, and even sensitized post-procedure skin (think lasers, hair removal, or even after cosmetic procedures). With all these options, it's no wonder this product is as popular as it is.
Let's take a closer look at the formula. The first ingredient that deserves our attention is Madecassoside, one of the components of the very popular plant Centella asiatica. In this formula, Madecassoside calms the skin while contributing to its renewal. Copper, zinc, and manganese also contribute to optimal regeneration by reducing bacterial proliferation. Finally, the formula also contains panthenol, which helps to hydrate and soothe the skin in the driest and most intolerant areas.
Indeed, this cream has what it takes to be a miracle worker–if you have damaged or otherwise compromised skin. If your skin is healthy, you may want to look for an alternative that's more suited to daily use on the face.
Cicaplast alternatives for daily hydration:
La Roche-Posay specializes in sensitive skin, so you're absolutely spoiled for choice when it comes to great moisturizers. We like these two the best:
---
Skin Food, & Skin Food Alternatives
The original Weleda Skin Food is a cult product among fans of natural skincare–but there are also those who use it outside the brand's recommendations.
What Skin Food is:
The Weleda Skin Food Rich Intensive Skin Care Face & Body is a rich, velvety balm that helps hydrate and smooth even the driest, roughest skin. The unique formula combines organic extracts of rosemary, pansy, calendula, and chamomile with a nutrient-rich base of sunflower seed oil.
Like many of the other products we've seen so far, this product is at its best when used occasionally, in limited areas that need SOS care. You can use it anywhere on your face or body: you can use it on your lips as a lip balm, on dry hands and feet, elbows and knees as a hardworking daily moisturizer, or over small lesions and scratches to keep the skin hydrated.
Experiences with using Weleda Skin Food on the face vary wildly. Among the group of proponents, you have people with very dry skin who swear by this cream as a daily moisturizer; you'll also find people who use it as the last step of a slugging routine (similar to Aquaphor). In the group of Skin Food doubters, we find people who find it difficult to spread the product on their face due to its thick texture; on the other hand, you will find people who appreciate the texture but cannot tolerate the fragrance of the product.
Skin Food alternatives for daily hydration:
If Skin Food doesn't quite work for your face, you can try other facial moisturizers from Weleda, such as:
---
The moral of the story is that there are amazing skincare products, yes, but not all of them will work on everyone, in all possible situations. If you can't use your Aquaphor or your Cicaplast as a daily face moisturizer, that's ok! There are tons of products out there that were actually designed to bring daily moisture and nutrition to your skin, and we are sure one of them will be perfect for you.
We'll send you on your way with a few recommendations: try these moisturizers for daily hydration, or these moisturizers to repair your skin barrier. No more struggling to make Aquaphor work on your face, ok?