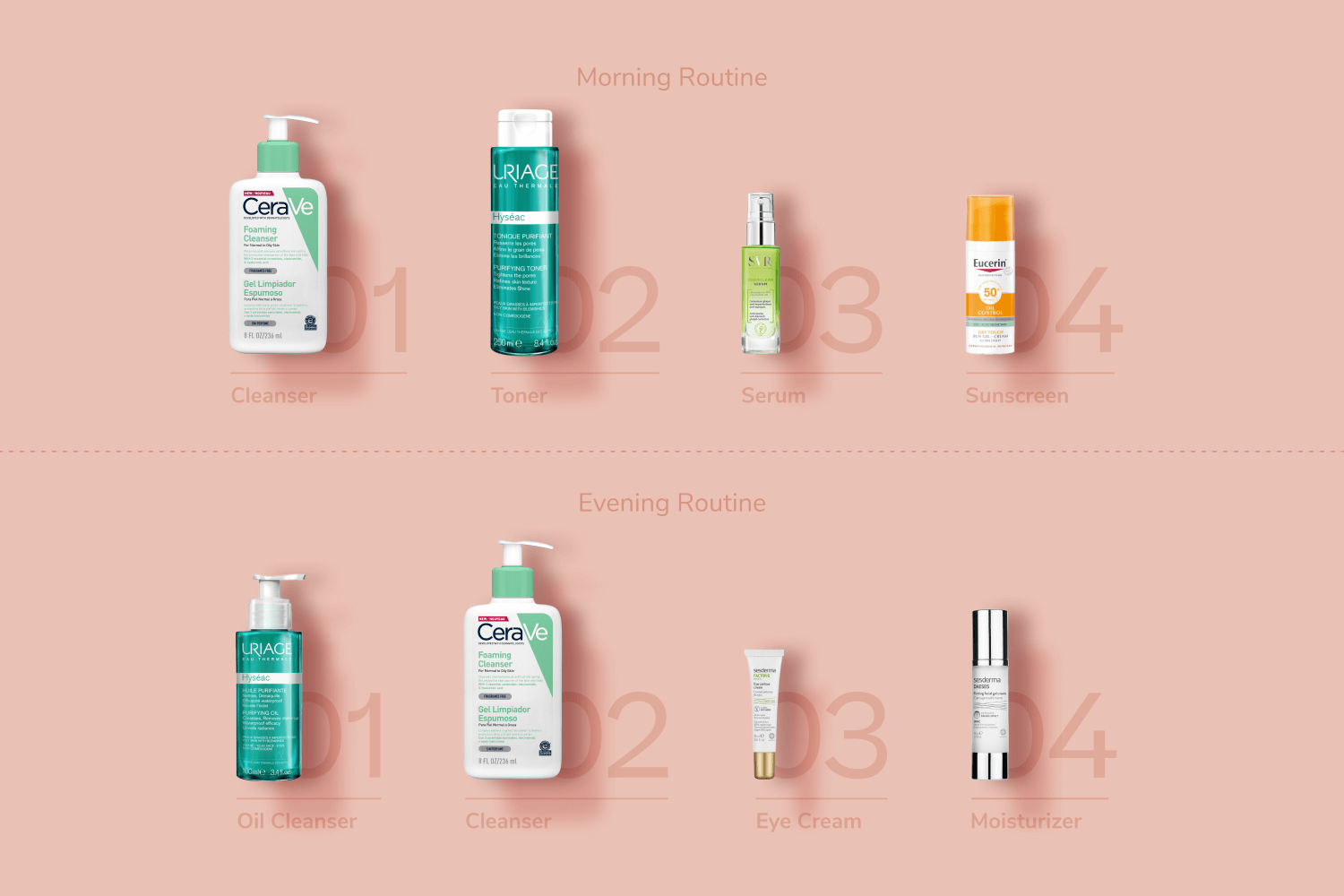 At Care to Beauty, offering personalized advice on suitable skincare products is a vital part of our daily lives. Our team of pharmacists and beauty experts is always ready to inform, clarify and advise you via website, blog, and email. Today, Pharmacy Technician Joana helps 43-year-old Anya put together a lifting and firming skincare routine that will suit her oily skin.
---
---
The Request
This skincare routine was requested by 43-year-old Anya, a member of our Care to Beauty community. Anya has oily skin, and she's looking for products that will better help her manage excess oil and shine throughout the day. She's also interested in refining and smoothing the surface of her skin, a common goal for those who have oily skin. Finally, Anya mentions she'd like to incorporate some lifting and firming products in her routine–among them, an eye cream.
We always make a point to know whether someone has sensitive skin, and Anya mentions she's had a couple of reactions to products in the past, but nothing major. She tends to use mostly French pharmacy skincare brands, which just so happens to be our realm of expertise. This should make our job a little easier!
The Specs:
Age
43
Skin Type
Oily
Skin Goals
Lift and firm the skin
Refine the skin texture
Control/Minimize excess oil and shine
Price Point
$$
(full routine under US$200)
Our Thoughts
It's not uncommon for us receive requests for routines that try to target unrelated concerns, and it is increasingly common to see requests from people seeking to correct signs of aging and, at the same time, small imperfections associated with oilier skin, such as enlarged pores, uneven texture and excess oil and shine. This may seem hard to grasp, because there's this preconceived idea that signs of aging go hand in hand with dry skin; however, that is not always the case.
This lifting and firming routine for oily skin is, therefore, a bit of a double-header. Here you'll find products that target signs of aging side by side with products that target the most common concerns of oily skin.
To make sure we can deliver the best combination of actives, we've chosen to include both a serum and a moisturizer in this routine. Now, you may be thinking, won't using two products one on top of the other be too much for oily skin? I may be, yes, and it may leave you feeling as if you've got a lot of unabsorbed product left on your skin. We recommend trying it out anyway; if it does turn out that your skin feels a little "heavy" using both the serum and the moisturizer, try using one in the morning and one in the evening, depending on your preferences.
The Morning Routine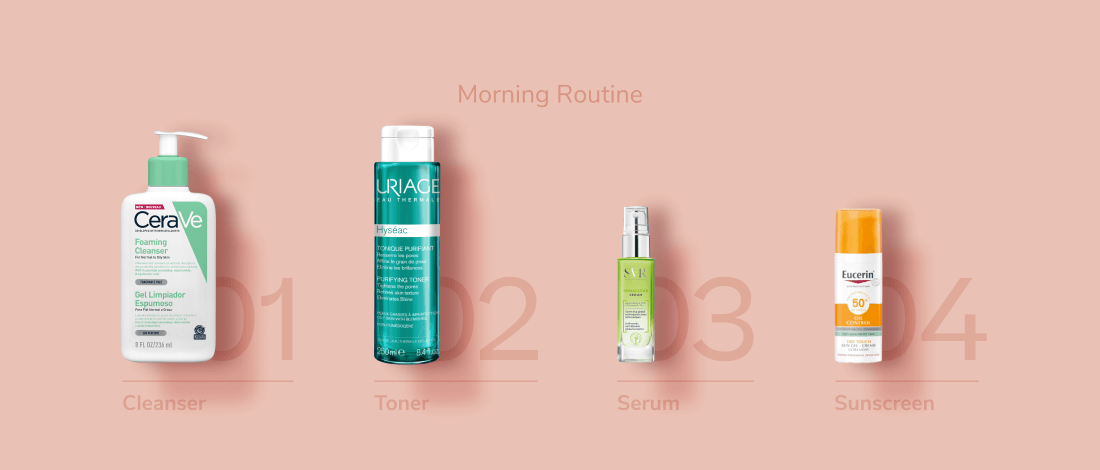 We're starting our routine for oily skin, of course, with a cleanser. This CeraVe Foaming Cleanser Normal to Oily Skin is one of our most popular cleansers for oily skin, as it manages to deliver that "clean skin" feel without stripping the skin of the natural oils that keep it in balance. A gentle cleanser like this is key for oily skin, especially if you're going to be cleansing your face twice a day.
For anyone looking to refine the grain and texture of their skin, we always like to recommend a toner. This Uriage Hyséac Purifying Toner, formulated with a peeling complex that contains glycolic, lactic, and malic acids, is a great option to refine the complexion. The formula helps mattify the skin, minimize the appearance of enlarged pores, and smooth out the skin texture.
We don't always include eye creams in our routines, but for this one we're going to make an exception. For those looking to lift and firm the eye area, this is one of our best eye cream recommendations: the Sesderma Factor G Renew Eye Contour Cream. Formulated with a combination of collagen- and elastin-boosting ingredients, as well as biomimetic peptides, this eye cream helps reduce wrinkles in the eye area. At the same time, it helps to firm and smooth the skin, creating a rejuvenating effect.
Now that we've cleansed and toned the skin (and applied our eye cream), it's time to pick a serum. When dealing with oily adult skin, we like to reach for the SVR Sebiaclear Serum Anti-Marks Anti-Blemish Global Corrector. This is a product that offers a global corrective action, helping to minimize signs of acne as well as wrinkles and loss of firmness. With a lightweight formula, highly concentrated in gluconolactone, niacinamide, and a retinol-like anti-aging complex.
As we've mentioned earlier, we're following up the serum with an anti-aging moisturizer: the Sesderma Daeses Firming Facial Gel Cream. By boosting collagen and elastin production, this lightweight gel-cream creates a firming and lifting effect that is immediately noticeable, thanks to the "tensor" effect provided by the formula. The texture is lightweight, perfectly suited to both combination and oily skin types.
Finally, we're wrapping up this routine with a sunscreen, and we're choosing the Eucerin Sun Oil Control Gel-Cream Dry Touch SPF50+. This is one of our favorite sunscreens for oily and even acne-prone skin. With SPF50+ (of course), and protection against UVA and High Energy Visible Light, this is a perfect sunscreen for everyday wear. It's got a non-sticky, fast-absorbing formula that is an absolute crowd-pleaser, and it features added mattifying benefits, to help you keep excess oil and shine under control throughout the day.
---
The Evening Routine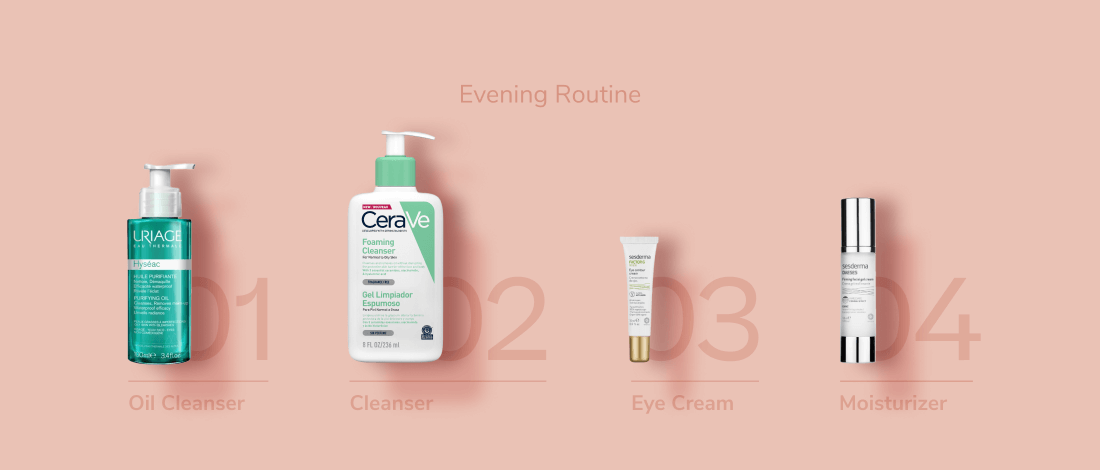 We're big fans of double cleansing in the evening, so we're starting out this half of the routine with an oil cleanser that works wonders on oily skin types, the Uriage Hyséac Purifying Oil. With a gentle oil-in-milk texture, this cleanser is a perfect option to remove makeup and sunscreen residue at the end of the day. At the same time, it clears the skin of impurities and pollution particles, leaving it feeling perfectly clean and fresh after rinsing off–and, most importantly, without a greasy finish.
To complete the cleansing section of the evening routine, we're following up the oil cleanser with the same CeraVe face wash we've used in the morning.
The rest of the routine is much the same as it was in the morning. After cleansing, we're following up with a firming eye cream, a perfecting serum, and a lifting gel-cream. Remember what we said earlier: if you find that your skin doesn't feel all that comfort wearing both the serum and the gel-cream, don't force yourself to layer them. Use one in the morning and one in the evening, and you should be ok!
---
In Conclusion
We have reached the end of this very comprehensive routine, and we're confident we've covered all bases. We've included two cleansing products (an oil to remove makeup, and a face wash to leave the skin feeling fresh and comfortable), a perfecting toner, an anti-aging and anti-imperfection serum, and a lifting and firming moisturizer. We made sure to also include a firming eye cream, and a lightweight sunscreen designed for oily skin. All in all, this routine comes up to slightly under US$200, and includes everything you need to target both loss of firmness and small imperfections on adult skin.