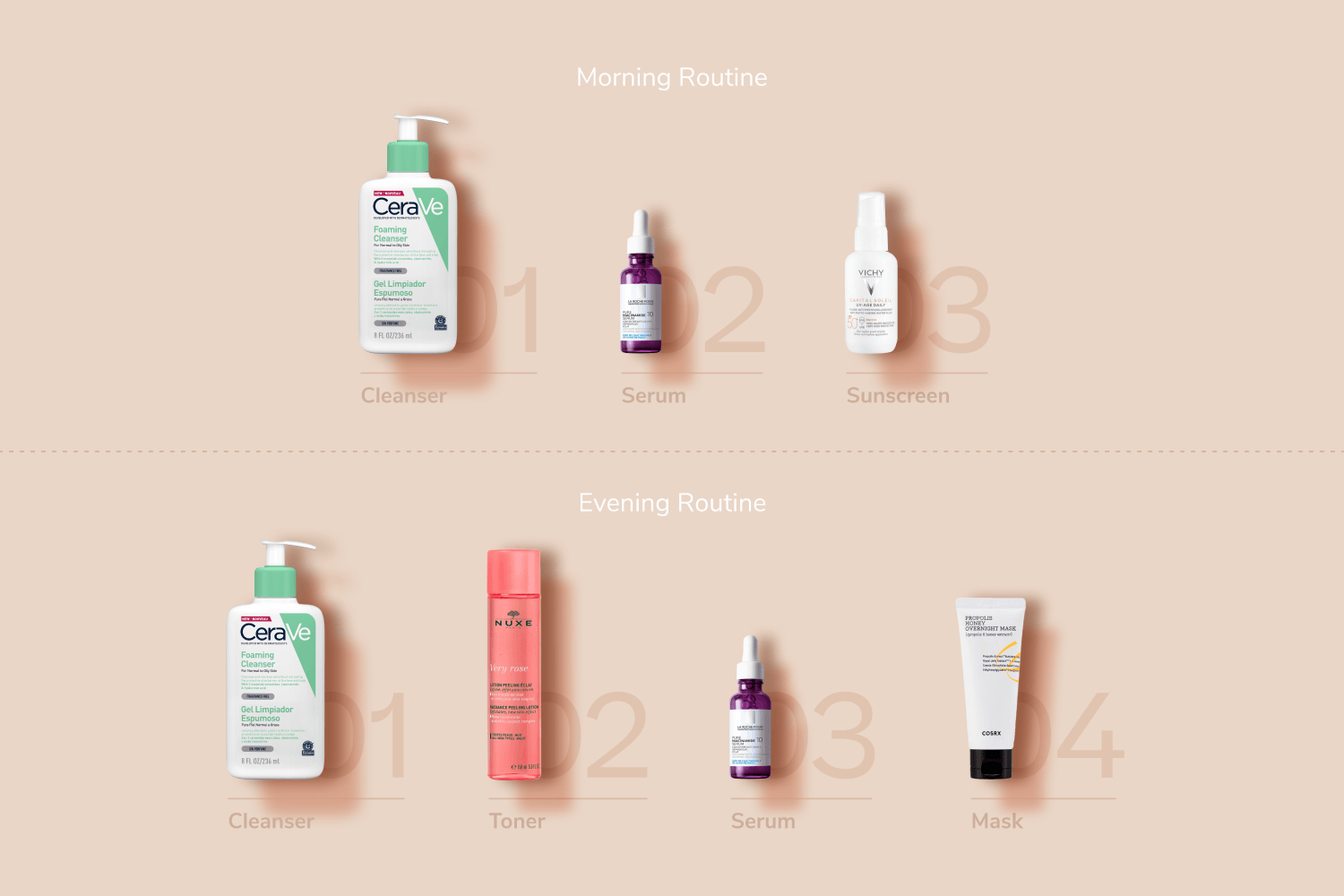 At Care to Beauty, offering personalized advice on suitable skincare products is a vital part of our daily lives. Our team of pharmacists and beauty experts is always ready to inform, clarify and advise you via website, blog, and email. Today, Pharmacy Technician Joana helps 36-year-old Jess create a routine for dark spots and hyperpigmentation.
---
The Request
Jess is 36 years old and knows exactly what she's looking for in her skincare routine. First, she's looking to target dark spots and hyperpigmentation. Then, she says she'd also like to improve her uneven texture and achieve a smoother feeling, as her skin is currently a little bumpy to the touch. Finally, Jess wants to make sure her new routine is very hydrating, as she doesn't want her skin to lack moisture. That is, indeed, something we should all worry about!
As far as her skin type goes, Jess has combination skin. She also mentions her skin can be a little sensitive, and she's had a few allergic reactions to skincare products in the past.
The Specs:
Age
36
Skin Type
Combination (oily T-zone)
Skin Goals
Minimize dark spots and hyperpigmentation
Refine the skin texture
Maintain a healthy level of hydration
Price Point
$-$$
(full routine under US$165)
Our Thoughts
In the last couple of years at Care to Beauty, we've started to see more and more people concerned about the uniformity of their skin, both in terms of pigmentation and texture. Fortunately, these are two concerns that can be addressed together, with formulas and key ingredients that complement each other well.
The most important thing to keep in mind when creating an anti-dark spot routine is to maintain a healthy balance between correction and prevention. Some dark spot-correcting actives are photosensitizing–meaning they increase the skin's sensitivity to the sun. If we consider that dark spots are also naturally prone to darken with sun exposure, we realize how important it is to strike a good balance between corrective skincare (an anti-spot serum, for example) and prevention (a really good sunscreen).
Patience is also an important "ingredient" when it comes to hyperpigmentation. Dark spots are very difficult to treat, and it may take several months until you see results. Furthermore, those results will depend on a lot of factors, such as the cause of the pigmentation, the intensity and extension of the pigmentation, and so much more. It's a long game, but we can help you through it.
The Morning Routine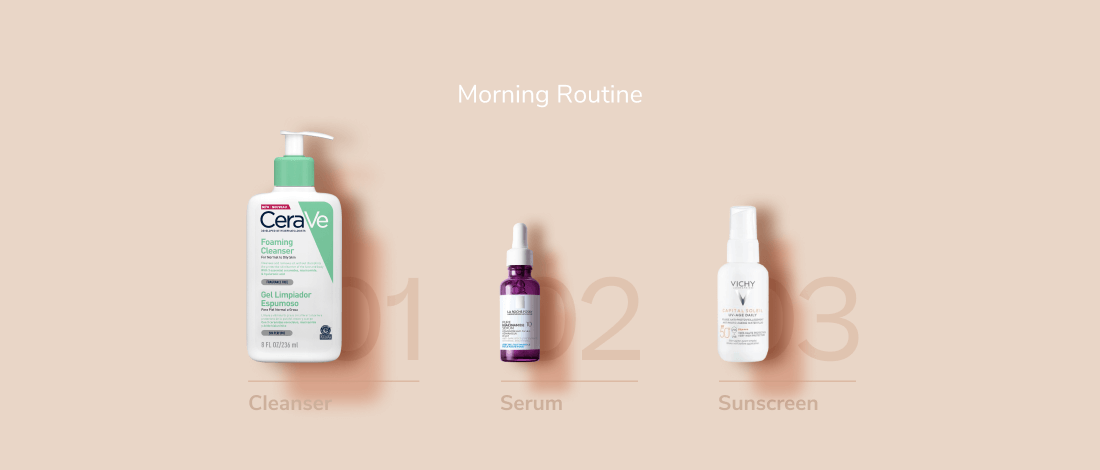 We're building this routine for combination skin, so let's start off the morning with a gentle foaming cleanser. We're going with the CeraVe Foaming Cleanser Normal to Oily Skin (under US$15), because of its ability to remove impurities and excess oil without unbalancing the skin's protective barrier. Always keep your cleansers gentle! Nowadays, we have access to so many amazing cleansers that there is no need to use aggressive actives in your skincare routine.
Still in the morning, we're following the cleansing with a bit of a "superpowered" serum. The La Roche-Posay Pure Niacinamide 10 Serum (under US$55) was designed to combat all types of dark spots and hyperpigmentation. It features 10% pure niacinamide to reduce the visibility of dark spots and uniformize the skin tone. In addition to niacinamide, this serum also contains HEPES, an ingredient with an exfoliating action that not only helps minimize surface-level dark spots, but also helps improve the skin texture. The texture is lightweight and absorbs fast, leaving behind a comfortable, non-greasy finish that will definitely suit combination skin.
As we've mentioned earlier, you can't put together an anti-dark spot routine without sun protection. After all, these are the two key steps of any anti-dark spot skincare routine: you must prevent pigmentation during the day, and correct pigmentation at night. To help prevent further dark spots, we're rounding out this morning routine with the Vichy Capital Soleil UV-Age Daily Water Fluid SPF50+ (under US$25).
This product combines advanced daily UV protection (SPF50+ and PPD46) with photoaging prevention–which includes, of course, hyperpigmentation spots. With peptides, niacinamide, and fractions of probiotics, this sunscreen is a great option for those who are serious about daily sun protection. The Netlock formula, in which UV filters are suspended in micro-droplets of gel, forms an ultra-thin and ultra-resistant film when applied to the skin. The finish is ultra-fluid, ultra-light, invisible, non-sticky and non-greasy–in short, it's perfect for combination skin.
---
The Evening Routine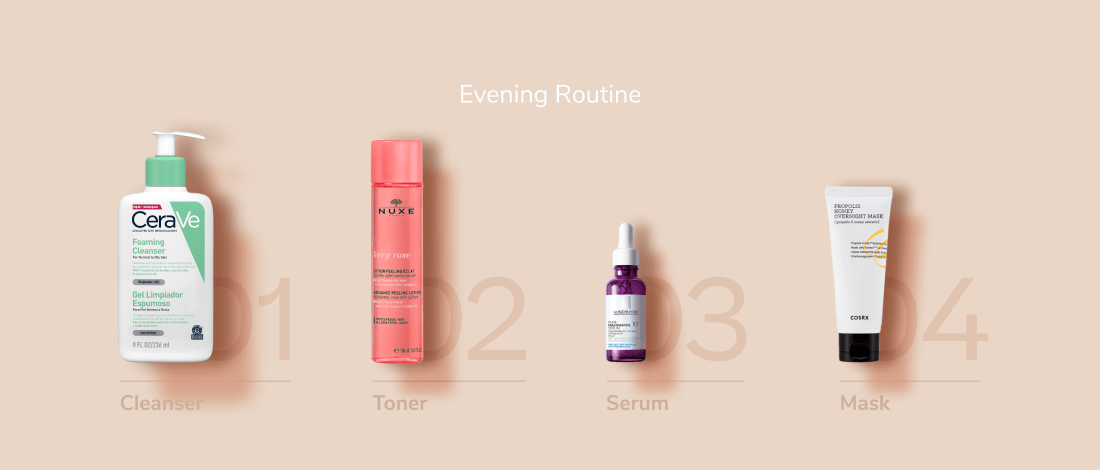 The evening routine is where the bulk of the tone and texture correction happens, so buckle up. We're starting with the same cleanser we've used in the morning, to help you rid your skin of all the impurities it's accumulated throughout the day.
Since we want to improve an uneven texture and achieve a smoother finish, we're following up the cleanser with an exfoliating toner. We're big fans of chemical exfoliants here at Care to Beauty; they work wonders to buff away dead skin cells and reveal healthy, smooth, glowing skin underneath. We're going with the NUXE Very Rose Radiance Peeling Lotion (under US$35), which is specifically designed for "daily micro-exfoliation." In short, it's the perfect product to incorporate into your skincare routine if you'd like to renew your skin slowly, over time, while you focus on other skin concerns. The formula features glycolic, lactic, and malic acids (so, three AHAs) and salicylic acid (one BHA) that work in tandem to progressively dislodge dead skin cells and unveil the radiance of your skin.
We're repeating the La Roche-Posay serum in the evening, for another boost of niacinamide. Then, we're wrapping this up with the COSRX Full Fit Propolis Honey Overnight Mask (under US$35). The cool thing about choosing a mask instead of a night cream is that you can use it in different ways depending on how your skin feels each day. Indeed, you can use this mask as a wash-off mask, as an overnight mask, or even as a day cream the next morning. The formula contains over 87% of propolis extract and natural beeswax, two ingredients that provide the skin with cool, refreshing moisture without creating a "heavy" feeling.
---
In Conclusion
We used five products to build this tone- and texture-perfecting routine for a combination skin type; we came up slightly under US$165. The niacinamide serum and the AHA/BHA toner are definitely doing the heavy lifting in terms of correcting dark spots and refining the skin texture, but every other product in this routine helps move things in the right direction. That includes, of course, the super-versatile mask, which you can reach out for whenever your skin feels a little more dehydrated than usual. It's important to keep tabs on how combination skin feels in terms of moisture!