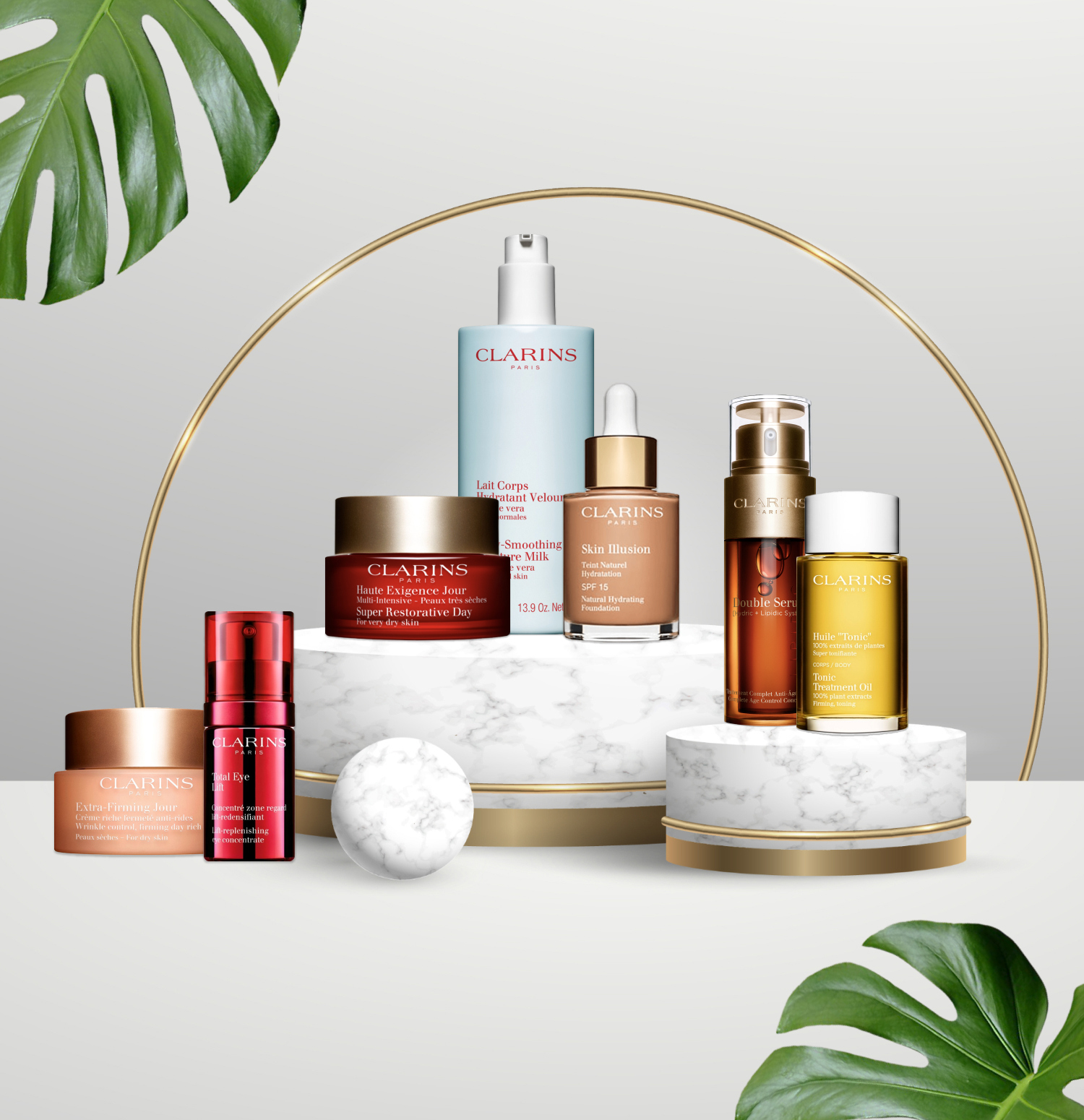 Few brands have a story as rich as Clarins. Founded in 1954, this French brand was fueled by one man's desire to advance beauty by making both more authentic and more natural. Jacques Courtin-Clarins opened his first beauty spa on rue Tronchet in Paris, from where he sold the very first plant-based treatment oils that would go on to achieve iconic status. Today, Clarins is a household name; not only is it distributed in 150 countries around the world, it is also the best selling beauty brand in Europe. Keep reading to learn more about the best Clarins products available today!
---
Clarins Instant Eye Make-Up Remover
If you wear makeup every day, you already know that a thorough cleanse is a must! The Clarins Instant Eye Make-Up Remover features a comfortable and rich formula, suitable for all skin types. Additionally, it contains chamomile, which offers anti-inflammatory, antioxidant and soothing properties to the sensitive eye contour area.
---
Clarins Natural Lip Perfector
One of the best Clarins products out there, this award winning lip balm gives your lips a beautiful boost. This softly textured gel features the nourishing properties of shea butter as well as the antioxidant benefits of vitamin E; this way, your lips are both perfectly nourished, and perfectly protected. The sheer formula delivers just enough color to create a naturally glossy finish: like your lips, but better!
---
Clarins Extra-Firming Eye Expert
This rejuvenating treatment not only re-firms the skin and minimizes the appearance of wrinkles, but also reduces dark circles and puffiness. The texture is comfortable and beautifying at the same time, with horse chestnut extract to stimulate microcirculation and reflective mother-of-pearl that instantly revitalize and brighten the eye contour area.
---
Clarins Super Restorative Day Replenishing Cream
With a nourishing texture that instantly replenishes the skin, this daily treatment is one of the best Clarins products to respond to the specific needs of skin transformed by hormonal changes. The formula blends powerful actives, such as harungana to redensify the skin and prevent sagging, and hyaluronic acid to intensely hydrate and protect the skin. Day after day, the skin is more luminous, the appearance of both wrinkles and dark spots is reduced and the skin looks firmer.
---
Clarins Skin Illusion Foundation SPF15
This natural and skin-like foundation is ideal if you are looking for a lightweight texture and sheer coverage: in essence, if you want to look better but don't want to feel the foundation on your skin. The foundation also protects the skin, with an SPF15 and an Anti-pollution complex that shields the skin from environmental stressors. With a few drops, find your skin more unified, natural with renewed luminosity, hydrated and protected at the same time!
---
Clarins Double Serum
The iconic Clarins Double Serum is a dual serum that replenishes the skin with moisture while repairing visible signs of aging. One of the best Clarins products, this is also one of the most coveted. It has a unique texture that offers fresh hydration with the water phase, as well as enduring comfort with the oil phase. An exclusive blend of 21 active plant extracts is the secret to target the five vital skin functions and rejuvenate the skin, as a result.
---
Clarins Roll-On Deodorant
This delicately-scented antiperspirant is, as expected from Clarins, infused with all-powerful natural extracts. Especially formulated to neutralize both perspiration and body odor, this practical roll-on offers long-lasting comfort and protection. While aluminum chlorohydrate reduces the volume of perspiration, natural extracts of buchu leaf, witch hazel, and rosemary lend the formula a calming, soothing quality.
---
Clarins Tonic Treatment Oil
This firming body oil improves the tone and elasticity of the skin. This iconic product, which was first sold in 1965, exists so that you can experience all the benefits of a professional Clarins treatment at home. Ideal for relaxing and toning massages, this oil is also ideal for the treatment of stretch marks, making it a favorite of women of all ages. It envelops the body in the reassuring fragrance of natural botanicals, promoting a feeling of universal well-being that speaks to both body and mind.
---
Clarins Masvelt Body Shaping Cream
Clarins Masvelt Body Shaping Cream is one of the best Clarins products for body care, and the ultimate contouring cream for areas affected by stubborn fat. This lush product combines sculpting effectiveness with pleasurable application; indeed, it features a rich, smooth texture that lends itself perfectly to a slimming massage. The comforting formula contains both poppy and hibiscus extracts; as a result, the skin benefits from a dual beautifying action with each delightful application.
---
Clarins Body Smoothing Moisture Milk
This lightweight, deeply hydrating body lotion provides everyday comfort. Formulated with a light, melt-in texture that glides effortlessly on the skin, this body lotion delivers both hydration and comfort with each application. Shea butter and aloe vera, two natural ingredients known for their hydrating and soothing properties, instantly soften and restore the appearance of the skin. As a result, they leave it silky-soft to the touch.
---